Oval Cut Diamond: All things you need to know
A refashioned form of round brilliant-cut diamonds, Oval cut Diamonds, although have been present for a long time throughout history, have recently created a thrill amongst the diamond fanatics for their radiance and fire. 
The concept was brought to life by Lazare Kaplan in the 1960s while its more historical variety can be traced back to the 1300s wherein the celebrated Koh-I-Noor was a diamond cut in an oval shape. 
Falling into the ownership of Queen Victoria who further had it altered to free the diamond of its lifelessness and irregularities in shape, it eventually in the present day sits before the Queen Mother's Crown in the Tower of London. 
History Of Oval Cut Diamond
While the old-fashioned oval diamonds were undeveloped and defectively cut, their modern successors are excellently designed with a unique appearance, hence creating a name for themselves amongst the newer hands who had begun preferring the lengthening effect that these diamonds created. 
Mr. Kaplan, the creator of this modern design, was a famous Russian-born American maestro in diamond cutting who belonged to a family of renowned diamond cutters. Wherein his cousin Marcel Tolkowsky conceived the world's first-round brilliant "ideal" cut, Tolkowsky Ideal Cut. 
The Oval Elegance was birthed out of this cut which Kaplan modified and thus, the modern oval cut diamond was created. This brilliant invention awarded Mr. Kaplan a position in the Jewelers International Hall of Fame.
Guide for judging the Oval Cut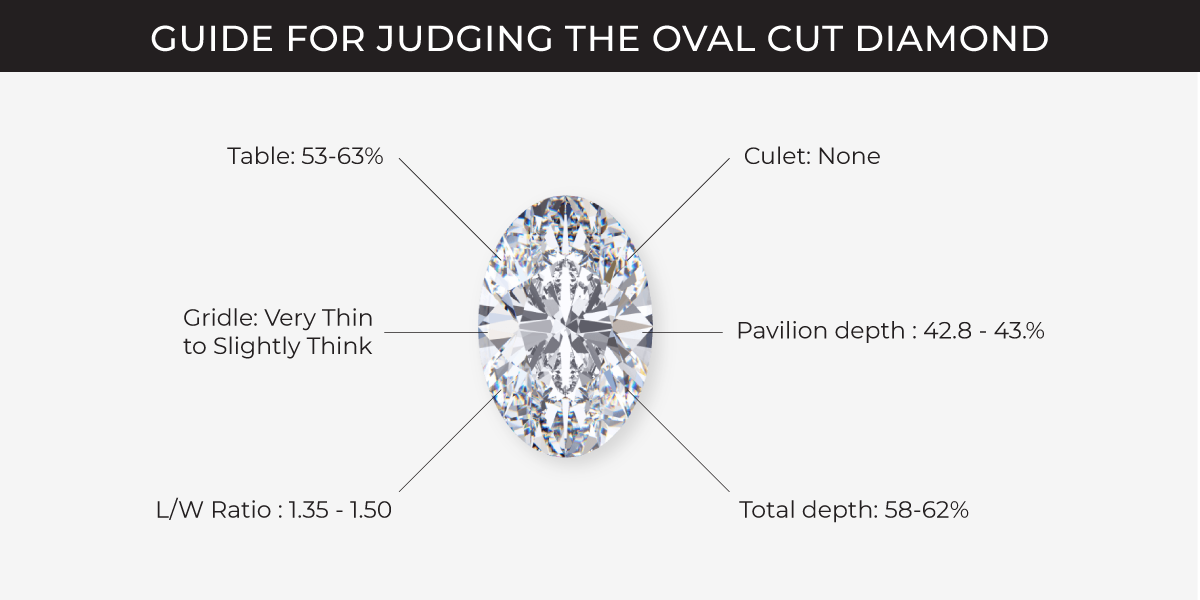 Since the provision for a lab grade for the cut is unavailable at the moment, it can prove to be harder for an enthusiast to differentiate between the well-cut and poorly-cut oval diamonds.
Here is a list of some pointers that the seeker can keep in mind while looking for the perfect fit for them.
Depth
Depth % for Oval Diamonds is in the following range: 
Excellent: 67%-57%

Very good: 68%-53%

Good: 72%-49%
Table
Table % of Oval Diamonds is in the following range: 
Excellent: 65%-53%

Very good: 69%-51%

Good: 74%-49%
Cut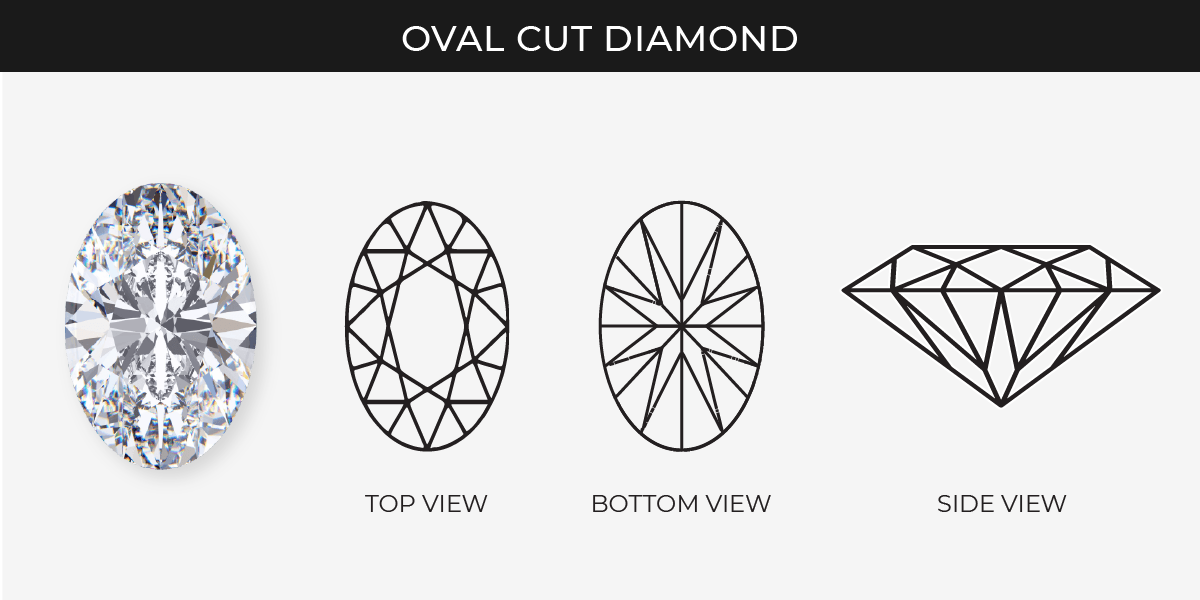 Although ovals vary across many shapes, one should always avoid off-shaped ovals that have pointed or squared ends which increase the chances of chipping.
Observing the symmetry is necessary too as an egg-shaped diamond is generally undesirable. 
Color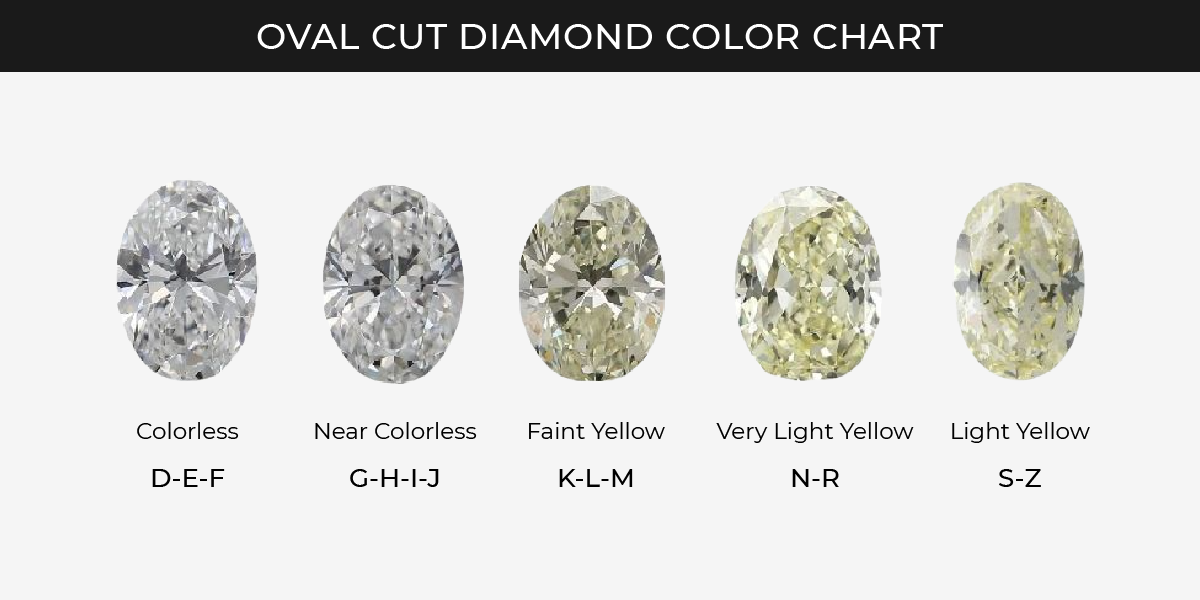 The range of color seen in Oval Cut is designated by the letters of D to H wherein D-F diamonds have a cool colorlessness and G-H diamonds display warmer colors. I and even J color are sometimes available that appear pure white.
Although choosing between this range is mostly subjective, the oval diamonds at the higher spectrum have a more premium price hence, indicating that it is the more elegant selection. 
These premium prices would have otherwise been absent if diamond color grading was not done professionally as the deviation in appearance in regard to the color is barely noticeable by the naked eye. Alternatively, the off-color ovals have been observed to be competent with the vintage styles in yellow or rose gold.  
Clarity
Assessment of clarity, like color, is generally subjective wherein every customer has a personal and unique standard for it. Some do not object to inclusion as long it is not visible to the naked eye whereas others pay attention to the technicalities and hence want to avoid all impurities.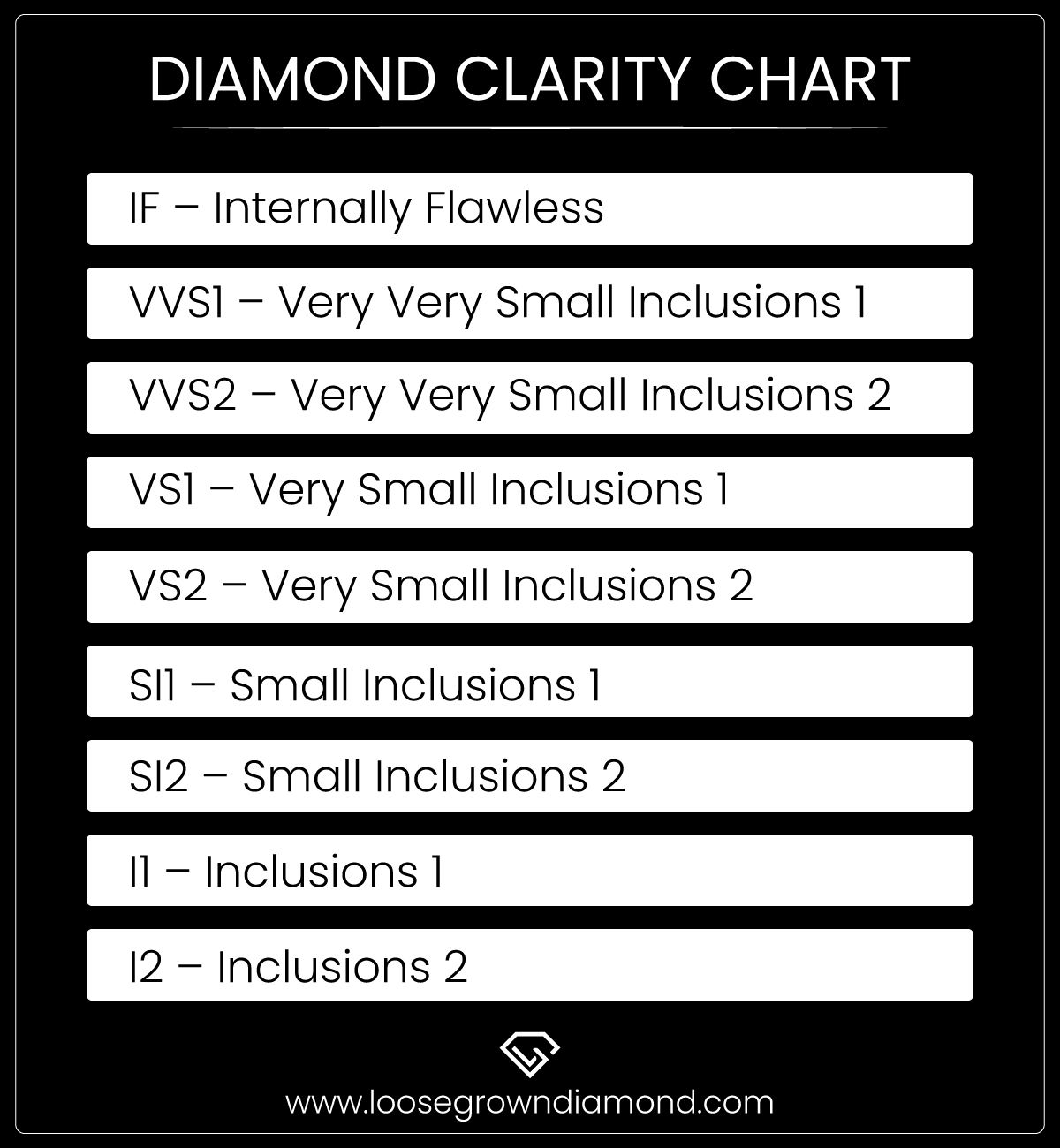 GIA proves to be a great help to customers with their clarity grades where they designate a diamond deficient of any visible impurities, a status of VS2 or SI1 while they also mention how SI2 stones too may appear eye-clean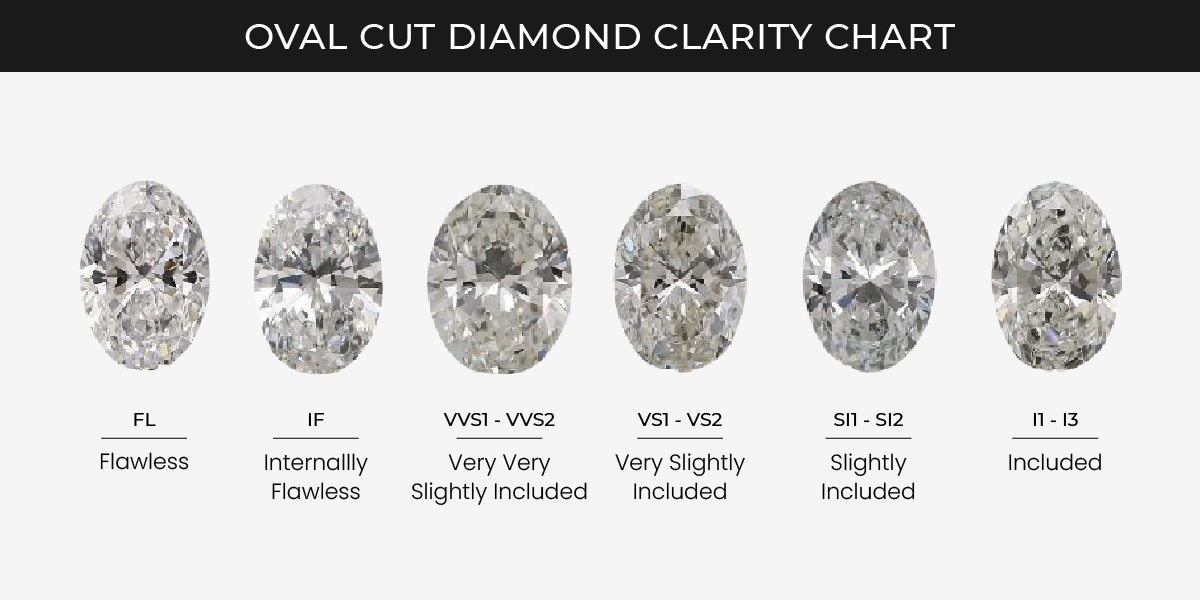 Inclusions near the center of the diamond must be avoided as they are noticeable to the naked eye. Then again these inclusions also cause the diamond to be worthless, hence choose wisely!
Carat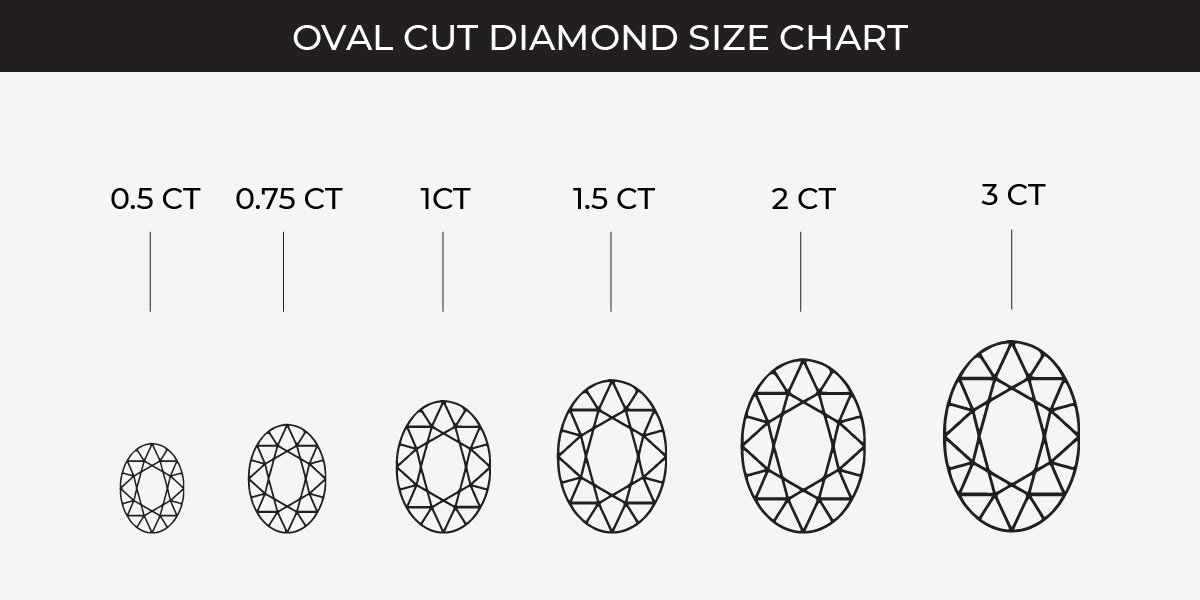 The maintenance of the perfect carat in an oval cut is crucial given its size and resemblance to a circle so much, any change in carat can hamper how the diamond may look. Also, let's keep in mind diamonds are always bought and sold in terms of a carat and not size.
The carat of the oval cut diamond affects the length and the width of the diamond too. Hence picking up a carat that balances the length and the width of the oval stone will help you choose the perfect diamond.
In terms of pricing in comparison to a perfect round cut, oval cut diamonds are 28% less expensive per carat in relation. This largely is because of how much rough diamond is being used, in an oval cut more of it is used. Hence, fewer rough diamonds are being discarded which in a way is a better value for money. 
However, just like any other diamond cut, oval cut diamonds price also increases largely per carat when the stone's carat weight increases. There are a few popular carat sizes for every cut, the ones for oval cut diamonds are 1, 2, 3,4 Carat. All these carat sizes are largely looked out for in the market.
| | | | | | | |
| --- | --- | --- | --- | --- | --- | --- |
| Shape | Carat | Cut | Color | Clarity | Price | |
| oval | 2.06 | Ideal | E | VS1 | $1032 $983 | View |
| oval | 2.06 | Ideal | E | VS2 | $2513 $1885 | View |
| oval | 2.01 | Good | G | SI3 | $809 $607 | View |
| oval | 2.05 | Ideal | G | VS1 | $1231 $923 | View |
| oval | 2.02 | Ideal | G | VS2 | $1271 $953 | View |
| oval | 2.01 | Ideal | E | VVS2 | $2657 $1993 | View |
| oval | 2.10 | Ideal | D | VVS2 | $3756 $2817 | View |
| oval | 2.04 | Ideal | D | VVS2 | $3651 $2738 | View |
| oval | 2.05 | Ideal | H | VS2 | $1023 $767 | View |
| oval | 2.02 | Ideal | E | VS2 | $2467 $1850 | View |
| oval | 2.04 | Ideal | E | VS2 | $2491 $1868 | View |
| oval | 2.10 | Ideal | E | VVS1 | $4131 $3098 | View |
| oval | 2.08 | Ideal | E | VS2 | $2537 $1903 | View |
| oval | 2.01 | Ideal | E | VS1 | $2864 $2148 | View |
| oval | 2.08 | Ideal | E | VS1 | $2963 $2222 | View |
| oval | 2.01 | Ideal | F | VS1 | $1851 $1388 | View |
| oval | 2.03 | Ideal | D | VS1 | $2637 $1978 | View |
| oval | 2.01 | Ideal | F | VVS1 | $2613 $1960 | View |
| oval | 2.01 | Ideal | D | IF | $14873 $11155 | View |
| oval | 2.06 | Excellent | H | VS1 | $1103 $827 | View |
Length to width ratio
The optimal length to width ratio has been assigned to a range of 1.25 to 1.50. 
A value lower than this will result in the cut appearing too round and a measure above the range will result in the cut looking too narrow, somewhat like a marquise cut.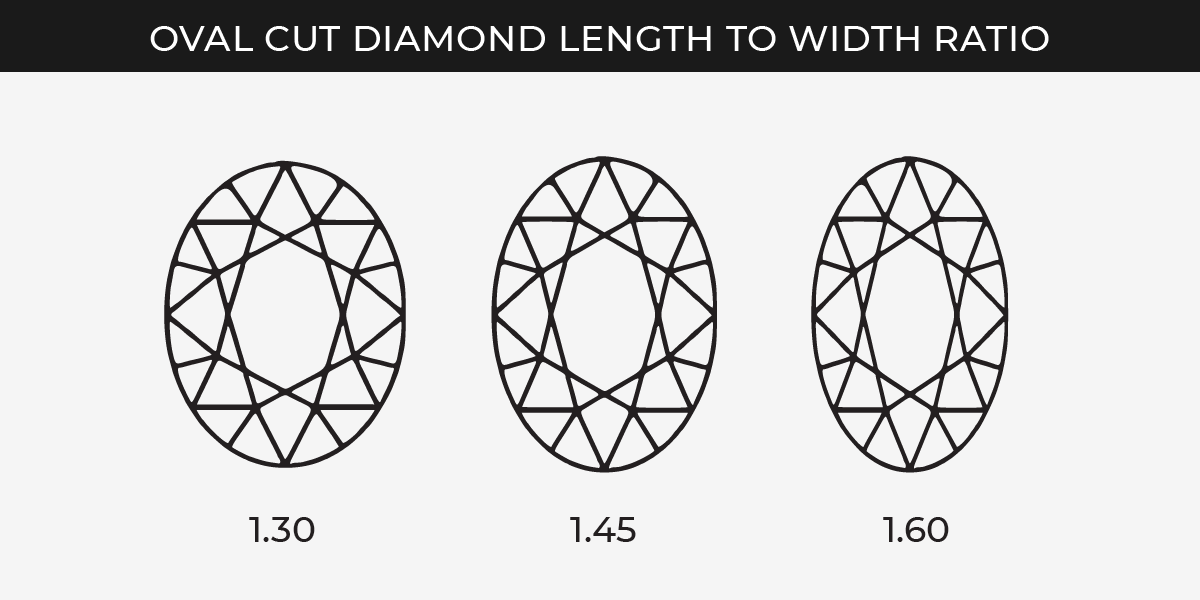 Although the optimal ratio has been mentioned, it really is a matter of preference whether the customer wants a long or round oval cut. Certain people prefer very long ovals too and while higher ratios make the diamond appear relatively large, its depth becomes shallow. Meanwhile, a thinner cut will look appealing if it is combined with side stones.
The Bowtie Effect
The bowtie effect, as the name suggests, is a triangular-shaped flaw found in the middle of every Oval-Cut which meets in the middle resulting in a visually dark appearance in the center. The reason behind this formation is leakage of light due to the absence of reflection in this region, hence the dull appearance. 
Many customers embrace this flaw while others consider it fatal and so the selection of the diamond based on the intensity of the bow tie that is visible has become a personal preference.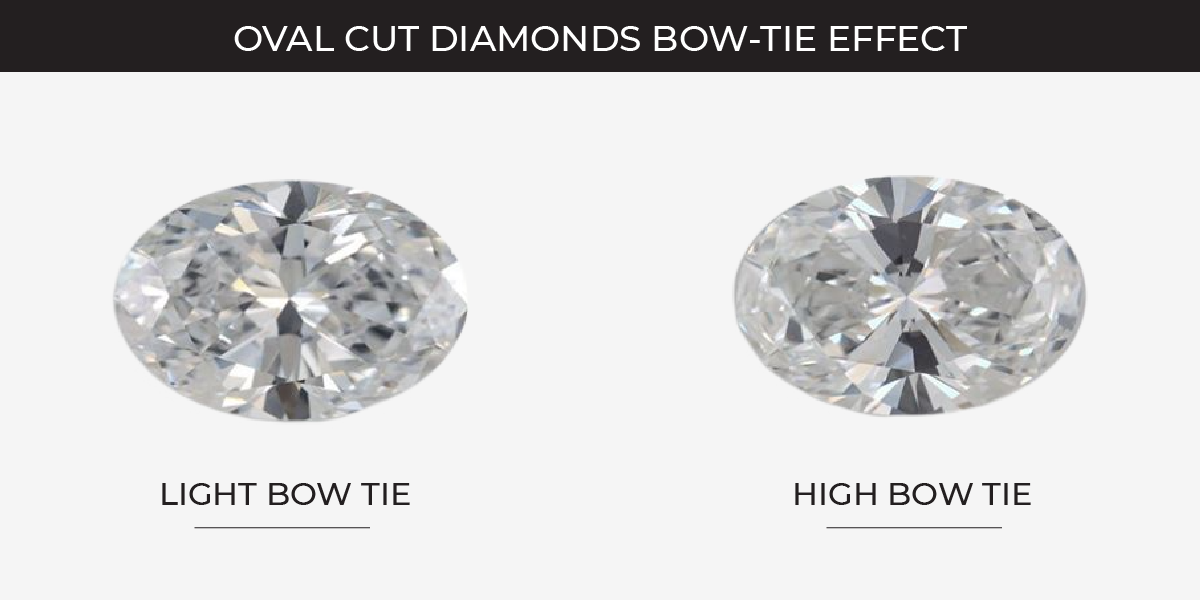 While a depth of 60% or less in the diamond will lead to a prominent bow-tie effect and the depth of 68% or greater, this bow time becomes minimally visible, although at this depth the oval cut will begin to lose its splendor and appear dark and dull as compared to other stones.
Hence, the Bowtie Effect is an important factor in measuring the brilliance of the lab diamond and the presence of it also weakens the price of the stone. 
Advantages of Oval Cut Diamonds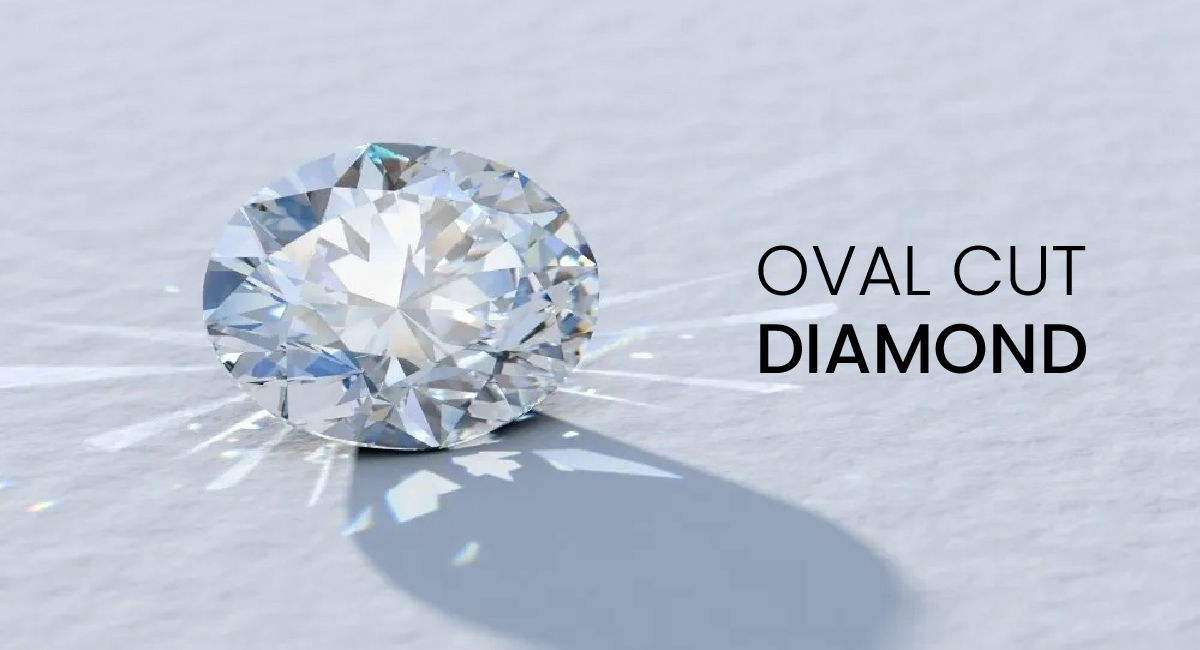 It does magic on all short fingers by giving it the illusion of length while accentuating the long ones. 

Expense is reduced by 10-25% while purchasing this design. An oval cut and a round cut of the same carat weight show this percentage of difference in their prices due to lessened wastage of precious rough material. 

A larger and fuller appearance is also part of the advantages as the elongated shape entails less depth giving it a loftier look than a round diamond of the same carat weight. 
This can be explained through the example evident in the diameter of a fairly cut 1ct round diamond which will measure up to 6.4 x 6.4 mm whereas the oval cut will amount to a value close to 7.75 x 5.50 mm. 
Best Engagement Rings Settings for Oval Cut Diamond
Oval Cluster Rings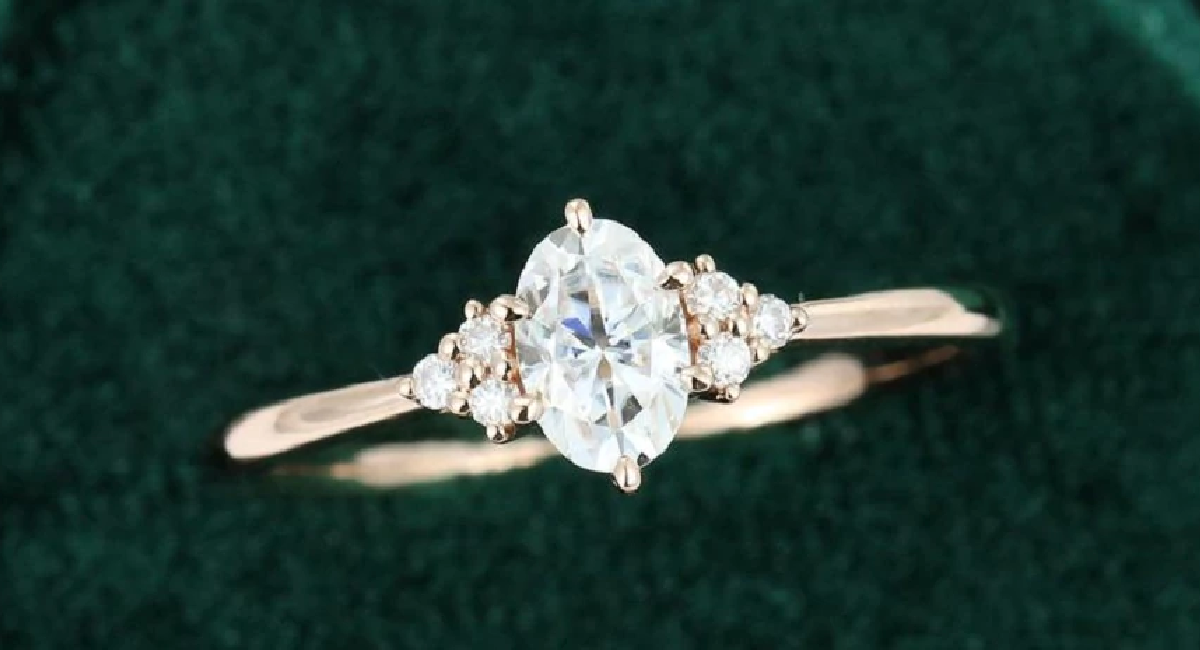 An oval-shaped diamond is in the center of the band with small gemstones clustered around it representing the ideal form of liberty, family, and rebirth of a new relationship and life.
Oval Diamond Band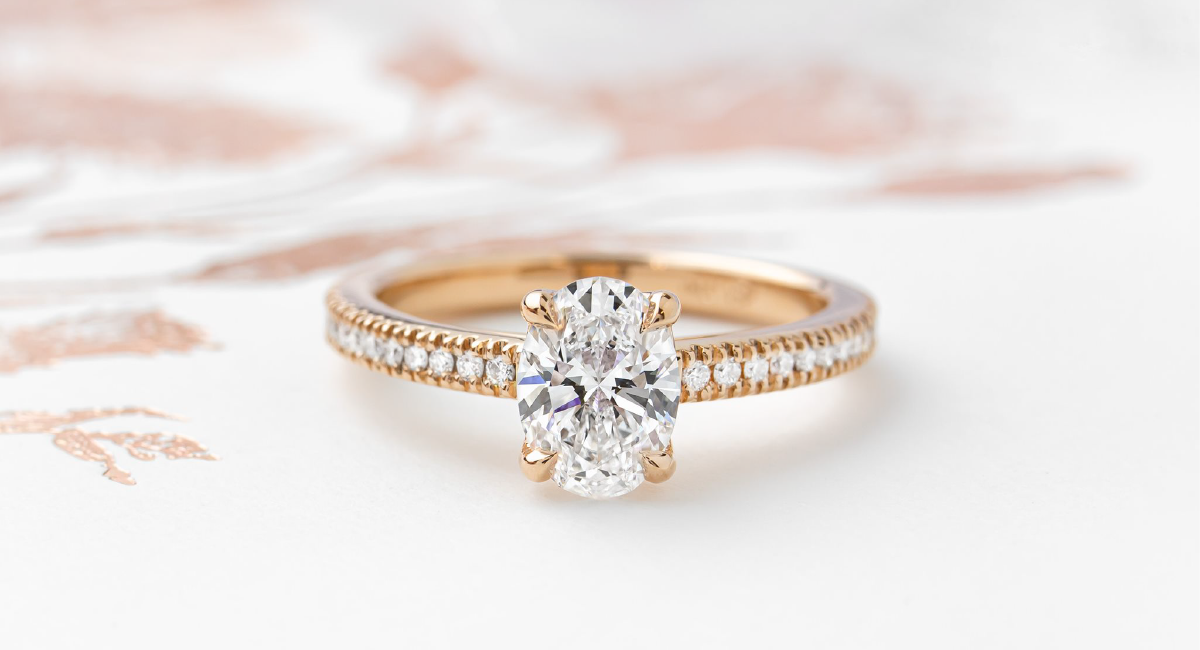 The elegant band is wholly covered with oval-shaped diamonds. It is a unique and precious design that enables the beauty of the finger and represents eternity. 
Oval Solitaire Ring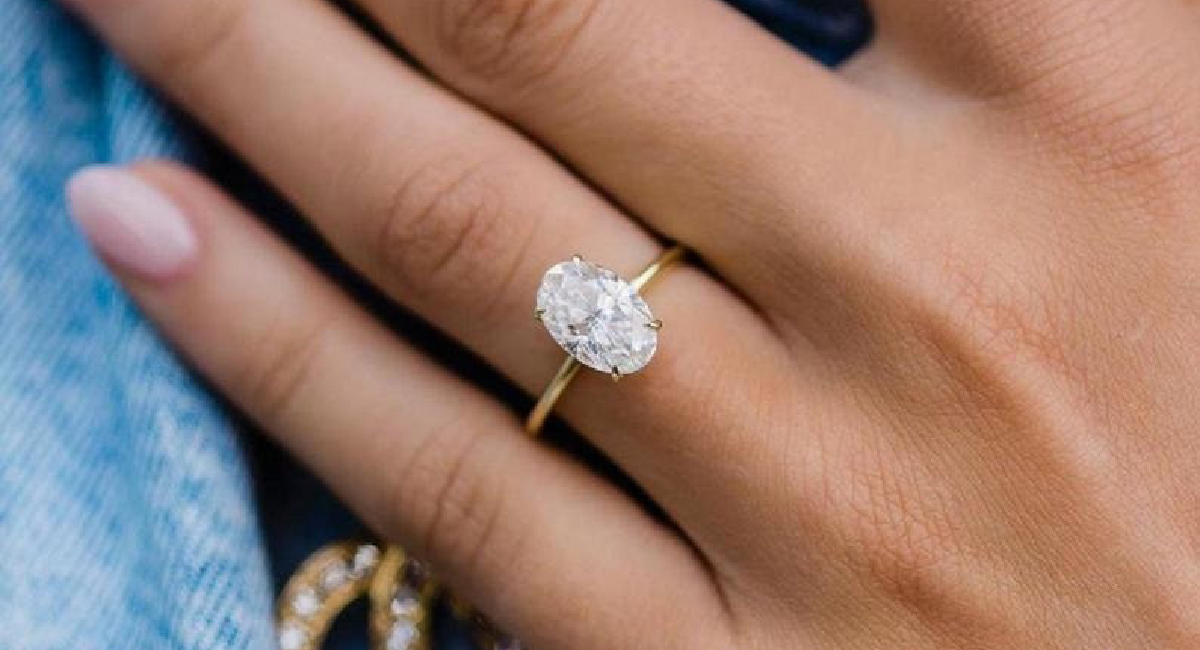 An oval-shaped diamond is in the center of the band, claiming to grasp all the attention and attraction of the people. It is an elegantly designed ring that never limits your styling. Only one gem to attract all attention. 
Oval Halo Ring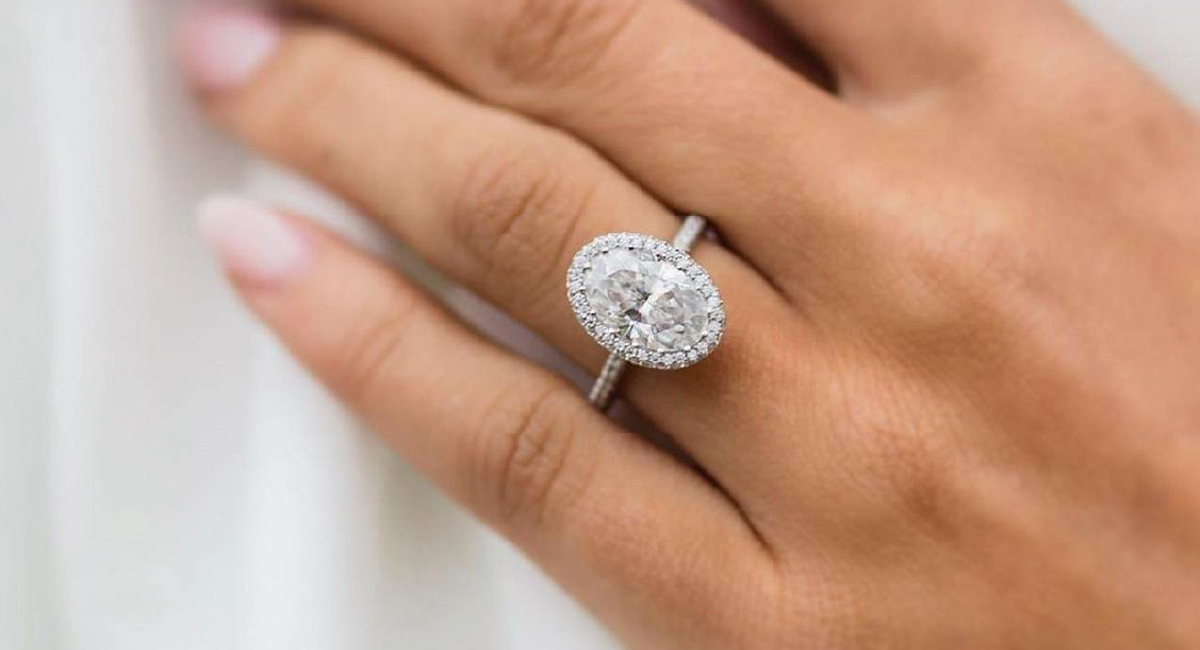 An Oval Halo Ring is uniquely designed where the center stone is surrounded by the other oval-shaped smaller gemstones that flash all the light and focus on the center stone in a distinctive manner. 
Oval Hidden Halo Ring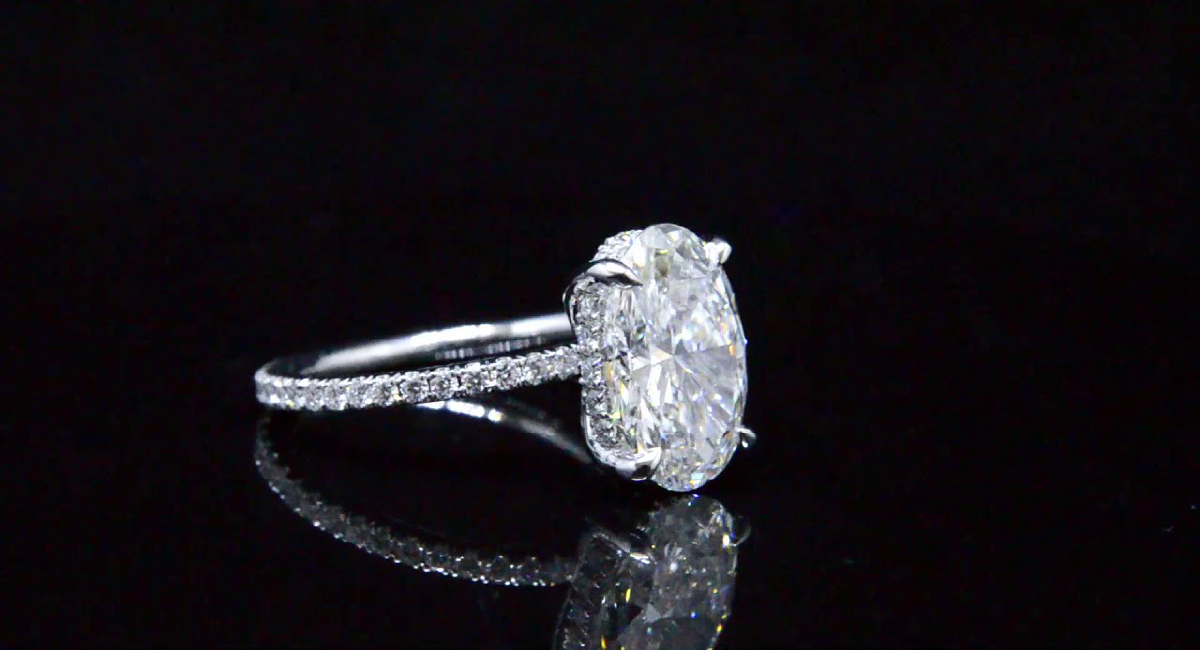 This is a unique and different design where the halo setting is hidden within the ring and this particular way of design makes the center stone look bigger and much more appealing. 
Oval Vintage Ring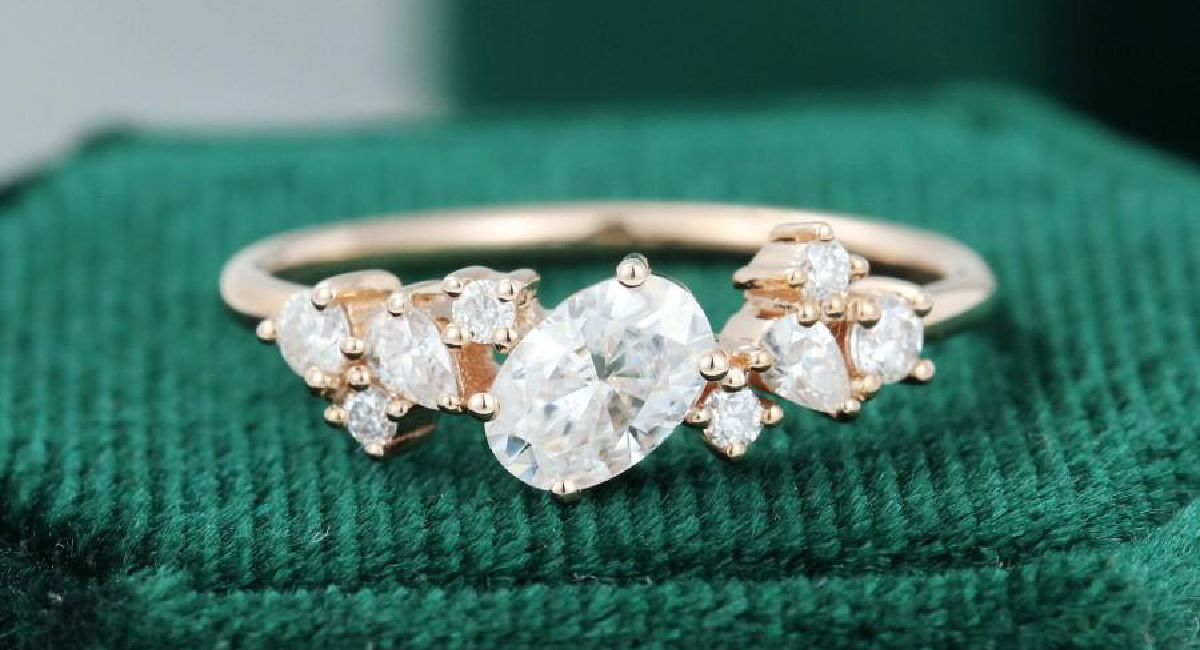 The representation of timeless design and modern approaches, the Oval Vintage Ring is a very distinct design that has been in the families since the royal eras. 
Oval Three-Stone Ring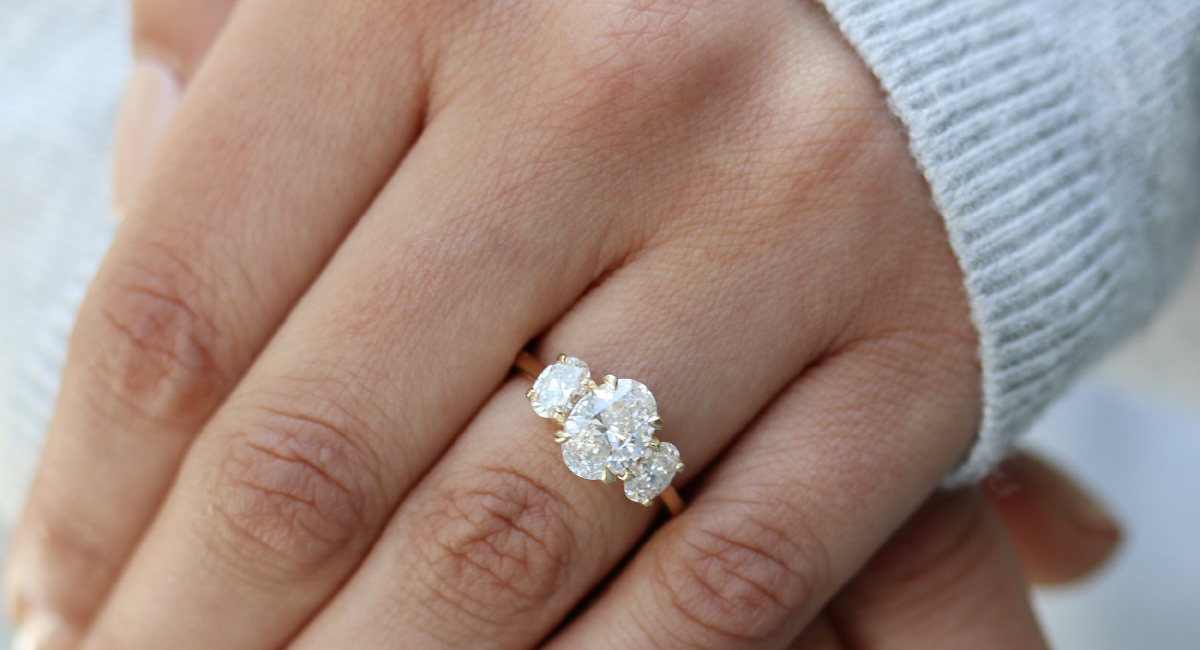 The special honor towards traditions is the symbolism of three-stone oval rings, where two side stones are a little smaller than the central stone, embarking the ring's shine and elegance. 
Oval Bezel Setting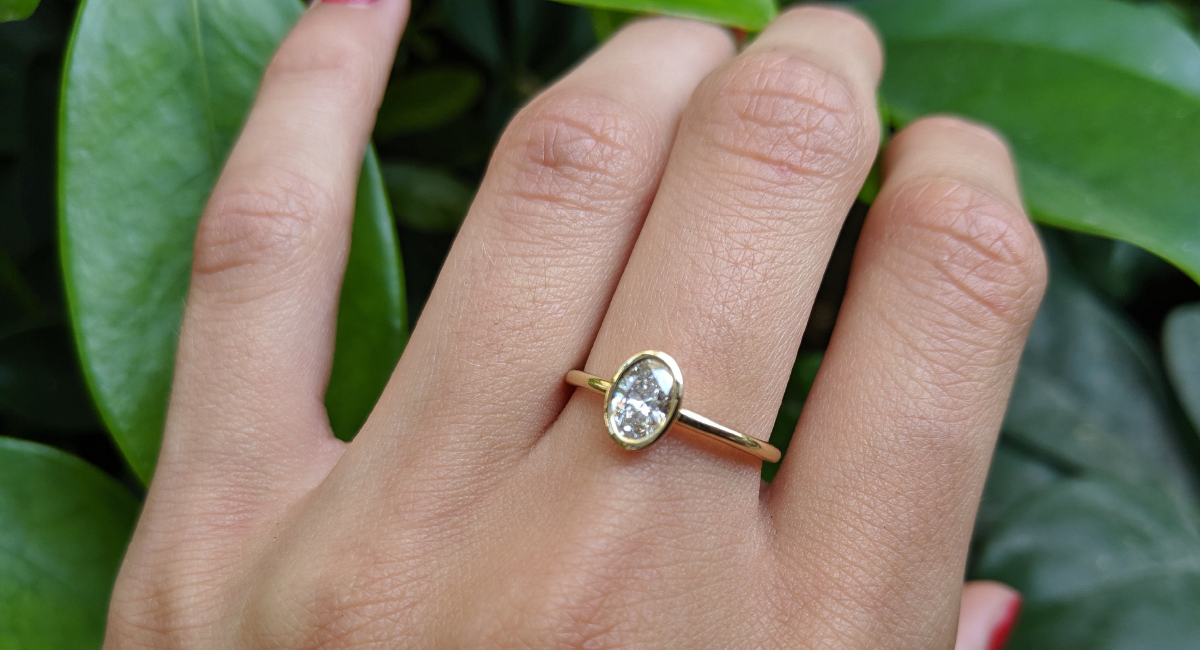 The Oval Bezel Setting ring is simply designed where the center stone is surrounded by a thin metal that helps in holding the stone at the right position, whereas with this simple look, a very intricate yet prosperous look is given.
Choosing the Best
Since The Gemological Institute of America (GIA) does not grade the fancy cut diamonds like it does round diamonds, customers cannot make the GIA diamond grading report for oval cut diamonds as the basis for their selection process since the certificate only ensures that the diamond is of high quality and no information regarding which is the best is imparted. 
Grades such as Excellent, Very Good, Good, Fair, or Poor Cut, that GIA assigns the round brilliant diamond is an indication of how well the diamond has been cut. 
On a report for the oval cut, there will be remarks for the diamond's polish and symmetry along with color, clarity, and dimensions however, if a customer wishes for their diamond to have maximum brilliance, scintillation and sparkle then the diamond needs to be cut very well. 
Some more aspects to keep in mind other than the ones mentioned above are crown height, girdle thickness, and cutlet. Optimum values for these attributes are: 
Crown height: 12%-15%

Girdle thickness: 0.4%-4.5%

Cutlet: Very thin – slightly thick 
After a visual inspection of the diamond, they will be able to tell the customer whether the selection demonstrates maximum brilliance for its proportions. This is the reason that a look at the grading report is insufficient in deciding whether the selected choice is the best or not and a personal up-close review is a necessity.