INSPIRATION: Vintage Inspired Engagement Rings
A change admired or inspired from old antiquities is prominently blissful and revolutionary.
VINTAGE is the "old" version of any time or product but a version that lives forever! In terms of jewelry, vintage is that jewel which is around 20-30 years old, such as our grandmother's wedding jewels would be the best example to define the vintage jewelry around us.
Every vintage item is bought and utilized, and it is inspirational in some or another way. Out of fancy diamond which is long gone but still brought back from era to era is a set backing example of how the fashion world still wonders around the old era and approaches the taste of old flavors again and again.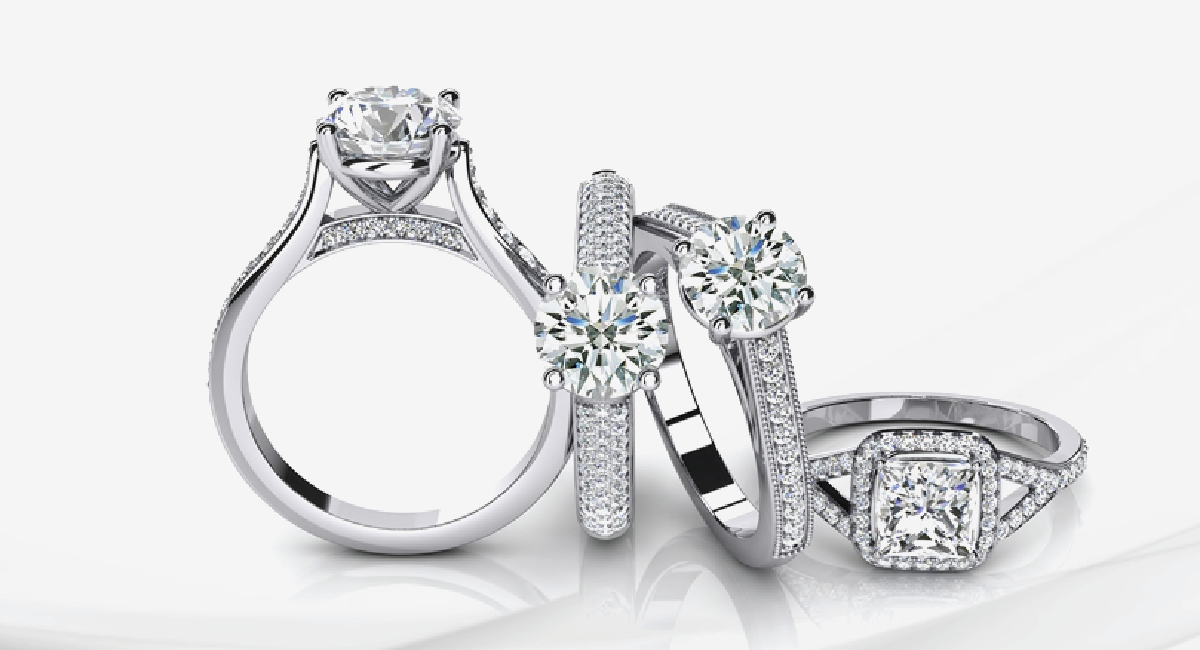 Jewelry pieces and clothing styles are the two most proficient and easy ways to bring any vintage product back in fashion or as a trend in our daily lives.
The most approachable aspect of our lives is our admiration towards materialistic things for our belief fulfillment or out of choice, which makes every fashion trend float in the air and touches each body like an infection of it, in a good manner of following the trends and supporting the fashion world. 
This is one way, how vintage looks or items are promoted in each era, by every generation to bring the old smoky taste in their look.
Vintage Inspired Wedding Rings
Just like the wedding traditions are followed for ages amongst the generations to ensure the liveliness of the norms and the roots, similarly, jewelry pieces are passed on from period to period to maintain the unique and extraordinary jewel pieces throughout family tree growth for the longest possible time in the future. 
Wedding rings are usually adopted from our grandparents or parents who offer us their wedding jewelry during our time of taking vows, saying they saved it for us which increases the importance a thousand times in your life emotionally. These days, passing on jewels from generation to generation has become the norm to be followed instinctively as each one of us believes in promoting our foundation deliberately.
Other than this passing onto follow up, inspiration is also taken and carried for new jewel piece's production. From the vintage jewelry small or big, new ideas are grasped to form a unique jewel with the same petite old kind look in the newly formed jewel. 
For an instance, rings are substantially a part of vintage-inspired Rings where the antique and matte look with rough shine is delivered with the baguette style of diamond overpowering the whole structure of the ring, admiring the hearts of tons of people glancing over the piece.
This new structural formation of rings inspired by the old look and belief magnanimously wins the hearts of people and this passing on to generations attaches each one of them emotionally and creates a tie bond throughout each phase of future and past, creating history and believing to have an influential future.
Inspirations
Inspiration could be derived from anywhere, anything, and anytime, knowingly or unknowingly. The same case is implemented for our vintage jewelry production, which is inspired by many eras and decades of jewelry design formations and structures, where textures and their definitions are slightly copied and the design with few bijou changes are re-adapted, astonishingly.
There is no design or a jewelry piece, in particular, to be addressed as an inspiration for the vintage rings but there are a few eras, that is a long-gone period that taught and left its reminiscence as for the adaptive learning of designs for rings that inspired today's vintage look. Let's see through those eras and kinds of inspirations delivered.
VICTORIAN ERA (1835-1900)
As the name suggests itself, the era of Victorian Rule and royalty is considered to have a variety of designs in jewelry but particularly the rings were also found in many varied forms and designs which tempted the viewers. 
Rings with a grand structure utilizing the rows, clusters, and halos of diamonds became quite popular in this era. Yellow and Rose Gold were the prominent choices with the diamonds crowning themselves overwhelmingly.
As for the distinction, pearls were also seen embedded on the rings with different color diamonds such as blue, the favorite color of Queen Victoria. 
Different designs were adopted and formulated with embedded gemstones, creating a grandeur look, although the diamonds were not used in a big shape at that period with the single bands of gold due to no invention of such trend.
Even with only Yellow and Rose Gold, many various designs are formed and implemented gracefully.
EDWARDIAN ERA (1900-1920)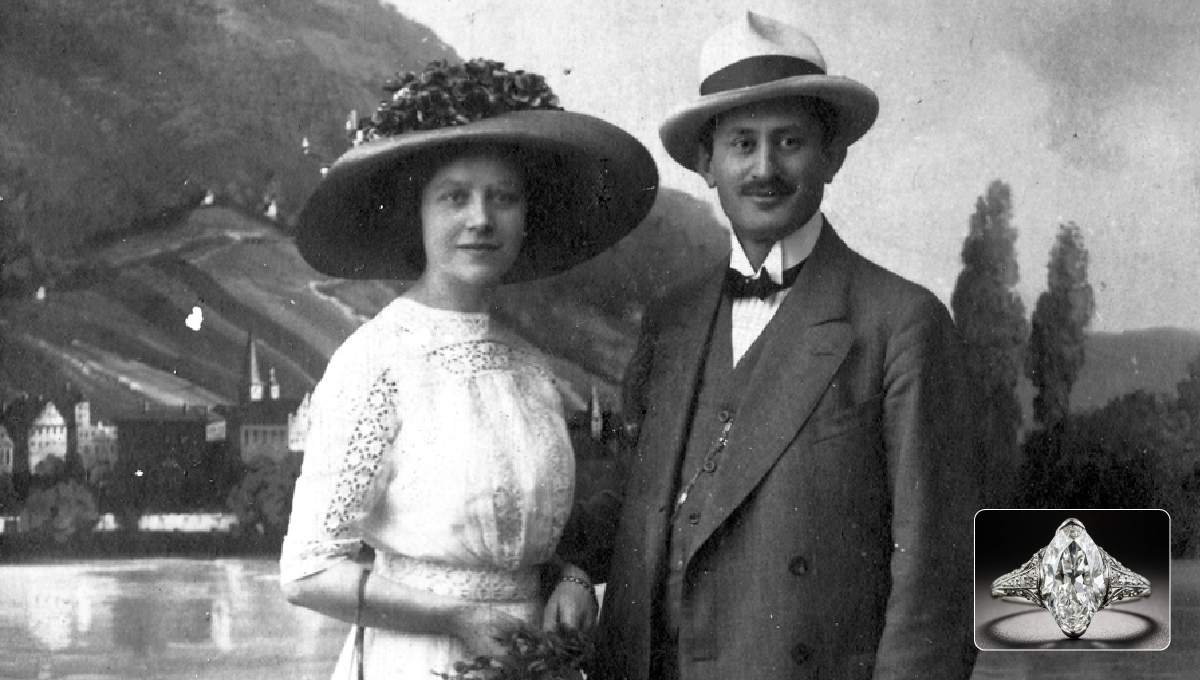 An intricate and dwelling structural formation is found in this era which requires fatiguing laborious work. The metal which was profoundly used to design rings was Platinum which these days is considered a royal and expensive metal overall the other metals available and back then also it was given the same status. 
The most exclusive and tempting factor of the rings was their motifs and design articulation as they were formed like flowers, birds, hearts, ribbons, and vines, etc., which was no less tempting and required no other extra set of designs to be fashionable.  
Although, diamonds and gemstones continued to be at the pace of getting popular amongst the people and new colorful gemstones with different cuts were adopted which brought out an elegant and petite look.
ART DECO ERA (1920-1940)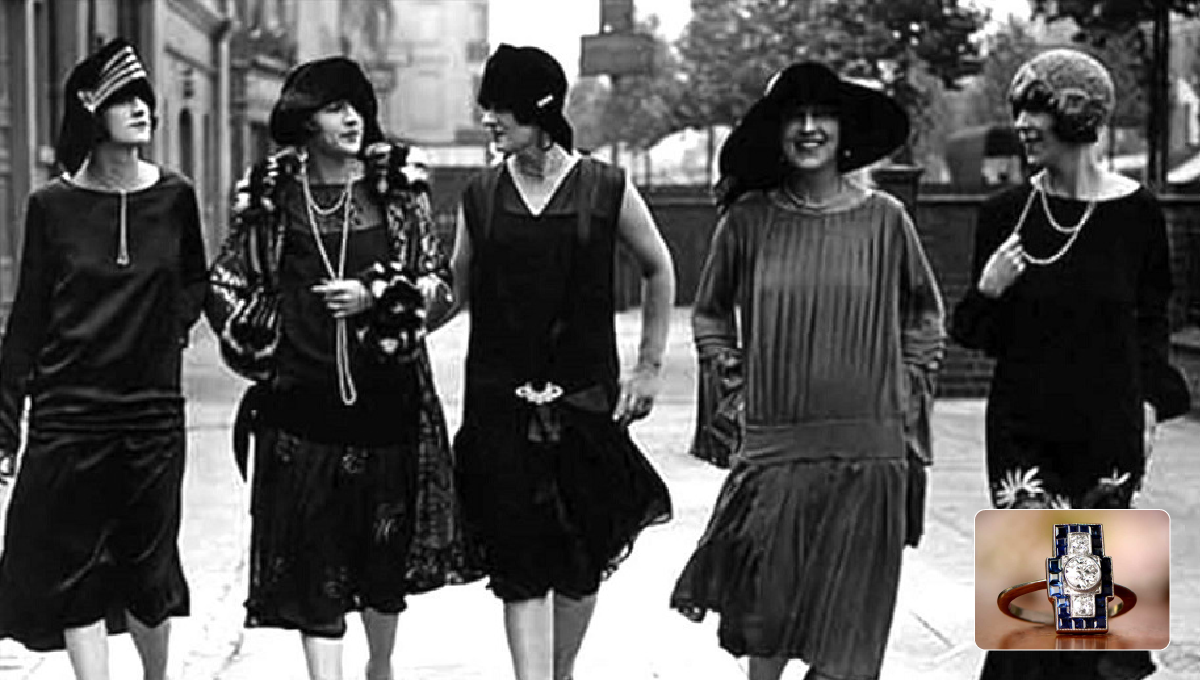 An era symbolizing geometrical and artistic structures magnanimously. In this era, instead of curvy and lacy designs, bold patterns were followed with repeating, sharp angles and tiny beaded diamonds or gemstones it flourishing, scintillating the whole piece of jewelry. 
During recent years, these designs were temptingly admired and brought back in popularity. The diamonds embedded over the metal piece were magnificently huge and grandly beautiful delivering the royal and perfect geometric look with sharp cut edgy diamonds and little gemstones embedded on the side linings of the ring. 
These diamond rings were quite expensive which made them non-affordable for most of the public and that way they remained with the royalties symbolizing the imperial powers and status.
An era of simplicity and sovereignty developed simpler looks where single diamonds or few gemstones were embedded over the engagement rings popular amongst most of the people with the stones embodiment in the center of the band consuming all the attraction towards itself and generously providing a simple but exclusively elegant look. 
The yellow and rose gold metal was again popularised and trendy with these diamonds and gemstones also following sharp edgy cuts and perfect geometrical structures, to date. The retro era seems to have never ended in the first place and the structures with elegant design forms are still impulsively chosen over other designs.
These Eras are reflected as an inspiration for today's prominent vintage collection of engagement rings as they are inclusively developed from the ideas persuaded from the design forms and settings which were earlier popularised amongst the generations and even today the taste remains somewhat similar where these design articulations are fondly accepted.
Difference Between Vintage and Antique Rings
DEFINITIONS
VINTAGE RINGS

are those rings that were typically constructed past 20-30 years from the present but remain within the margin of 100 years and not more than that. These rings are exclusively collected and fondly kept for a long lifetime consideration and require not so much attention while keeping it safe and clean as it is not much old and has a stiff, rigid, elegant but long-lasting design formation.  

ANTIQUE RINGS

are those rings that were formed over 100 years ago. These rings are kept in the collection as a token of history and require extra care and attention as they are delicate and this extra nourishing care makes it possible for them to last for several years. These rings are kind of unique in the collection as they are preserved from the era of old age which went to an end a long time ago but left its tokens for symbolism as these antique rings. 
Antique or Vintage rings are dependent on just the eras in which they were designed with the varied kind of materials used in their formation. 
In today's scenario, these both types of rings have their identification and prominence but the designs are profusely extracted and inspired from vintage looks as they are not very old and considered to be included in the modern era also, which makes them more suitable to the taste of people of this generation and fits perfectly with their fashion trends. 
In normal terms, an antique is defined as a word that suggests the collection of some valuable object for a longer period but vintage is usually described as a style or quality of object during that particular past time. 
This is the big difference in these two terms basically but it creates a grand variation amongst each other while considering jewelry with the same. These jewelry designs are halfway copied and reconstructed for fitting into today's modern era where every person's taste is perfectly understood and formulated. 
Status
Vintage jewelry, especially the rings have been in a very great position amongst the people of today's generation as they adore the vibe delivered and inspired from that old look as it unconditionally brings out their nostalgia of them being with their loved ones and remembering them at best and worst times forever, by just having a token or inspired symbol of love in a unique form of a ring.
In the case of fashion trends, vintage rings which have a retro look are very fondly admired by people and they like it over there every clothing as it suits perfectly and fits the taste astonishingly. 
These rings are either recreated or refurbished, which means the expense and use of material depend on each type of creation. During recreation, only the look or style, or quality from any vintage ring is copied and inspired to form a new structure with a slight difference, but a brand new ring is constructed which increases its cost and demand. 
On the other hand, refurbishing means editing or making a few changes to some old and already created piece of jewelry that was already found 20-30 years ago. These rings are stored for long periods and require some changes for their increment survival for the lifetime of the next generation. So, the rings could be formed in two varied ways by taking inspiration from old vintage looks.
Conclusion Thoughts
Vintage looks are all-time trendy looks in the fashion world which opens a gateway for the jewelry also as it is mostly adored and prescribed by the fashion role models to have a retro plus modern look, and this demand and desire is exclusively fulfilled by the vintage-inspired rings in the present era.