Shape Series : Baguette Cut The Most Sterling Cut
"Happiness is a fresh baguette.", which doesn't necessarily refer to the french bread but a bewitching piece of the gem known as the baguette cut diamond. The world offers exquisite jewels but baguette rings define beauty itself.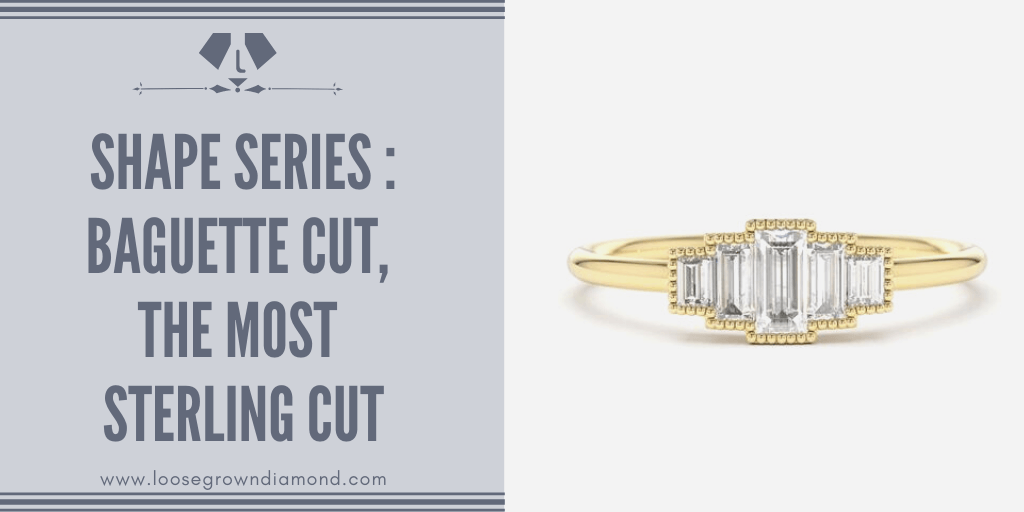 Looking for answers regarding the Baguette diamond? Well, we have you covered! Read ahead to understand as to why are baguette diamonds so precious?
What is a baguette cut diamond?
The baguette cut diamond is an oblong and slender diamond with particularly  14 iterative columns. This gem has its roots placed in the 'step-cut' lineage which tends to have a unique square-shaped parallel facet arrangement. Unlike the other members of this hierarchy such as the Asscher cuts that have X shaped facets, baguettes have straight or tapered edges.
The baguette is a type of an accent diamond that when paired with relatively larger diamonds helps in enhancing their magnificence. A somewhat similar effect as that of melee diamonds;  beautification of the main stone by the presence of the side stones. On account of their length, they can easily fit into even the tiniest of bands. These stones have a peculiar yet important function in wedding rings as they can be put together with round brilliant cuts and enhance its radiant shimmer.
To give you a perspective of these rectangular-shaped elongated diamonds, the length to width ratio is 5:1. Thus they are super slim yet equally long and look quite nice when available in abundance. 
History of the Baguette Diamond
The term 'baguette' means a loaf of bread in French to which the diamond's name can be attributed pertaining to its length. The discovery of this cut dates back over a hundred years during the Art Deco and Art Nouveau era. The Art Deco jewelry marks contrasting structural variations using baguette diamonds in various colors. 
The Art Nouveau jewelry has aesthetics with varied shapes and designs encompassing the baguette rings symbolizing femininity, grace and culture.  The uprising of baguette cuts signaled modernity and vogue in the contemporary world. Originally baguette diamonds were used in crests and beautiful rings with the owner's initials but with the passage of time, their use has evolved. Now they are used as insignias and brooches as well. The baguette diamond cut is a relic in the fashion world but it won't be going out of fashion anytime soon. 
Also Read: The Prestigious 'Type IIa' Diamonds
Wearing a Baguette Diamond
While round brilliant cuts are preferred over other diamonds in rings, the vintage attractiveness of baguette rings gives a certain embrace. Baguette diamonds can be incorporated into a lot of jewelry items such as rings, necklaces, bands, earrings etc. Let us take a look at some of these amazing baguette cut diamond jewelry, which we would also recommend for you to try!
THE PERFECT ENGAGEMENT RING
Considering how winsomely useful baguette diamonds can prove to be as side stones, they have become trendy as flashy elements in three-stone engagement rings. 
The three-stone

rings have a center stone generally being a round brilliant paired up with two symmetrical baguettes on either side giving it a concluding finish. The three-stone ring symbolizes past, present and future making it an ideal option for a wedding ring.
"Friendship, Love and Fidelity"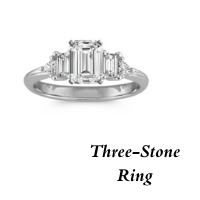 Pros of a three-stone ring :
Dynamically glistening.

Permits the usage of various colors.

Allows for a greater surface area than a single setting.

Gives more space for customization.
Cons of a three-stone ring :
 Needs more attention and cleaning

If poorly paired the beauty of the center stone can diminish.
Channel set baguette rings are doing the rounds lately as wedding bands.

Tiny baguettes are set side by side in a continuous fashion around the ring which enhances its overall brilliance.
"Enduring emblem of commitment and love"

Pros of a channel setting ring:
The diamonds are held securely in place.

The stability of the ring is maintained because of its configuration.
Cons of a channel setting ring:
The number of channels makes it difficult to repair or replace.

The stones may loosen or get misaligned.
Vintage baguette diamonds

have an eternal grace as they have a variety of accent diamonds. Some beautiful examples are the Hexagonal Baguette ring and the Halo baguette ring with baguette diamonds attached in a circularly ordered fashion providing a symmetrical appearance to the ring.
"The timeless beauty"

Pros of a Vintage ring:
Their look is everything a wedding ring needs. 

Vintage rings are fairly inexpensive.
Cons of a Vintage ring:
Color combinations cannot be made in vintages.

The vintage ring diamonds lose their shine over time.
Baguette Eternity Bands

in the news for quite a while now, thanks to their sleek and stylish demeanour. Eternity bands are not only used as wedding rings but also as gifts. They come in a prong setting, in bezels and channels.
 "Always and Forever"

Pros of Eternity band:
Multiple options to pick from.

The set stones reflect light giving it a shimmery appearance.

Has a classic Deco Art look
Cons of an eternity band :
The prong setting may sometimes rub against other rings.

The size of the stones may be irregular giving a shabby appearance.
Also Read: Shape Series : Perfect Amount of Sparkle With Oval Cut Diamond
What to look for in a Baguette Diamond?
There are a few things that need to be kept in mind while choosing baguette diamonds. There is a wide range of colors and combinations available but it's inevitable to cautiously purchase baguette cut rings. As these diamonds aren't exactly the main attention but with the right metals and gems, they can make any piece of jewelry look like a piece of art. 
The most important factor to be considered is the combination with the center stone is used as a side stone. 
Given are the various details to be taken into account :
1.Length-Width Ratio 
Baguettes come in a wide variety of length-width ratios, the most common being 1.5-1. However, the range can vary up to 5:1 ratio depending upon the size of the ring, which is also the most preferable ratio as it gives out the most prominent look of the baguette cut.
2.Color and Clarity
The color contrast and clarity of the baguettes must be checked to avoid vexatious appearance. The color grades chart must be referred to for both baguettes and the centre stone in case of three-stone rings. Baguettes with clarity gradient of VS2 and above should be bought preferably. It should be noted as the color grade goes up so does their prices. 
Due to the small number of facets, baguette cut diamonds have space for inclusions more than a round brilliant or emerald cuts which one must refrain from buying. These diamonds also at times don't exactly give out as much shine as you would hope a diamond to give out. Thus, the inclusions become more visible, be sure to check that the diamond you are buying is flawless. 
In order to provide a symmetrical finish to the piece, baguettes must be bought in sets. Consistency is the key if one is looking for eternity bands as they have multiple diamonds set next to each other. The better a pair of baguette gems, the better the congruency and the better the look they offer.
As baguette diamonds are harder to extract from rough diamonds than other cuts of diamonds, it should be noted that these gems are also more expensive. And when you are spending a wad of cash on a supporting diamond it better be worth it. All of the factors mentioned above and the price for these features when set at a reasonable rate is a profit. Be sure to know the price of the market before you go looking for the best baguette diamonds. 
What are the Pros And Cons Of Baguette Diamonds
PROs
 Baguette diamonds are more inexpensive and affordable than brilliant cuts.

Baguettes act as great side stones when put together with brilliant cuts and allow for the centre stone to shine.

Baguettes can be placed in various alignments and therefore make very versatile components of jewelery.
CONs
They are not suitable for solitaires or jewelry where they have to be mounted alone. 

Due to their special arrangement inclusions are highly visible.

They sparkle less than brilliant cut diamonds and thus might not be the optimal choice.
Emerald Vs Baguette cut Diamond 
Many people confuse baguette cut diamonds with emerald cut diamonds as they both belong to the step-cut family and have a similar setting/facets.
Emerald cut diamonds are rectangular in shape with eight sides and blunt edges. The rectangular shape produces a 'house of mirrors' effect because of multiple reflections of the light entering it.
Baguette diamonds on the other hand have sharp edges and reflect light like a hologram. They do not have quite the brilliant sparkle like that of an emerald cut diamond. Baguette cut diamonds are more easily available than emerald cut diamonds but emerald cuts are more popular nonetheless. Baguette cuts are generally cheaper and emerald cuts are on the expensive side.
Baguette Cuts have been preferred by various celebrities on a number of occasions. 
Marilyn Monroe wore 35 baguette cuts at her wedding.
Gisele Bundchen rocked the baguette ring at the Grammy's.
Izabel Goulart shared the image of her baguette wedding ring on her Instagram.
Also Read: Shape Series : Romantic Vintage Marquise cut Diamonds
Conclusion Thoughts
Needless to say, but with the passage of time vintage classics diamond have overshadowed contemporary modish jewels and have taken over the fashion industry. 
Baguette cut diamonds have exceptionally displayed their worth not only as accent stones but also as indispensable elements of eternity bands and various other types of rings. They are extremely affordable and when paired up with brilliant cut diamonds formulate an unprecedented work of art.
To know more shapes of diamonds you can consider our shape series.