Baguette Cut Diamond: All Things You Need To know
The baguette cut diamond is an oblong and slender diamond with particularly  14 iterative columns. This gem has its roots placed in the 'step-cut' lineage which tends to have a unique square-shaped parallel facet arrangement. Unlike the other members of this hierarchy such as the Asscher cuts that have X-shaped facets, baguettes have straight or tapered edges.

The baguette is a type of accent diamond that when paired with relatively larger diamonds helps in enhancing their magnificence. A somewhat similar effect as that of melee diamonds;  beautification of the main stone by the presence of the side stones. On account of their length, they can easily fit into even the tiniest of bands. These stones have a peculiar yet important function in wedding rings as they can be put together with round brilliant cuts and enhance their radiant shimmer.
To give you a perspective of these rectangular-shaped elongated diamonds. Thus they are super slim yet equally long and look quite nice when available in abundance. 
History of the Baguette Diamond
The term 'baguette' means a loaf of bread in French to which the diamond's name can be attributed pertaining to its length. The discovery of this cut dates back over a hundred years during the Art Deco and Art Nouveau era. The Art Deco jewelry marks contrasting structural variations using baguette diamonds in various colors.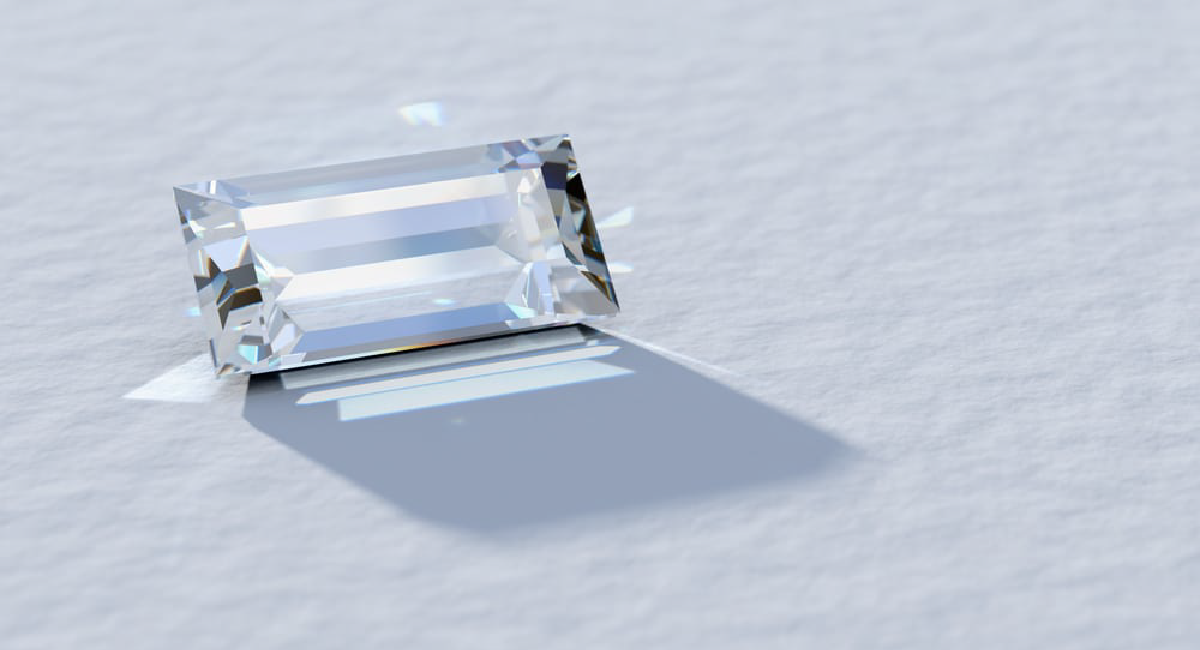 The Art Nouveau jewelry has aesthetics with varied shapes and designs encompassing the baguette rings symbolizing femininity, grace, and culture.  The uprising of baguette cuts signaled modernity and vogue in the contemporary world. Originally baguette diamonds were used in crests and beautiful rings with the owner's initials but with the passage of time, their use has evolved. Now they are used as insignias and brooches as well. The baguette diamond cut is a relic in the fashion world but it won't be going out of fashion anytime soon. 
What to look for in Baguette Diamond
Cut
The baguette cut diamond in general is made with lesser cuts in comparison to other diamond cuts. When you measure the facets in a baguette-cut stone, that is the flat space in the diamond stone, there are only 14 facets. All of which naturally points down to the fact that any work done on the stone needs precision.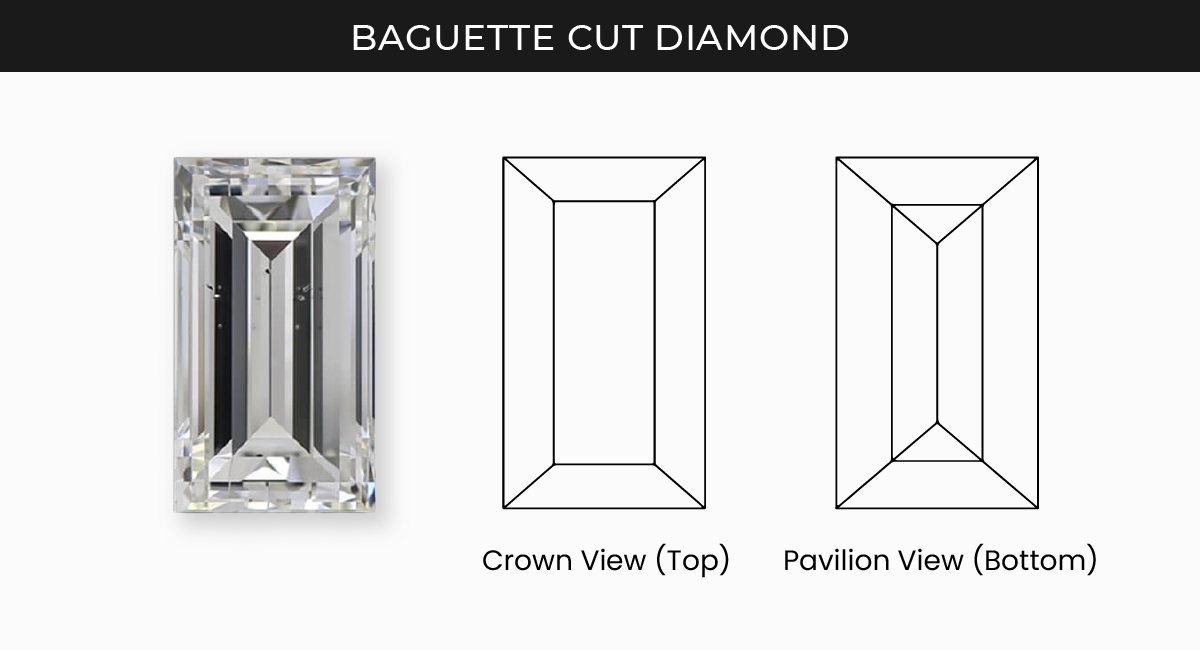 Why does this precision mean so much? It is because with other stones that have more facets they cover up the unevenness or lack of clarity but that doesn't happen in the case of a baguette diamond due to the lower number of facets. 
There are two main cuts of baguette diamond that you'd find, one is 'tapered cut' and another is 'straight cut'. The straight cut diamonds are complete rectangles with the sides opposite to each other being perfectly parallel. The tapered ones, on the other hand, inherently look like a trapezoidal stone with an angle leaning inwards.  
You can choose between the two cuts which one suits you the best.
Clarity
Looking for absolute clarity in your baguette stone? The key is to look for detailed cuts and then you'll attain a level of crystal clear clarity. Because that is fairly important as the facets and the cut of the stone will make sure whether or not the diamond will have a perfect clarity and shine you have been looking for.
What will affect the crystal clarity of your baguette stone? That would be a lack of brilliance in your diamond, which would also be visible to the world. This is due to the fact that any kind of incorporation or flaws present in the diamond is readily visible in the baguette stone because of its cut.
Hence a purchase of a high-quality grade baguette diamond that could be a VS2 clarity would make more sense in terms of an investment. 
Carat
The carat size in your baguette-shaped diamond is something important but can be looked out for at the end of the deal, focusing on clarity and color is very important. Hence, 0.5 to 1-carat baguette diamond should be your ideal choice range.
Color
How you choose the Baguette Shaped diamond depends a lot on its color. Due to the shape and big facets they possess, they tend to show the true color of a diamond much better than diamonds that go through similar precise cutting. From the gradient scale, a G or H color rating is perfect in terms of baguette diamonds. This is so that the top side of the diamonds looks colorless and has a higher brilliance. 
The baguette diamonds are usually bought for their elegance and not spark or shine. They are mostly bought as side stones surrounding the main stone. However, if you're using it as the main stone make sure to use side stones at the same level of the color as the baguette stone, and to match their colorless shade G or H is completely a safe choice.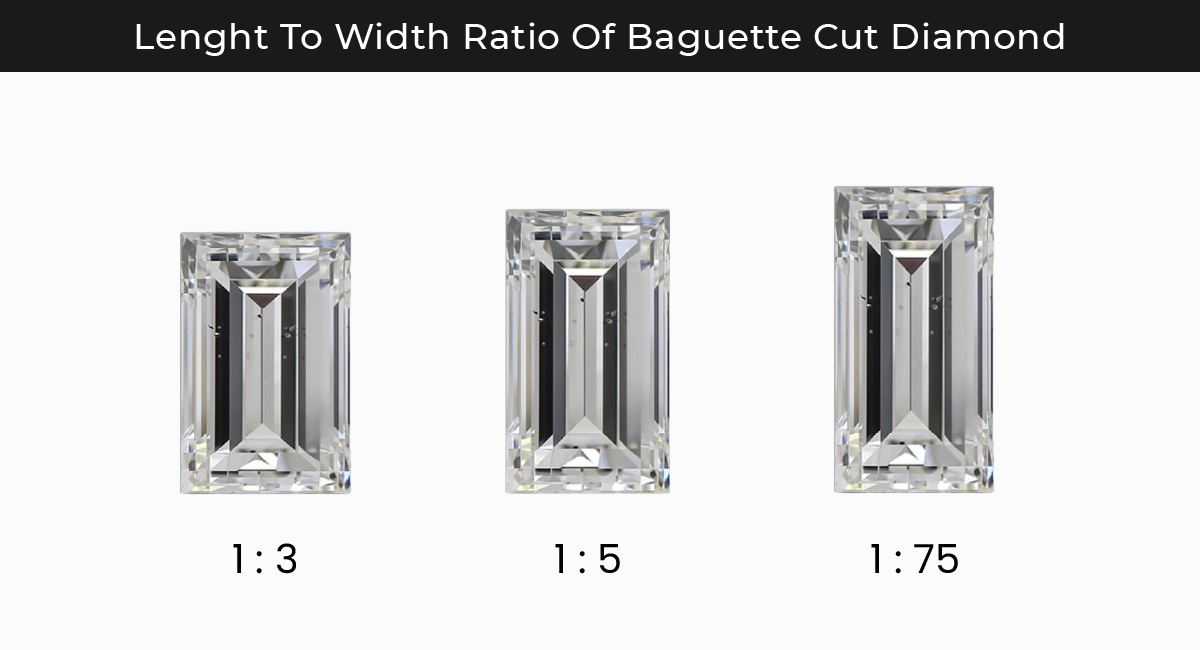 Pros and Cons of Baguette Diamonds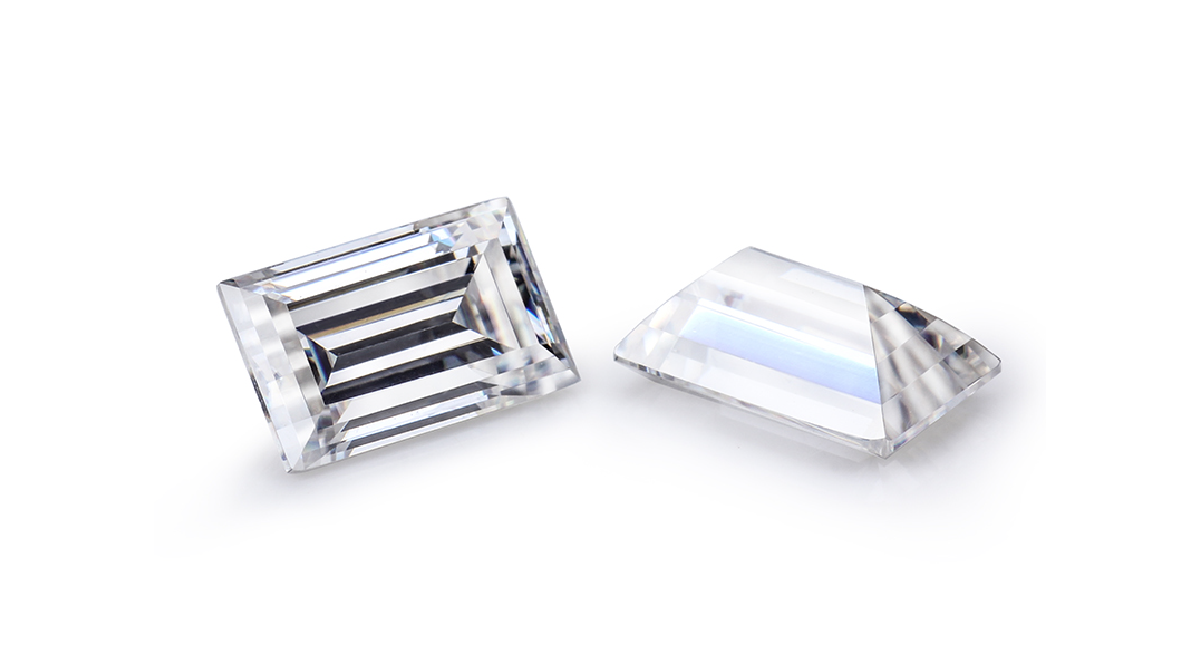 Pros
 Baguette diamonds are more inexpensive and affordable than brilliant cuts.

Baguettes act as great side stones when put together with brilliant cuts and allow for the center stone to shine.

Baguettes can be placed in various alignments and therefore make very versatile components of jewelry.
Cons
They are not suitable for solitaires or jewelry where they have to be mounted alone. 

Due to their special arrangement inclusions are highly visible.

They sparkle less than brilliant-cut diamonds and thus might not be the optimal choice.
Emerald Vs Baguette cut Diamond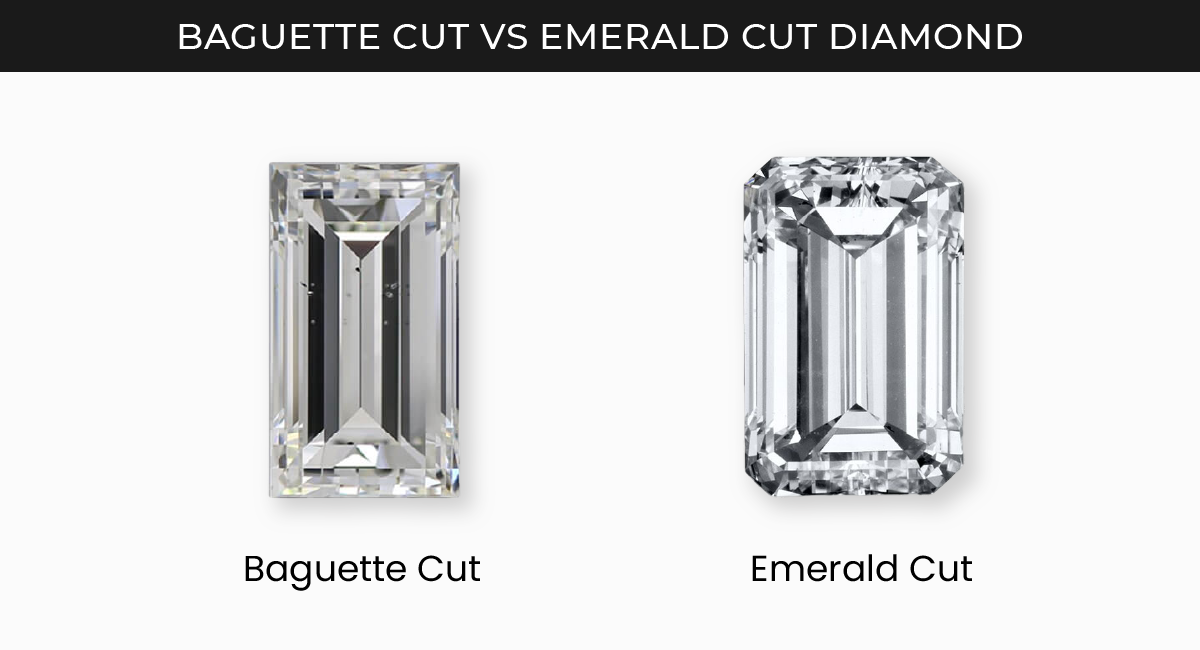 Many people confuse baguette-cut diamonds with emerald cut diamonds as they both belong to the step-cut family and have a similar setting/facets.
Emerald cut diamonds are rectangular in shape with eight sides and blunt edges. The rectangular shape produces a 'house of mirrors' effect because of multiple reflections of the light entering it.
Baguette diamonds on the other hand have sharp edges and reflect light like a hologram. They do not have quite the brilliant sparkle like that of an emerald cut diamond. Baguette cut diamonds are more easily available than emerald cut diamonds but emerald cuts are more popular nonetheless. Baguette cuts are generally cheaper and emerald cuts are on the expensive side.
Baguette Cut Diamonds Rings Setting
To select the perfect setting for the Baguette Cut Diamond may seem a bit tricky, so here are a few settings we would like to suggest:
Three stone setting Ring
The three-stone setting is usually set with tapered baguette stones where the baguette is the side stone or the accents, and this setting is used to add an extra touch to the center stone.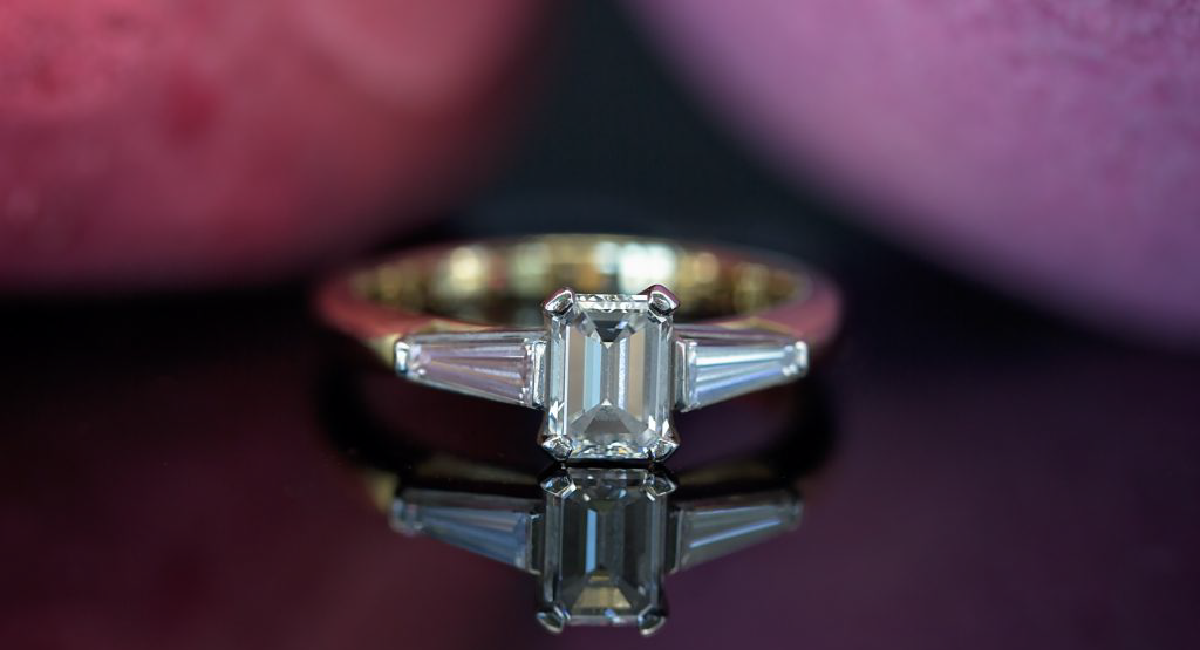 The three-stone setting which is most followed is placing a three-stone tapered baguette next to an emerald cut diamond. This is done mostly to hide or outshine the step cut that both the baguette and emerald cut diamond stone have inherently as their cut style. Also, this makes a beautiful setting because both the stones alongside each other give out a very royal look.
Channel Set Baguette Ring
Baguette diamonds as already established make very beautiful accent stones, they look even better as accent stones when put in the channel set baguette ring setting.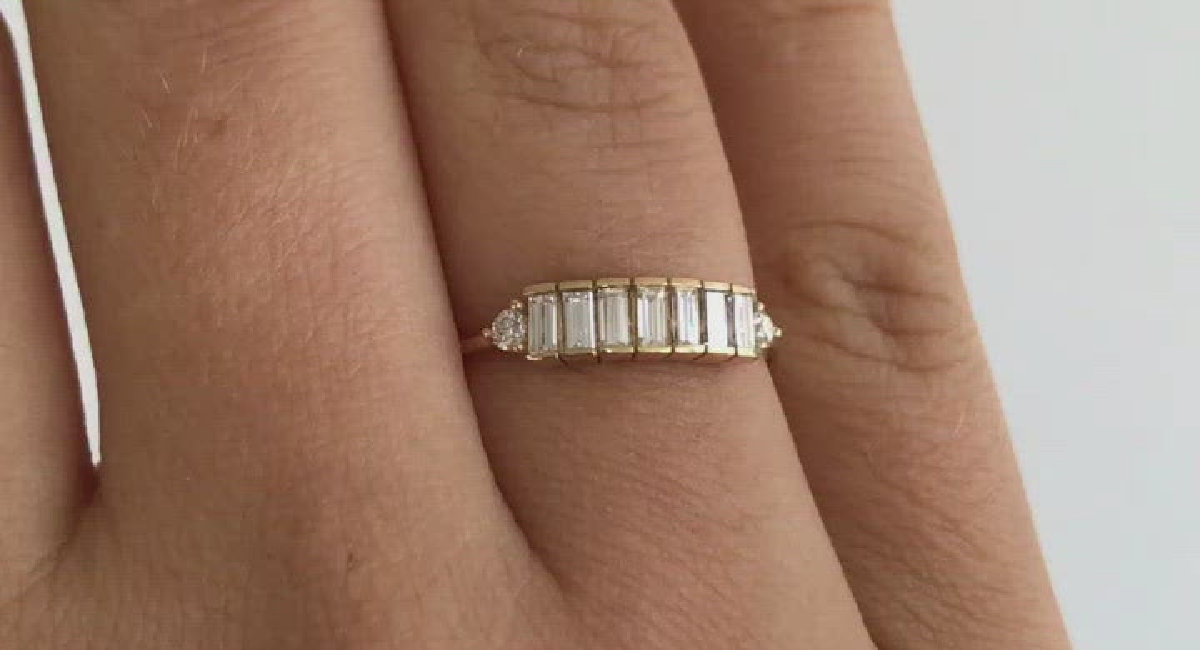 This setting is perfect because small baguette stones in the metal band adjacent to the center stone are a very neat and sophisticated look in itself, and they can be a perfect fit for your loved one.
Vintage Baguette Ring
If you're someone who is obsessed with a lot of round diamonds in your rings, then baguette stones are here to add glory to your super classic vintage look. They are a brilliant addition to any vintage ring you may possess. 

We say so of baguettes because of how unique they are and add a lot of variety and texture to your ring by taking it to another level.
Baguette Eternity Ring
Baguette eternity bands or rings are beautiful choices. In this setting, a row of baguette diamonds is placed end-to-end followed by the channel setting of the main ring to give it a sophisticated and bulky yet elegant look.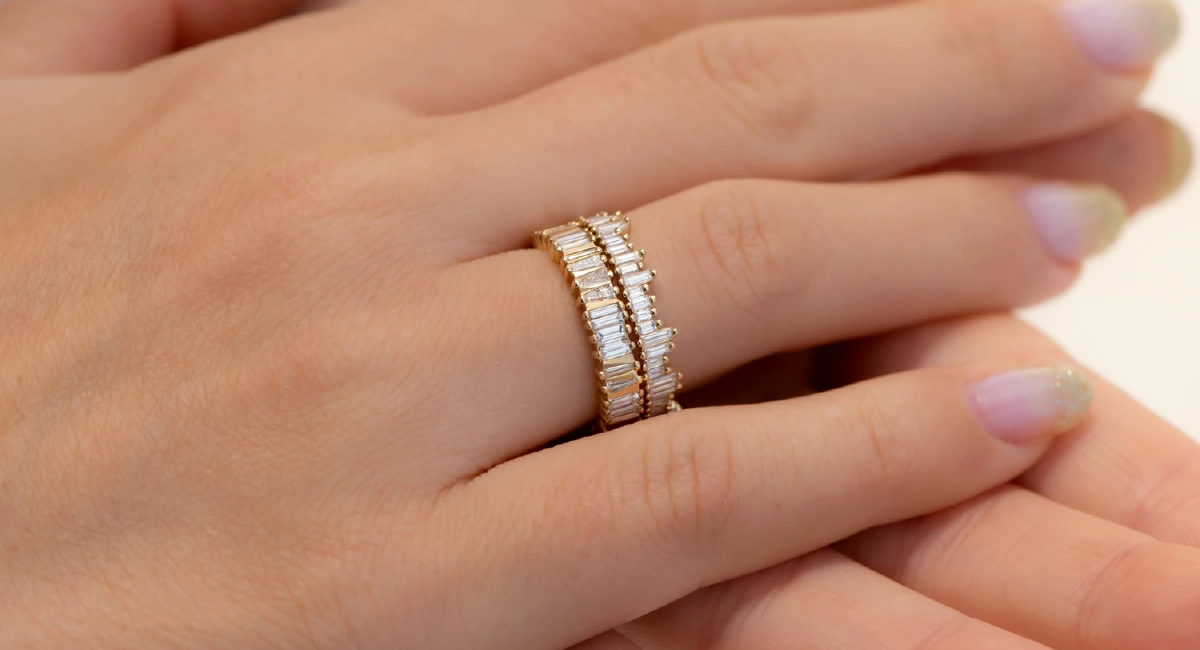 The plus point for this setting is that baguette diamonds are somewhat less priced in comparison to the other diamonds and are a good choice appeal wise. So, although you're using a lesser-priced diamond stone, the cuts are still top class. 
Ballerina Diamond Ring
If you want a ring that stands apart from the crowd then a ballerina diamond ring is a great choice. The baguette diamonds are featured in a way that they point outwards showing their beautiful shape around a primary stone.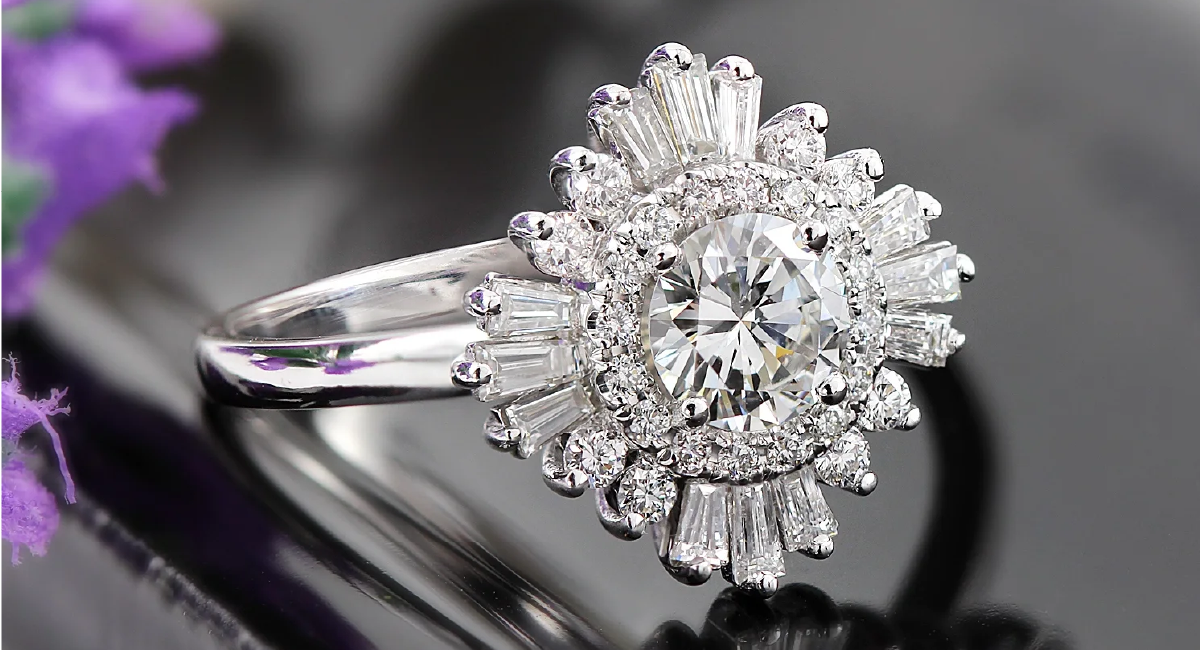 They radiate a very unique and attention-grabbing look. Due to the use of multiple baguette diamonds, this ring setting may tend to cost a lot in comparison to other rings.
Conclusion
Needless to say, with the passage of time vintage classic diamonds have overshadowed contemporary modish jewels and have taken over the fashion industry. 
Baguette cut diamonds have exceptionally displayed their worth not only as accent stones but also as indispensable elements of eternity bands and various types of engagement rings. They are extremely affordable and when paired up with brilliant-cut diamonds formulate an unprecedented work of art.