Difference Between 10k, 14k, 18k & 24k Gold- Which Gold Is Most Suitable For You?
In this article,  you will learn " Difference Between 1ok, 14k, 18k, and 24k Gold ". Pure gold is a precious metal found around the world and is also widely incorporated into jewelry, most importantly engagement rings. Or that is what you are taught to believe.
Most likely you're always suggested by your jeweler to buy a wedding band that is made of 10k gold, 14k gold, 18k gold, or 24k gold because of its versatility. This is because pure gold is too malleable making it not a good fit for jewelry.
A lot of times you get confused between what is the karat of gold that needs to be used or what is the difference between karat and carat, and the available different measurements for gold. We shall help you find the answers to all these difficulties throughout this article and most likely by the end of this article you'd also be able to decide what type of gold jewelry you want. Especially help answer the common question 'Is 10k gold good'?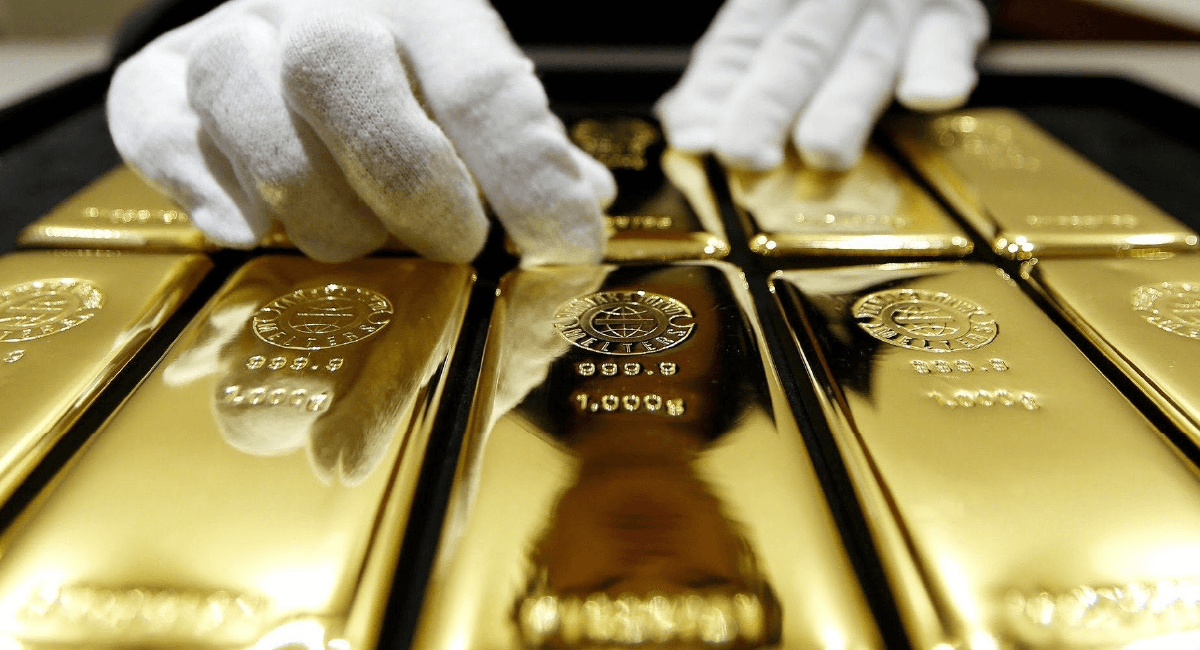 What Is The Difference Between Karat And Carat?
Firstly, what is the difference between Karat and Carat? 'Karat' is used to measure the weight of gold, like-  10k gold, 14k gold, 18k gold, and 24k gold. While 'Carat' is used to measure the weight of diamonds, like- 1-carat diamonds, 1.5-carat diamonds, 2-carat diamonds, and many others. You can remember this easily by associating diamonds with the 4C's for carat and gold with the 4K's for karat. Here 10k, 14k, 18k, and 24k are the 4K's of gold.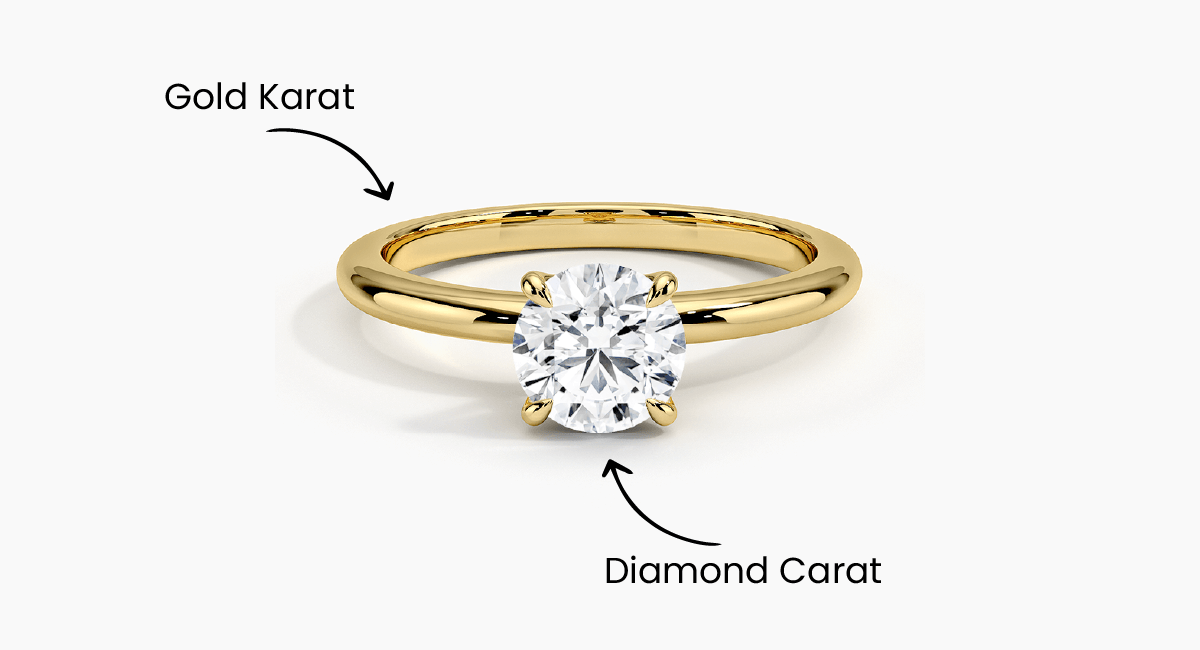 Both the units of measurement were established because for ages "larger the better" was something that was believed. 
Through this article, you will understand how different karats are, for instance, a gold ring with 10k gold will have several things affecting its price but, the karat of gold is one of the most important factors affecting the price of the gold.
Following this article will help you learn the difference between 10k gold, 14K Gold, 18K Gold, and respectively 24K Gold. Further on, what is the purity rate of the following and what shall be your best choice are the primary questions that we are going to deal with and find the best suitable answers to them. 
What Does Purity in the Gold Mean?
The measure of the purity of Karat is also done via math, so in simple words, if we put the math then one karat has 1/24 part of pure gold in an alloy, hence putting the same formula in 10k Gold there are 10 parts of pure gold and 14 parts of other different alloys.
So, 24/24 part of gold will be considered as 24k gold or pure gold.
By now you must have understood there are different types of gold and the purity level affecting the price of your ring. You'd already be spending a ton on the ring which has a diamond stone and the diamond color and clarity decide the majority of your budget. The diamond clarity scale chart differs from the gold chart hence the pricing differs too. 
Let's go on ahead and discuss the different karats of gold available in the market.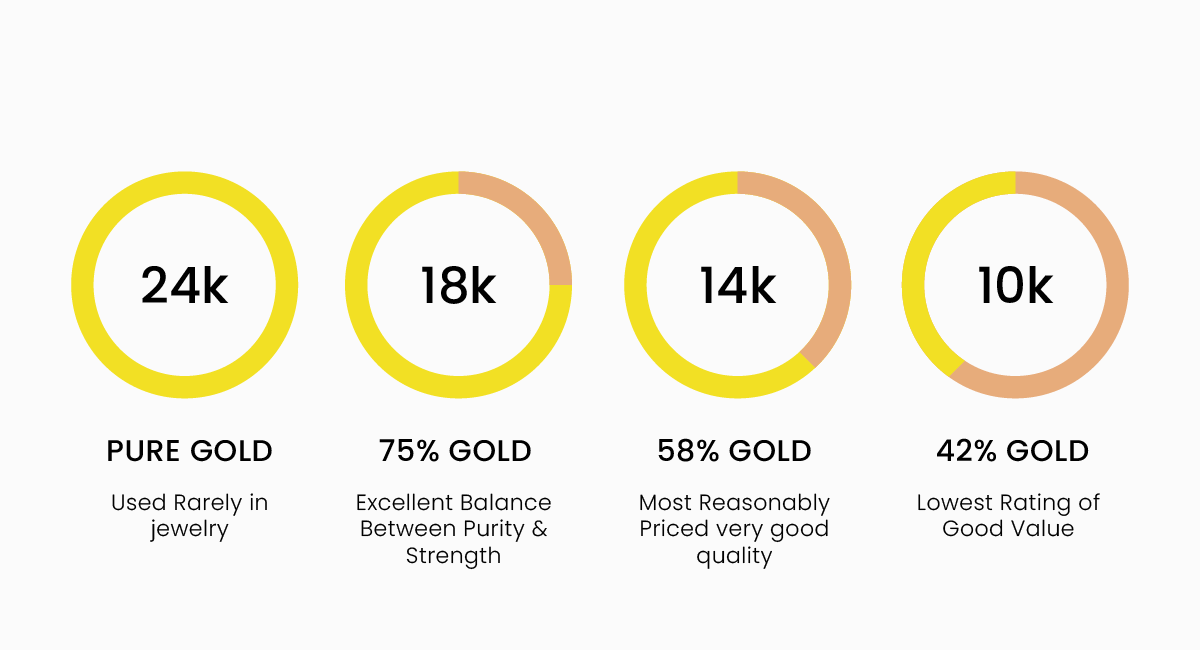 What is 10k gold?
10K Gold, is the gold that has a greater amount of alloy than gold. 10K Gold has 41.7% gold which makes the quantity less in comparison to other jewelry and hence the prices are low. It should be noted that as 10K Gold has 58.3% alloy it becomes more durable as the purer the gold the softer it gets and thus normal wear and tear is inescapable.
10 Karat Gold is the most inexpensive gold out there with the highest sense of durability. 10k gold is the most impure gold out there however, it has a fair base in the earrings market. It is widely used there, however, because of its impurity, it is sparsely used in wedding rings.
Is 10k gold good?
10K Gold in comparison to other karats of gold costs less. However, its color isn't majorly that of yellow gold, it has a polished shade and hence isn't preferred for wedding rings. Most importantly because it has that much amount of other metals in it, and in certain cases can trigger skin allergies. 
However, if you're running low on a budget, 10 karat gold is not something that will disappoint you but rather make you look good on a low budget.
What Is 14k Gold?
As we move on, next up we have 14K Gold. It is the most sought category of gold for wedding rings. As 14k gold contains more gold than 10K Gold, in comparison, it ought to be more expensive. 14k gold precisely has 58.3% pure gold and the rest is alloy. 14 parts of 24 are gold.
14K Gold is very strong and durable. It is an excellent mix of pure gold and alloy. The color of 14 Karat Gold is rich and hence is chosen for wedding rings often.
14k gold is great in terms of color, price, and durability. The best part of it is that it is fairly strong and you can easily go about your daily tasks while wearing a 14k gold ring.
However do keep in mind that in terms of color it is pale too, and to see the difference between 14k gold and 10K Gold is not possible via the naked eye. As it contains a great portion of alloys it can also trigger skin allergies. So, these are a few downsides however it isn't a bad choice overall.
What Is 18k Gold?
Let us move on to 18K gold, it is the purest form of gold that is put to use. With a huge 75% chunk of pure gold and merely 25% alloy. 18 Karat gold is the best form of gold used for making jewelry. 18 parts of 24 are gold.
18k gold has a very rich yellow look to it and hence looks phenomenal while used in wedding rings. However 18k gold is equally expensive, and because of the nickel used in it is also prone to allergies. More so, because 18k gold is so pure it is soft too, making it impossible to endure scratches. 
Hence there are two things you need to consider whether you have a budget for this and if you're in an active life setting will this be a durable decision.
What Is 24k Gold?
Lastly, 24 Karat Gold is 24 parts of 24 parts gold. 24K Gold isn't used to make jewelry for numerous reasons. Ranging from 24k gold being extremely soft to being extremely expensive. 24k gold is not worth the trouble as it can't hold any shape for long. 
When using 24 karat gold there is of course a chance for scratching which makes this pure form of gold very un-enticing to look at. 24k gold however has an extremely bright yellow gold color, the brightness hits your eyes in a harmful manner and hence isn't something that is looked out for by buyers.
24k gold isn't preferred as an optimal choice in jewelry making.
How Many Karat Golds Is Best For Engagement Rings?
Now, given all this discussion regarding the purity of Gold, we believe the most important question that has popped into your head is which is the best karat of gold for an engagement ring. Well, if we are to suggest a karat of gold that is the best for engagement it would be 14K Gold, because how it is just the perfect mix match of all the categories.
It also fits the budget, it isn't as impure as 10K Gold nor is it extremely expensive, and also less durable than 18K Gold. Hence it is the Karat of Gold that would fit everyone's budget and yes would be a great choice too.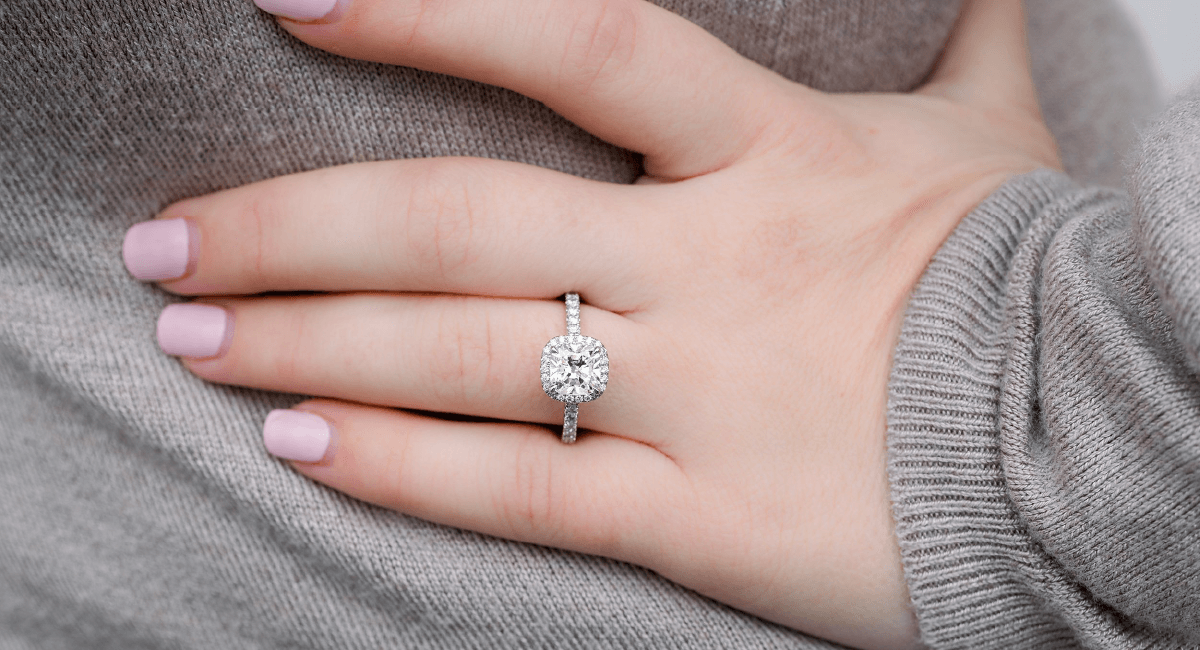 Conclusion
So how did you like this guide " Difference Between 1ok, 14k, 18k, and 24k Gold ", please comment your thoughts. We believe that buying gold is a tedious process given how much research goes into the process, and this is not just for rings but if you're purchasing gold for any purpose it would be the same. Hence, we suggest you take your time and make a well-thought-out choice.
If you have any queries and need help be sure to contact us at Loose Grown Diamond.