How to Clean Diamond Earrings To Make Them Glossy And Attractive 2022
Are you looking for a simple method of "how to clean diamond earrings at home" to keep them sparkling? So, at Loose Grown Diamond, we're here to make sure you get the best response to every query you have, from why to how. Let's get straight to it.
How To Clean Diamond Earrings?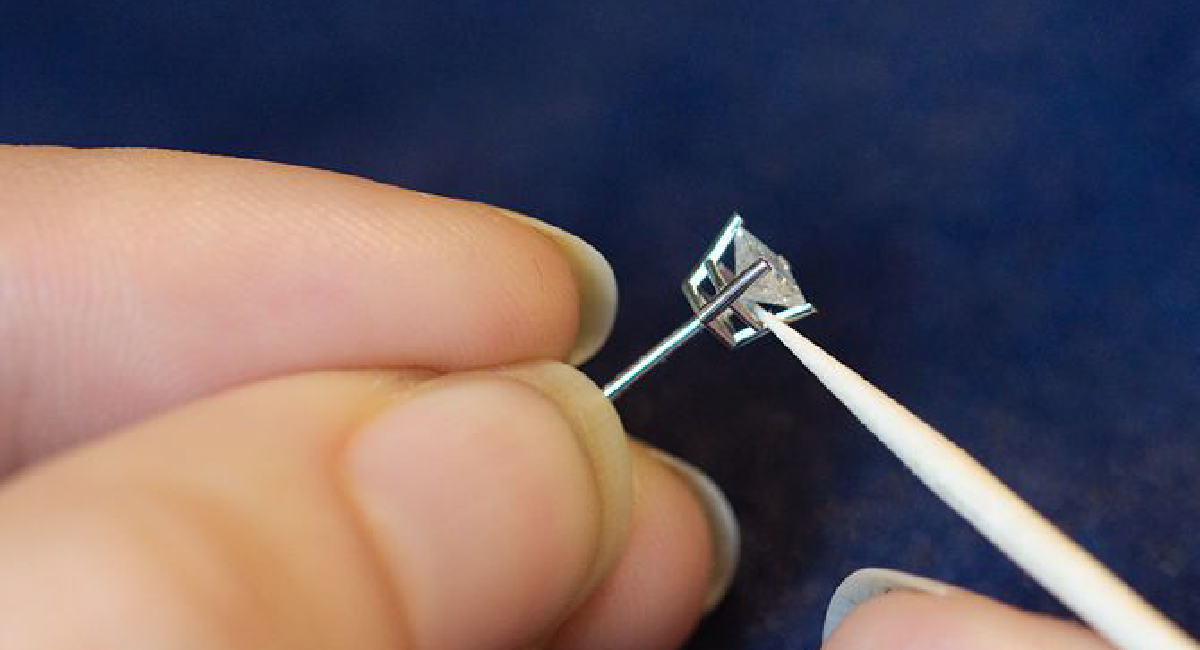 You can now restore the diamond's luster in the convenience of your own home. You only need to purchase a cleaning kit. Chemicals in cleaning kits are used to remove tarnish, oil, and filth. Diamond light polishing kits are by far the most practical method.
You should also keep an eye out for chemical cleaners that are not abrasive and won't harm your priceless stones.
What Is The Best Way How To Clean Diamond Earrings At Home?
To begin the procedure of how to clean earrings:
Step 1: Get a small, soft-bristled toothbrush with fine hairs first.
Step 2: Use soapy water to apply to your diamond jewelry. This helps remove grime, grease, and debris, but if you use a rough toothbrush or vigorous movements, your diamond will undoubtedly be harmed. Consequently, use caution when approaching.
Step 3: Apply a gentle cloth, preferably one made of microfiber, to complete the polishing procedure. Diamond earrings can be dried and cleaned using this gentle fabric. Another option is to purchase any soft material or use an old t-shirt. Using an absorbent cloth to hasten the drying process is also a good idea.
On a fundamental level, this is regarded as the best method to clean diamond earrings.
Factors To Consider While Cleaning A Diamond

Numerous people have lost their priceless diamonds as a result of improper maintenance and failure to keep them on safe surfaces when cleaning. Selecting a secure location will spare you a lot of headaches and protect your diamond from loss or damage.
In order to avoid diamonds falling away while cleaning them, it is advised to choose a flat surface over those curves or slopes.

A surface that is black is another excellent place to clean diamond earrings. Placing a black cloth over the surface is simply hackable.

The secret is effective lighting. Cleaning during the day or with adequate lighting makes it easier to notice the dirt particles. You should never, ever clean your earrings near a sink because you don't want to lose your diamond earrings in a sink. It's also necessary to utilize a bowl or other vessel.

Gloves can be useful as well. By not cleaning up your oils and dust, which could discolor the diamond, you will save time.
1) Dish soap

A few drops of dish soap should be added to a large basin of warm water.

With a soft towel, scrub the diamond stud earrings to get rid of all the tarnish. Keep in mind that using anything strong could harm your diamond.

Thoroughly rinse it out with water, then dry it with a soft cloth.
2) Baking Soda (Sodium Bicarbonate)
Create a paste, then either apply it to the jewelry or dunk the diamond earring posts in it.

Leave it alone for almost ten minutes. This will enable the paste to properly absorb the filth.

Use a toothbrush to remove the paste completely, and then a soft cloth to remove any remaining paste, if any.
3) Ammonia


Ammonia will help remove tarnish better than other treatments if you want to be a little rough with your diamond while still protecting it from damage.

Dip your diamond in the mixture made of water, dish soap (two tablespoons), and ammonia (one tablespoon) for ten to fifteen minutes.

After letting it sit for a short while, remove the tarnish with a soft cloth or a soft toothbrush.

It should be completely rinsed under running water after being cleaned in ammonia, then dried with a soft cloth.
4) Hydrogen peroxide
Strong bleaching agent hydrogen peroxide aids in removing the diamonds' outer coating and gives them a polished, shining appearance. The steps to take when cleaning earrings with hydrogen peroxide are as follows:
Dip your earrings in equal parts of hydrogen peroxide and Windex solution (1:1).

Give them about ten minutes to soak.

Dry your earrings with a soft cloth, preferably one made of microfiber, after giving them a thorough and gentle rinse.

Properly dispose of the hydrogen peroxide mixture.
Also Read: Tips on How to Keep a Lab Grown Diamond Clean
Handy Tips To Keep Your Diamond Earrings Sparkly Clean
You must take a few factors into account if you want to prolong the life of your diamond.
Cleaning diamonds frequently can cause damage and cause the earring to lose its luster. So, it makes sense to take measures. Simple measures like cleaning your earrings and avoiding wearing them where they will be in contact with grime will undoubtedly help preserve the sparkle for a long time.
DO

's and

DON'Ts

While Cleaning Diamond Earrings
Do's
Before beginning to clean, it can be a good idea to look for loose gems. For this reason, numerous instances of people losing stones have come to light.

Additionally, diamonds should be kept in the proper containers (cases, pouches, etc.) to reduce the risk of damage.

The diamond must also be cleaned of the chemicals; if this process is skipped, the jewelry may end up appearing unappealing.
Don'ts
Avoid cleaning your jewelry with an ultrasonic cleaner at home. Even though jewelry cleaners are useful, if they are not used correctly, they might harm your jewelry. The diamond, which is firmly entrenched in the metal, could wind up coming loose as a result of the vibrations.

Diamond jewelry should always be protected from harsh chemicals like bleach and other household cleaning solutions like chlorine.

Diamond earrings may become dull if they are worn while sleeping or if they are not stored correctly when not being worn.
Conclusion
While it is crucial to have your diamonds cleaned on a regular basis, it is also important to take the required precautions to keep them as far away from dirt as possible, which can quickly discolor the diamond. Diamonds are delicate stones that require special care and are easily damaged.
We hope that this article has adequately addressed your query, "how to clean diamond earrings," and that you are satisfied with the answer.
Frequently Asked Questions (FAQs)
There are probably numerous questions you have after reading this essay. When asked "How to clean diamond earrings," the majority of people typically follow up with the following queries.
How often should one clean their jewelry?
If jewelry is worn frequently, it should be cleaned once a month; if it is worn extremely infrequently, it should be cleaned once every six months.
When do you know that it's time to clean your diamond jewelry?
The diamond has lost its sparkle or there is a clear layer of dirt visible, whichever provides the most conclusive response.
How to clean earrings if they are made of other materials?
If you want to clean diamond earrings comfortably at home, soapy water is your best bet. But before attempting to clean your diamonds with chemicals that are on the market, it is crucial for you to look at the ingredients or get professional advice.
How to clean diamond earrings professionally?
High-frequency sound waves are produced by ultrasonic equipment, which is used by experts. This eliminates dirt in a split second. It is among the simplest and quickest ways to polish your diamond.
What should not be done to a diamond?
Never clean your priceless diamond jewelry close to a faucet or basin. You run a considerable danger of losing the diamond if you do this.
As harsh chemicals can be abrasive and harm your diamond, you should also think about the chemicals you are exposing the diamond to.