White Gold vs Yellow Gold: How Do They Differ?
Which is Better: white gold or yellow gold? You have come to the right place if you are looking to answer this question.
Gold rings have always been one of the first things that come to a person's mind when talking about jewelry, and those who plan on buying one know it can be quite a task to do so.
Why you may ask? Well, that's because of the variety of gold available on the market, like white gold, rose gold, and yellow gold and among them, the most inconspicuous metals like white gold and yellow gold. Knowing why these two are different is necessary when selecting a gold or gold ring.
With the help of this article, you will get to know the pros and cons while shopping for these metals while being able to finally deduce a conclusion regarding which will be a better choice for you.
White Gold v
s

Yellow Gold

–

How To Determine Which Will Suit You?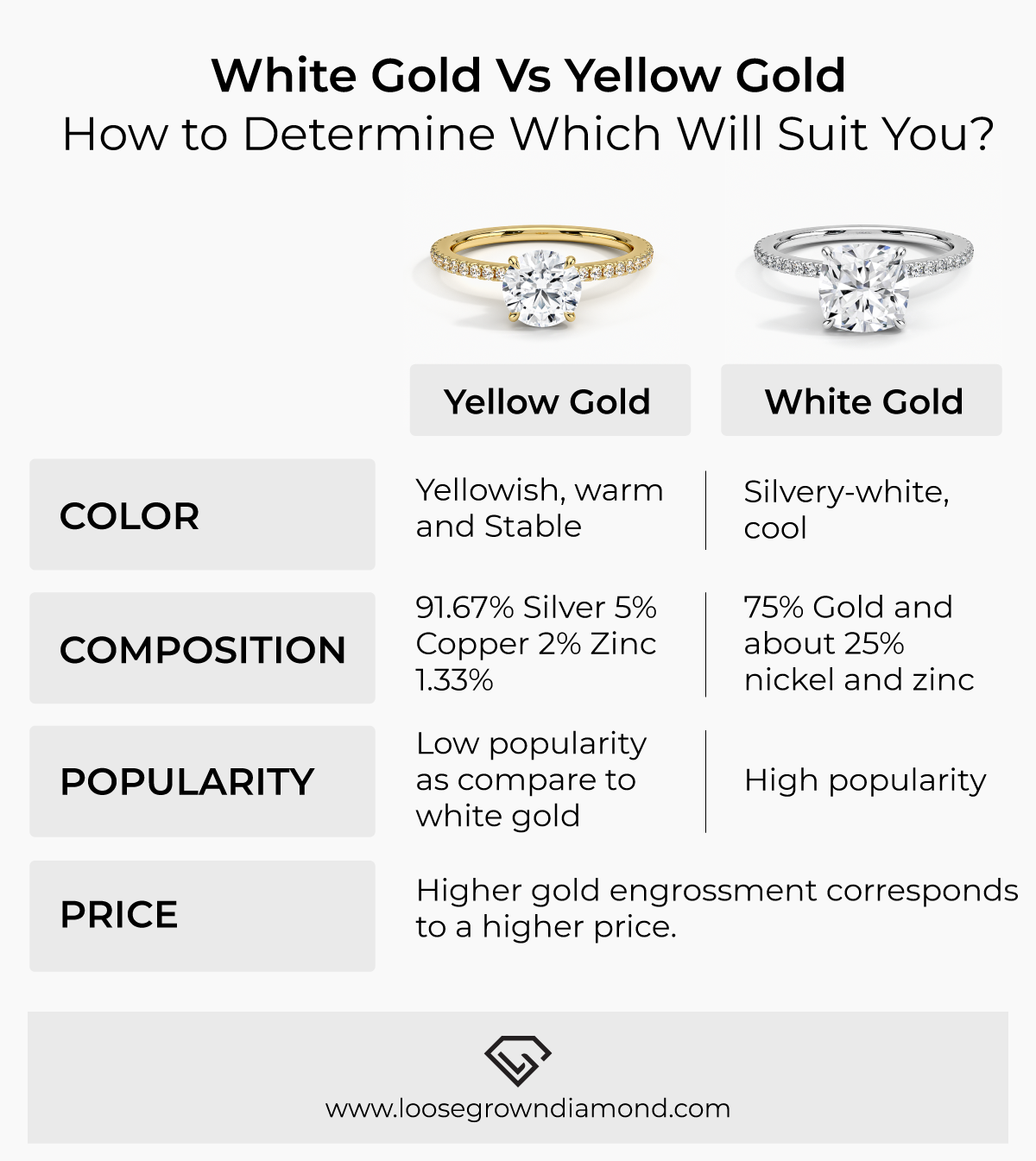 White gold:
Price:

The price of white gold is slightly higher than yellow gold costing around $60.00+ for 24ct. 

Popularity:

Due to its durability, it has gained popularity. 

Composition:

Although gold is an element, gold used in jewelry is an alloy of gold with copper, zinc, or other metals.
Yellow Gold:
Price:

The price of yellow gold does not vary much compared to white gold, costing around $ 59.00 for 24ct.

Popularity:

Comparatively less popular than white gold.

Composition: White gold is a gold alloy that contains palladium, nickel, or other metals. It's frequently plated in rhodium or platinum.
To understand, what is the difference between white gold and yellow gold, or even rose gold, you will first need to understand the foundational concept of how each type of gold is made.
How are Different Types of Gold Made?
Gold in any form which is present in the market is mainly a combination of gold and alloys of different materials such as copper, silver, palladium, and nickel. This is done mostly to increase its durability because gold in its purest form is extremely malleable and can be deformed easily with a push of a finger.
To make it suitable for everyday wear, it must be combined with other metals to increase its durability. If you have bought gold jewelry in the past then you would know well that fine jewelry comes in 10k, 14k, 18k, etc; but never in 24k as it is way too fragile to make or wear.
Also Read: Difference Between 10k, 14k, 18k & 24k Gold- Which Gold Is Most Suitable For You?
Pure gold or 24k gold has a perfect yellow tint so adding it with other metals gives us the variety of gold present in the market right now. As you may have guessed this is why yellow gold doesn't need any additional substances to affect its color.
White gold, on the other hand, is a mixture of a variety of elements when compared to yellow gold to give it its white look and it shouldn't come as a surprise that each type of gold looks different because of the alloys they are mixed with, for example, rose gold has pink in its color, and that's due to the copper it is mixed with.
Just like that white gold is mixed with a variety of elements such as palladium, manganese, and nickel which have a whitish appeal.
Since we are on the topic it wouldn't hurt to tell you that, while not an issue for everyone, some people are allergic to nickel because they happen to have sensitive skin.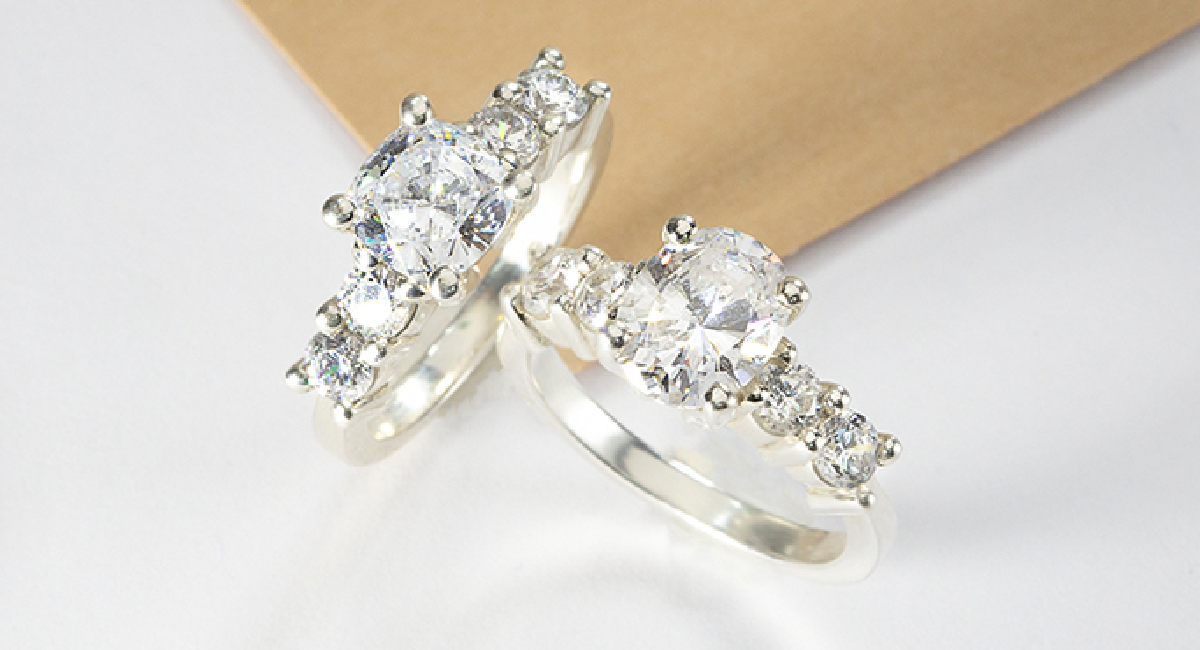 So what? should you avoid buying that beautiful-looking white gold jewelry you saw on the market? No, when buying white gold, people with sensitive skin should ensure that the jewelry they buy is plated with rhodium.
If you're buying yellow gold you may be able to reduce the color grade of your diamond a little and would still be able to retain the looks of a diamond that is quite white. That's because in the presence of yellow gold a diamond is the center of attraction and pops out to look even more appealing.
And as far as the price of gold is concerned between white gold and yellow gold, both of these metals will be priced equally based on the presence of pure gold in them. That means that a 14k yellow gold will be equally priced when compared to a 14k white gold.
Sometimes the cases might differ and you may be asked to pay more for white gold because of the addition of rhodium plating on it.
Pros a

nd Cons of

White

and

Yellow Gold

While both these metals can be crafted into some of the finest jewelry pieces, they each have their pros and cons which are mentioned below. Read through the benefits and downside of these metals to decide which is better among yellow gold vs white gold.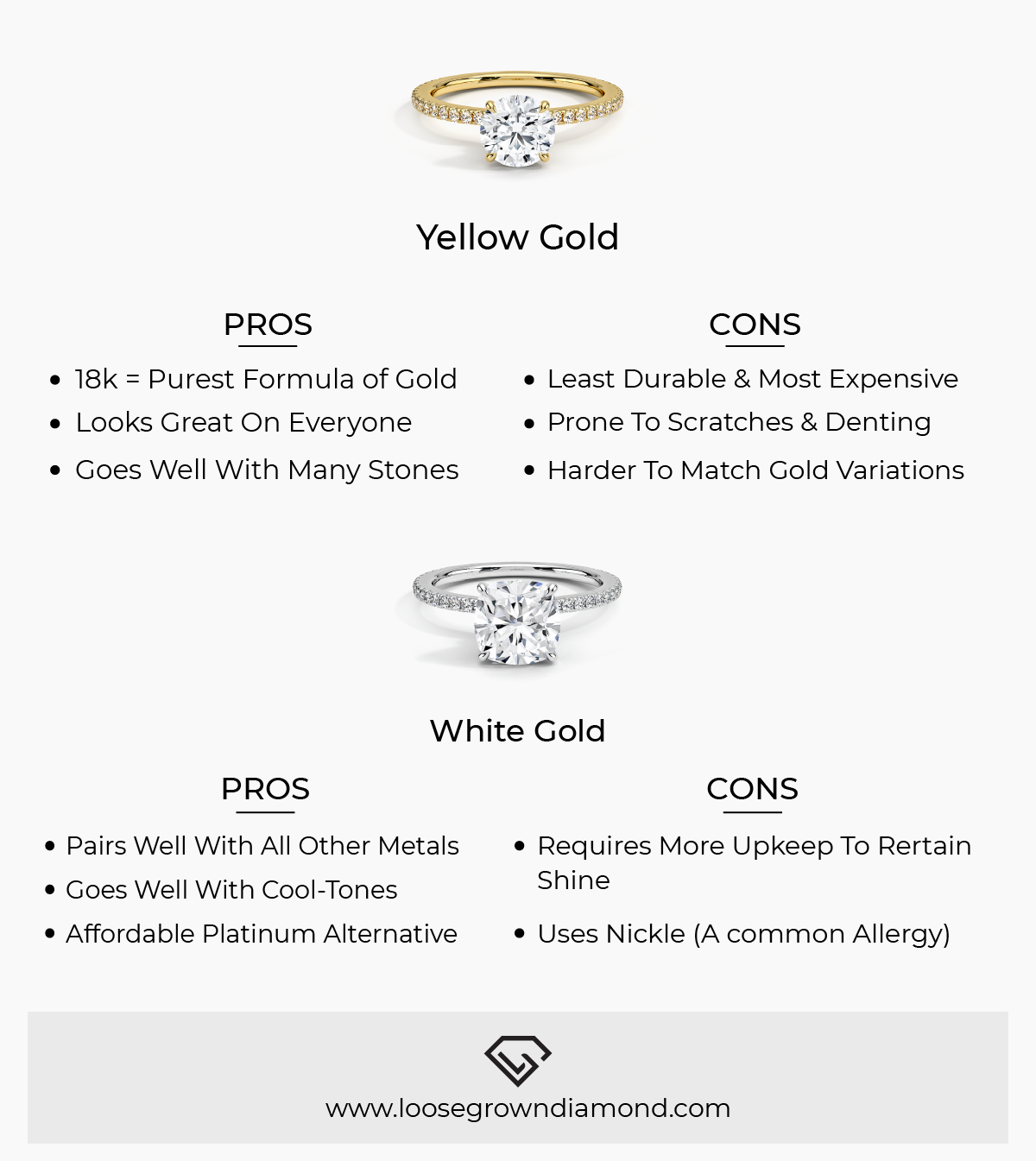 Yellow Gold
Pros
To this date, yellow gold is the most popular metal for making jewelry and is a sign of luxury. It gives you a classy feeling.
It has the purest color that resembles real 24karat gold and is the easiest to maintain.
Easier for jewelers to manipulate which gives birth to more intricate designs which later prove to be beneficial for both seller and the buyer.
Preferable if you're looking to save some money on your diamond because it works wonders when attached to diamonds with lower color/clarity grades.
Compliments all skin colors.
Cons
It needs proper maintenance because yellow gold is the most malleable gold, and is prone to dents and scratches.
The metal alloys it is mixed with can tarnish or corrode over some time under some conditions, and leave a black mark on your skin. Since it's not permanent you need not worry that much but it can be a nuisance.
White Gold
Pros
While being more affordable than its counterpart, Platinum, it gives you the look and feels of the real thing.
It is much more preferable when looking for white gold engagement rings and thus it has a very modern feel to it.
It is much more durable than yellow gold because of being alloyed with stronger materials and that even makes it scratch resistant.
Compliments all skin colors and also blends in with the diamond giving it a lustrous look.
Cons
For white gold to

look

lustrous as if you just bought it, it needs to be re-plated with rhodium every couple of years. It won't cost you anything, but it still takes time and effort. So when we talk about white gold

vs

yellow

gold

these

things

are the

ones

that should be taken into consideration.
Since white gold is often mixed with

nickel

it can cause an allergic reaction in people with sensitive skin. It needs to be mixed with metals other than nickel for it to be hypoallergenic.
White Gold
Vs Yellow Gold

: Which Is Preferable for Engagement

Rings

Since these things fall under the design and style spectrum, the choice must be made based on what you like or what your significant other adores, and then you shall decide what to buy both of these "white gold vs yellow gold".
But if we are to speak based on popularity then we would have to admit that white gold has maintained its popularity among soon-to-be–married couples, but at the same time, yellow gold is also gaining back the popularity and demand it once enjoyed.
And if even now you're confused about which will be better for you then it is recommended that you make your decision considering your skin tone and which will suit you best. For example, cool skin tones are better suited with the luster of white gold which enhances your overall beauty while maintaining its simple classy look.
Those who are more of a warm skin type would make the glossiness of yellow gold pop even more. And if you're feeling stuck when deciding which one to choose then you would be happy to know that you don't have to, mixing different colored jewels is picking its pace and is quite popular these days. So, if you can't decide, consider combining them in any way you want.
Also Read: Platinum Vs Gold: What Metal Would Be The Best Choice for Your Engagement Ring?
Color of Yellow Gold and White Gold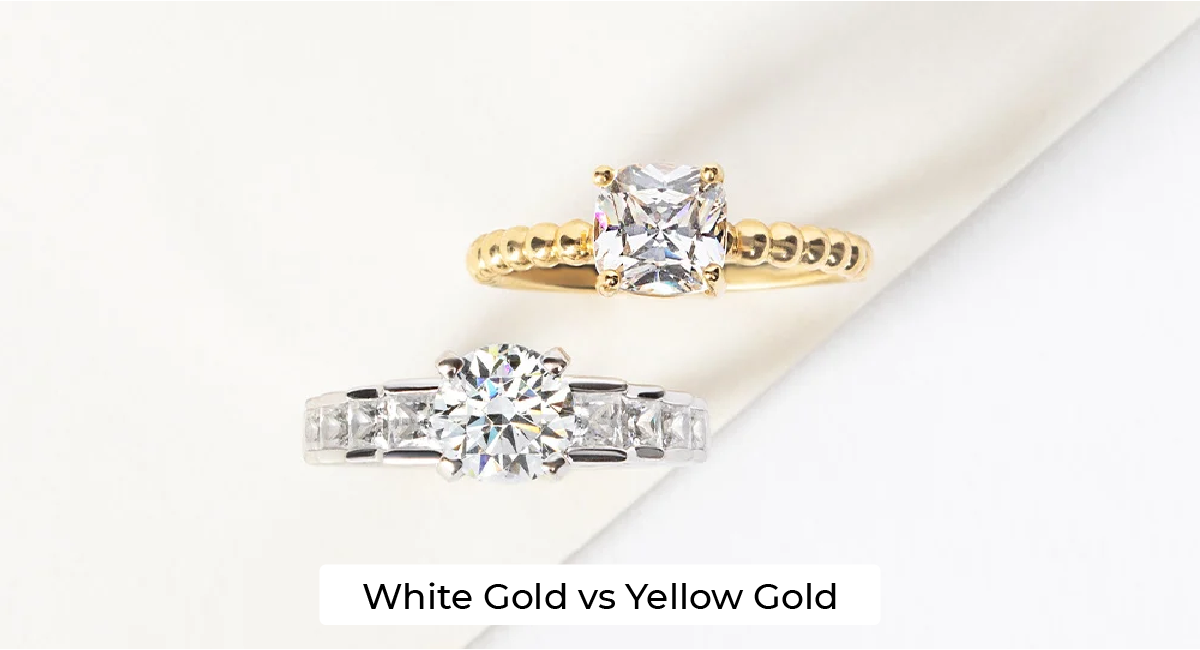 Yellow gold and White gold, while both are almost the same metals they are of different colors which is perhaps the most significant difference there is between the two and will matter the most when one's on their way to buy a gold or gold ring.
When speaking of gold, yellow gold is the color most people think of, while white gold usually gets confused with platinum or even silver sometimes because of its white and chromatic look.
That's because throughout the ages yellow gold has been the norm and people rarely even considered white gold, and this yellow gold vs white gold debate didn't exist back then. Yellow gold was a sign of luxury, and people even thought that it brought them respect and cooperation from others.
Yellow gold goes with almost everything because it is warm and inviting. White gold engagement rings complement almost all skin tones and stand out the most. They pair best with white diamonds and colorless diamonds.
The number of karats also impacts its color which directly translates that the higher the karats the more the gold will appear to be yellow. For example, a 22k gold will appear to be way more yellow than 18k gold. So if you want your jewelry to match then make sure you take the karats and color into consideration.
Is White Gold More Valuable than Yellow Gold?
If we were to answer bluntly, then no. There is no difference in price and value. There's a valid reason for that.
There is no price difference between the gold content of yellow gold and white gold. Suppose there is a yellow gold ring made of 18 karats of pure gold mixed with other alloys. Let there be another gold ring (white gold) made up of the exact karat weight (18 karats) combined with alloys used to make white gold. As long as the karat weight in both rings is the same, the price of both rings would be almost identical. The reason for this is that gold is a valuable material; the other alloys used will hardly cause a big price difference.
While saying that there is no significant difference in their price points, we don't mean there isn't any different. A white gold ring might be a little more expensive. This is due to the manufacturing process and the presence of rhodium coating; which it needs to have because of the nickel present in it.
Which Is More Durable and Easy to Maintain?
Another take on the White gold vs yellow gold debate is in how durable they are and how easily they can be damaged. This is important to know, to take care of your jewelry and majorly if your lifestyle includes heavy-duty work or doing activities that could damage the metal.
Yellow gold is majorly pure gold with the addition of fewer metals which is why it is very prone to scratches and dents of even small impacts, depending on the karat. But that has a positive note to it; because it is so malleable it can be resized or reconstructed whenever you desire.
While white gold is slightly stronger than yellow gold because of the addition of other metal alloys like nickel, it needs just as much care and maintenance as its counterpart, and in several cases even more. White gold is usually coated with rhodium which provides for the luster we can so clearly see and it even prevents the scratches to a degree but the coating fades out after some time and you need to renew the coating every couple of years to retain its lustrous look.
Conclusion
Selecting the perfect ring or jewelry for a special occasion is a tedious task that requires you to analyze all your options. Many times people do not pay much attention to the metal and only focus on getting the best diamond. This, in turn, can ruin the look of a piece of jewelry. And with the popularity of gold in the market the topic of white gold vs yellow gold is bound to come through your mind.
In the end, it depends on what you think suits you best. In case you are still confused we at Loose Grown Diamond provide our services in helping customers select the perfect product for themselves. Feel free to contact us & happy shopping!
Ready to create white gold and yellow gold your perfect ring?
FAQs
What Lasts Longer? White Gold vs Yellow Gold.
White gold is more durable than yellow gold. The yellow gold, which we are all most familiar with, is mainly pure. There are not many traces of other alloys present, which gives them their iconic yellow look. On the other hand, white gold is mixed with various alloys and, quite frankly, strong ones, such as nickel.
What is the main difference between white gold and yellow gold?
White gold and yellow gold primarily differ in their color. Yellow gold has a warm, traditional gold color, while white gold has a white appearance due to its alloy composition.
Is white gold pure metal like yellow gold?
No, both white gold and yellow gold are alloys. Pure gold (24 karat) is too soft for jewelry, so alloys are added to enhance durability. Yellow gold is often alloyed with copper and zinc, while white gold is alloyed with metals like nickel, palladium, or silver.
Does white gold or yellow gold cost more?
Generally, the cost is similar between white gold and yellow gold. However, white gold might have a slightly higher price due to the additional processing needed to achieve its color and the cost of alloying metals.
Is white gold vs yellow gold more popular?
The answer to this question is yes as well as no. The decision often depends on personal preferences for color and style. We can say that white gold is more prevalent among soon-to-be-married couples; this doesn't mean that yellow gold is any less popular. We are trying to say that both are popular and in demand in different segments.
Which type of gold is better for people with sensitive skin?
People with sensitive skin might prefer white gold since it is usually alloyed with metals that are less likely to cause allergies, like nickel-free options. However, individual sensitivities vary.
Do white gold and yellow gold have the same durability?
Both types of gold are durable for everyday wear, but white gold can be slightly harder due to the alloying metals. However, the difference in durability is usually not significant enough to be a deciding factor for most jewelry wearers.
Which type of gold is better for engagement rings or wedding bands?
Both white gold and yellow gold are popular choices for engagement rings and wedding bands. Some might prefer the classic warmth of yellow gold, while others opt for the contemporary look of white gold.