Simulated Diamond vs Lab Created Diamonds: How To Differentiate the Both of Them?
What are Simulated Diamonds vs. Lab-Created Diamonds? It is a typical query that lots of folks pose. Depending on the qualities you are seeking in a diamond, the answer to this question will vary. The finest choice, if you're seeking for a high-quality, flawless diamond, is a lab-grown diamond. However, simulated stones may be your best option if you're looking for something more cost-effective and less pricey than a lab-grown stone.
What Is a Simulated Diamond?
Simulated diamonds are those which are made to look like natural diamonds, however, are different to it in composition and structure. These are made of different chemical compositions hence, are poles apart from naturally mined diamonds. You can say simulated diamond is a replacement or substitute for an actual diamond. 
Simulant Diamonds are either naturally occurring or lab-grown. Another point to note is, naturally occurring gemstones that may look like diamonds cannot be categorized as 'diamond simulants' as these are not alternatives because they are not trying to imitate actual diamonds.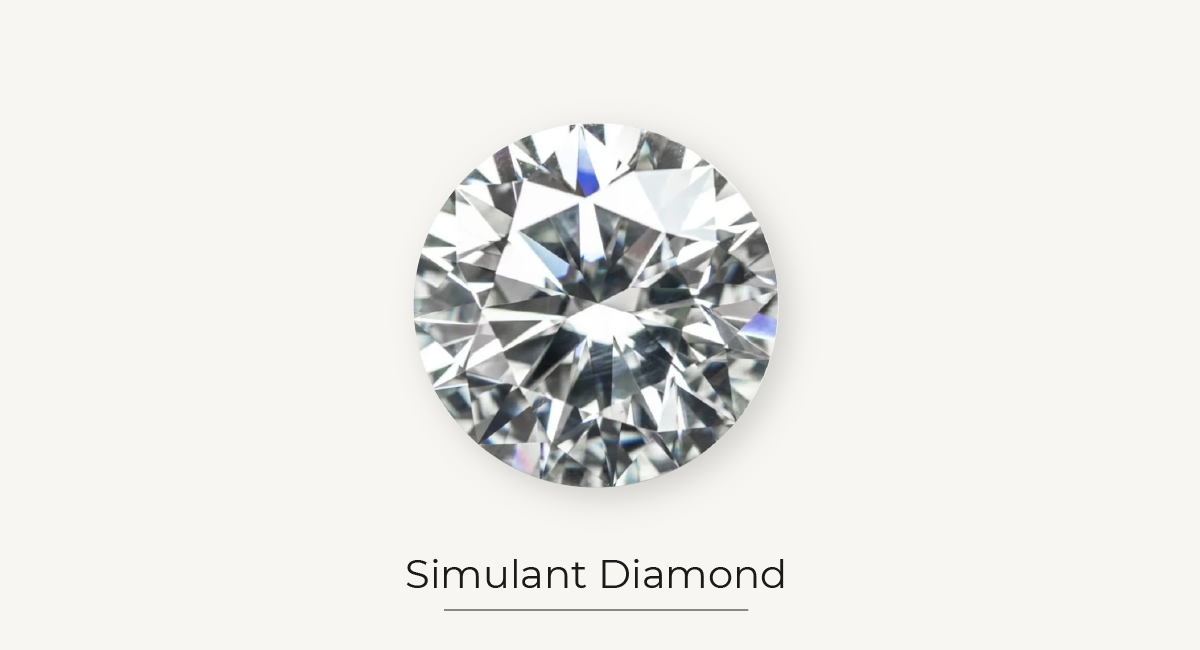 Cubic zirconia falls under this category. It consists of zirconium dioxide and is synthetic in nature. These are rare and exclusively created in labs. These cubic zirconia stones are obviously cheap monetarily as they are distinctive from naturally occurring diamonds.
Nexus Diamond is another type of 'simulated diamond'. These are the closest replications of an actual diamond. They are created in labs, patented, and formulated in the exact same way to replicate a diamond. 
However, unlike man-made diamonds, these do not contain carbon. The GIA system of grading (4C's) is used to inspect the quality of the nexus diamond. As mentioned, they are lab-grown hence, are environmentally viable and eliminate the risk of manual labor. Unlike cubic zirconia, these Nexus Diamonds are durable and will last till the end of time. 
Moissanite is a newer diamond simulant. It is spun to give an illusion of a diamond however, they are different in properties and structure. The point of commonality between diamonds and moissanite is thermal conductors. They have a brighter and different brilliance than regular diamonds. This is because the system of faceting stands apart from actual diamonds. 
Pros and Cons of The Simulant Diamond
Pros of Simulant Diamond:
Simulated diamond is budget-friendly for those who do not necessarily want to spend a hefty sum

It is sustainable. It does not require mining as they are lab-grown.

A hit for those who love sparkle. These diamonds bling differently hence, making it a treat for those who love the sparkle.
Cons of Simulant Diamond:
These tend to break and crack. One has to be cautious while wearing these diamonds.

They illuminate a rainbow sparkle which is a major factor that distinguishes them from regular diamonds. It is more likely to look like a 'copy'.
What Are Lab-Created Diamonds?
Lab-created diamonds also have different names in the jewelry world that are, lab-grown diamonds, synthetic diamonds, artificial diamonds etcetera. These lab-grown diamonds are obviously man-made and replicate naturally mined diamonds. 
They have carbon elements and look the same in physical properties as well as in composition as naturally mined diamonds. Lab-grown diamonds are less expensive in terms of naturally mined diamonds. 
Also Read: Real Facts About Lab-Grown Diamonds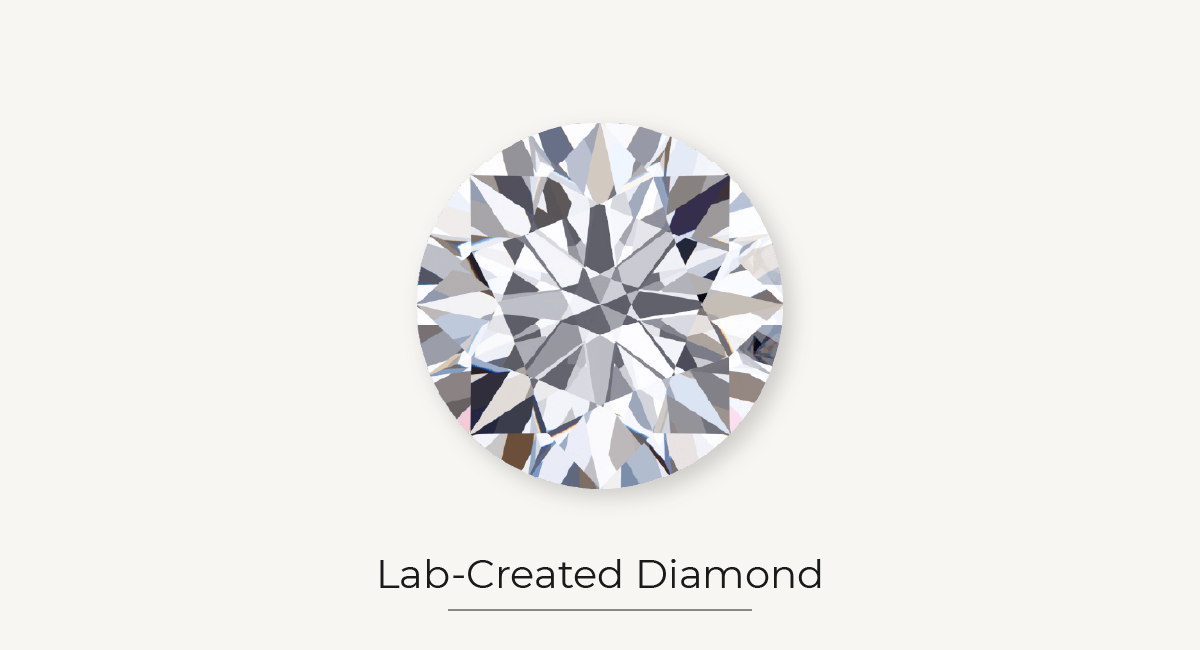 Natural diamonds grow under intense heat with heavy pressure. It is a time-taking process as it takes a hundred and further years to turn into a diamond. On the other hand, lab-grown diamonds are created in the same manner. The diamond creating process starts when a 'diamond seed' is placed in a glass chamber or a special chamber where earth-like properties are re-created. 
These properties are similar to the temperature and pressure in which naturally mined diamonds are created. It is covered in carbon and thereafter grows into a synthetic diamond that is as close as a naturally occurring diamond. 
The two major types of lab-grown diamonds are used for creating diamonds in the lab High Pressure-High Temperature (HPHT) and Chemical Vapor Deposition (CVD). As the name suggests, the High-Pressure High-Temperature method uses temperatures and pressures as high as 2700 Fahrenheit and 1.5 million pounds per square inch, respectively. 
The diamond seed goes through intense processes and in turn, a synthetic diamond is created. The Chemical Vapor Deposition (CVD) method uses less temperature and less pressure, unlike the HPHT. It actually uses a combination of chemical compositions to break down the diamond seed.
It uses a variety of gasses to crystallize and harden the seed. The best part about these methods is that they are completed in a matter of weeks without any ecological and environmental wastage, and save manual labor. These are mass-produced and are much cheaper than naturally mined diamonds. It is a great option if you have a fixed budget. 
To spot differences between naturally mined diamonds and lab-grown diamonds, special instruments are needed even by professionals. The other way to spot the differences is in the GIA/AGS report of each diamond.
Pros and Cons Lab-Created Diamond
Pros of Lab-Created Diamond:
They are literally the same as naturally mined diamonds. Their physical and chemical compositions are alike.

They are cost-effective and charge less than natural diamonds.

Environment Friendly. They do need any mining that causes harm to the environment.
Cons of Lab-Created Diamond:
Lab-grown diamonds do not have the same legacy as naturally-grown diamonds. The former is not assumed to be 'rare or one of a kind.

They are mass-produced hence, making it feel less of a luxury.

The value wears off with time. And does not have a good resale value.
| | | | | | | |
| --- | --- | --- | --- | --- | --- | --- |
| Shape | Carat | Cut | Color | Clarity | Price | |
| cushion | 4.03 | Ideal | E | VVS2 | $2908 $2770 | View |
| cushion | 4.06 | Ideal | G | VVS2 | $3832 $3650 | View |
| round | 4.00 | Ideal | F | SI1 | $2826 $2402 | View |
| oval | 4.02 | Ideal | E | VVS2 | $9223 $6917 | View |
| emerald | 4.06 | Ideal | G | VS1 | $5897 $4423 | View |
| round | 4.00 | Excellent | E | SI1 | $4571 $3885 | View |
| oval | 4.01 | Ideal | G | VVS2 | $3153 $2365 | View |
| oval | 4.01 | Ideal | E | VS1 | $4397 $3298 | View |
| oval | 4.09 | Excellent | H | VS2 | $2629 $1972 | View |
| round | 4.02 | Ideal | E | SI1 | $3291 $2797 | View |
| round | 4.01 | Ideal | G | VS2 | $3627 $3083 | View |
| cushion | 4.03 | Ideal | G | VVS2 | $4056 $3042 | View |
| oval | 4.02 | Ideal | G | VS2 | $3380 $2535 | View |
| cushion | 4.02 | Ideal | D | VVS1 | $11736 $8802 | View |
| oval | 4.00 | Ideal | F | VS1 | $4136 $3102 | View |
| oval | 4.03 | Ideal | E | VVS1 | $13703 $10277 | View |
| oval | 4.00 | Ideal | E | SI1 | $3007 $2255 | View |
| emerald | 4.01 | Ideal | F | VS2 | $4980 $3735 | View |
| cushion | 4.02 | Ideal | D | VS1 | $9336 $7002 | View |
| cushion | 4.02 | Ideal | H | VS1 | $5393 $4045 | View |
Simulant Diamonds vs Lab Created Diamonds?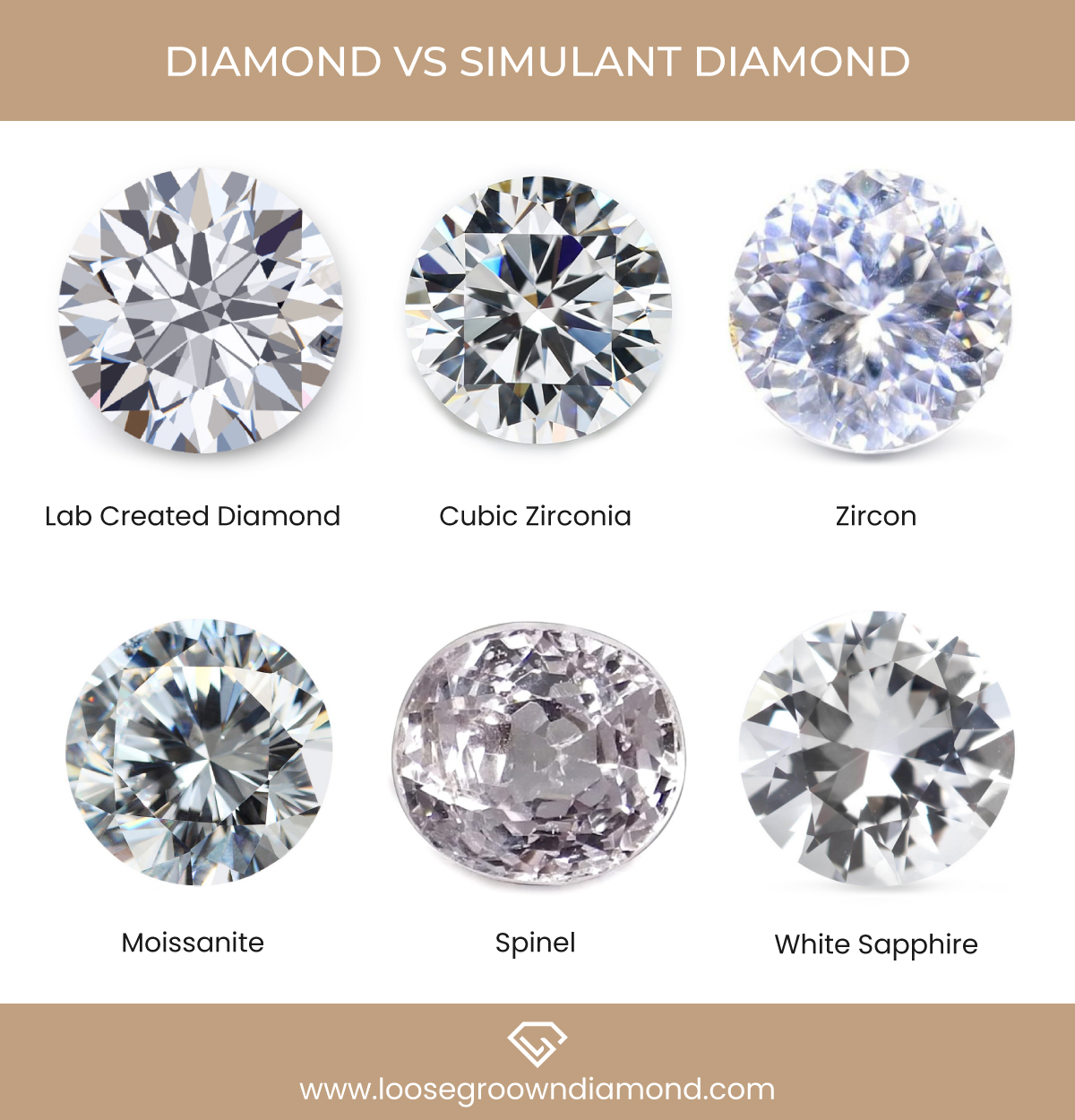 Lab-grown diamonds are literally the same as naturally occurring diamonds in appearance. Both these categories have the same physical and chemical compositions making both indistinguishable. 
Both are graded on the same scale which is used for all diamonds. You need to look at their respective GIA reports spotting the differences. However, simulant diamonds can be easily differentiated as they have different properties and elements. They sparkle differently and look a certain way than regular diamonds. These diamonds are the impersonation of regular diamonds.
There are 4 points appearance, about, cost, and ethics to differentiate both the simulated diamond vs lab-created diamond.
Simulated Diamond vs Lab-Created Diamond: About
Today, diamond simulants such as cubic zirconia and moissanite are synthetic stones manufactured in laboratories. They are made to simulate diamonds but are compositionally and optically different from diamonds and can be made from several different materials and gemstones .
Simulated Diamond vs Lab-Created Diamond: Appearance
Diamond simulants can be differentiated from diamonds due to their optical properties. Moissanite, for example, is double refractive
while a diamond is singly refractive. This causes the moissanite to emit a fiery rainbow sparkle that is easily differentiated from a diamond with the naked eye.
Simulated Diamond vs Lab-Created Diamond: Cost
The cost of many popular diamond simulants is often much lower than both natural and lab diamonds. Simulants are an attractive
cost-friendly option for many couples as you can create your dream engagement ring without veering outside your budget or
compromising center gemstone size.
Simulated Diamond vs Lab-Created Diamond: Ethics
As most popular diamond simulants are lab-grown using advanced technology, they require no new mining to produce and are a
sustainable option .
Are Simulants Diamonds and Lab-Created Diamonds Real Diamonds?
Buyers of such luxurious goods want the best item for their money. They are not only paying for the money but for the experience. Hence, it is imperative to purchase a diamond that supports a lifestyle and can be one of those pieces which are remembered for ages. 
Jewelry, in general, has been an heirloom in families, which is why when purchasing such goods the quality has to be top-notch. People often raise the question of whether diamond simulants and lab-created diamonds are even real diamonds. This question is valid because diamonds are an age-old creation and something that is conventionally traditional in nature. 
Hence, people are tensed to venture into newer methods of purchasing new-age diamonds such as diamond simulants and lab-created diamonds.
Lab-grown diamonds recreate an earth-like setting using high pressures and high temperatures with the help of an existing diamond seed which turns out to be a diamond. Both diamonds have the same properties. This is very much a real diamond and one must not think otherwise. 
On the other hand, diamond simulants are literally 'resemblances of a diamond'. They look like diamonds in appearance however, their chemical and optical compositions are nowhere near an actual diamond. 
Some diamond simulants are easy to spot as they sparkle and shine in a manner that is different from an actual diamond. 
The confusion arises as both the terms that are, synthetic diamonds (lab-grown diamonds) and diamond simulants are used synonymously.  
What Are the Benefits of Buying Lab-Created Diamonds?
You may wonder why a lab-grown diamond should even be an option when naturally mined diamonds are still in existence. The latter is something that you can blindly trust and it comes with a certain sense of pride and luxury. 
When people decide to buy something as expensive as a diamond, they expect the best. It is not something that is bought on a whim but a lot of thought and emotions are put into it when making such a purchase. 
While naturally mined diamonds are a trusted category, they also cause a lot of ecological damage and endanger the lives of miners who put in hours and hours of labor to score a single diamond. In many cases, these miners work in hazardous conditions without proper protective gear and receive meager wages.
Apart from this, it is a time-consuming process. It takes millions of years. Naturally-mined diamonds are an expensive commodity and not everyone can afford to make such a purchase. 
So what is the alternative? Lab-grown diamonds have proven to be a great alternative to the problems posed by naturally grown diamonds. As confirmed earlier, these are real diamonds despite the fact that they are not processed by nature. Lab-grown diamonds are environmentally viable.
For a generation that is conscious of its consumption, it has a responsibility to preserve the environment. Especially in this day and age, one has to be aware of their surroundings. 
We live in an already deteriorated environment and to pollute it further is a risk we will take unnecessarily. A single carat of a natural diamond can displace thousands of tons of the earth's surface. 
Hence, this is a perfect choice in this aspect. Another thing, lab-grown diamonds are cost-effective and mass-produced. This makes diamonds accessible to everyday consumers while remaining a luxury. 
You can buy a diamond without shaking up your bank balance. The quality of the diamonds is top-notch, clear, and sparkly as a naturally-mined diamond. They are pure in clarity and most have almost zero imperfections or dents making them better than naturally-mined diamonds as they do have blemishes in most cases. 
Time is another factor making lab-grown diamonds ahead in the race. It takes a few weeks to process a lab-grown diamond whereas years and years for a naturally-mined diamond to occur. 
Conclusion
Simulant diamonds vs lab grown diamonds have their set of pros and cons. You must understand that simulant diamonds are simply a substitute for diamonds whereas, lab-grown diamonds are actual diamonds. The latter is the same as naturally-mined diamonds. These two terms are poles apart with clear distinctions. 
When buying diamonds, be sure of their durability and quality else the money spent is simply wasted. You want to preserve these items for a lifetime as they carry different emotions.
People hand down jewelry from one generation to another and these moments are remembered. Hence, buy lab-grown diamonds that fill you with joy and pride. You should not have to be overly cautious about it while wearing them.
The simulant diamonds can get cracked or broken over time which is not really the case with lab-grown or natural diamonds. A piece of the diamond must be enjoyed and not stressed.