Why lab-created diamonds are called eco-friendly diamonds?
In today's world, any type of production process or manufacturing of goods leads to extreme environmental degradation. The big factories and industries pollute the environment with their methods of production. From gathering raw materials to creating the final product, all these methods cause harm to the environment in one way or the other.
As environmental concerns have arisen over the years, so have people's preference for eco-friendly products over conventionally made products. An international survey by Unilever revealed that 1 in 3 people prefer to buy from companies and brands, which contribute to the replenishment, maintenance and have an eco-friendly approach towards the environment.

A somewhat similar condition holds true for the emerging diamond industry. Many buyers are aiming for man-made diamonds and eco-friendly diamonds. This is due to the alarming destruction caused by obtaining natural diamonds. Mined diamonds have been looked down upon in recent years.
These natural diamonds when mined out of deep caves and diamond mines, take a deadly toll on the environment. These effects may be soil erosion, water pollution, air pollution, carbon emission increase, deforestation, and much more.
These lab-grown diamonds have paved the way, to a more sustainable and eco-friendly output in the diamond industry. These man-made diamonds do not cause environmental degradation, produce reduced amounts of waste, and regulate waste disposal making them an eco-friendly alternative to mined diamonds.
Here Are the Benefits of  Man-Made Diamonds or so-called Eco Friendly.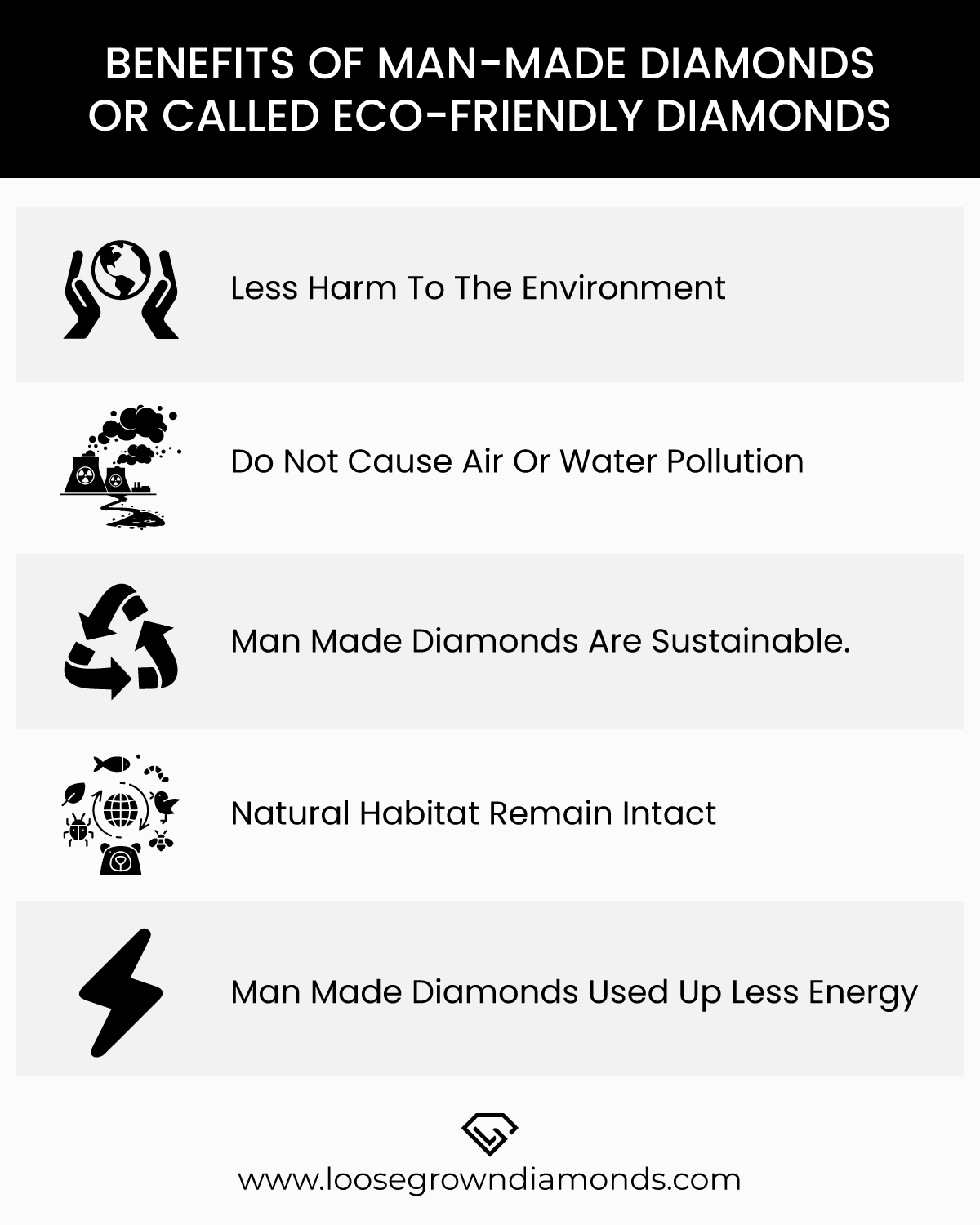 Less Harm to the Environment
These lab-grown fancy diamonds aren't cultivated through mining, but rather are made by scientific methods in a laboratory. These methods create negligible waste and are much more efficient than mining.
The mining of diamonds on the other hand has been taking a deadly toll on the environment. According to stats, to mine 1 carat of rough diamond, more than 1 ton of land needs to be mined. Some companies do nothing about this. While, many companies though do follow environmental restoration codes, which ensure that the amount of land dugout will be refilled.
The same concern doesn't arise with man made diamonds. As these are eco-friendly diamonds that are grown in labs they cause negligible harm to the earth. These lab grown diamonds are created in controlled habitats which follow environmental regulations.
Do Not Cause Air or Water Pollution
In the whole process of creating HPHT Synthetic diamonds or CVD diamonds, there is negligible air or water pollution. These man made diamonds are created in closed chambers in controlled environments.

These lab grown diamonds produce negligible waste, which is treated and disposed of in an environmentally friendly manner. Along with this, the usage of energy and emission of carbon footprint is relatively less when creating man made diamonds.
Natural diamonds, on the other hand, are mined from deep diamond mines and caves. During the mining process, a ton of dust covers the whole sky causing air pollution, the dust and various chemicals released from the mine make their way to water sources and contaminate it causing water pollution. People going inside mines or living in that area tend to develop many respiratory diseases.
Energy and fossil fuels used in the mining process cause an increase in carbon emission, greenhouse gases, and chemical substances for that particular area. Such factors lead to a rise in temperature near those areas, smog, degraded air quality, and many other harmful environmental impacts.
Man Made Diamonds are Sustainable
With the growing population and the ever-increasing demands of fancy diamonds, vigorous mining of diamonds is being carried out. Diamonds are an amazing investment opportunity and are adored by many. This has resulted in experts believing that the supply won't be able to meet the demands. So how will we overcome this problem?
These diamonds which were created in labs by the CVD diamond method and HPHT synthetic diamond method are the solution to sustainability. These eco-friendly diamonds are created in labs and depend on how much raw material you can provide.
The production of man made diamonds is basically in the hands of humans and not nature. Unlimited supply can be obtained of man made diamonds, which will then help in satisfying the demand for white diamonds, loose diamonds, fancy diamonds, etc.
And many buyers nowadays have concerns regarding the production process, and whether or not it is eco-friendly. Man made diamonds follow the environmental regulations, and pose as the best solution. Man made diamonds are contributing to creating a sustainable diamond industry.

Also Read: Why are Lab-created Diamonds called blood-free diamonds?
Natural habitat Remain Intact
As these man made diamonds are created in labs inside small chambers, they barely have an effect on the outside environment. The creation of lab grown diamonds in no way harms plants, animals, the surrounding area, or the overall vegetation. The ecology and purity of nature remain intact when lab grown diamonds are made.
While in mining, companies end up harming the natural vegetation nearby, contaminating nearby water reserves and harming the flora & fauna of that area. In such cases opting for man made diamonds is considered the best option.
Man Made Diamond Use Less Energy
These lab grown diamonds are created by laboratory methods: CVD diamond making methods, HPHT synthetic diamond making method. Both of these methods involve the use of a tiny diamond seed, and the creation of carbon layers over this seed, which in the end produce a man made diamond.
These processes to produce loose diamonds are carried out in labs, under a controlled environment. The energy required is almost reasonable, and the electricity supply also comes from renewable resources like the sun or wind.
While in the mining of diamonds there is extensive use of electricity and fuel. Both lead to excess pollution over time and an increase in the emission of carbon footprint. Man made diamonds are a better alternative that is eco-friendly.