Beware Of Difference Between Clarity-enhanced or Lab-made diamonds
Buying a diamond may seem an easy thing, but what's the reality? Many people think that buying a diamond is the equivalent of going shopping, whereas it is a tough job. It requires a lot of research if you want to make the best choice. 
After all, it is a precious diamond that you may end up carrying with you for generations and may even pass it down to your grandchildren. Proper knowledge and advice can be very helpful to you as there are a variety of diamonds in the market.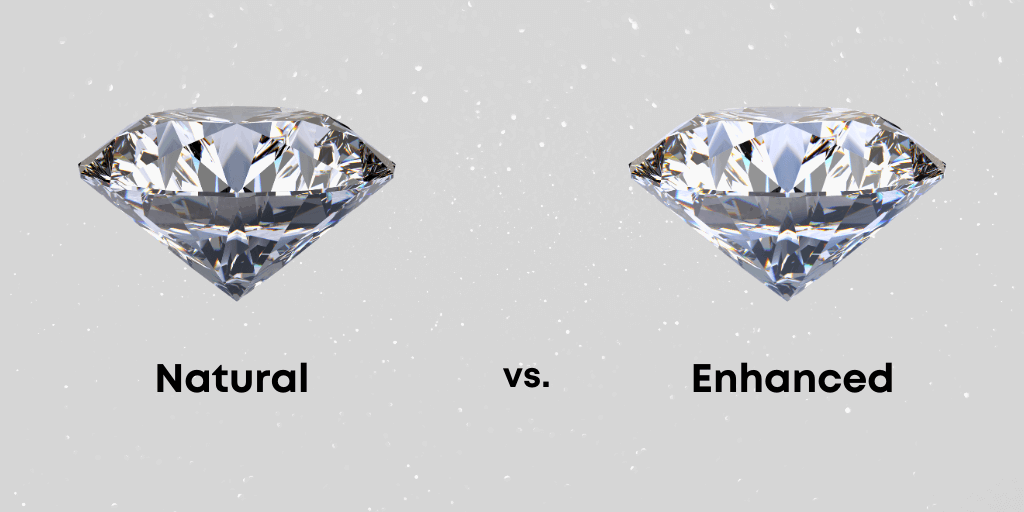 Some of the major factors to look for when buying a diamond you like: shape, quality, size, brand, price, and many more. One major factor is how the seller impacts you, here is where you need to be aware of the type of diamond you are going to buy. 
There is a diversity of diamond jewelry available in the market. These can be crafted out of naturally occurring diamonds, lab-grown diamonds, and clarity enhanced diamonds.
What are these terms? How are these different from each other? Which piece of diamond jewelry is the most prominent for you and which one should you purchase? 
Read ahead to know about all these factors and choose the type of diamond you like according to your wish.
What are mined diamonds?
Mined diamonds are the ones that take about millions of years to be naturally formed deep inside the earth's surface. The high temperature and heat conditions create an environment in which the formation of natural diamonds is made possible. These natural diamonds can only be mined when volcanoes erupt and bring them closer to the surface of the earth. But these volcanic eruptions are very rare. And the process of mining is also very difficult. That is the reason, these mined diamonds are very expensive.
Since their occurrence is rare, another type of diamond called lab-grown diamonds was invented. Now, what are Lab-grown diamonds, are these even real diamonds? Are lab-grown diamonds worth buying?
The answer is Yes! There has been a lot of controversy about the existence of these lab-grown diamonds and if they are real or not. Let us explain it to you. 
What are lab-grown diamonds?
The lab-grown diamonds are different from mined diamonds in the way they occur and are processed. Where mined diamonds occur naturally, on the other hand, lab-grown diamonds are created by imitating similar natural conditions but inside a laboratory. These are created inside certified labs that provide you with the best quality of diamond that is worth buying.
The process involves the use of a natural diamond seed which is then put under certain conditions that mimic those under the earth's surface. The resulting environment leads to the formation of lab-grown diamonds. These diamonds are just as real as naturally mined diamonds, possess the same optical, chemical, and refractive properties. 
Clarity Enhanced Diamond
Although diamonds are the strongest they can have visible imperfections that need to be treated at times. Those small cracks and creaks can be seen even in the mined diamonds, they need a final touch to enhance their shine and brightness. Which is done with the help of a process called clarity enhancement. 
Two treatments used in clarity enhancement of diamonds-
Fracture filling
Small cracks are healed under this process with the help of glass-like resin material. This filing is done in a way that no loop is left to detect any flaws. Moreover, the filling has similar refractive and optical features as naturally mined diamonds so it is difficult to find the repaired sections of the diamond. 
But, this process is not a permanent solution to the diamonds as with time the sunlight and also heat from future repairs affects the filling. This way it can deteriorate the filler or even change its color. 
This means it can change the looks and shine of the diamond over a while. Also, because of these effects, the price of a diamond can be reduced shortly.
The process of fracture filling improves the quality of diamond by one grade and it has no impact on the weight and the color of the diamond and is a useful process when there are small cracks.
Laser drilling
Laser drilling is a process that is used to remove minor inclusions to enhance the diamond. Tiny lines are created in this process that resembles tiny trails. Some chemicals may also be injected in some instances to change the color of the diamond. In comparison to fracture filling, this process is more stable and has more permanent effects on the diamond. Still, many experts argue that this process reduces the quality and purity of the diamonds.
Over long periods of time, clarity-enhanced diamonds may get influenced by various factors. Some of which may cause the filling to wear off, the diamond losing its color, cracking, and breaking of the diamond due to the damage caused to the glass. 
Factors that affect clarity-enhanced diamonds
Exposure to heat or fire 

Exposed to boiling acid

The jeweler's torch

Exposing diamonds to the chemicals

Re-cutting of diamonds, if the diamond has to re-cut it affects it
Know About Your Diamond Before You Buy
You can verify if a diamond has been enhanced or not, here are a few ways to figure it out. 
The lines that are formed due to the laser drilling can be detected. These lines can be easily determined as they are different from those created when the cutting and polishing of a real diamond takes place.

The process of fracture filling has a chance of giving away flashes of color that disorient the setting of facets of the diamond when examined closely.

The best way to find out fracture filling or clarity-enhanced diamond is to put it under a microscope. Under the gemological microscope to be specific. You will then easily observe a strong neon coloring in the stone in case fracture filling has taken place. The filling usually leaves this neon coloration inside the diamond which is often mistaken for the spectral colors that are observed while looking at a stone faced-up. 

These enhanced diamonds are relatively lower in price in comparison to non-enhanced diamonds. The buyer should describe the diamond before selling it off to the customer. In case you find the rate of a diamond you can ask the buyer about the enhancement of the diamond. In this way, you can get to know if you are buying an enhanced or non-enhanced diamond.
The major difference between Lab made and Clarity enhanced diamonds
Also called CVD diamonds, lab-made diamonds are made in certified labs under an artificial atmosphere similar to those of natural circumstances in which a natural diamond occurs. High pressure and temperature conditions are built inside the laboratories themselves. The methods used to create them are Chemical Vapour Decomposition (CVD) and High-Pressure-High-Temperature (HPHT) methods. 
These have similar chemical, physical and optical properties to a real diamond. Most of the lab-made diamonds are Type II diamonds that are the purest form of diamonds.
Whereas clarity-enhanced diamonds are the enhanced form of mined diamonds. Since they have imperfections in them, the process of clarity enhancement helps in concealing the diamond with the help of different treatments. Small cracks and inclusions are treated in this process. This imperfection in the diamond is invisible to naked eyes as they are available in different colors, shapes, clarities, and sizes. Clarity-enhanced diamonds cost less in comparison to mined diamonds.
Are both Lab-made and Clarity-enhanced diamonds real?
A most commonly asked question which was also answered previously- Yes! both of these diamonds are real diamonds. It is just about the value/price of the diamond varies due to its origin/make. The clarity-enhanced diamond is cheaper as they are not as pure as mined diamonds or lab-grown diamonds.
What is the durability of Lab-made and Clarity-enhanced diamonds?
Durability is one of the important factors. Clarity-enhanced diamonds are an enhanced form of mined diamonds. So, they contain glass-like pieces inside them that were used to bind the cracks in them. This affects their durability and makes them less durable.
Whereas, Lab-made diamonds are created under labs with similar natural phenomenons to that of a real diamond. So, they have gone through the tough processes and are more durable as compared to clarity-enhanced diamonds. Since they do not need any enhancement they are in pure form and thus they are more stable. They do not need to go under any alteration and can sustain over a longer period of time.
What should you buy, Clarity enhanced or Lab-made diamonds?
There are different opinions of the buyers and the expert on this topic. People look for real diamonds, and for them mined diamonds are the only real diamonds. They think of lab-made diamonds as artificial diamonds, this thought is there due to the lack of complete knowledge. 
They are ready to buy mined diamonds whose clarity is enhanced. They do not think of flaws and imperfections in them that were hidden or concealed since they can not see them through their naked eyes. This way they pay for a diamond that is enhanced with the help of some treatments. Whereas lab-made diamonds are the one that is completely made inside the lab with proper conditions and procedures. They are worth buying but in the end, it is your choice.
Many facts related to clarity enhanced and lab-made diamonds have been presented before you. Prior knowledge is always helpful. Know about what you buy and choose the diamond that is best and perfect for you.