Difference Between Clarity Enhanced and Lab Created diamonds
Buying a diamond may seem an easy thing, but what's the reality? Many people think that buying a diamond is the equivalent of going shopping, whereas it is a tough job. It requires a lot of research if you want to make the best choice. Proper knowledge and advice can be very helpful to you as there are a variety of diamonds in the market. 
Clarity-enhanced diamonds, as the name suggests are mined diamonds that are enhanced for their clarity by professionals. The natural imperfection and flaws are shaved off from that of a natural diamond to make it free from any inclusion or any flaws that it might have. 
As you might be familiar with, Diamonds that have been developed in a facility in a brief period are known as lab-grown diamonds. Lab-grown diamonds are considered to be identical to that mined diamonds. Both the diamonds have the same properties optically, chemically as well as physically.
Some of the major factors to look for when buying a diamond you like: are shape, quality, size, brand, price, and many more. One major factor is how the seller impacts you, here is where you need to be aware of the type of diamond you are going to buy. 
What are lab-grown diamonds?
The lab-grown diamonds are different from mined diamonds in the way they occur and are processed. Where mined diamonds occur naturally, on the other hand, lab-grown diamonds are created by imitating similar natural conditions but inside a lab. These are created inside certified labs that provide you with the best quality of diamond that is worth buying.
The process involves the use of a natural diamond seed which is then put under certain conditions that mimic those under the earth's surface. The resulting environment leads to the formation of lab-grown diamonds. These diamonds are just as real as naturally mined diamonds, possess the same optical, chemical, and refractive properties.
Clarity Enhanced Diamond
Although diamonds are the strongest they can have visible imperfections that need to be treated at times. Those small cracks and creaks can be seen even in the mined diamonds, they need a final touch to enhance their shine and brightness. Which is done with the help of a process called clarity enhancement.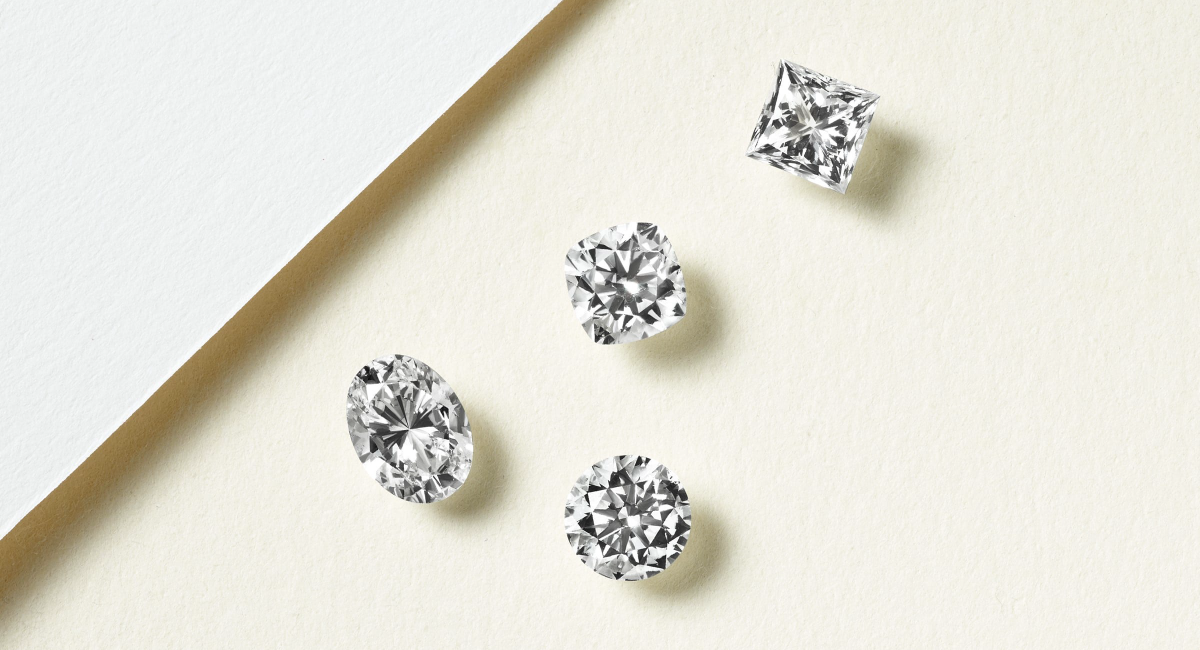 Two treatments used in clarity enhancement of diamonds
Fracture filling
Small cracks are healed under this process with the help of glass-like resin material. This filing is done in a way that no loop is left to detect any flaws. Moreover, the filling has similar refractive and optical features as naturally mined diamonds so it is difficult to find the repaired sections of the diamond.
But, this process is not a permanent solution to the diamonds as with time the sunlight and also heat from future repairs affect the filling. This way it can deteriorate the filler or even change its color. 
Laser drilling
Laser drilling is a process that is used to remove minor inclusions to enhance the diamond. Tiny lines are created in this process that resembles tiny trails. Some chemicals may also be injected in some instances to change the color of the diamond.
In comparison to fracture filling, this process is more stable and has more permanent effects on the diamond. Still, many experts argue that this process reduces the quality and purity of diamonds.
Pros and Cons of  Lab-Made Diamonds and Clarity Enhanced Diamonds
Price
The price of clarity-enhanced diamonds is considerably cheaper (around 30%) than those diamonds that aren't clarity-enhanced. And the price of lab-grown diamonds on the other hand is comparatively cheaper( around 40-30%) when compared to natural diamonds. 
Origin
Clarity enhanced diamonds are diamonds that are mined from the earth's core and have been known as 'real diamonds' and lab-produced diamonds are diamonds grown in a laboratory.
Effects on the environment
As clarity-enhanced diamonds are mined from the earth's core they are very toxic for the environment because of huge emissions of carbon released in the environment whilst extracting them. On the other hand, lab-grown diamonds do not produce as much carbon emissions as mined diamonds. Lab-created diamonds are manufactured in controlled facilities and are considered an eco-friendly option in comparison to natural diamonds.
Resale Value
We already know that the resale value of the diamonds is low but when we compare clarity-enhanced and lab-grown diamonds together, the resale value on clarity-enhanced is much more than those of lab-grown diamonds. 
Investment Option
While diamonds might seem like a good investment option, both lab-grown, as well as clarity-enhanced diamonds, shouldn't be considered as an investment option. There are many reasons for the above statement such as none of them provide good resale value, clarity-enhanced diamonds are weak compared to those which aren't clarity-enhanced. And nor are they fully certified. 
Uniqueness
Lab-grown diamonds are less likely to be unique because all the diamonds produced look very similar to each other, on the other hand, clarity-diamonds that are mined are unique in their own way. 
The major difference between Lab made and Clarity enhanced diamonds
Lab-created diamonds are made in certified labs under an artificial atmosphere similar to those of natural circumstances in which a natural diamond occurs. High pressure and temperature conditions are built inside the laboratories themselves. The methods used to create them are Chemical Vapour Decomposition (CVD) and High-Pressure-High-Temperature (HPHT) methods. 
These have similar chemical, physical and optical properties to a real diamond. Most of the lab-made diamonds are Type II diamonds that are the purest form of diamonds.
Whereas clarity-enhanced diamonds are the enhanced form of mined diamonds. Since they have imperfections in them, the process of clarity enhancement helps in concealing the diamond with the help of different treatments. Small cracks and inclusions are treated in this process.
This imperfection in the diamond is invisible to naked eyes as they are available in different colors, shapes, clarities, and sizes. Clarity-enhanced diamonds cost less in comparison to mined diamonds.
The Durability of Lab-made and Clarity-enhanced diamonds?
Durability is one of the important factors. Clarity-enhanced diamonds are an enhanced form of mined diamonds. So, they contain glass-like pieces inside them that were used to bind the cracks in them. This affects their durability and makes them less durable.
Whereas, Lab-made diamonds are created under labs with similar natural phenomenon to that of a real diamond. So, they have gone through the tough processes and are more durable as compared to clarity-enhanced diamonds. Since they do not need any enhancement they are in pure form and thus they are more stable. They do not need to go under any alteration and can sustain over a longer period of time.
Should you Buy, Clarity Enhanced or Lab-made Diamonds?
There are different opinions of the buyers and the expert on this. People look for real diamonds, and for them mined diamonds are the only real diamonds. They think of lab-made diamonds as artificial diamonds, this thought is there due to the lack of complete knowledge. 
They are ready to buy mined diamonds whose clarity is enhanced. They do not think of flaws and imperfections in them that were hidden or concealed since they can not see them through their naked eyes. This way they pay for a diamond that is enhanced with the help of some treatments.
Whereas lab-made diamonds are the one that is completely made inside the lab with proper conditions and procedures. 
Many facts related to clarity enhanced and lab-made diamonds have been presented before you. Prior knowledge is always helpful. Know about what you buy and choose the diamond that is best and perfect for you.
Conclusion
Clarity improved stones are considerably less expensive than genuine or synthetic gems, but they can be just as spectacular. There is a tiny price to pay in terms of complete legitimacy, but they are still genuine diamonds. 
Similarly, lab-grown diamonds are the best alternative, budget-friendly, and environmentally safe as well as being very up-to-date and trendy. In the above article, we compared both the diamonds while mentioning their pros and cons. 
A clarity-enhanced diamond may be the right choice for you but if you're looking for a gorgeous, clear, and affordable diamond then opts for a lab-grown diamond. As they are a budget-friendly and environmentally safe option.