Diamond Inspection: How To Do It the Correct Way
Diamonds, while originally curated from nature, can be also produced in the lab. People often consider lab-grown diamonds to be "fake" or "counterfeit" because it is considerably cheap but this isn't true as they have the same properties and characteristics as natural mined diamonds. This is due to the fact that they are made using the same technique. 
The characteristics and properties of a diamond decide the value of a diamond. There are a few ways to check the quality of a diamond. 
What is a Diamond Inspection?
Buying a diamond is an elaborate process and if you do not do your homework the right way, chances are you are going to end up with not the best diamonds according to your requirement. Diamonds are handcrafted and manufactured through an elaborate process and there are a lot of things to keep in mind when buying lab-grown diamonds.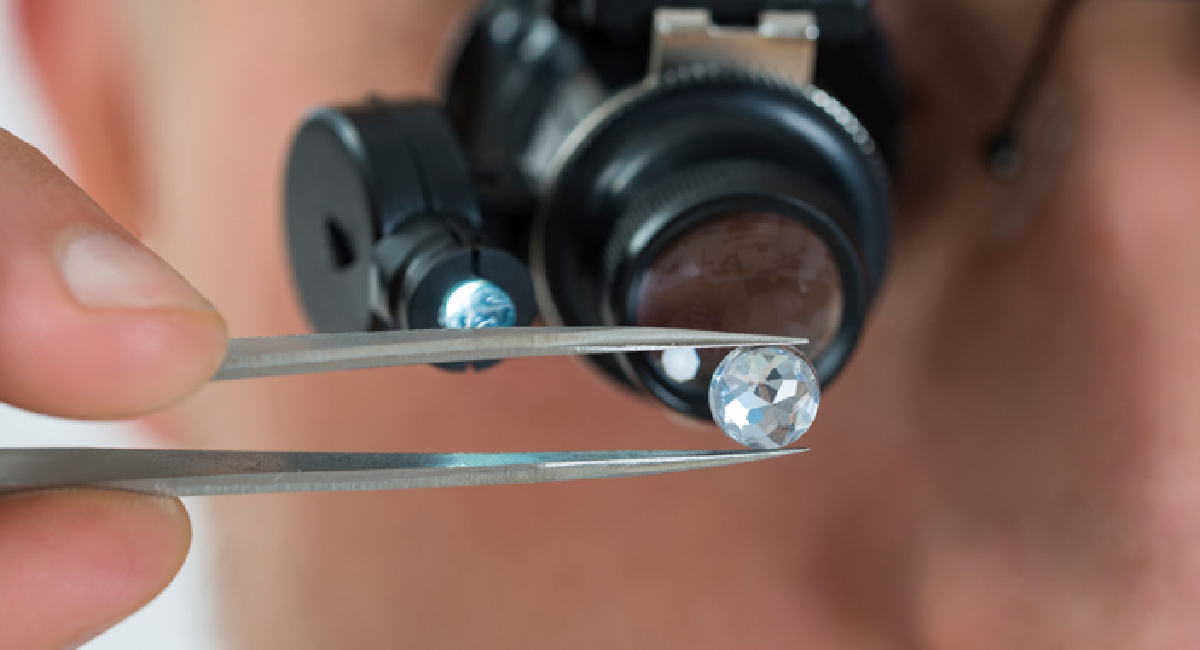 Diamond inspection is essentially a process of making sure that all the properties, statistics, and aspects of the diamond are up to the mark and meet your requirement. We have curated the perfect guide for you to refer to before venturing out to buy a diamond. The guide includes everything you will want to get checked and keep in mind when buying the diamond. After all, we aim to be as helpful as we can to bring you closer to your dream diamond.
How to Tell if A Diamond Is Natural or Lab-Grown?
Diamond Companies that grow diamonds in the lab are mostly honest about the origin of the diamond. Few companies even engrave the data about the stone on the diamond's girdle itself. While most companies come out clean about their diamonds and their origin, there are diamonds that are disguised as naturally occurring diamonds in the market. So let us look at a few ways to distinguish between a diamond that is natural and a diamond that is grown in a facility.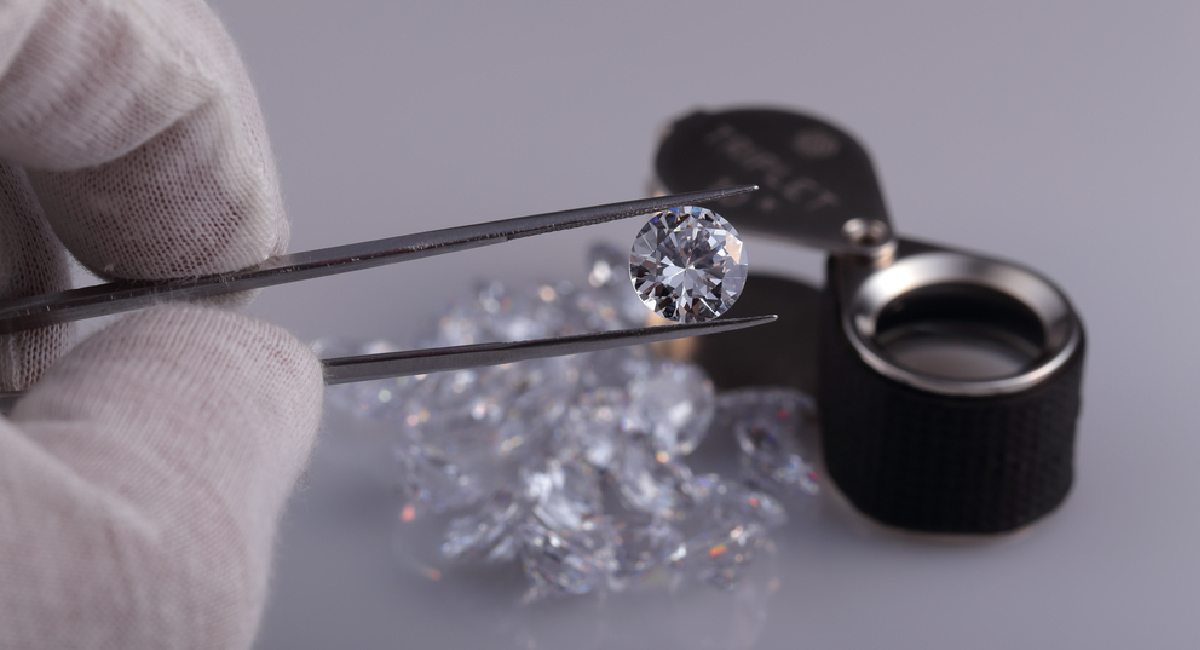 This is one of the finest markers in the market regardless of the origin of the stone. IIa indicates the clarity of the graphite in the stone and is an accredited variety. As a result, if a diamond is Type IIa, one may be certain it was made in a lab.
Photoluminescence Spectros­copy and UV Radiation
If one wants to get their diamond inspected, they can send it to a lab to get it tested. Companies like GIA(trusted and well-known) have built devices that help determine the origin. In a nutshell, the system works by hitting a diamond with different forms of radiation and analyzing the results. During the spectrum examination, several markers of the various techniques employed to generate lab-grown diamonds appear as spikes and fall at specific wavelengths.
Factors Should Keep in Mind for the Diamond Inspection
The 4c's of The Diamond
The value of a diamond depends on mainly four aspects. You absolutely need to know about all four "C'S" of them to judge a diamond accurately so that you do not end up buying something not worth your emotion or money. They are Clarity, Color, Carat Weight, and Cut.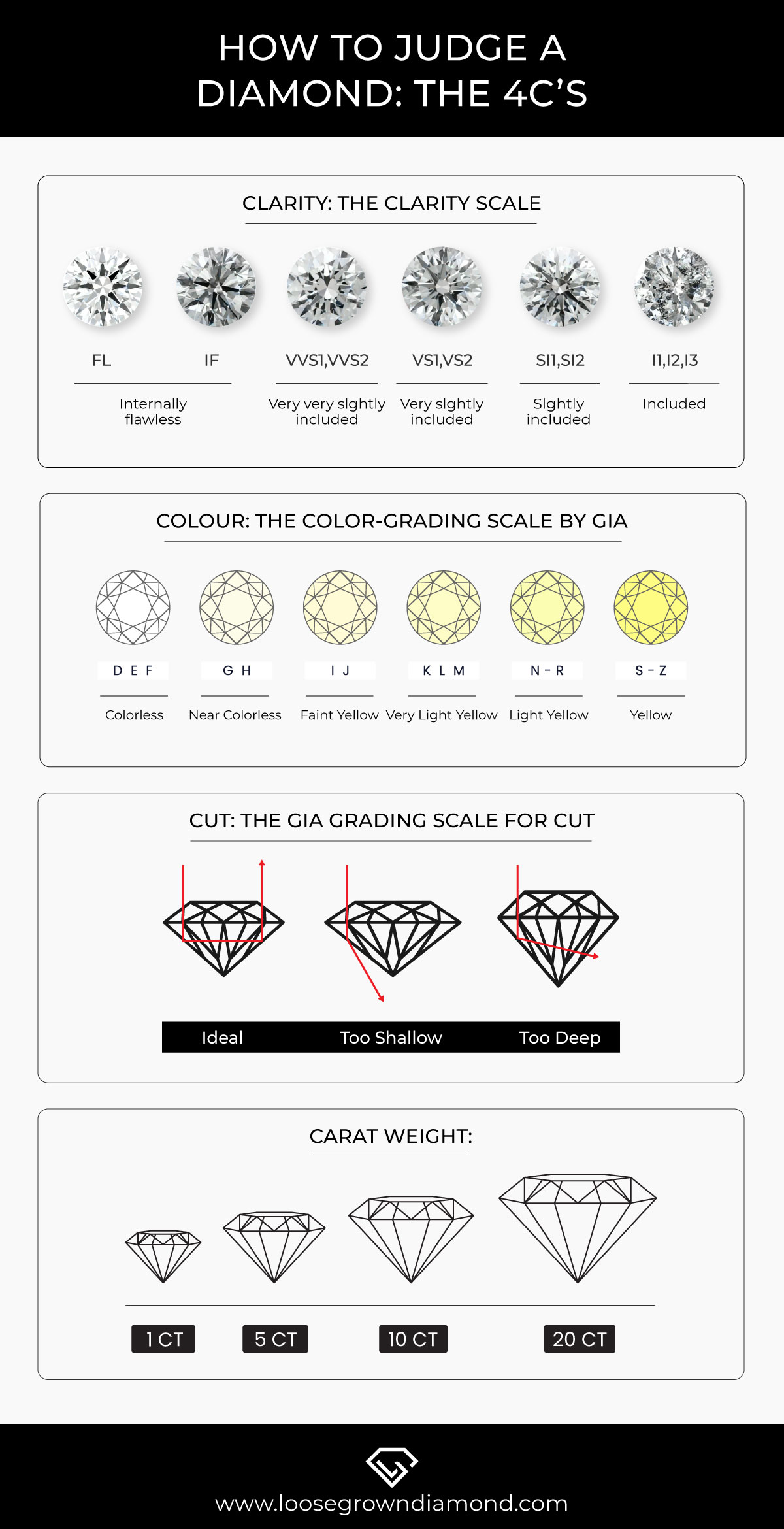 Clarity of the Diamond
The diamond clarity scale has six categories on the scale given by the Gemological Institute of America (GIA) and five levels on the scale given by the American Gem Society (AGS). The clarity scale is made to inform you about how many flaws or inclusions the diamond has and what is the severity of these inclusions. We have mentioned the grading followed by GIA because it's one of the highest regarded, respected, and followed authorities in the diamond world/market. For your reference. Here are the levels of the clarity scale by GIA. 
Flawless or FL grease means that the diamond is free of blemishes and inclusions and they are not even visible under magnification. 

Internally Flawless or an IF grade means that there is no inclusion but slight blemishes may be visible under magnification. 

Very, Very Slightly Included or a VVS1, VVS2 grade means the diamond has inclusions but they are not easily visible, not even to an expert. 

Very Slightly Included or a VS1, VS2 grade means that there are certain minor inclusions only visible to the naked eye.

Slightly Included Or  SI1, SI2 grade means that there are inclusions that are visible to the naked eye but only when carefully inspecting the diamond. 

Included or I1, I2, I3 grade means that the diamond has visible inclusions. 
Color of the Diamond
Colorless or D, E, F grade means that the diamond is absolutely colorless. 

Near Colorless or G, H, I, J grade means that there is some color but not visible to the eyes.

Faint Color or K, L, M grade means that the color may be visible to the naked eyes. 

Very Light Color or N, O, P, Q, R grade means that the color is easily seen. 

Light Color or S, T, U, V, W, X, Y, Z grade means that the diamond has a significant amount of color which is clearly visible. 
Cut of the Diamond
Excellent: Means maximum shine and reflection

Very Good: Has good reflection and gives back most of the light

Good: Brilliance is good but not the same as higher cuts. 

Fair: They do have brilliance, but only reflect a limited amount of light. 

Poor: Diamonds may appear dull
Carat Weight of the Diamond
Carat weight is exactly what it sounds like, how much the diamond weighs has a direct impact on the value of the diamond. The more the weight, the chances are, the higher will be the value, however carat weight is not the only determinant of the value of the diamond, clarity, cut and color along with carat weight determine the value of the diamond. 
A diamond certification is essential because it helps certify diamonds through a third-party institution (an external party that is not involved in the diamond market in any shape or form). Due to many fraudulent practices happening in the diamond market it is essential to check for certificates that are free from any sort of hamper. Few such trustworthy certification agencies are mentioned in the article below.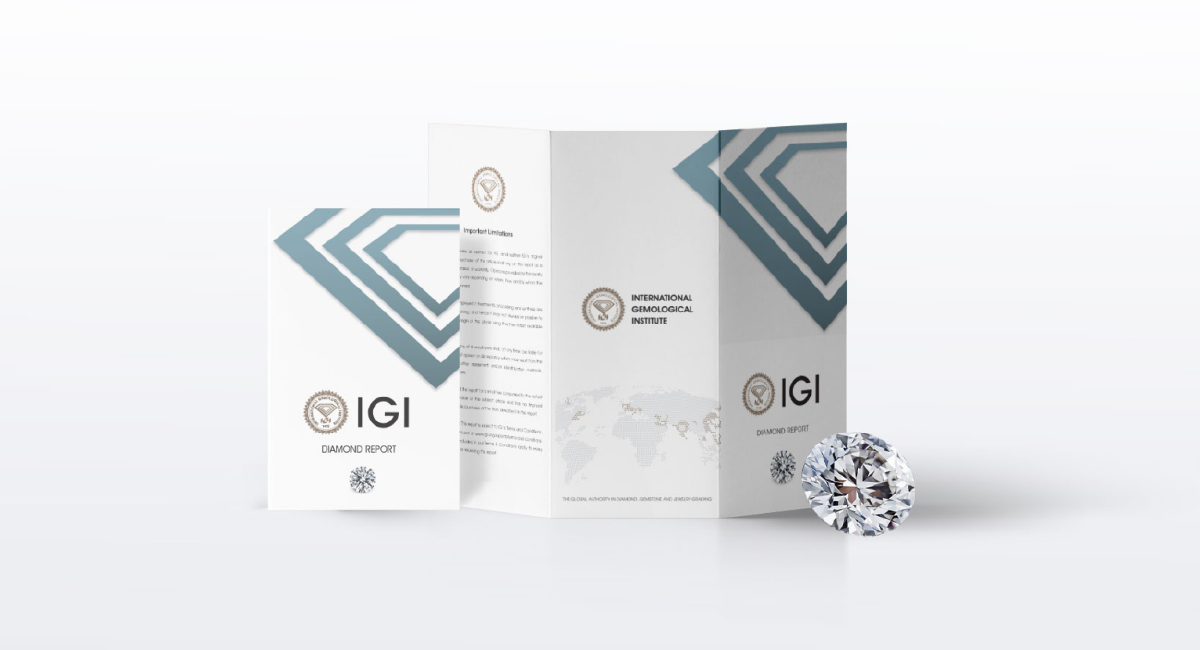 GIA: Gemological Institute of America
The GIA is by far the most widely popular and respected gem certifying organization. The GIA accreditation is extremely useful because sellers and buyers believe the organization provides rigor-free and correct data on the diamonds in their provided certificates. Every GIA-certified stone is subjected to a variety of tests and is evaluated by at least 4 gemologists. Furthermore, among all the organizations listed, it is one of the most dependable and stringent gem grading systems.
Also Read: Igi vs Gia: Comparison on The Basis of Color Grading, Pricing, and Diamond Reports 2022
AGS: American Gem Society
AGS is another well-known stone rating organization that validates precious gems and has established a reputation besides GIA. AGS is most known for its scientific method of gem classification, which employs numerical ratings instead of alphanumeric characters to authenticate gems. The numerical range rates gemstones from 0 to 10, with 0 being the finest and 10 being one of the worst.
AGS is second only to GIA in terms of market share in the United States. AGS uses a sophisticated ray-tracing method to assess a diamond's image quality, which is greater than that of other organizations.
IGI: International Gemological Institute.
It is a non-profit stone assessment company with a strong reputation in Europe. IGI has a presence in US territories as well, however it ranks last among all American organizations. IGI is the second most trustworthy and well-known brand in gemstone certification behind GIA. IGI is known for accrediting lab-created precious stones in addition to evaluating real diamonds. Furthermore, there is a small potential that the gem will be rated incorrectly by two or three grades, but this is uncommon. In India, one can trust IGI gems because they're well-known among both retailers and customers.
Also Read: Egl vs Gia Diamond Certification Comparisons: A Comprehensive Valuable Guide 2022
EGL: European Gemological Laboratory.
EGL is among Europe's finest known and oldest gemstone certifying agencies. Evaluating and certifying diamond crystals is a rigorous and extensive procedure at EGL. It is well-known for authenticating gems weighing less than a carat. However, there are several EGL qualifications around the globe in various titles, including EGL Israel and EGL International, which may or may not be applicable in Europe.
EGL USA, which was once a part of a bigger European network of organizations, has now evolved into a stand-alone organization that focuses solely on the North American continent. This North American organization first opened for business in 1977 in New York, and it became self-owned in 1986. The EGL USA is very famous in the United States.
Check the Insurance of the Diamond
Yes, diamonds are the hardest substance on the planet, but that does not mean they are immune to wear and tear. Diamonds like any other substance can be damaged and it is vital to have them insured or even better buy them from a seller which has pre-insured diamonds. Insurance makes sure that if you buy a flawed diamond you can be compensated accordingly or if your diamond starts chipping off you can claim insurance. 
Research your Seller and Manufacturer Before Buying
This is one of the most important steps in inspecting the diamond. Remember to search who made your lab-grown diamond and who is your seller. Go through their website, reviews, and the feedback of customers. Check what method they use and who certified them. Check for any discrepancies if they have any.
| | | | | | | |
| --- | --- | --- | --- | --- | --- | --- |
| Shape | Carat | Cut | Color | Clarity | Price | |
| round | 2.51 | Excellent | E | VS1 | $3382 $2875 | View |
| round | 2.60 | Ideal | G | VS1 | $1394 $1185 | View |
| emerald | 2.52 | Ideal | H | VS2 | $1429 $1072 | View |
| oval | 2.60 | Excellent | F | VS2 | $1857 $1393 | View |
| round | 2.55 | Excellent | G | VVS2 | $1404 $1193 | View |
| oval | 2.50 | Excellent | G | VS2 | $1537 $1153 | View |
| round | 2.50 | Ideal | G | SI1 | $1029 $875 | View |
| round | 2.50 | Excellent | J | VS1 | $1451 $1233 | View |
| round | 2.50 | Ideal | E | VS1 | $1851 $1573 | View |
| round | 2.52 | Excellent | E | VS1 | $2382 $2025 | View |
| oval | 2.50 | Ideal | G | VS1 | $3296 $2472 | View |
| oval | 2.53 | Ideal | G | VS1 | $3117 $2338 | View |
| round | 2.53 | Excellent | F | VS2 | $2106 $1790 | View |
| round | 2.55 | Excellent | D | VVS2 | $4744 $4032 | View |
| round | 2.55 | Ideal | F | VS2 | $1296 $1102 | View |
| emerald | 2.53 | Ideal | D | VS1 | $2383 $1787 | View |
| oval | 2.59 | Ideal | G | VS2 | $1527 $1145 | View |
| round | 2.50 | Excellent | J | VS1 | $1451 $1233 | View |
| round | 2.56 | Excellent | E | VS2 | $2571 $2185 | View |
| round | 2.60 | Ideal | G | VVS2 | $1627 $1383 | View |
Conclusion Thoughts
Diamond inspection is very important because it ensures you are buying the right diamond which is worthy and deserving of all your investment. The guide given above is handcrafted so that when you go diamond shopping, this checklist comes in handy. We hope all our research and references help in buying the right diamond and make the process more efficient and easier for you.