What Are I3 Clarity Diamonds and Should You Buy Them? – An Expert Guide About I3 Diamond
If you have ever searched "What are the lowest quality diamonds?", you would have probably gotten the answer I3 diamonds are the lowest quality diamonds. Now, why does such a diamond exist in the first place? Can you use an I3 diamond? If you have such questions on your mind then let us help you out with the answers.
Diamonds are a rare mineral with innumerable properties and varied compositions. For decades, diamonds have been a symbol of prosperity, and power and often are a mark of a particular social status. To attain this mark of power many individuals have tried to find a cheaper way as the clearest diamonds have the highest prices.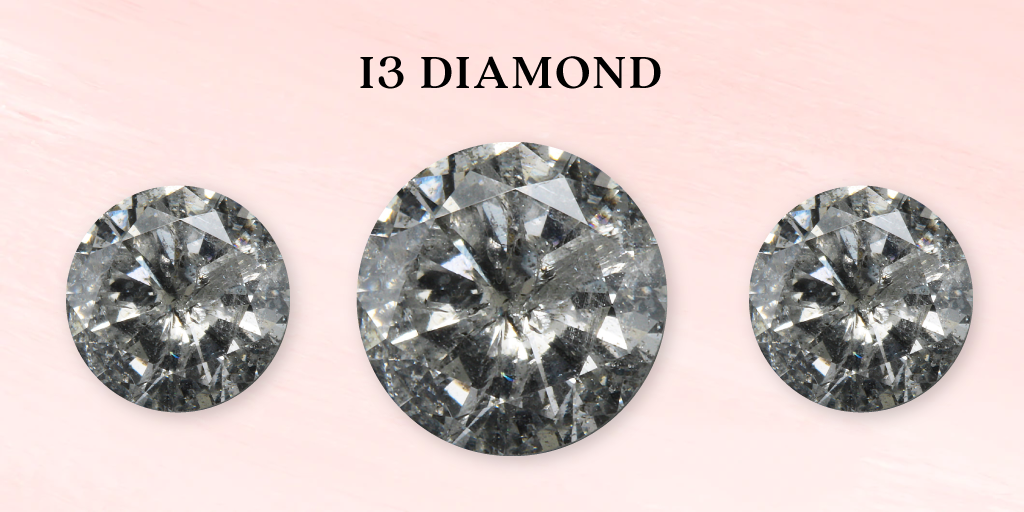 If you have been to a store in search of a perfect diamond, you would possibly be aware of the fact that diamonds follow a universally recognized grading system and each grade of diamond has its own unique set of characteristics and prices are fixed accordingly. We are going to look at I3 diamonds and explore what they entail by addressing some questions related to I3 diamonds followed by faqs.
What Are I3 Diamonds?
The lowest or weakest diamond clarity grading that is presently recognized and obtainable is I3 as per the GIA Scale. The gemological institute of america developed the GIA diamond clarity scale, which is used to evaluate and grade the quality of diamonds.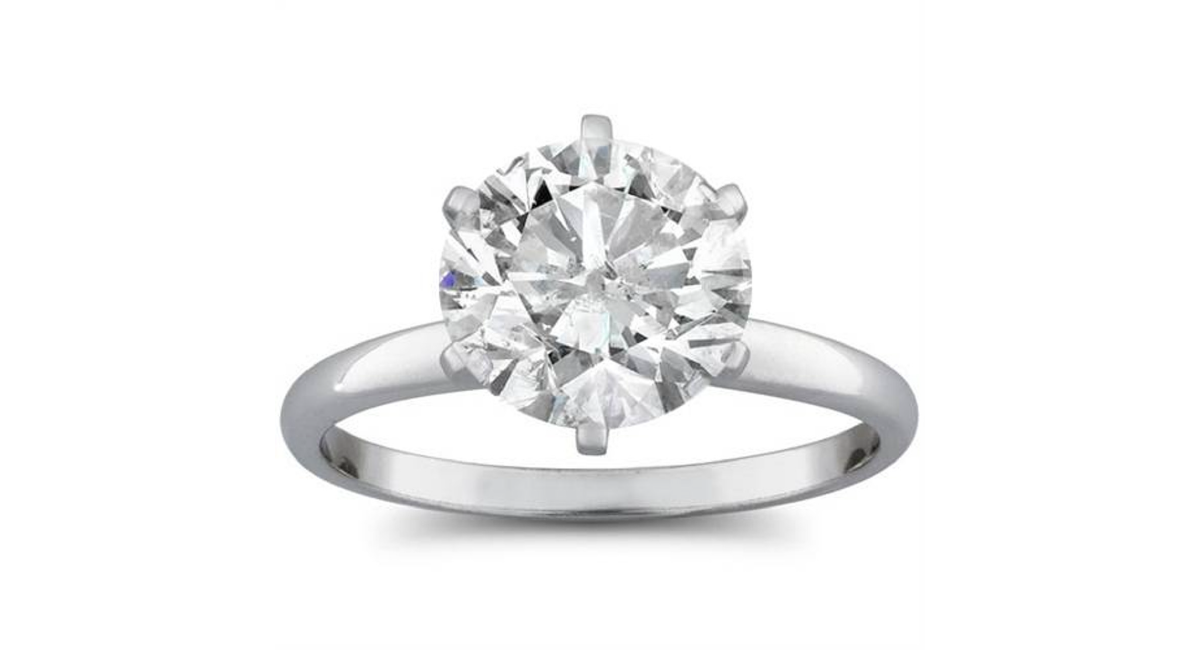 The 'I' in I3 diamonds stands for inclusions or incorporations, to put it simply. The diamond's rating on the diamond clarity scale is indicated by the number "3" in the diamond clarity I3. In layman's language, it indicates that the I3 grade is third in order in the Included diamonds category of the diamond clarity scale. (For context, included diamonds is a term that refers to the I1, I2, and I3 clarity grades.) 
Now, since I3 diamonds lie at the very bottom of the scale, they have a large number of noticeable inclusions. A diamond's inclusions are flaws or defects that reduce its luminescence, sturdiness, and aesthetic appeal. Pores, bruises, dents, and scrape grooves are a few examples of inclusions that are frequently found in I3 diamonds. 
On the diamond clarity scale, I1 clarity diamonds have apparent inclusions that are less prominent than diamond clarity I3. Whereas, diamonds with I2 diamond clarity have far greater inclusions than I1 but still way less as compared to I3 diamonds. This is attributable to the fact that I3 diamonds are not only in the lowest portion of the chart but also take the final spot there. As a result, it receives the GIA's and other organizations' lowest clarity grade, including GSI.
Are I3 Diamonds Worth Buying? 
Now to answer the real question, are I3 diamonds worth buying? I3 diamonds are composed of the same composition as other diamonds, therefore the only thing that distinguishes them is the degree of inclusion and its corresponding intensity and how that affects the diamond.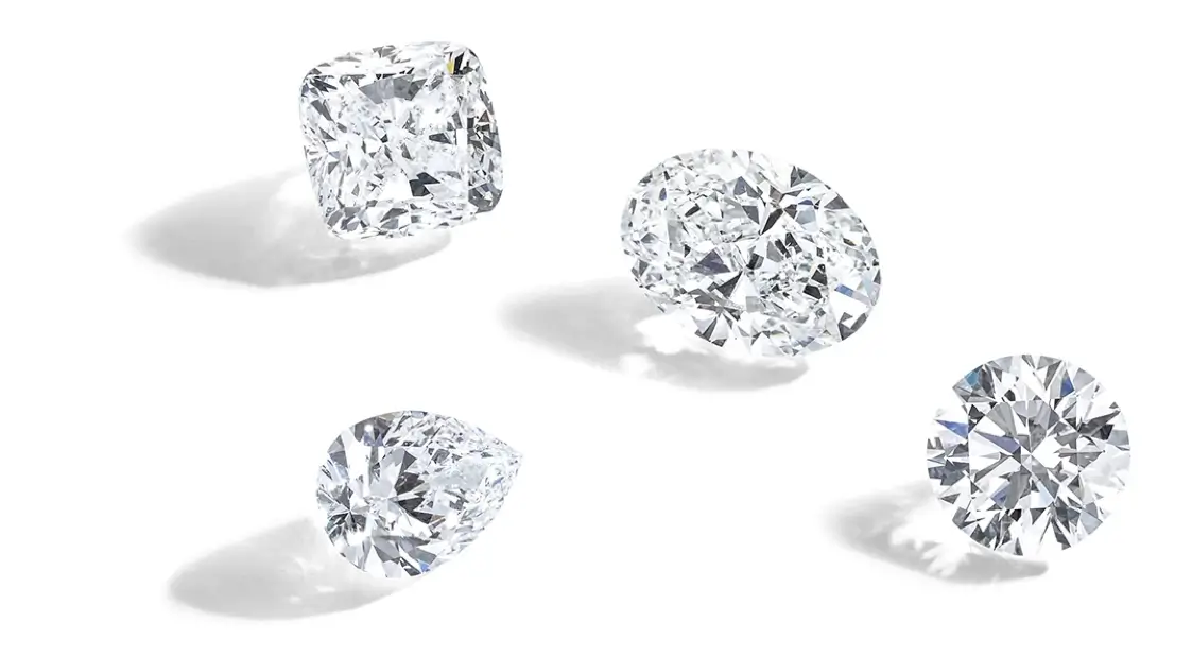 We now know that diamonds with a clarity grade of I3 diamond have more imperfections than those with a higher grade. Depending on the intended use, applicability, and purpose of the purchase, an I3 diamond may or may not be worthwhile. I3 diamonds have recently attracted considerable attention when they show up in some eye-catching trends like "hued diamonds" or "salt and pepper diamonds."
A salt-and-pepper effect can be seen throughout the diamond due to the presence of black and white inclusions. Additionally, an I3 diamond may perform well when used in small-sized jewelry or other pieces containing numerous diamonds. 
We advise consumers to choose diamonds with a minimum clarity rating of SI2 diamonds. Anything below this will be futile if you are going for a big stone.
Is I3 Diamond Clarity Good?
As we move down the clarity scale, the rate of increase of inclusions increases. Consequently, I3 diamond clarity merely indicates that a diamond is severely included, as it is at the bottom of the range of included diamonds. 
To clarify, little grains that are trapped inside the diamond are what really produce inclusions, which are useful markers of diamond clarity. The poorest diamond clarity grade that is formally offered is I3. As a result, we might conclude that it is not thought to be the greatest option offered.
How Much Do I3 Clarity Diamonds Cost?
Costs for various diamonds of various clarity grades operate in such a way that the cost increases for each step up in clarity grade. When you select an I3 clarity diamond, you may anticipate paying substantially less. 
Diamonds that are included are more abundant. Prices are significantly reduced as a result. Moving from an I3 diamond to an I2, and from an I2 to an I1, you should anticipate a slight price increase, thus an I3 diamond price being relatively the least in the order. 
An I3 diamond should cost between $1,200 and $2,000 per carat. A clean edge and L hue I3 diamond may cost around $1,000-$1,300. I3 diamond price with a J color grade may cost $1,600-$1,800. Be aware that these values are not fixed and are based primarily on the various properties of diamonds, even those with the same clarity grade.
Why Should You Avoid I3 Clarity Diamonds?
When customers are running after the diamonds that give them the most evident appearance and blinding luster, very few would go for an I3 clarity diamond. Due to this, a large number of well-known major retailers refrain from offering loose I3 diamonds. Let's examine some potential drawbacks or negatives of diamonds with an I3 clarity rating: 
Average Appearance: The aesthetic appearance of I3 diamonds is characterized by a heavy presence of inclusions that are readily apparent to the naked eye. Inclusions in I3 diamonds are typically big, darkish, and immediately noticeable. Buyers who are searching for a diamond with no obvious inclusions may be turned away by this.
Poor Quality: A diamond's inclusions have an impact on its overall quality as well. They prevent it from shining. Quality cuts with few inclusions are characteristics of diamonds with the highest light performance. Light can effectively enter or leave the diamond thanks to this interaction. The diamond won't sparkle as brightly when you rotate it as one with a better clarity grade. However, a diamond that weighs just under 0.5 carats won't have as obvious a poor brilliance.
Poor Resale: The value of I3 diamonds at the time of resale is very poor. There really isn't a huge requirement for them because of the overabundance of inclusions. Furthermore, there is no lack of supply because diamonds can be discovered plenty anywhere. An I3 diamond may allow you to partially retrieve your initial investment, but you will still be making a big loss.
Low Durability: An I3 clarity diamond may have issues with durability because of the heavy proportion of inclusions, which compromise the diamond's fundamental physical structure. The presence of inclusions increases the risk of chipping and bruises in diamonds.
If you're looking for the best quality diamonds and jewelry, the diamond wholesaler where you can buy top-quality diamonds is LGD, which do a fantastic array of lab-grown diamonds.
Conclusion
In closing, we can say that there are more qualities to consider when buying I3 diamonds than simply thinking about doing so favorably. Due to its low ranking on the scale used to grade diamonds, it is more likely to have significant inclusions, which diminishes the diamond's brilliance and luster and gives it a murky aspect. In order to avoid being lured in by the low price these diamonds bear, it is essential to think about higher graded diamonds for significant purchases like diamond rings or diamond jewelry.
Frequently Asked Questions (FAQs)
Is I3 Good Diamond Clarity?
The lowest clarity grade a diamond can receive is an I3 grading. Since I3 diamond clarity contains various flaws and could not be worth the investment, jewelry companies avoid selling them.
Is I2 I3 Clarity Diamond Good?
The second-lowest clarity grade for diamonds is I2. I2 falls between the lowest diamond clarity grade, I3, and the highest of the 'included' grade; I1. I2 clarity diamonds have observable inclusions that are visible to the naked eye. But I3 diamonds are at the top of the list for having the most inclusions, and because of their abundance and size, these inclusions can impart the diamond a dreary, opaque look. As a result, I2 is undoubtedly superior to I3, while I1 is superior to both I2 and I3.
What Is a 13 Clarity Diamond?
Without the use of a microscope, inclusions can be seen in diamonds in the I1–I3 tier of the clarity chart. The lowest clarity grade, an I3 diamond, will have much more obvious inclusions than an I2 diamond.
Are I3 Diamonds Ok for Earrings?
The ideal choice of diamonds chosen for something like diamond earrings marketed by the retail diamond industry is I1 clarity, which denotes that the inclusions or imperfections inside the diamond are clearly visible without magnification at a distance of 9 to 12 inches. As a result, we can see this as a crucial criterion for excluding I3 diamonds from the category of diamond jewelry production.
Are I2 Diamonds Worthless?
The center of the lowest degree of clarity for diamonds is represented by I2 clarity diamonds. That indicates that they are heavily populated with clearly discernible inclusions, such as flaws, flakes, fissures, and other defects. We can claim that I2 diamonds are worth more than I3 diamonds, at least in part because they can be used in designs that call for melee, side, and tiny stones.
Which Diamond Clarity Is Best?
To ensure you're obtaining the diamonds you want for a fair price, it's crucial to examine the diamond quality. Since diamonds stay for a lifetime and are more of an asset, they should be bought with much consideration. Shape, color, purity or clarity, and carat are important markers that experts and customers use to estimate the value of a diamond. Usually, diamonds with a clarity grade of SI1 or higher are eye-clean. Because step-cut diamonds, like emerald or Asscher cut, don't conceal imperfections as well, you could also choose one with a clarity of VS2 or above.
Do I3 Diamonds Shine?
Since the inclusions reduce how much light the diamond can absorb and reflect, I3 diamonds have little brilliance. Fewer inclusions equal more shine because they don't interfere with the way light passes through the diamond. We advise emphasizing a diamond's cut as well as clarity if you want it to have the most brilliance. These are the elements that have the greatest bearing on a diamond's ability to reflect light, and I3 diamonds score poorly on the clarity scale.