Understanding the SI2 Clarity Diamonds: What is it and Deciding Whether or Not to Buy?
Are you looking for a dazzling diamond? What if we told you there are affordable diamonds available in the market? We are talking about SI2 diamond clarity. What is it? How much does it cost? We'll be mentioning all of that in this article.
It is important to know how to detect the clarity of any diamond when shopping for one, or else you won't be able to tell if a diamond is truly worth the price it is being sold for.
All diamonds sold by retailers have a grading report issued by a diamond testing laboratory. The report informs about the diamond's clarity, color, cut, carat, and all the flaws present in the diamond.
The clarity defines simple transparency and lets you know about the type, number, and size of imperfections the gem has. The larger the flaws or the greater the number, the lower the clarity grade will be.
These grades range from high grade "flawless" (F) to low grade "included" (l). We also have the SI category between this range and the SI category, which has two types (SI1 clarity and SI2 clarity). A very divided topic is whether SI2 clarity diamonds are worth spending money on.
Let us briefly understand SI2 clarity diamonds and the pros and cons of buying an SI2 diamond.
What are SI2 Diamonds?
GIA developed the clarity grading scale to make diamond purchases easy and reliable for customers. It has eight upper clarity grades, including SI clarity, and three low clarity grades, which have poor beauty and durability and are also unsuitable for jewelry making.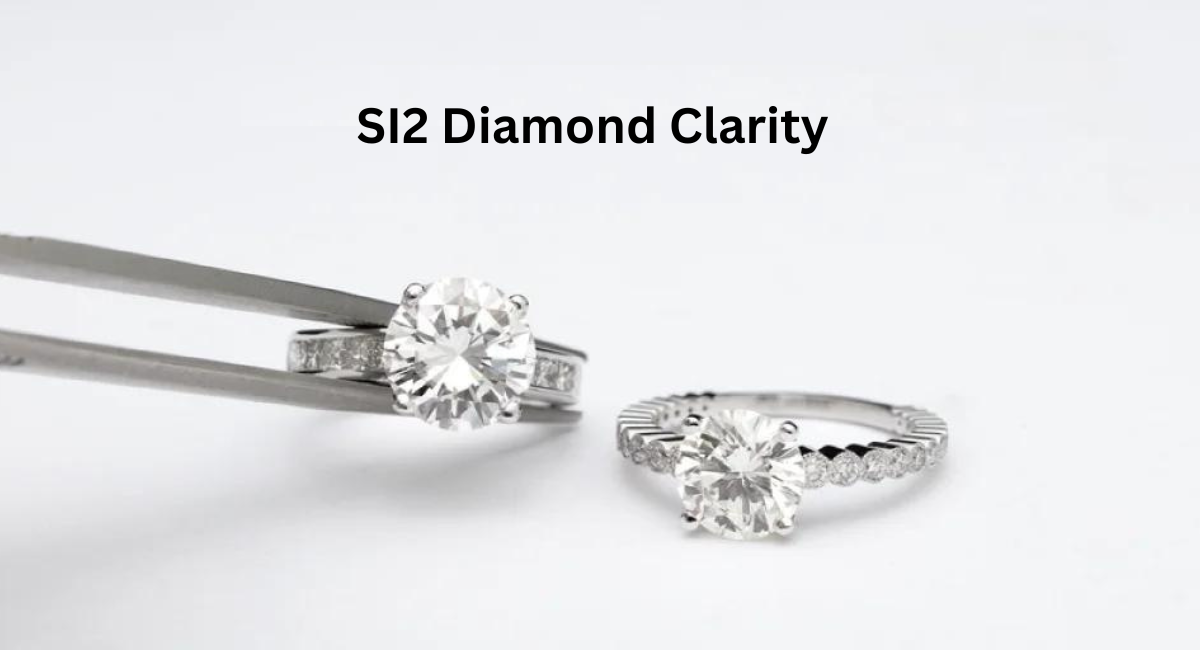 The grading of diamonds is a complex task; it needs a diamond expert working in a diamond laboratory to observe the diamond carefully. In case of clarity, note down the size, location, number, and type of inclusion within a gem.
The SI in SI clarity grade stands for "Slightly Included." On the clarity grade scale, this grade stands above the I diamonds and below the VVS2 diamonds. SI2 diamond clarity inclusions can be seen by the naked eye sometimes, but mostly with 10x magnification, a skilled gemologist can detect the flaws easily.
An SI2 diamond is a lower grade, but that doesn't mean you should discredit it. With some patience and being on the lookout, one can find a great deal on these gems.
Getting an upstanding deal depends on how well you can browse through diamonds. With some effort, one can find SI2 diamonds, which appear fully eye-clean and have a lower price than other brilliant diamonds.
There are some SI2 diamonds present in the market that have noticeable inclusions and do not require any magnification to see. It is not necessary that these diamonds have cloudiness or milkiness in them. Either way, it is best to avoid such diamonds.
Despite the lower clarity grade, SI2 diamonds have a beautiful shine and spark. The spark of a diamond mainly depends on the cut of a diamond, not on the clarity. If you have a low budget, you have to grind a little to find a low-inclusion SI2 diamond and give it a good cut; by doing this, you can have a stunning diamond at a low price.
SI1 vs SI2 Diamonds
If we look at the clarity grade scale, both SI1 and SI2 lie in the sweet spot of affordable price and adequate quality. If anyone wants a diamond for a romantic purpose, one that looks prestigious, and one that lies within a decent budget, then these two clarity grades are the perfect fit.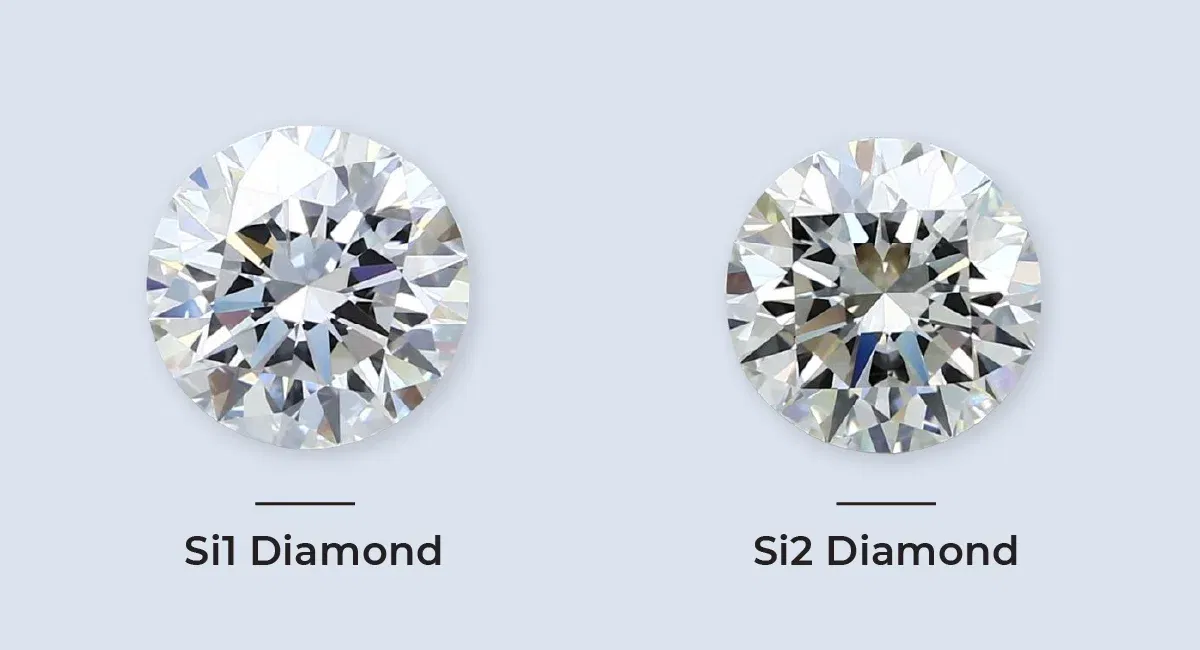 It is already clear by the given name that SI1 diamonds come above and are always considered higher quality than SI2 diamonds. However, not every SI1 diamond needs to always be better than or similar to an SI2 diamond, as the clarity grading system doesn't work with the positions of inclusions inside the diamond nor the color of the diamond.
These two factors can make SI1 look less or more appreciable compared to SI2 diamond clarity.
The position of flaws and color inclusions is what makes the difference. Sometimes the dark-colored inclusions present on the center table of the SI1 diamond can be visible if we put the diamond on a blank sheet of paper.
Whereas, sometimes, the color inclusions present near the pavilion part of the SI2 diamond cannot be seen by the naked eye.
So, one should buy a diamond that will pass the unaided eye test and not fully depend on the clarity grade system. The main motive for buying a diamond should be that it is eye-clean, which is the most important factor.
SI2 diamond is a little cheaper than SI1 due to its lower grade. But if you can find an SI2 diamond that is eye clean, then it isn't of any use to look for an SI1 diamond and pay a higher price.
To achieve this, it is important to see the diamond carefully and patiently from all sides. Also, view it under magnification so you can get a flawless one for yourself.
SI2 Clarity Grade
To get a better idea of what to look for in an SI2 diamond clarity, it is essential to know where the SI2 clarity lies on the clarity grading scale. Diamonds that are graded by IGI, GIA and GCAL are preferred, as they are considered to be more authentic.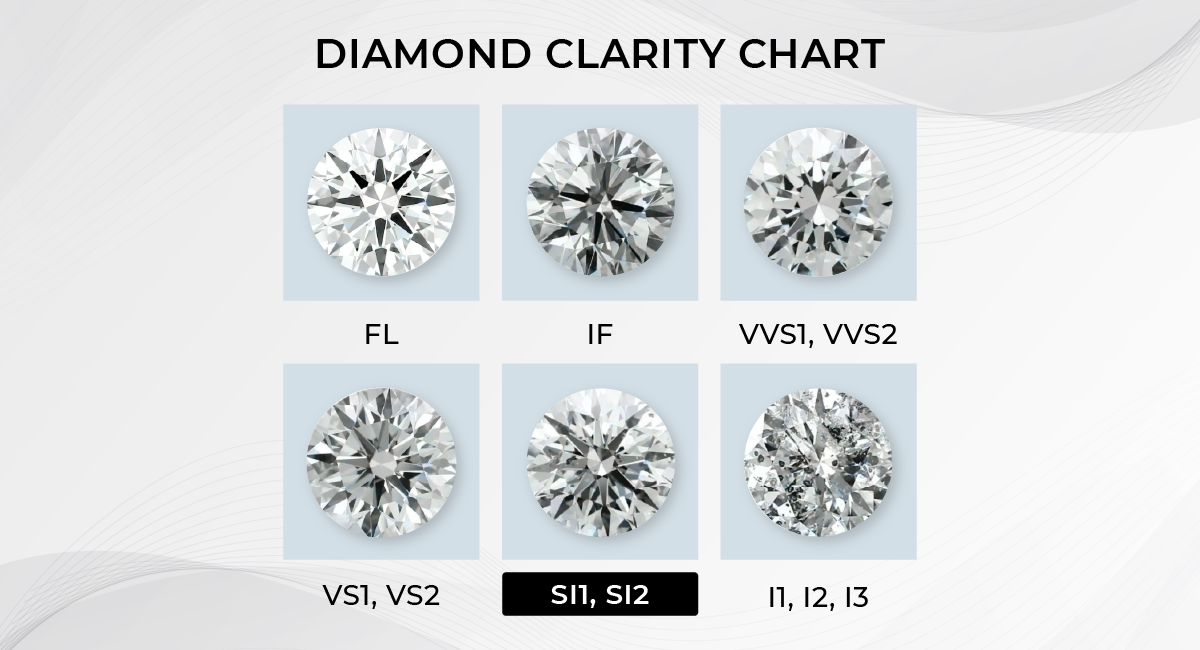 Below are the GIA clarity grades, from highest to lowest:
As you can see, SI2 diamond clarity is closer to the bottom. not exactly the best choice when it comes to diamonds. However, it will not be cheap.
The imperfections in diamonds are from nature or when they were formed. The clarity of a diamond depends mainly on inclusions. The type, size, and amount of inclusion can make any diamond beautiful or unfit for jewelry. Generally, diamonds with more significant and larger flaws are categorized as having a low clarity grade. Expert gemologists look at diamonds from all angles under high magnification to locate all flaws.
It's rare to find a diamond without any flaws. Even a high-clarity diamond might have some imperfections. So it would be beneficial if you looking for a diamond that is eye-clean and will look good on your jewelry.
Is SI2 Diamond Clarity Good?
On the SI2 clarity grade, the SI stands for "slightly included." In this clarity grade, there might be a chance of seeing an internal flaw with the naked eye. However, the internal flaws are mostly invisible to the naked eye but can be seen under high magnification.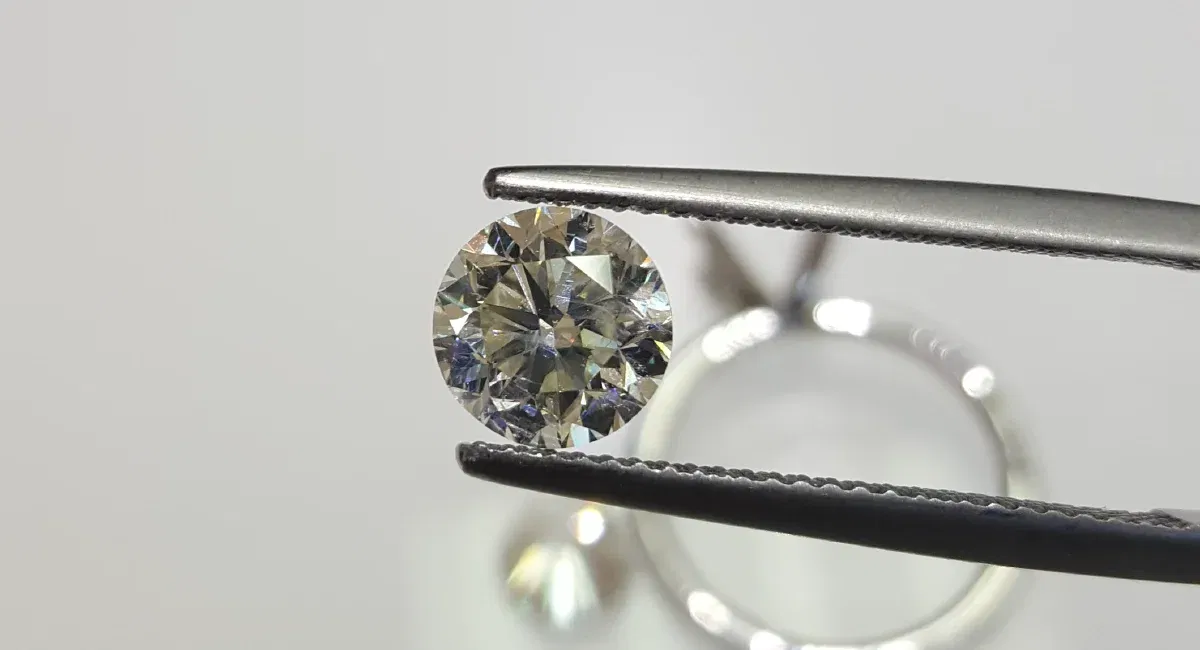 It will be no surprise if pure, flawless, and eye-clean diamonds are available at premium prices. As we go down the clarity scale, the diamonds become much more affordable, even for big diamonds of high carat weight.
The clarity grade scale has a range from Flawless (Fl) to included (I) and, more precisely, to included level 3 (I3). Generally, the included diamonds I1, I2, and I3 are not used in jewelry because of their low clarity. Due to low demand, jewelers also don't keep stocks of these diamonds.
SI2 (Slightly Included 2) diamonds are the lowest and most affordable grade on the market. But you cannot dismiss the idea of buying an SI2 diamond just because of its clarity.
There are numerous reasons why purchasing this can be a good investment. The price can be a primary factor. As for the sparkle, you can choose a good cut; by doing this, no one will be able to tell that this diamond is an SI2 diamond.
Eye-Clean SI2 Diamonds
Everyone wastes lots of time stressing over GIA clarity grades. However, clarity is not everything; the actual appearance of the diamond to the naked eye is what really matters.
It is important to note that not all SI2 diamonds are the same; some can have high blemishes, and some are very beautiful. Instead of focusing on the diamond's clarity grade scale, you should look for a diamond that is pleasing to the eyes, or, in simple words, an "eye-clean diamond."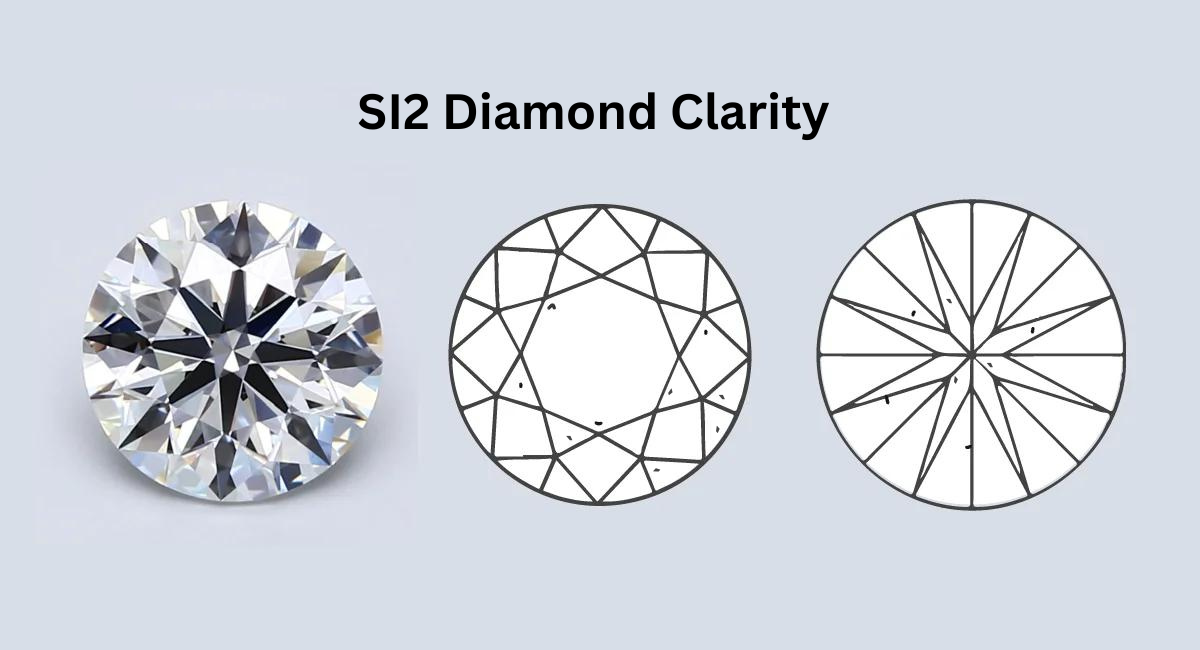 The term "eye clean" is used when we talk about the diamond's clear appearance and imperfection-free appearance to the naked eye. Expert jewelers can see inclusions inside the diamond with a magnifying glass or a microscope, but the most important thing is what you see under normal conditions.
However, it is also possible that the same diamond can appear at different clarity levels to different people. Some people find SI2 clarity diamonds eye clean, whereas others can see flaws without magnification.
This all depends on the person's eyesight or ability to find the flawed characteristics inside the diamonds. You should also know how the industry determines whether the diamond is eye-clean or not. The expert grading team observes the diamond from a distance of about 9 to 12 inches. If they cannot see any flaws at that distance, the diamond is considered eye-clean.
Generally, people who go to buy diamonds for engagement rings do not use this technique. We recommend you ask the diamond vendors about the inclusions in a little more depth to avoid confusion while observing. You can ask for the percentage of visible inclusions. These methods can lead you to the perfect eye-clean diamond.
How Much Does a SI2 Diamond Cost?
The SI2 diamond can offer a great deal if we discuss the price. However, depending on the shape and size of the diamond, the transaction could go wrong.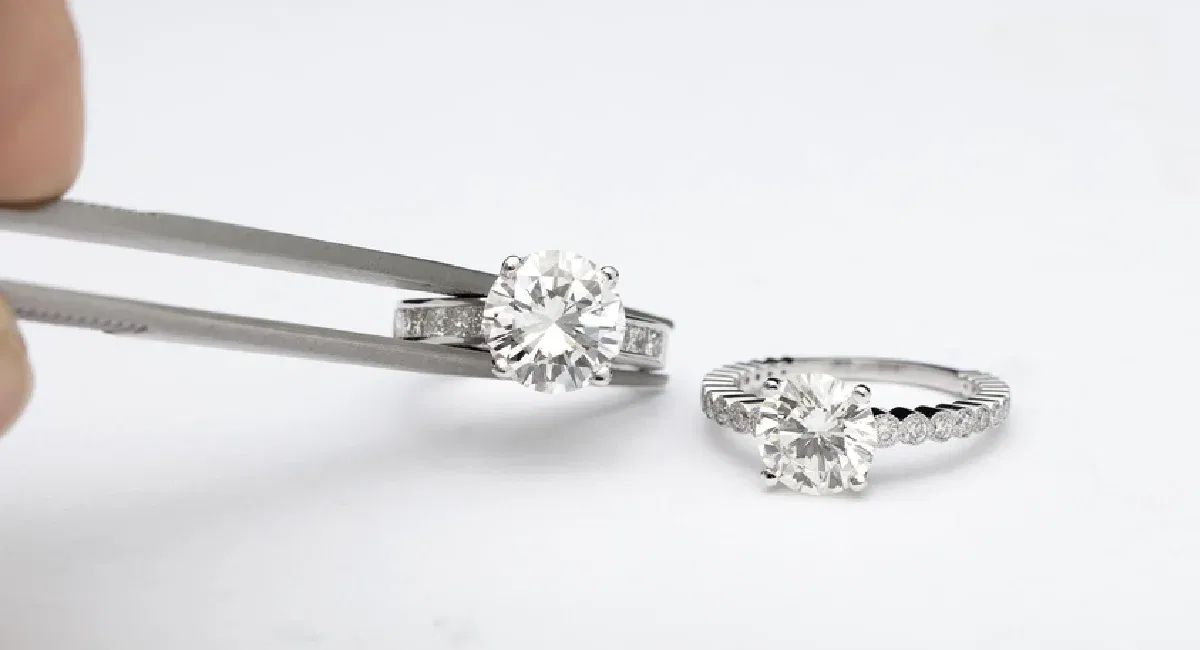 If we talk about the exclusive SI2 clarity grade diamonds, then the rate for high quality would be around $500 per carat, so a diamond can cost you more than $5,000.
Basically, it is impossible to put a fixed price tag on an SI2 diamond. Two diamonds of the same carat and cut and color grade can cost hundreds or thousands of dollars apart simply because one is an SI2 diamond and the other is a higher clarity grade diamond.
On the other hand, an SI diamond of almost the same appeal can cost less than a diamond with a VS or VVS clarity grade; this can be a great deal for you.
Finding an SI2 eye-clean diamond can be hard work, but they exist. Also, remember that most of them have high inclusion. Eye cleanliness is a thing that we can't define with words; it is something that can be seen only with our naked eye.
A diamond can look perfect in pictures, but you have to be careful and check out all the angles of a diamond. An SI2 diamond is worth the price, but finding a good one is not easy. These diamonds can cost anywhere from $1,000 to $6,000 per carat, depending on the other four Cs.
Only SI2 diamonds that are eye clean and offer a low price are worth buying. For comments on worth, you should judge diamonds' cleanliness by yourself and should always go for specifics with your jeweler. The best way to observe is to place the diamond six to twelve inches away from your eyes. Price confusion you can use our diamond pricing calculator to determine the right price for your diamond.
How Should You Buy an SI2 Clarity?
Buying any type of diamond can be an excellent investment if done properly. Below are some tips that will help you buy an SI2 diamond: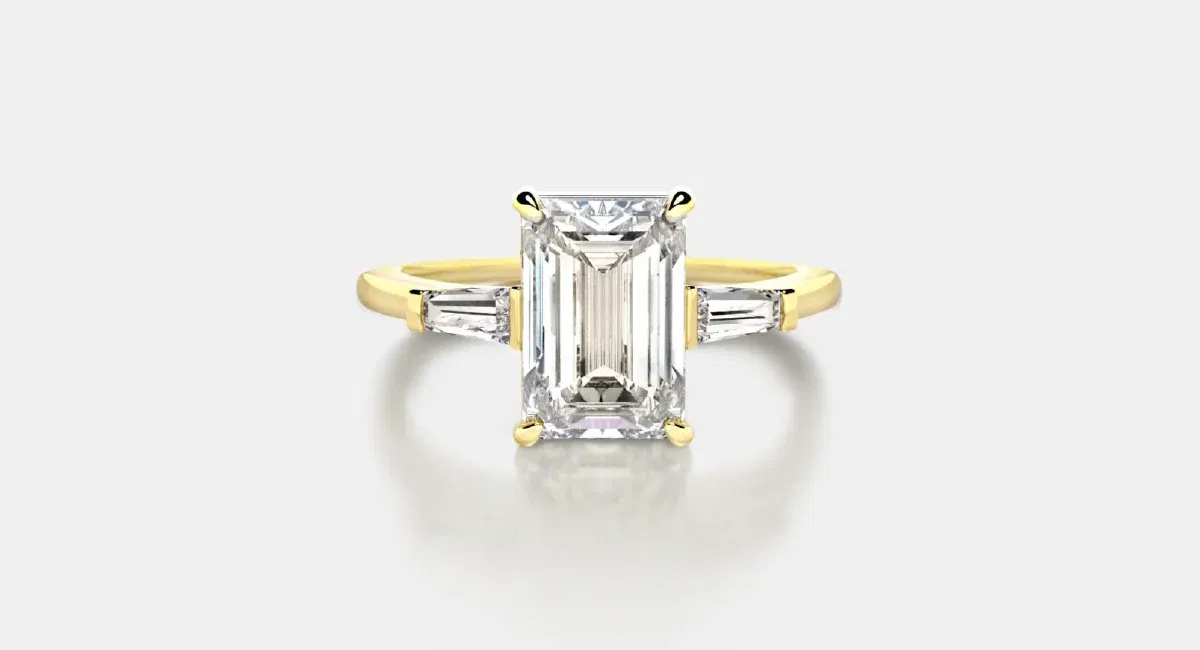 Look for inclusions along the edge of the diamond: You don't have to look at all the inclusions present in the diamond, but inclusions like feathers and clouds will be a problem for you. However, you can go for an SI2 diamond with inclusions along the edges, as it is possible that afterward, they can be hidden with a setting.
It is also possible that sometimes when the jeweler crafts the prong setting, the feather inclusion can increase.
Look for inclusions that are lighter in color: Light-colored inclusions are harder to detect than dark inclusions. Due to this, if you can see dark or black inclusions within a diamond, it would be wise not to buy that stone.
Even if these inclusions are on the edge, there is an excellent chance that they will be visible from a different angle due to their dark color.
Look for GIA or GCAL-graded diamonds: most people don't know that there are many different grading laboratories. GIA is the world's most widely known, reliable, and accepted laboratory.
It should also be your topic choice. The GCAL laboratory has a system with the Angular Spectrum Evaluation Tool that gives the most accurate insight, so this has a big advantage in grading.
Sparkle factor and performance are important: everyone likes an engagement ring with a great shine or sparkle. If you also want that, you should pay attention to both clarity and cut quality. The sparkly diamonds have the power to attract every eye present in the room.
If you want an eye-clean face-up for a sparkle, a VS2 diamond is generally recommended. However, this doesn't mean that SI2 can't give your ring a good spark.
Choose a diamond shape that hides inclusions: To hide inclusions, shapes can be of great use. A good shape chiseled into a rough stone can make inclusions harder to detect. The round brilliant cut is the most common and best cut for hiding inclusions.
The brilliant facet pattern of the round cut produces a huge spark, which challenges the inclusion's presence. On the other hand, a diamond with a step cut like an Emerald or Asscher cut will highlight the inclusions due to its large table, which can be a big disaster.
If you're ready to start your search, choose diamonds from hundreds of styles on loosegrowndiamonds.com and elevate your diamond shopping experience with a generous discount using a promo code.
Conclusion
SI2 diamonds have a high probability of having visible inclusions. Still, most of them can only be seen under high magnification, which leads to a lower value and grade for the SI2 diamond. But you can find a pretty good deal with these diamonds if you can get a hold of the right one.
One can find a diamond that appears eye clean and is an SI2 diamond at a lower price than high-clarity ones, which almost look the same. An SI2 diamond can be 70% cheaper than FL or VVS diamonds. You can give the diamond a round brilliant cut to make it look more sparkly and avoid having a step cut.
You just have to know what to look for in SI2 diamonds while buying, and you just have to find a diamond with an eye-clean look.
FAQs
Do SI2 clarity diamonds sparkle?
SI2 diamonds can sparkle beautifully when well-cut and have good light performance.
What does SI2 diamond clarity mean?
SI2 diamond clarity means the diamond has slight inclusions that are visible under 10x magnification, but generally not visible to the naked eye.
Are SI2 diamonds a good choice for engagement rings?
SI2 diamonds can be a good choice for engagement rings, especially if you are looking for a balance between diamond quality and price.
How does SI2 clarity affect the price of a diamond?
SI2 diamonds are typically more affordable than higher clarity grades, making them a budget-friendly option.