Si1 vs Si2 Diamonds: What Is The Difference Between Si1 And Si2? Which One Should You Buy In 2022
In this article, you will find everything about the Si1 vs Si2 diamond's clarity scale. Diamonds were discovered long after the jewelry was in progression amongst people but they still managed to be equipped with their own identity and fame. Which is still instilled in them as the craze and want for diamonds can be seen around the globe.
The biggest disadvantage of Si2 and Si1 diamonds that can be "seen" through the naked eyes is the inclusions present in them. Diamonds are aesthetically beautiful and tempting but this one thing determines the final purchase of them as it's a one-time investment. And who doesn't want everything to be perfect in life?
While buying the diamonds, one basic thing that we prominently look for is the 4C's of the diamonds, one of which is Clarity Grade. Spotting out the clearest diamonds could be tricky as slight imperfections are a primary part of their overall growth but these imperfections are also found in slight or higher ranges which must be taken under consideration.
Let's talk more briefly about the inclusions of si diamonds.
What Are Diamonds With Si1 And Si2 Clarity?
Si1 Diamonds
Si1 Diamonds or Slightly Included 1 Diamonds are those with slight inclusions that can only be seen through 10x magnification by an experienced gemologist. It is just 0.1% of what inclusions are seen in diamonds which highly engraves the value of Si1 Diamonds in the market.
Where do inclusions come from? It is basically about the clarity within the diamond, and how it is cultivated or formed. Generally, while digging or during the extraction process, diamonds get inflicted upon due to external complications caused to them by known or unknown means.
But synthetic diamonds are different from these, as they are prepared in the labs with great perfection and extra care, still, they also tend to have inclusions due to the unnatural and chemicalized procedure of creation.
Si1 Diamonds are one step backward from si Diamonds as they are considered more clear and the best diamonds to be purchased with this characteristic in particular. A great portion of Si1 diamond's clarity, when cut into proper shapes, is eye-clean.
Si2 Diamonds
Si2 Diamonds or Slightly Included 2 Diamonds are those with slight inclusions to the 2nd degree. The 'degree' here is relative to each other; i.e Si, Si1 diamonds, and Si2 diamonds. The inclusions present in these si diamonds can only be seen through 10x magnification by an expert gemologist.
Si2 diamonds are just about a few extra inclusions in comparison with Si1 Diamonds where these inclusions can also be observed by the naked eye, as well during varied times.
When looking for eye-clean diamonds, Si2 diamonds are not the way to go as a majority of them (70%-90%) are not eye-clean diamonds.
If you do get a Si2 diamond that looks clean to the naked eye, then you are one lucky duck! This however is a very rare occurrence as Si2 diamonds have much more detectable inclusions in comparison to Si1 diamonds.
Si1 vs Si2 Diamonds: Which Is Better?
Identifying the best one out has always been the preferential matter. In most cases going for a Si1 diamond is better as the inclusions of Si2 diamonds are much easier to notice. The whole point of attraction towards these si diamonds (si2 and si1 diamonds) is their lower graded clarity which makes them less expensive whereas an advantage that comes with them is that these si diamonds are not exactly clear but with the naked eyes one cannot observe those inclusions to an extent.
The main criteria in deciding the Si1 or Si2 Diamonds is all about the price and quality in the end. Our suggestion is to opt for the Si1 diamond as you are more likely to find a clear diamond for a better price.
As mere guidance, preferably one can opt for the diamond which is clear to their eyes as that is one major point that matters the most. Conclusively, the diamonds are of almost the same range yet there is variation in quality but then again which seems better to you must be the ultimate choice. You must invest where you feel satisfied and comfortable in every way.
What Are Eye Clean Diamonds- Si2 vs Si1 Diamonds?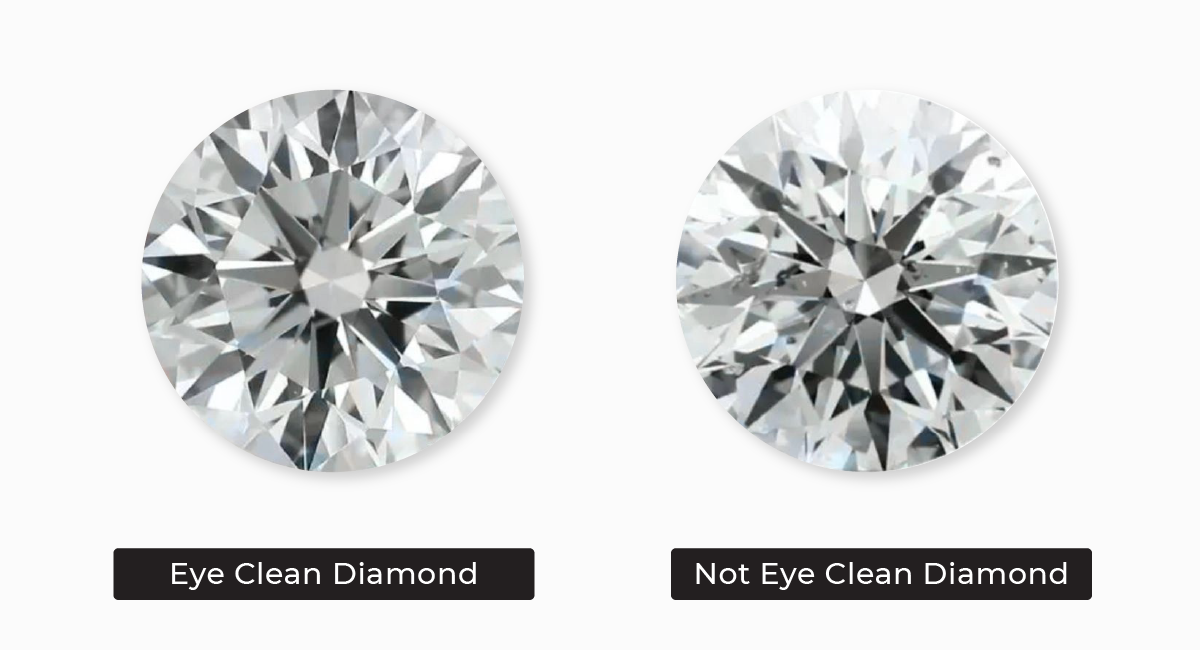 Eye clean diamonds are those which when seen from afar or generally seen, the inclusions are not visible to the naked eyes until it goes under 10x magnification. Just like Si1 Diamonds possess fewer inclusions in comparison with Si2 Diamonds but still, some of these stones are more eye clean than Si1 Diamonds. Now both these si diamonds ( si1 and si2 diamonds) are almost alike in the price range, as well as the quality but then what is visible to the eyes is what matters.
Irrespective of their flaws if they are situated at a position in the diamond that hides it like the pavilion then you have an eye-clean diamond. GIA has stated that Si1 diamonds are eye clean however you will need to check for yourself. There are some Si2 diamonds that are eye-clean but finding them is a task.
Buying Guide For Si1 or Si2 Diamonds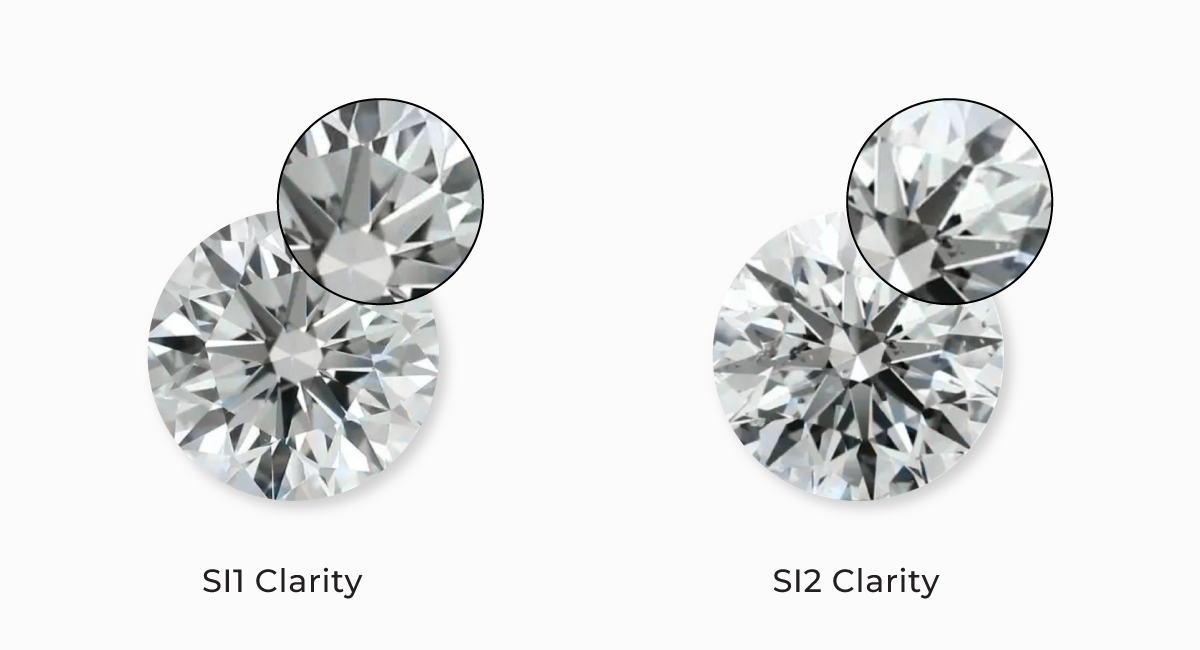 Should I buy Si1 or Si2 diamonds? If you ask yourself this question then the answer for you is, yes! Buying a Si2 diamond has a good value in return, but only if bought correctly. Clarity grade is not a major fact to be worried about rather the eye clean mode of the diamond must be checked and validated.
According to the analysis, 70% of Si2 Diamonds are eye clean so there would be the least chance of not finding them proficiently. Just the idea of buying these si diamonds ( si1 and si2 diamonds) with a good value, one must pay attention if it's eye clean or not before purchasing them.
If in case you don't find the eye-clean diamond within the Si2 category then Si1 Diamonds would be a better option, but it's just an optional recommendation.
Conclusion
The only conclusive statement that must be considered at this point of long discussion and recommendations is choosing what deserves you, as well as, whatever you want the most. Everyone must have choices plus comparative statements about those choices which makes it easier for us to understand the various aspects of the particular variations in a better way. Similarly, here you have got choices and valid arguments in their regard, the only matter of fact is your want and desire.
If you are still conflicted between the two and can't decide who wins the "Si1 and Si2" battle. Then get in touch with our very own Loose Grown Diamonds gemologists to assist you in making a decision.