The Timeless Beauty of the Lab Grown Diamond Tennis Necklace
The diamond tennis necklace is a piece of jewelry that has been in trend for a long haul and continues to be a timeless piece that enhances and fits in with all styles. Even in its subtlety, we see the round diamond necklace standing out like no other piece of jewelry. Its origin dates long back, but the beauty of the chain sustains the test of time.
We see the tennis diamond necklace being inspired by the tennis diamond bracelet. The top tennis player in the 1970s wore the tennis diamond bracelet. This inspired the rise of a necklace pattern from the bracelet style. Necklaces are such unique jewelry pieces that one would love to have a special piece for themselves.
What is a Diamond Tennis Necklace?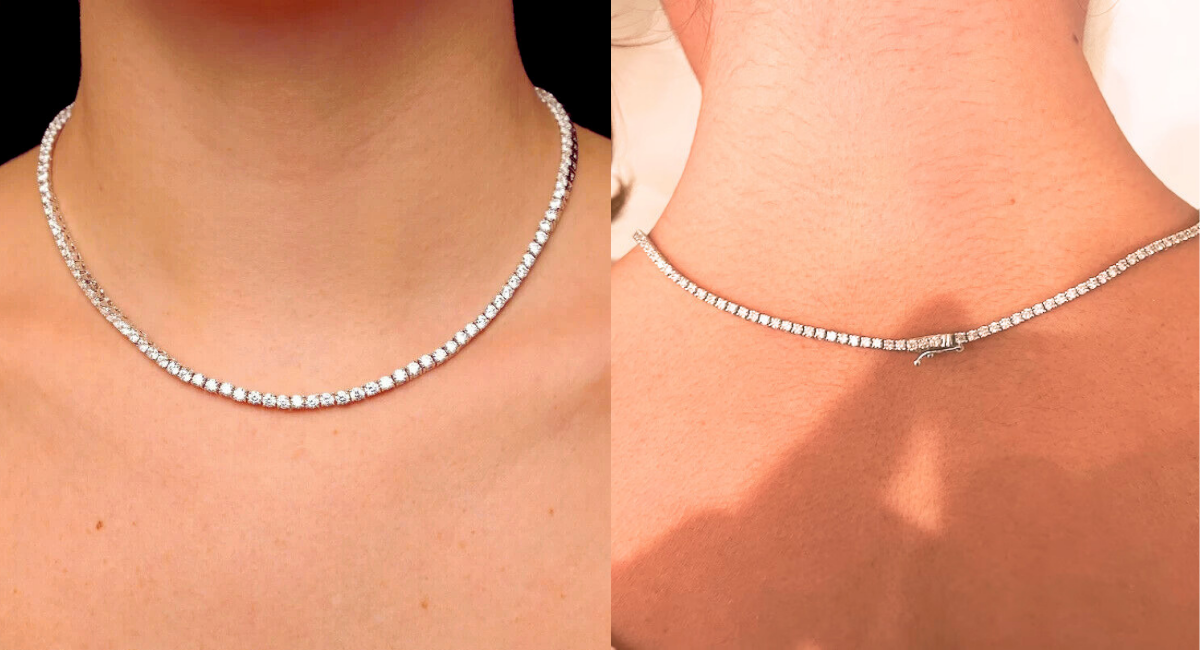 A diamond tennis necklace is a piece of jewelry that is subtle yet quite impactful when worn correctly. This particular style is said to fit in with all fashion and enhances the fashion sense with each style it is paired with.
The tennis necklace has continuous diamonds placed next to one another. The necklace is conventionally known to have diamonds lined of the same size, but in recent times, we have seen experimentation with varying sizes too.
The diamonds are set into metal that is chained together. In simpler words, one can call this a chain of diamonds. The diamond tennis necklace is something one can wear from casual outings to a high-end fashion outfit.
How Do I Choose a Diamond Tennis Necklace?
Choosing a tennis necklace can seem like an easy task due to the simplicity of the design, but we see that the beauty is in the details. The details enhance the beauty of this subtle necklace design, and hence even the tiniest details matter.
The main thing can be, what to look for when shopping for a lab grown diamond tennis necklace, and the answer is straightforward. As you get cleared one by one on these questions, you will start building up your beautiful necklace piece.
One can prefer a lab grown tennis necklace or a natural diamond necklace, with the previous option having more budget and clarity advantages too. Since the diamonds are lab-created, the diamond constituents are the same, with fewer inclusions, making the diamond appear more transparent and shine better.
Diamond carat: As you build up the design of the necklace, you can see that determining the carat weight of the diamond is a crucial aspect. Once the overall weight of the diamond tennis necklace is decided upon, you can put together the diamonds and determine a uniform carat weight of the diamonds themselves.
Length: The length of the diamond tennis necklace helps us figure out the approximate cost depending on the carat and number of diamonds one has decided. Tennis necklaces are available in a variety of sizes, right from 14, to a length of about 26. The best length of a tennis necklace ranges from 16 to 18 inches, wherein it does not completely create a choker effect, nor does it hang from the neck and we see it sit comfortably on the collarbone. The length can be an important factor once one determines the style they are going for in the necklace.
Metal: the metal in which one chooses to place a diamond changes the impact of the diamond. A diamond tennis necklace in yellow gold can add a warm tone to the diamonds and can make the diamonds in the necklace seem yellow-toned. Another option is the rose gold diamond necklace, which makes the diamond necklace appear dreamy. Rose gold is also a tone that appears very mystical when worn, hence a beautiful twist to a diamond necklace.
The most conventional way to wear it is usually when the diamonds are placed in white metals. One can choose from different metals in white metals; there is platinum and white gold. A white gold diamond tennis necklace is an ideal option since platinum is a little expensive.
Price: You need to keep an idea of the budget they are looking for in the tennis diamond necklace to form a baseline and work around all the above factors to create the desired output in the chosen budget. This will require some exploration to get an idea of the necklace one is looking for. Loose Grown Diamonds gives the best price there is in the market to offer to an individual.
The Advantages of Choosing a Lab Diamond Tennis Necklace
Choosing a lab grown diamond tennis necklace has considerable advantages compared to a natural diamond necklace. A lab diamond tennis necklace will have diamonds created in the manner a natural diamond is formed but in a slightly controlled format.
The nature of these diamonds is such that it does not harm the environment as much as mining a natural diamond does. The lab grown diamond tennis necklace will be available at a price considerably less than naturally occurring diamonds.
Sparkling Celebrity Diamond Tennis Necklace Moments
The glam of the industry is something we always look up to. So, if you are looking for inspiration, these celebrity diamond tennis necklace inspirations are what you might be looking for.
Check out some of the iconic looks from the Golden Globes, Cannes and the never-failing Met Gala. Zendaya and Lady Gaga can be seen adorning a timeless piece of the diamond tennis necklace at one of these events.
Where Can I Buy a Diamond Tennis Necklace?
You can always look online for options and customizations; offline stores can cater to your needs. You can go to the website of Loose Grown Diamonds and check out the choices you can avail as you indulge in our premium customer service. You can avail a discount by using a promo code.
If you want a design we do not have, click here you can send us its picture, note or reference. We will then create a custom setting and send a CAD3D design for you to see and that for you can contact us by filling up our custom form.
Conclusion
Finding the right lab grown tennis diamond necklace is not a hefty task, but choosing the details you prefer can get a little challenging. With the premium quality of lab-grown diamonds, your tennis necklace will surely catch any eye in a glimpse, all while shining in its subtlety. The tennis necklace women have been wearing has continued to create history.
FAQs
What is a diamond tennis necklace called?
Multiple names call a diamond tennis necklace, some being line, infinite, classic necklace, or unique necklaces.
How much is a diamond tennis necklace?
Depending on the details of the necklace one has chosen, the price ranges from $3000 as a base price and reaches up to $12,000, depending on the diamond clarity, color, carat, and the metal in which it has been set.
What is the best setting for a diamond tennis necklace?
Prong and bezel are the best diamond settings that one can choose from. Prong enhances the beauty of the diamond necklace to a maximum level, but the bezel offers a more stable and safer option for the diamond to be set in.
What is the length of a tennis necklace?
Tennis necklaces are available in a variety of sizes, right from 14 to 26. The best length of a tennis necklace ranges from 16 to 18 inches, which is the choker variety of necklaces.
Can you wear a diamond tennis necklace every day?
Yes, one can certainly wear a tennis necklace every day.
How many carats should a tennis necklace be?
The carat weight of a tennis necklace can only be decided after the whole design process, but an individual diamond chosen can be from 0.05 to 0.5 carats each. The smallest necklace would be around 6ct, whereas the largest 16 carats.
What metals are generally used for diamond necklaces?
The metals commonly used for diamond necklaces are white gold, yellow gold, rose gold and platinum.
Do lab diamond tennis necklaces come in different styles?
In recent times, we have a variety of patterns ranging from prong tennis necklaces to bow-tie diamond tennis necklaces that can be matched beautifully to other metals for added style.
Is a lab grown diamond necklace a good gift?
A lab grown diamond necklace is a beautiful gift that one can gift to their loved ones on special days like birthdays, anniversaries, and graduation days, or even to your loved one for simply existing.