Should I Buy A Lab grown Diamond Tennis Bracelet?
The beauty of a diamond tennis bracelet is not hidden from the human eye. A timeless piece such as this deserves to be adorned and carried on for generations.With the elegance of the design and some alterations to elements, a lab grown diamond tennis bracelet can be a unique piece of jewelry. Let us at LGD get into depth about how you can get the right lab grown diamond tennis bracelet.

What is a Lab Grown Diamond Tennis Bracelet?
The classic tennis bracelet is simple and subtle but has a rich vibe. The lab grown diamond tennis bracelet is a beautifully crafted minimal bracelet that lines diamonds along the whole circumference of the bracelet. It can be set in any metal, like platinum, gold, and silver.
The diamonds used are lab grown diamonds that adorn the bracelet and possess the same chemical and physical properties as that of a real diamond, with the only difference being that they are manufactured in a lab. There will be a marginal difference between them and a real diamond tennis bracelet.
Lab grown diamonds and natural diamonds are both great options for a bracelet.
Lab grown diamonds, also known as synthetic or man-made diamonds, are created in a laboratory using advanced technological processes that replicate the conditions in which natural diamonds form. Lab grown diamonds are typically less expensive than natural diamonds, and they have a smaller environmental impact as they do not require mining.
Ultimately, the choice between a lab grown or natural diamond bracelet comes down to personal preference and budget. If you're looking for a more cheap option that is environmentally friendly, a lab-grown diamond bracelet may be the way to go. However, if you place a high worth on the rarity and natural beauty of a diamond, a natural diamond bracelet may be a better choice for you.
Why is it called a Tennis Bracelet?

It has been called a tennis bracelet due to a particular event that changed the course of these bracelets. A tennis player Chris Evert started the trend of wearing this specific piece of jewelry on the court. One such day, the bracelet slipped, resulting in the game being paused for Chris Evert to find her diamond bracelet. The tennis bracelet has never left people's minds since that day.
How to choose a Lab Grown Diamond Tennis Bracelet?
There are many considerations when choosing a tennis bracelet women like and a men's tennis bracelet. With all these permutations and combinations, one can develop a unique lab grown diamond tennis bracelet that is special to them and shows their individuality.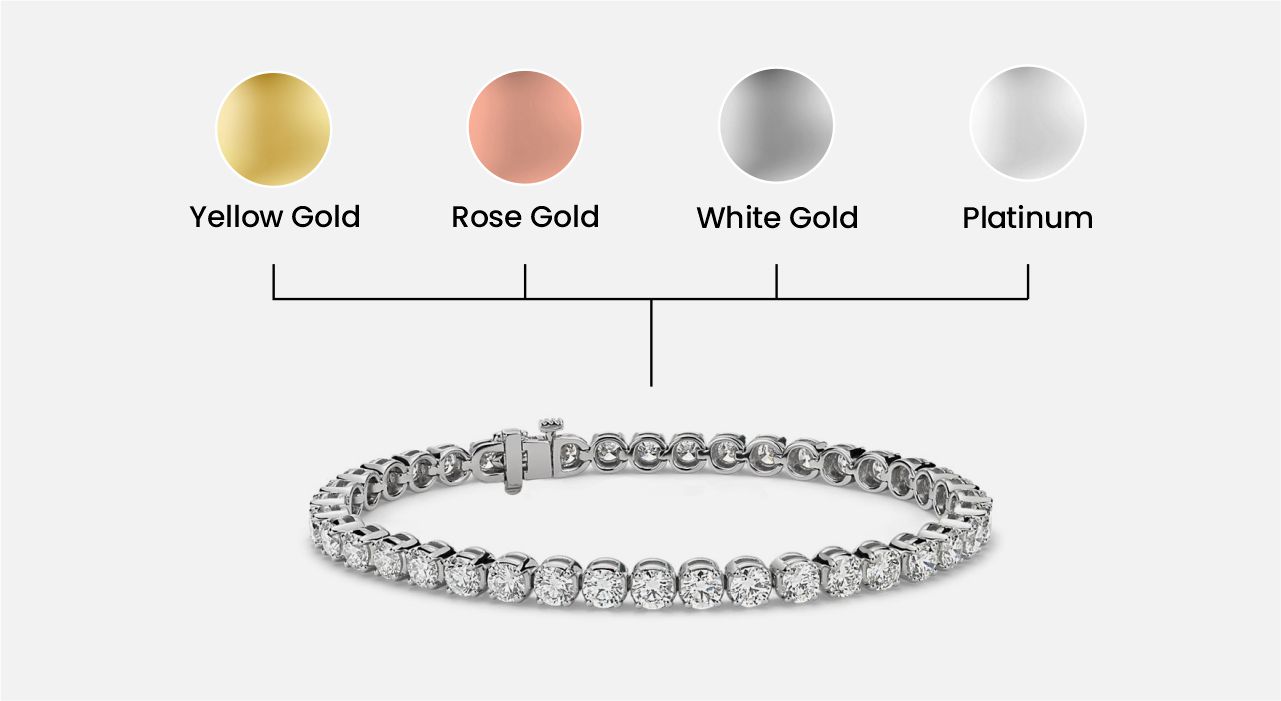 Metal The way to get started with your design of a lab grown diamond tennis bracelet is to choose the metal you wish to base your design around. Once that is selected, you can easily understand what the tennis bracelet will look like. The more common choice for a classic tennis bracelet is a platinum tennis bracelet, which is classy and has a rich tone to it. It adds a certain purity to the effect of the bracelet. Next, we move on to gold tennis bracelets. While a yellow gold tennis bracelet will impart a yellowish look to the bracelet, a white gold tennis bracelet will do justice to the white tone of a diamond. An eccentric option would be to go for a rose gold tennis bracelet.
Diamond shape A round diamond tennis bracelet is a classic piece of jewelry and has been turning heads since the olden days. The other diamond shapes that follow its lead, like the baguette tennis bracelet are also a good choice. The emerald is another vintage and classy piece that imparts a royal charm to an emerald tennis bracelet. Princess cut, and oval cuts are also unique cuts that fit into the lab grown diamond tennis bracelet designs.
Fit The fit of the lab grown tennis diamond bracelet is something you have to check before you get into the designing process of the bracelet. The fit should not be too tight or too loose. Either of these will result in an uncomfortable experience, which will take away the beauty of the diamond bracelet. The approximate size that is usual is around 7-7.5 inches, so that could be something you can work around.
Clarity The clarity of a lab grown diamond will hugely impact the appearance of the lab grown diamond tennis bracelet. Since these diamonds are smaller, the chosen clarity can range from H to SI1. With better clarity, the bracelet's beauty will create a fantastic aura.
Styles and settings The styles and settings in which lab grown diamond tennis bracelets come are diverse, and they offer a lot of variety and choice for the person to choose from. The settings which are common in tennis bracelets are prong and bezel. While prong allows maximum shine of the diamond, the bezel setting is very safe and secure, keeping the diamond safe. A 3 prong diamond tennis bracelet gives a more triangular look to the diamond bracelet and is equally unique.
Another style is the bolo tennis bracelet, which is half of a tennis bracelet and the other half is a chain that can be tightened. This unique variety can also cut costs by almost half of the lab grown diamond tennis bracelet.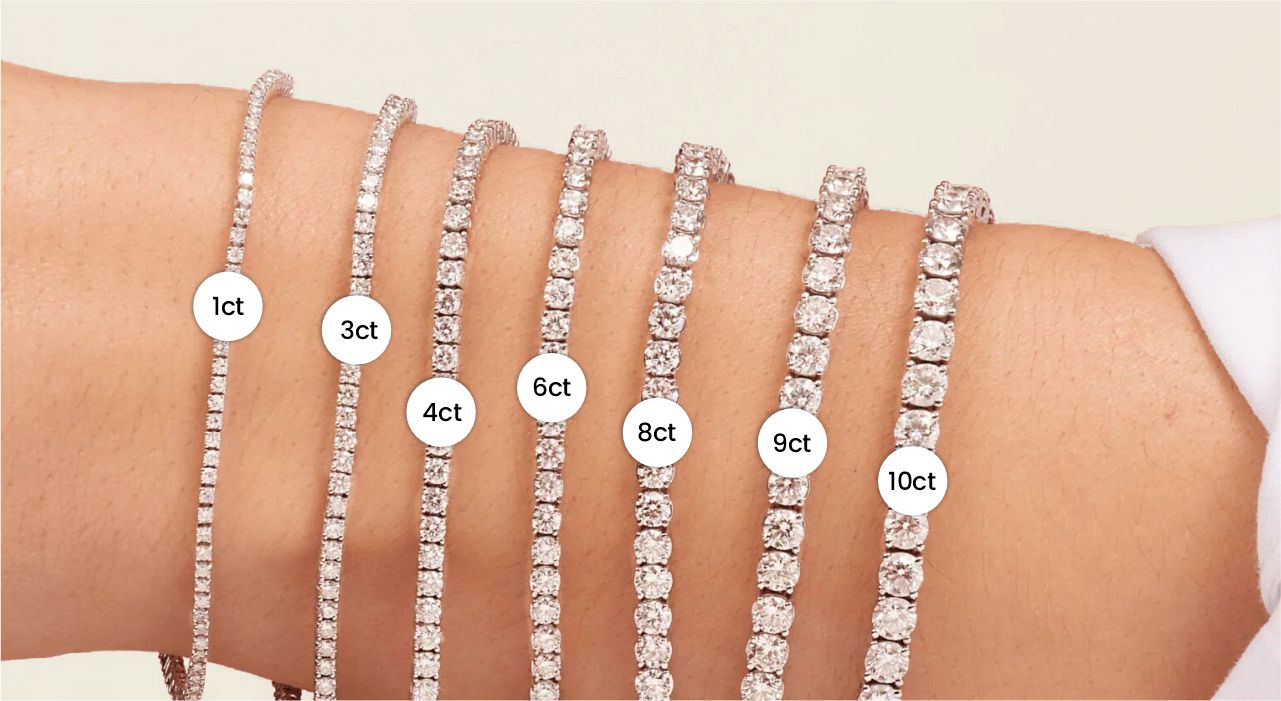 Carat weight This carat weight will determine the weight of the diamond bracelet altogether. You can decide the weight of the lab grown diamond bracelet you are looking for, and the division can be made further on.
Price The price of a lab grown diamond tennis bracelet is primarily determined by the base metal that holds the diamonds in place. The other factors hugely impacting the price is the diamond carat, cut, and clarity. On average, a bracelet starts from $827 to anywhere around $5000, depending on all the factors and elements chosen. A 1 carat diamond tennis bracelet is the minimum and costs around $600, but yet again will be influenced by other features which make up the bracelet.
Lab Grown Diamond Tennis Bracelet to Gift
A classic tennis bracelet is an attractive option to adorn your loved one. When choosing gifts, diamond jewelry stands out from the rest. A bracelet has been a reliable gift option for many years. The tennis bracelet can be gifted to anyone you hold dear. You can buy it for your parents, partner, children, or siblings.
The occasions to present these timeless pieces are endless. Whether it be an anniversary, wedding, birthday, graduation, or just wanting to express your appreciation for one special person in your life. A small diamond tennis bracelet will be a cute gift for someone if you are on a budget but want them to feel special.
If you are getting a lab grown diamond tennis bracelet for your significant other, a heart tennis bracelet would be an optimal selection to mark as a symbol of love. It is accurate when they say that diamonds symbolize love due to their brilliant shine and everlasting nature. These stones withstand all sorts of pressure & conditions and yet shine the brightest in the end.
Lab Grown Diamond Tennis Bracelet Buying Guide
Tennis bracelets have a lot of designs and options that can adorn the one wearing them. Lab grown diamonds must be chosen wisely when choosing a tennis bracelet. The first step that we can go ahead with is choosing a base metal. After this, one can go ahead with finalizing the cut, clarity, and carat of the diamonds, followed by the setting of the diamonds in the metal.
While buying a lab grown diamond tennis bracelet, one should check the quality of the diamonds, which the certification from a reputed institution will state. This certification states all the lab grown diamonds properties and certifies them. Buying a tennis bracelet from a reputed and accredited company is always recommended.
Buying a lab grown diamond tennis bracelet starts right from the question of how this piece of jewelry will be used and is followed by a series of questions regarding style, metal, price, etc. Which, when compiled, end up creating a design of the bracelet. Every little detail matters in this process and will hugely impact the end product.
Find the Perfect Lab Grown Diamond Tennis Bracelet
The ideal lab grown diamond tennis bracelet is something that suits your aesthetic sense and also fits perfectly into your lifestyle. A tennis bracelet is a piece of jewelry that can mend well with any day-to-day routine. If it works well in a sport like tennis, then why not everything else? That is how the history of the tennis bracelet goes.
If you have a hectic, slow, or even conscious lifestyle, the tennis bracelet is a perfect fit for either of these options. The only difference that would be there is the difference in the jewelry setting. A bezel setting is an ideal setting recommended for regular and rough usage, while a prong is an exquisite setting that enhances the shine of the diamonds.
You can always look into various brands and companies that manufacture lab grown diamonds. These companies would retain the authenticity of lab grown diamonds. They would also do justice to designing them and setting them in a way that enhances the brilliance of these diamonds.
How to Clean Lab Grown Diamond Tennis Bracelet
Lab grown tennis bracelets can be cleaned by soaking in a mix of lukewarm water and dish soap. This will help to remove impurities and settle inside the solution. Hard soaps are not advisable since they could damage the shiny metal. To retain the glow of the metal and diamond, dish soap is a feasible and easily accessible option.
Conclusion
The beauty of classic tennis bracelets has transcended generations and, up until now, continues to remain a timeless classic. With more styles and variations to be added to the design catalog. With the addition of lab grown diamond elements to this classic piece, it continues to keep up with the growing technology. There is nothing that a lab grown diamond tennis bracelet cannot fit into in terms of beauty or styling.
FAQ
What is a tennis bracelet?
A tennis bracelet is a diamond bracelet that contains diamonds along the whole length of the bracelet. This gives an infinite loop in terms of the bracelet, and the diamonds can be seen along the entire circumference of the wrist when it is worn.
Why choose a lab grown diamond tennis bracelet?
A lab grown diamond tennis bracelet is an excellent choice for anyone who wants a tennis bracelet. The bracelet is an eco-friendly option, as well as affordable. Lab grown diamonds are gaining popularity and being accepted by people.
How much is a 5 carat diamond tennis bracelet worth?
A 5 carat lab grown diamond tennis bracelet is worth almost $4000, and the price can vary based on the metal in which the tennis bracelet is set, its clarity, and the cut of the diamond.
Why are tennis bracelets so expensive?
Tennis bracelets are expensive because of the number of diamonds on the bracelet. The number of diamonds that adorn this classic piece is carefully chosen to shine brilliantly. The end-to-end placement of diamonds lets the jewelry piece accommodate more stones thus making it more valuable.
Can you wear a lab grown diamond tennis bracelet everyday?
A lab grown diamond tennis bracelet can be worn daily since it fits into all kinds of and is durable. For better security, you can choose a bezel setting to hold the diamond in place securely.