The Beauty of Lab Grown Diamond Necklace
The task of buying a lab grown diamond necklace is more of an experience than it is a task. We at Loose Grown Diamonds are here to make your experience of buying a lab grown diamond necklace enjoyable.
With the beauty of lab grown diamonds set together in a necklace, the elegance of this particular piece is priceless. Many factors go into deciding what is an ideal design. So you can get the best possible necklace or customize one according to your desire.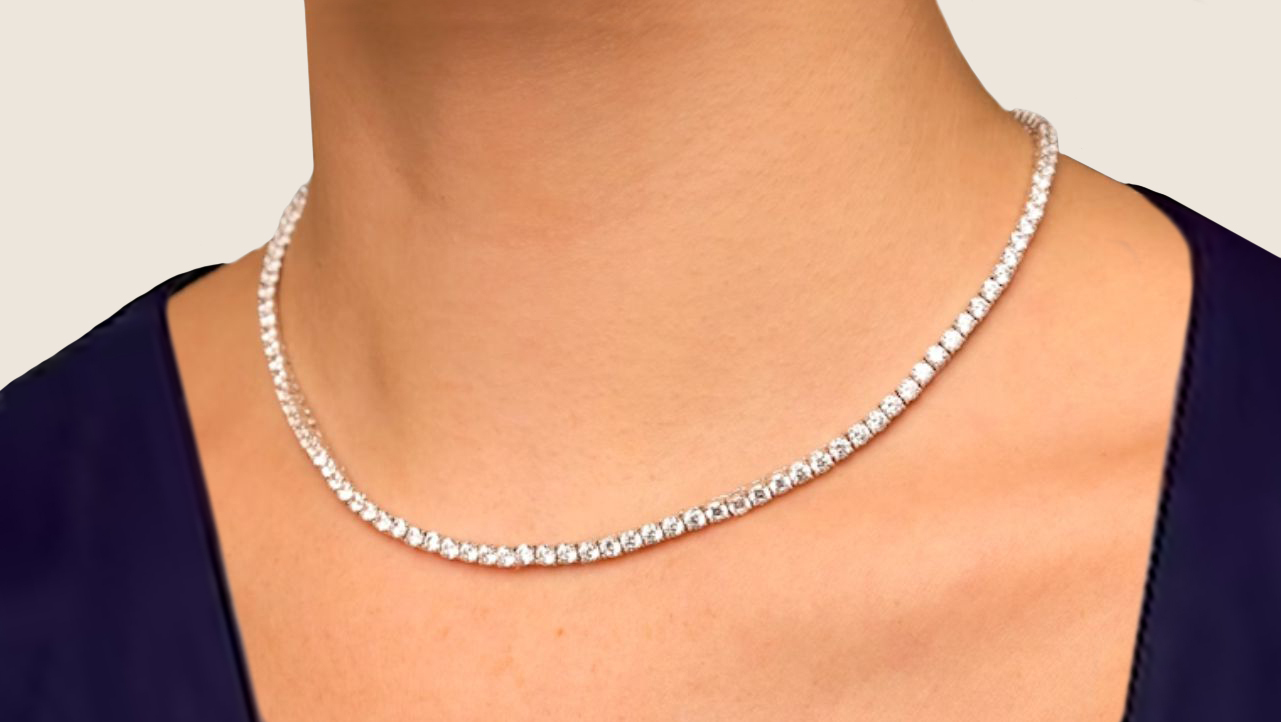 A diamond necklace has always been a classic piece of jewelry that fits into all settings and can be worn with most outfits. Its versatility creates room for experimentation and thus gives people an option to select a unique style.
Factors to Consider Before Buying a Diamond Necklace
There are numerous factors to consider when one is buying a necklace. A diamond necklace is never a small affair, hence it needs to be looked into with much detail. The necklace is, firstly, a representation of the person wearing it. Once the person wears it, it becomes a part of their allure.
The budget, the usage of the necklace, the material used, and its look are all important factors to consider. A diamond necklace has a different charm as each necklace differs. One can always see that diamonds enhance the wearer's features and can fit into all styles.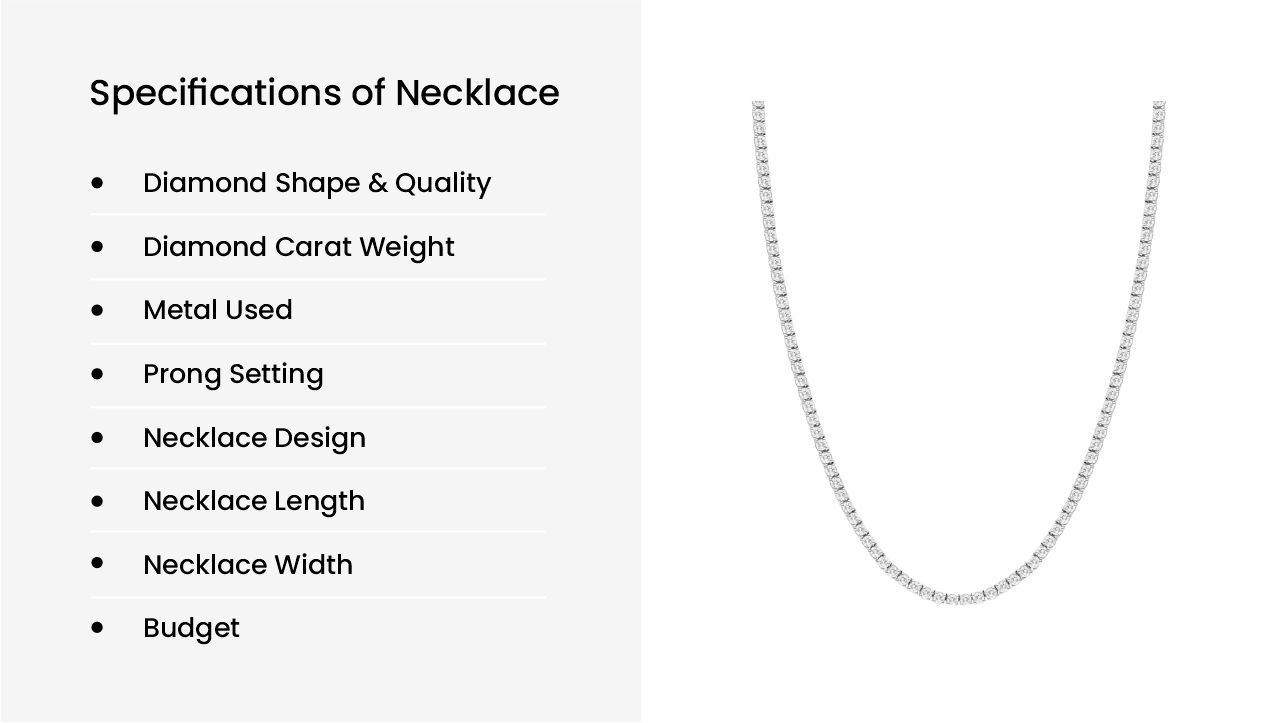 Shape & Quality of the Diamond
When looking for a diamond necklace, you should check the quality of the diamond used in the necklace. The clarity of the diamond and the diamond cut will help depict the quality. You can select from options like round, oval, pear, emerald, princess, and marquise cut. A round diamond necklace is the most classic design in the lab grown diamond necklace varieties.
Diamond Carat Weight
When choosing which diamonds to be placed on a necklace, it is necessary to determine the overall weight of the necklace first. Once the overall weight of the necklace is finalized, the carat weight of the tiny diamonds on the necklace is calculated.
Metals of Necklace
The diamonds in a diamond necklace are carefully set in particular metals that hold them in place and enhance their beauty. The metals that are primarily embedded with diamonds are gold, platinum, and silver.
A gold necklace with lab grown diamonds set into the design is a stunning combination. A yellow gold necklace imparts a warm tone to the diamonds when placed in the necklace. A rose gold necklace is a feminine and subtle take on the gold diamond necklace. A white gold necklace is a classy, gleaming piece that shines as bright as the diamonds. This metal is preferred because the diamond is placed in a neutral-toned metal in such a setting. Making the diamond stand out more.
Another neural-toned metal is Platinum. A platinum necklace is a luxurious piece of jewelry that fewer people buy due to its high price. All diamonds set in platinum shine brilliantly and make their own statement.
Length of Necklace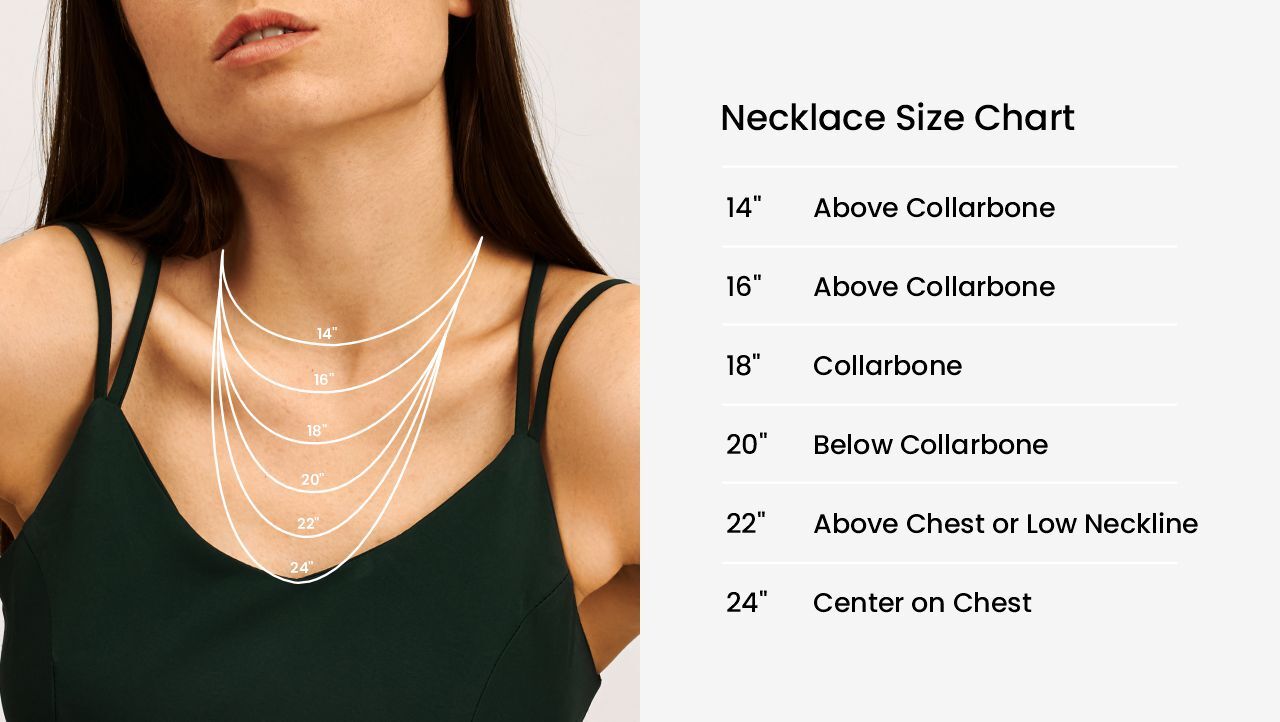 The basic pattern of the necklace can determine the length of the diamond necklace. If the necklace's design is a choker pattern or a small pendant, then the length will sit comfortably around the base of the neck. If the pendant and chain are extended, 16″ is a good length. The diamond necklaces are available in increasing lengths, wherein 20″ is considered the most comfortable length, not too short or too long. With the usage requirement of the design, one can fit in and select the length that fits them best.
Width of Necklace
The width of a diamond necklace can vary depending on the specific design and the size of the diamonds used. Diamond necklaces come in a range of styles, from delicate and minimalistic to more elaborate and substantial designs. The width of a necklace typically refers to the width of the chain or the central part of the necklace where the diamonds are set. Some individuals prefer a narrower and more refined diamond necklace, while others prefer a wider and more prominent design that showcases larger diamonds.
Prong Settings
When looking at lab grown diamond necklaces, the settings are always such that they work according to the necklace's design. If a diamond necklace pattern is a tennis necklace, the diamond settings range from prong to bezel and sometimes even halo. In contrast, in other patterns, the pendant design determines the setting. These diamond settings range from prong and halo settings and sometimes even bezel settings if the design works that way.
Budget
The budget for a diamond necklace can vary significantly depending on several factors. The cost of a necklace diamond is influenced by factors such as the quality and size of the diamonds, the metal used in the setting, the craftsmanship involved, and the overall design complexity. Generally, diamond necklaces can range from affordable options with smaller diamonds and simpler designs to high-end, luxurious pieces featuring larger, higher-quality diamonds and intricate settings. It's recommended to work with a reputable jeweler who can guide you through the selection process and provide options that fit within your budget while still maintaining the desired quality and design aesthetic.
When purchasing a diamond necklace, it's important to consider personal style preferences, budget, and the desired level of sparkle and presence.
Best Diamond Necklace Designs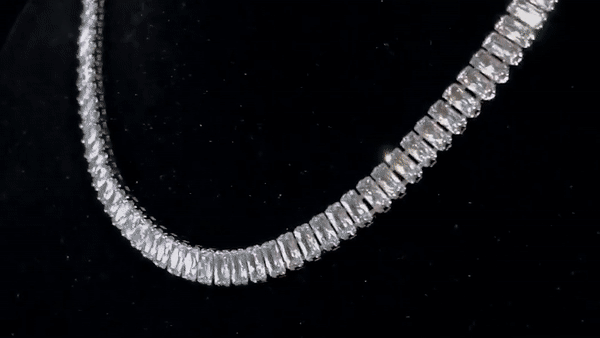 Diamonds are always known to be versatile when placing them in jewelry and designing ornate patterns. Similarly, there are varieties of diamond necklace patterns too. The more familiar patterns of the necklace with diamond are tennis necklaces and pendant necklaces. A lab created diamond necklace can be breathtaking when designed correctly.
The tennis necklace has been a favourite among many people due to its simplicity and versatility. A tennis necklace can be paired with various outfits, attracting the most attention. This is ideal if one is looking for a jewelry piece that caters to diverse options.
It can also come across as too precious for casual wear, for such circumstances, a pendant is a viable option. The pendant designs available in the market are unique and can be customized to fit personal preferences. A pendant necklace is a simple pattern you can wear occasionally or for everyday use.
Single diamond necklaces are also trending in the social media world. A diamond is placed in the center, with a chain connected at the two ends. In this specific design, you can see the diamond cut being highlighted. For those who want the best of both worlds, a stationary pendant, and a removable pendant are available.
Multiple options exist in which the diamonds are placed alternatively and connected with a certain chain length. This makes the necklace appear sleek as well as subtle. In this case, the necklace does not look overwhelming and hence can be worn regularly. If you want to experiment with style, throw on some of your favourite delicate necklaces, and you will know how to layer necklaces.
Diamond Necklaces Worn By Famous Celebrities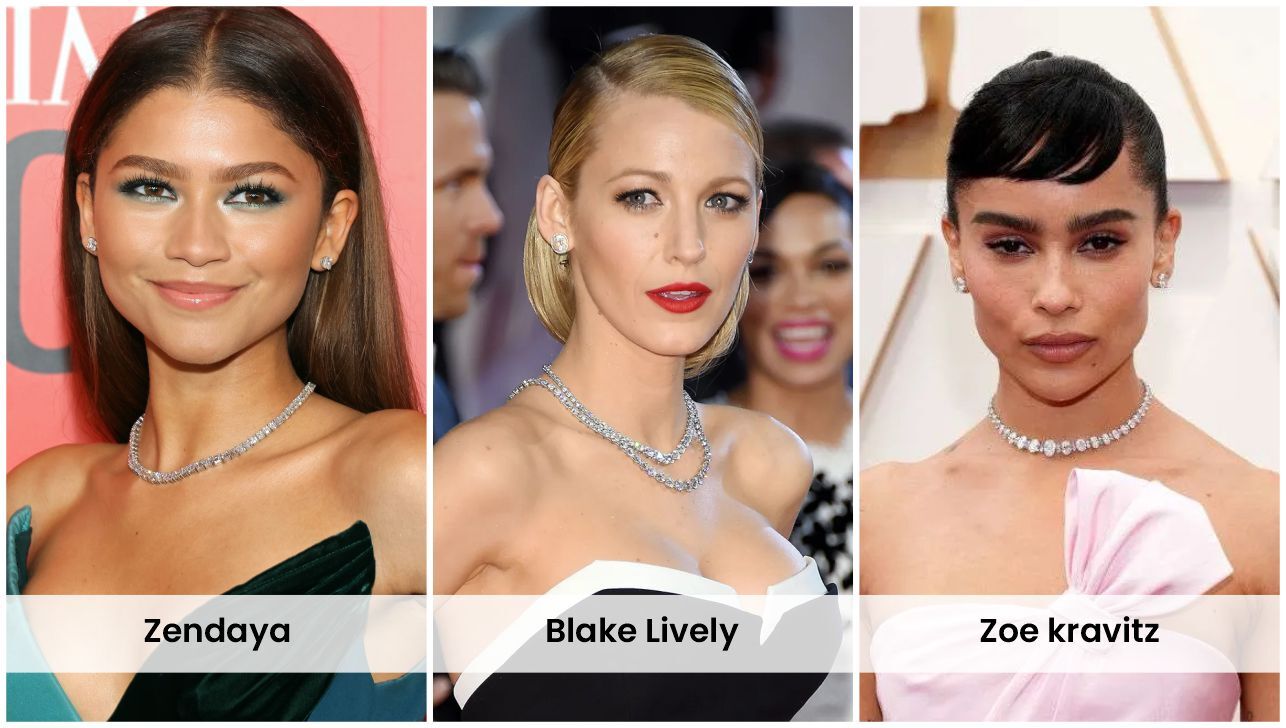 In showbiz, diamonds never fail to dazzle and leave us in awe. Many of these celebrities have worn diamond necklaces, but some have rocked them so well that they left an impact on our minds. Diamonds never fail to shine, whether it be award ceremonies like the Golden Globes and Oscars or even the Met Gala or Cannes.
Channelling the classic elegance of Julia Roberts, the round cut diamond necklace showcases a round cut diamond suspended from a simple and refined chain, capturing a sense of understated glamour.
Zoe Kravitz rocked a layered diamonds necklace, while Lady Gaga chose a pendant necklace so Lady Gaga was seen wearing a diamond pendant necklace. Zendaya opted for a simple single-line diamond necklace, whereas Blake lively choose a tennis necklace, all of these celebrities chose to flaunt their outfit with style and went with diamond necklaces as the eye-catching factor of their outfits.
How to Buy a Diamond Necklace?
When buying a lab grown necklace, you should always ensure you buy the diamond necklace from a trusted jeweler or diamond merchant. The certification of diamonds is of utmost importance, as that piece of paper determines the quality of the diamond.
You can see that necklaces with diamond have different styles and patterns. The patterns range from tennis necklaces, pendant necklaces, and a whole set of diamond necklaces to some simpler delicate designs. All these patterns are dedicated to different occasions and styles. The lengths of the necklace also complement the necklines of the outfit. A bow tie diamond tennis necklace would complement a low neckline or an off-shoulder gown for a special occasion.
While choosing or making your necklace design, you must narrow down its usage and purpose. You should figure out the budget before deciding what to go ahead with. You should select the metal of the necklace depending on the necklace's design and budget. Then you can choose the design, carat, and cut of diamonds to be placed in the design.
Once all these factors start coming together, you can figure out which necklace pattern suits your style vibe best. Remember, with a lab grown diamond necklace one can never go wrong.
Ending Remarks on Diamond Necklace
With this knowledge, you are all set to design or buy the diamond necklace of your dreams. You must figure out your preferred designs and patterns and then go shopping. With all the details you want available online, you can have your very own lab grown diamond necklace designed according to your style.
FAQ
From where should I buy a diamond necklace?
While buying lab grown diamonds, you should focus on their origin since legitimate lab diamonds come with proper certification. The certification proves that the diamond is pure and that you are receiving the best quality of it. Certain stores cater to diamond necklaces and specifically work with lab grown diamonds. Loose Grown Diamonds offer a large variety of options when it comes to design and customization. We specialize in manufacturing and selling lab grown diamonds and have a particular category for lab grown best lab grown diamond necklace.
Can I customize a lab diamond necklace?
Yes, you certainly can custom design a necklace, and we at LGD Diamonds will implement your custom design on demand.
What are the different necklace sizes?
Necklaces are available in a variety of sizes, right from 14″, which is the choker variety of necklaces, to the length of about 24″, which is usually preferred for pendant designs.
How do you calculate the price of a diamond necklace?
The price of a diamond necklace is determined by the amount of metal used in the necklace and hence its cost, added up with the additional costs of the diamond and the making charges.
How many carats should a diamond necklace have?
The diamond's usage and budget should determine the diamond carat for a necklace. A 0.25- 1 carat diamond, such as a pendant necklace, is ideal for everyday wear. If you want a tennis diamond necklace than a carat weight of 3-12 carats is suitable.
Are lab grown diamond necklaces durable?
Lab grown diamonds are as durable as natural diamonds, lasting as long as natural diamonds, mostly forever.
Why is a diamond necklace more expensive than gold?
A diamond necklace's price is higher than that of gold, since the price of diamonds is higher, owing to the rare availability of diamonds and higher demand.
What Is A tennis chain/tennis necklace?
A tennis chain is a chain that has an all-around coverage with diamonds. The diamonds are placed all around the chain in a continuous form.
What is another name for a tennis necklace?
Tennis necklaces are also known as infinity necklaces, line necklaces, and eternity necklaces.