TOI ET MOI RING A SYMBOL OF YOUR ENTWINED LOVE
The toi et moi ring is an excellent choice if you fancy a unique engagement ring. One focus element is sometimes not enough, so toi et moi comes with two of them.
The entanglement of two souls brings a unique design that represents balance. The symbol of eternal love between two souls comes together in the toi et moi engagement ring.
The toi et moi ring came about in the 1790s when Napoleon Bonaparte proposed to Joséphine with a sapphire and diamond. After that, the design was not too prominent in fashion until quite recently when celebrities started the trend again.
What is a Toi Et Moi Ring?
You must wonder what does toi et moi mean, and that too when speaking in the context of rings. Toi et moi translates from French, which means you and me. The representation depicts the union of two souls into one when the two stones sit beside each other in one pattern.
The history of this two stone engagement ring makes it a symbol of love in a distinctive way. This ring derives its identity from the symbolism of not just one person but a depiction of two people together.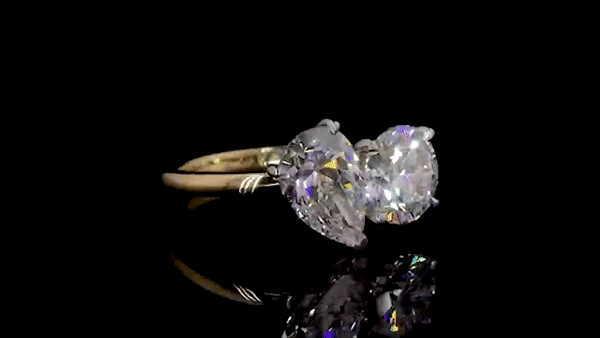 A toi et moi ring meaning usually unites two souls, but it can also be customized to add a personalized sense to the ring. Using different stones, colors, and shapes, you can create a pattern that brings together an identity for each stone. People also use birthstones to represent their personalities when assembling the iconic toi et moi ring.
Initially, the toi et moi diamond engagement ring would have two stones of similar color, cut, and carat placed beside each other. However, at this point, custom toi et moi ring designs have evolved to fit into various patterns like diamonds and pearls or diamonds with different cuts/shapes.
Many designs have reached great heights. When experimenting with permutations and combinations of the type of stone you want, you can achieve designs beyond imagination, beauty, and expression.
What Should you Consider Before Creating a Toi Et Moi Engagement Ring?
You can create your own toi et moi engagement ring, in any stone and metal you please. The toi et moi rings can be made using platinum, gold, or silver.
The gold variety offers yellow gold, rose gold, and white gold. Out of all these, you can choose the metal that fits your budget and sits well with the color of the stones you have selected. Both elements should complement each other and not look like an awkward combination.
You can use lab grown diamonds in the toi et moi ring since they impart a glorifying beauty to their individualistic pattern. Lab grown diamonds are available in diverse varieties, similar to natural diamonds. Many factors concerning the stones chosen come into the picture when you curate the final budget and design. It would help if you also considered the proportions of the gemstones you have shortlisted and how they would look when placed next to one another.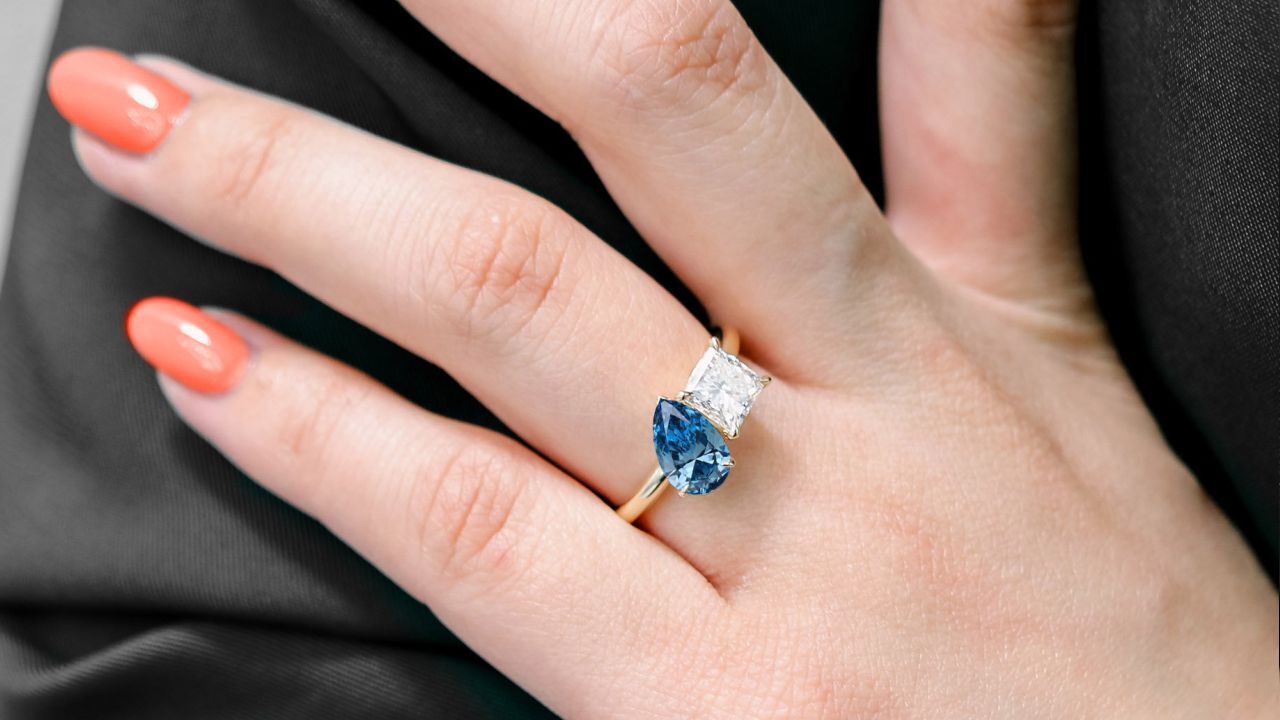 The color and cut of the gemstone play a huge role when placed in a toi et moi ring. If the stones are different, you must consider the tone of the metal which suits both diamonds.
The metal that holds these lab diamonds together also adds an individual tint of its own. You can choose a classic pattern of just diamonds, diamonds and pearls or different colored diamonds.
You can experiment with the different cuts and shapes till you are satisfied with the design. Choosing similar clarity stones is recommended since it creates similarity and unity in the design.
Celebrities Who Wear Toi Et Moi Rings
Jackie Kennedy possessed a toi et moi ring which was made of emerald cut diamonds. The toi et moi ring Jackie Kennedy wore was later known to be redesigned by her. She replaced the emerald cuts with marquise cut diamonds.
The trend of toi et moi rings recently resurfaced, with Emily Ratajowski flaunting her engagement ring. Megan Fox also opted for a toi et moi ring on her engagement with Machine Gun Kelly, which consisted of two pear shaped lab diamonds forming a heart. Ariana Grande and Kylie Jenner are also known to flaunt their iconic and classy toi et moi rings.
Buy a Toi Et Moi Ring For You!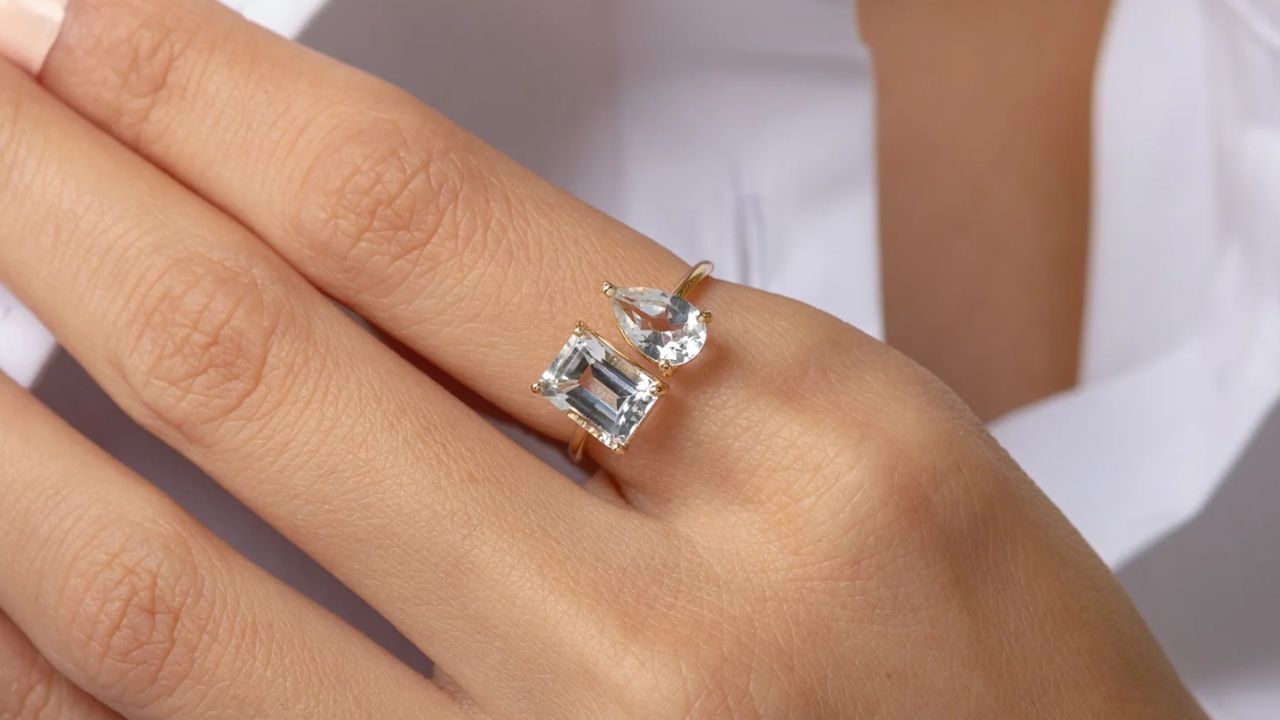 The toi et moi ring is a gorgeous ring pattern that ideally represents the union of two souls into one. This symbolism enhances the meaning of an engagement ring when worn during the event of a wedding. There couldn't be a ring type more perfect than the toi et moi ring, which sits in perfect harmony with one another as a mark of love that stays together forever. Fill in the form below if you want to customize your toi et moi engagement ring.
FAQ
How can I customize a toi et moi ring? 
You can choose which two stones will be put together. Whether or not you want pearls in the ring? What type of metal will you go for? What is your budget? These will determine how you can customize a toi et moi ring.
What does toi et moi mean for rings?
Toi et moi means you and me in French. It is depicted as two stones on a metal band next to one another. They are usually used as engagement rings to represent the love that they stand for.
How do you pair your Toi et Moi engagement ring with a wedding band?
A toi et moi engagement ring can be paired with a wedding band, worn on separate fingers, and stacked, depending on the style that you are looking for.
What is a bypass ring?
A bypass ring is a ring that spirals to the other end of the ring but does not join the other end. It fits the finger like a spiral.
What are two stone engagement rings?
A two-stone engagement ring, also known as a "double stone" or "toi et moi" ring, is a style of engagement ring featuring two center gemstones or diamonds set side by side.
How do you create your own toi et moi ring?
Creating your own toi et moi ring can be easy and tricky, depending on what you have in your mind. Finding the right professional who can help you and bring your design to life is ideal. Using lab grown diamonds adds an easy edge to the pattern when catering to shapes and sizes. For the lab diamonds that best match your preferences and budget click here.