Marquise Cut Diamond: Everything You Need to Know
Also popularly known as boat-shaped, eye-shaped, football-shaped, and navette the marquise diamond shape is renowned and vintage in nature which catches one's heart all praises and credit to its quirky shape which reminds us of smile and smile is a factor though.
Navette is a French word which on translating from the same to little ship is mostly taken into account as quite similar in shape to all the upper stated names.

Even though it is quite dramatic look-wise but still the marquise cut diamond is not that prevalent for engagement rings. But over the years some nontraditional brides are going for this one which as such escalates the appeal of these loose diamonds (A loose diamond is the end product that started with a rough diamond that came out from the mine.
A loose diamond is a diamond that is ready for sale and ready to be mounted on a ring, a pendant, earring, or any piece of jewelry. There are also customers who like to hold loose diamonds in a safe for investment purposes).
History of Marquise Diamonds
The Marquise cut originated back in the 18th Century when King of France, Louis XV, (1710-1774) asked a jeweler to cut a diamond into a shape that resembled the lips of his mistress, Jean Antoinette Poisson, the Marchioness Madame de Pompadour. 
Back then, it came to be the ultimate symbol of love and adoration as the King had declared openly that the lips of Madame must be commemorated with a diamond cut since those were the best lips he had ever seen.
There have been significant modifications in the Marquise cut diamonds that we know today, however, it still bears a lot of resemblance to the original cut.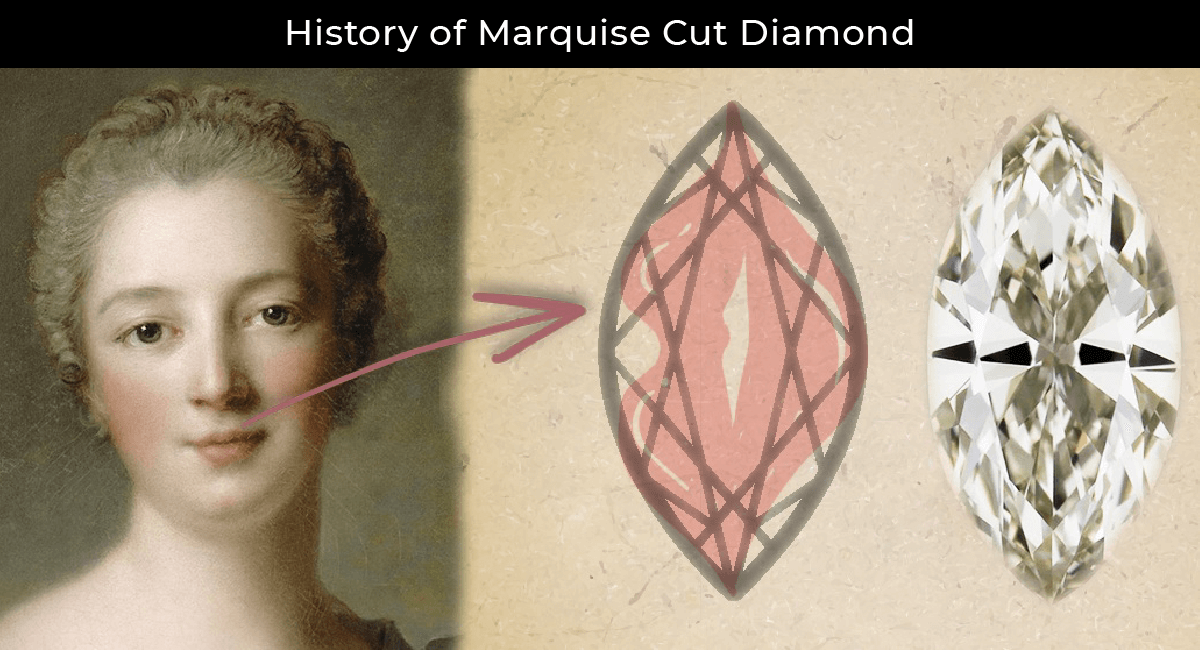 The term Marquise means the inherited rank that falls above a Count and below that of a Duke. Courtiers used to wear it to show off their status and rank. The cut has come a far way, from being donned by the regal circles to becoming mainstream consumer diamonds in the 60s.
The cut became so famous as a piece of bridal jewelry that it was eventually referred to as my mother's diamond, making young shoppers shy away from it. 
However, the modern millennia have diversified the image of this product now. Marquise diamonds are also called navette which means little boat in French as it is shaped like a small boat. The Marquise diamond has 58 facets with a pointed elliptical shape. 
Before selecting a Marquise cut diamond, it must be balanced with the other factors of the famous 4Cs criterion of diamond purchase. 
4Cs of a Diamond, and why do they Matter?
The 4Cs of measuring diamond quality have not only become a universally accepted language among jewelers, but also a useful set of checklists for any consumer missing a bit of in-depth knowledge on how to choose a perfect diamond for their needs.

The Cs were established by the Gemological Institute of America (GIA) as an official grading system in 1953, and these Cs are Color, Clarity, Cut, and Carat Weight, for making an impartial, efficient, and consistent judgment of diamond quality and worth. 
In a diamond, these elements interplay with each other and may even be codependent, necessitating an integrated and balanced assessment rather than a focused investigation into a single component. 
Each component becomes so crucial and must complement the other aspects; only then can a diamond be considered truly valuable. The key to getting a well-rounded diamond is to spend intelligently on each attribute. Here's a quick rundown of each component to offer you a basic grasp of diamond grading.
Color
Diamonds are typically graded according to how transparent or bright they are. Colored ones (blue, pink, yellow, green) are frequently referred to as "fancy" and fall outside of the standard grading system used everywhere. 
The GIA grades diamonds from D (the most colorless) to Z (the most colorful) (light yellow or brown). Although there are examples of color differences in diamonds of each grade, the cut, clarity, and carat weight may all have a significant influence on the visibility of a polished stone's color. 
 
For example, the diamond's shine or dazzle is entirely determined by the cut, rendering the grade basically meaningless in contrast. A diamond's price is directly proportional to its color grade; yet, two consecutive classes are difficult to distinguish with the human eye.
Colored diamonds, sometimes known as "fancy" diamonds, cannot be found on this grading system designed for white diamonds and must be graded independently owing to their obvious individuality.
Usually, grades G and H are at par with F and E and look almost colorless when it comes to the Marquise cut. One can also move as low as I, J, and K if the jewelry is chosen, which is gold. This will make the Marquise seem comparatively colorless only reflective of the jewelry around it to the naked eye. It all depends on your budgetary priorities at the end. 
Clarity
Mined and lab-grown diamonds are equally susceptible to structural flaws known as 'inclusions' or 'blemishes,' with the former being microscopic crystals or chemical defects locked within the diamond that may bubble up and damage the look, and the latter appearing on the diamond's exterior. 
Inclusions and imperfections have a direct influence on a diamond's clarity and light reflection qualities and are used to calculate diamond clarity. The GIA categorizes clarity into six major categories, which are listed herein according to their descending ranks: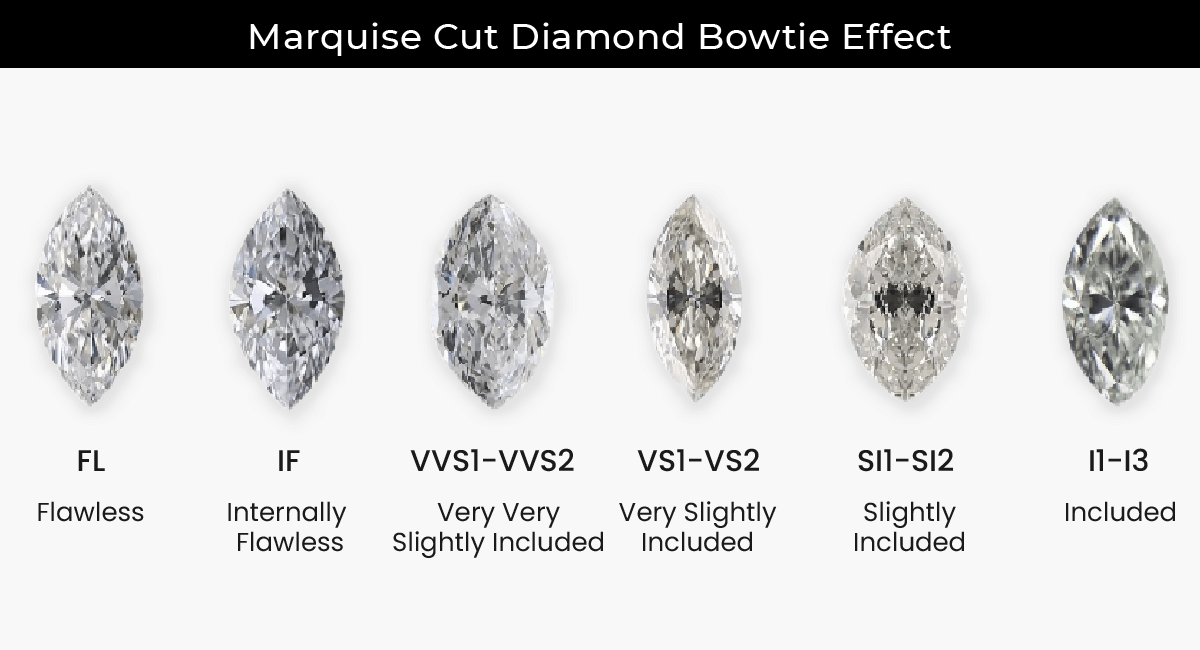 Flawless (FL)- N

o visible blemishes or inclusions upon evaluation of 10x magnification. 
Internally Flawless (IF)- N

o inclusions are discoverable upon 10x magnification.
Very Very Slightly Included (VVS1 and VVS2)-

Inclusions that are either extremely difficult (VVS

1

) or fairly difficult (VVS

2

) to detect even after being examined after 10s magnification by a skilled grader.
Very Slightly Included (VS1 and VS2)-

Inclusions that are slightly visible (VS

1

) and easily spottable (VS

2

) under 10x magnification. However, they are minute and still elusive to the naked eye. 
Slightly Included (SI1 and SI2)­-

Under 10x magnification,

inclusions that are easily discoverable (SI

1

) or very apparent (SI

2

)­.
Included (I1, I2, and I3)-

Apparent inclusions that make the appearance considerably unclear and are not only visible under 10x magnification but also affect the brilliance and transparency.
These standards serve as a universally used yardstick for all jewelers, regardless of nationality. Because the difference on this scale is so small, it is best to see for yourself if the inclusions or defects are apparent or noticeable. 
With a Marquise diamond, an SI cut is always advisable for the best clarity. However, be wary of the bowtie effect that might cause dark areas to appear smack in the middle of the stone due to the oval shape of the Marquise. 
That's why a grade can never be fully trusted in a Marquise and one has to see the stone and decide for themselves. When it comes to inclusions, they are easily fixable with prongs on the corners of a Marquise and incredibly difficult to find in the center, which is an added advantage.
Cut
The way a diamond is cut is possibly the most vital characteristic since it has a direct impact on the whole aesthetic of the final gemstone and may help or hurt the allure of the other components. Diamond cut is concerned with- 
The angle of each cut 

Geometrical dimensions 

Ratios 

Brilliance or the reflection of white light in the interiors and exteriors of a diamond 

Scintillation or the contrasting areas produced by reflections in a diamond and sparkle it exudes 

Fire, meaning the dispersion of white light into the colors of a rainbow 

And finishing touches 
It determines the most significant factor for a customer i.e. the sparkle factor. The GIA grading scale for diamond cutting includes Ideal, Excellent, Very Good, Good, Fair, and Poor grades. The highest two ratings indicate cuts with slopes and ratios that provide the greatest amount of fire and brightness.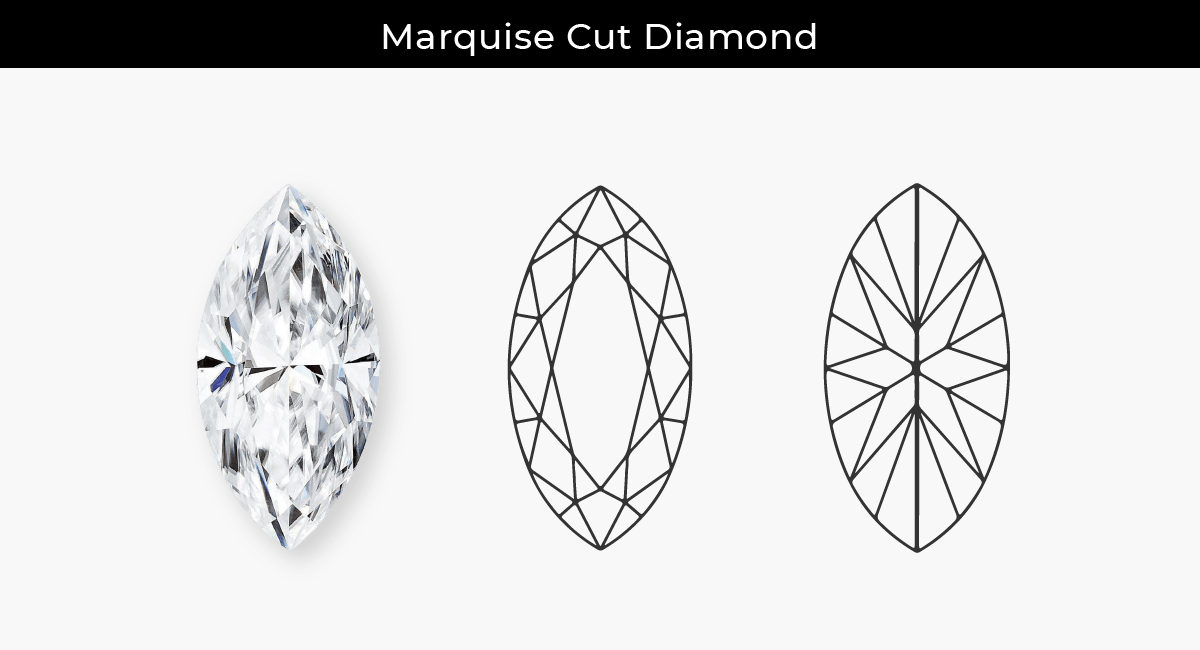 When picking a cut, even minor price differences are worthwhile since the variation in cut has a significant impact on the diamond's visual attractiveness. When it comes to Marquise diamonds, the GIA grades them separately and does not allot cut grades as it does to Round Brilliant.
Hence, it is almost impossible to know the brilliance and clarity of the Marquise cut unless one inspects it physically. 
In addition to this, the Marquise cut is vulnerable to the bowtie effect, which will be talked about later, due to its shape and might lack overall fire as other cuts do. That is also something that can be told only when the diamond is looked at personally. 
Carat Weight
It is a mistake to think that a diamond's carat weight implies its size. In fact, its relevance is restricted to the stone's weight. A 1-carat diamond weighs 200 milligrams, or around one-fourth of a raisin. 
Two 1 carat diamonds may be of varied sizes depending on the cut. However, regardless of size, a 1-carat diamond is always preferable to a 1.5-carat diamond, which may be less spectacular. Because larger diamonds are clearly in more demand, the price of a diamond is directly proportional to its carat weight. 

Finally, a diamond's overall beauty has significantly more influence than its carat weight.
The order of the four Cs is quite simple, with the cut being the most important, followed by color, clarity, and, last, carat. This level of significance exists solely to facilitate the selection of the diamond with the finest visual appeal of all. 
It is vital to remember that, at the end of the day, a diamond is an organic whole that must be viewed as a whole since all of these components are always in motion. When carat weight is the priority, Marquise is the perfect cut. Due to its oval-like and elongated shape, it will always make it seem as if the stone holds more carat weight than in actuality. 
Pros and cons of Marquise diamond
Pros of Marquise Diamond
Due to its elongated body, it sits well on fingers when put on engagement rings and makes them look thinner and slender. However, it is not always flattering on all hands, which is why it has become a recent trend to wear it in the halo setting, like the one worn by Catherine Zeta-Jones. The marquise cut has the extra benefit of appearing to have more carats because of its extended body.
Cons of Marquise Diamond
Due to the Marquise's pointed ends, it is very vulnerable to chipping and cuts due to daily wear and tear. Moreover, the cut is so tough to master that it is very common to find even the slightest bowtie effect in the diamond. A comparatively deeper pavilion might help avoid the problem. 
Common Problems with the Marquise Diamond
While choosing the Marquise cut, there are some problems that may make the selection a sub-par one. The Marquise cut requires finesse and skill, and the same has to be prioritized by the consumer by mentally striking off all the possible mistakes in making a Marquise diamond. 
A common problem that might affect the Marquise cut if it is made to be too narrow by the width, is a dark area appearing right in the middle of the diamond, like a man's bow tie. This is a direct result of there not being enough light refraction allowed within the stone due to its measurements. 
It can severely impact the beauty of the diamond and is almost always noticeable to the naked eye. The ideal ratio is 1.80 to 2.00 to ensure that the light is not divided within the diamond and the stone has unitary light performance.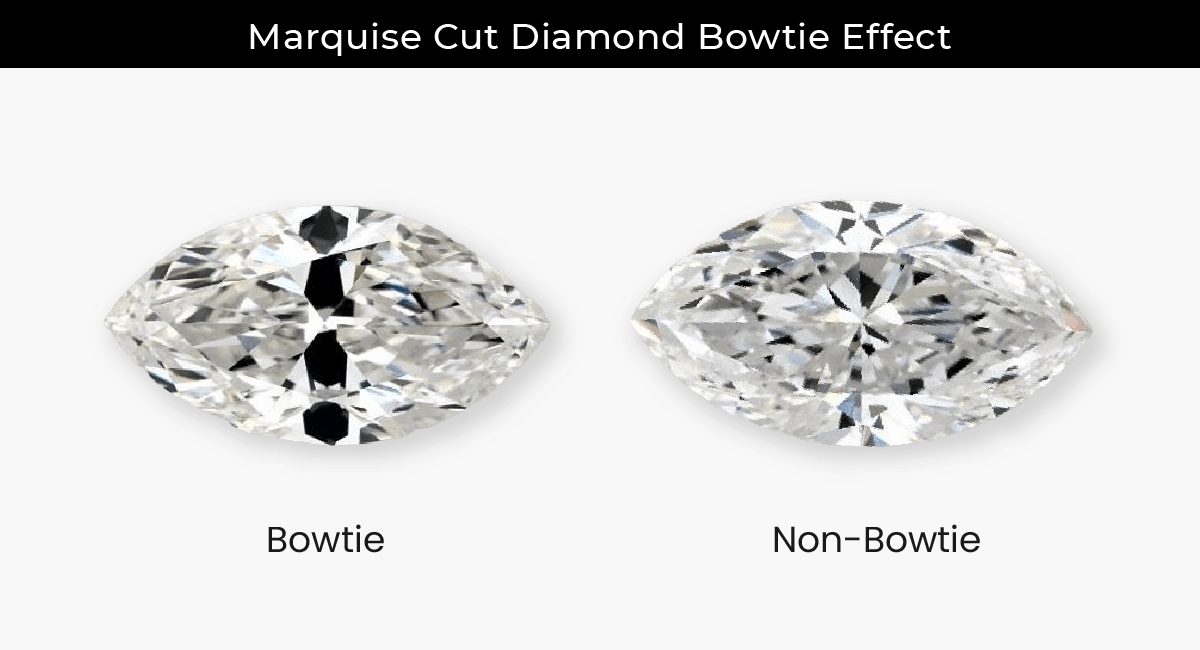 It is commonly misunderstood that the bowtie effect is a product of chemical inclusions or coloring defects when it only has to do with the commonly found "light leakages" through the sides of the diamond.
This happens due to the difficulty in avoiding bowties during the process of cutting elongated shapes of diamond, like oval and pear, wherein their central regions are excessively lengthy, making it impossible to cut the facets there to reflect light effectively. 
However, not all bowties are necessarily devastating to the diamond's fire. In fact, certain bowties are seen positively – if the bowtie effect is not too stark and the cutter has cut the stone carefully around the effect to minimize it or distract from it, the bowtie can even lend a degree of fire in the stone and even increase its brilliance, as in this example. Diamond shape like pear, oval, and marquise with no bowtie(s) might even appear drab and monotonous.
The diamond is curved like a slender football and is unappealing visually. Its table is too thin, and its crown (the area above the diamond's girdle) is too tall. These elements decrease the diamond's capacity to reflect both white and colored light, resulting in a drab appearance.
Certification and the Marquise Cut
A variety of lab grading bodies produce reports for diamonds of different shapes and sizes. However, these bodies are not at parity right from the beginning. Several laboratories, in particular, grade diamonds inconsistently and erroneously.
Choose AGS or GIA to ensure you get a diamond that matches the description in the report. We highly advise only acquiring a diamond that comes with a report from one of these two organizations. 
It should be noted, however, that a choice should never be taken only on the basis of analyzing or comparing reports. A certificate does not specify how the diamond will appear in person. Marquise diamonds should be extensively examined and scrutinized.
How to Choose Marquise Cut Diamonds?
When one is choosing and deciding for their engagement ring it is solely and purely their personal choice along with their choice and budget because nonetheless, every diamond has its shine and spark.
But the marquise cut diamonds have been devised with drama and charm with their pointed ends complimenting the shape and adding a dramatic and unique touch to it.
Due to all this diamond looks extremely elegant and sophisticated in classic, halo, and solitaire setups. Nonetheless, nobody wants to set off their eyes from such a charming and distinctive diamond. You are not only limited to the engagement rings if you decide to choose this option as it is available in quite other factors also.
It is quite common and usual practice to pair up marquise-shaped with the other gemstones which as a result make out for a rare, quirky, and eccentric style of rings. There is another way in which we can personalize our engagement rings with the marquise cut is by adjusting the ratio of the stone at the center.
The approximate usual L/W ratio ranges between 1.75 to 2.25. But if one wants to go for an enlarged or small marquise diamond they can select accordingly the one which pleases and suits them.
As it appears that the carat weight is spread over a larger area than usual and a long and enlarged marquise diamond can create a mirage in the minds of people seeing it thus benefiting us with less price and more carat weight appearance.
Even if one opts out for a short diamond cut that does not make a large difference and it looks good too, that's the specialty of this cut.
| | | | | | | |
| --- | --- | --- | --- | --- | --- | --- |
| Shape | Carat | Cut | Color | Clarity | Price | |
| marquise | 2.10 | Ideal | G | VVS2 | $2569 $1927 | View |
| marquise | 2.02 | Ideal | F | VS1 | $2949 $2212 | View |
| marquise | 2.01 | Ideal | G | VS2 | $1363 $1022 | View |
| marquise | 2.01 | Ideal | F | VS2 | $1347 $1010 | View |
| marquise | 2.04 | Ideal | F | VVS1 | $4687 $3515 | View |
| marquise | 2.01 | Ideal | F | VS1 | $2107 $1580 | View |
| marquise | 2.01 | Very Good | G | SI1 | $1424 $1068 | View |
| marquise | 2.08 | Excellent | F | SI1 | $1211 $908 | View |
| marquise | 2.02 | Ideal | G | VS1 | $2843 $2132 | View |
| marquise | 2.01 | Ideal | F | VVS2 | $1991 $1493 | View |
| marquise | 2.07 | Ideal | G | VS1 | $1313 $985 | View |
| marquise | 2.07 | Ideal | H | VS1 | $1313 $985 | View |
| marquise | 2.09 | Ideal | F | VVS2 | $4553 $3415 | View |
| marquise | 2.02 | Ideal | E | VS2 | $1327 $995 | View |
| marquise | 2.00 | Ideal | E | VVS2 | $2744 $2058 | View |
| marquise | 2.06 | Ideal | F | VS1 | $2393 $1795 | View |
| marquise | 2.01 | Ideal | F | VS1 | $1720 $1290 | View |
| marquise | 2.01 | Excellent | G | VS1 | $1347 $1010 | View |
| marquise | 2.09 | Ideal | G | VS1 | $1643 $1232 | View |
| marquise | 2.09 | Ideal | F | VVS2 | $4553 $3415 | View |
Best Ring Settings for Marquise Cut Diamond
Marquise Bezel Ring 
Marquise is a lip-shaped diamond that takes us back to the royal era and gives a sense of aristocratic lifestyle. In this setting, a metal around the diamond is structured to keep it safe and stable where a diamond is the only center of attraction.
Marquise Halo Ring 
The Marquise Halo ring has a very unique and elegant setting where a diamond is placed in the center of the band with the gemstones attached on both sides. 
Marquise Solitaire Ring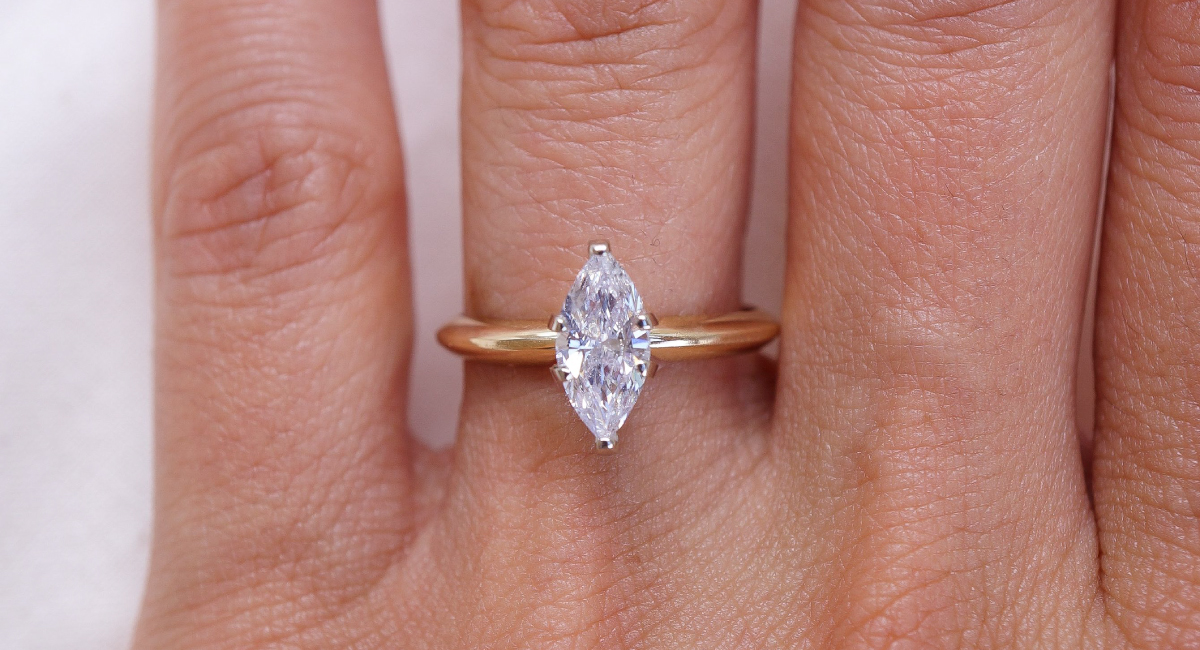 A Marquise Solitaire Ring simply means the diamond is in the center of the band in any profound setting that makes the finger look elongated and flattery.
Marquise Three-Stone Ring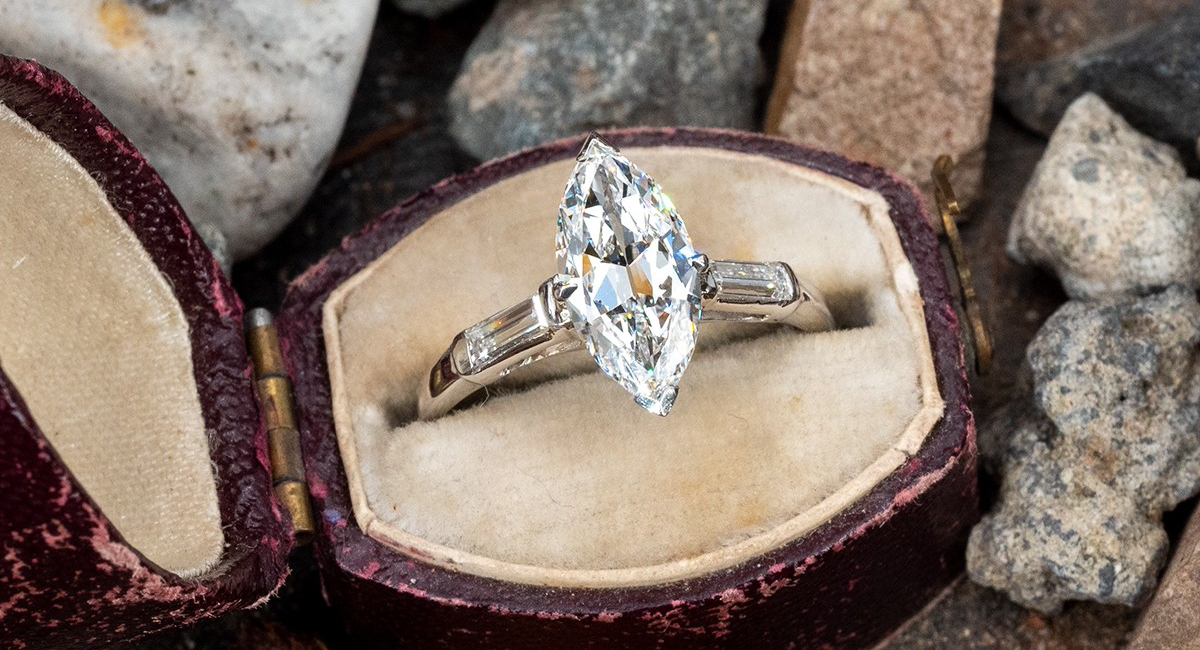 The three-stone ring setting is an elegant way of expressing various emotions with the diamonds attached in the center of the band delivering unique and innovative gestures. 
Marquise Split Band Ring 
This is a very unique setting where the diamond is placed in the center of the band that splits from both sides while coming towards the center. It enhances the look of the diamond and the whole ring.
Conclusion
It will take a lot of hunting for a consumer to find the perfect Marquise. It does not stop at the purchase too, as the stone requires extra care to make sure the stone is not damaged while wearing it. It is also important to remember that the optimal length: width ratio for any marquise cut is 2:1. 
Of course, old Marquise cuts may not be perfectly proportioned. As a result, those with the correct ratio, or near to it, might be pricey. This is especially true if the stone's four Cs are prominent.
As a result, ask your jeweler for the exact ratio as well as any other information you want. Some stones will be less than flawless. When viewed in isolation, the difference between a perfect ratio stone and a non-perfect ratio stone is remarkable.
Wearing a diamond requires a certain amount of elegance. Marquise cuts offer an elegance that few other styles can rival. Good marquise cut diamonds are absolutely one-of-a-kind.
The brilliance of the marquise cut cannot be overstated by us. We do believe that it is simply one of the greatest, whether as a solitaire or with additional supporting diamonds. And we at Loose Grown Diamonds manufacture and sell lab-grown marquise diamonds to customers directly without any involvement of a middleman. This makes our diamonds one of the most affordable high-quality diamonds available in the market.