What are Three Stone Engagement Ring
An engagement ring has a special place when it comes to expressing enduring love and dedication. The three stone engagement ring stands out as a classic and special alternative among the many others available.
This classic design boasts an exquisite trio of diamonds or gemstones, each with a special meaning, making it a treasured representation of love in the past, present, and future.
In this blog, we'll examine the lab created three stone engagement ring's beauty, meaning, and attraction as well as the things to take into account while choosing one that ideally captures your love story.
The Symbolism of Three Stone Engagement Rings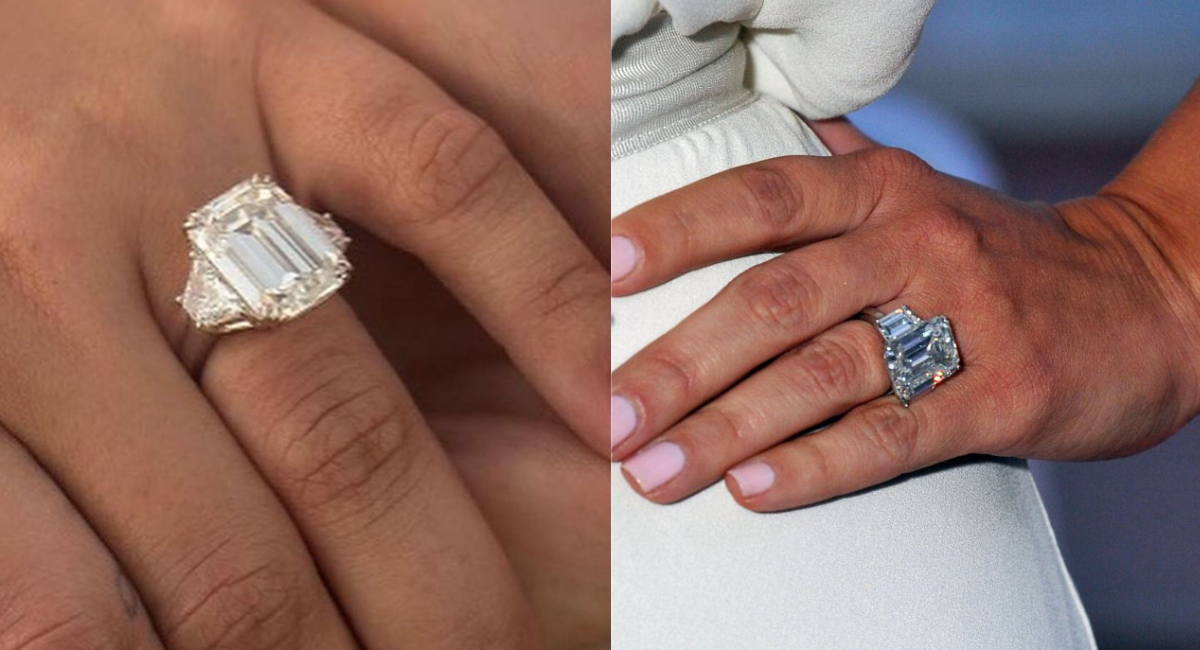 A central stone is surrounded by two smaller stones on either side in a three stone engagement ring, often known as the past present future ring.
The center diamond represents the present, while the two side stones symbolize the past and the future, signifying the journey a couple has shared and the path they will tread together. The ring acquires sentimental significance as a result of its rich connotation, elevating it above simple jewellery.
Why More People are Choosing Three Stone Engagement Rings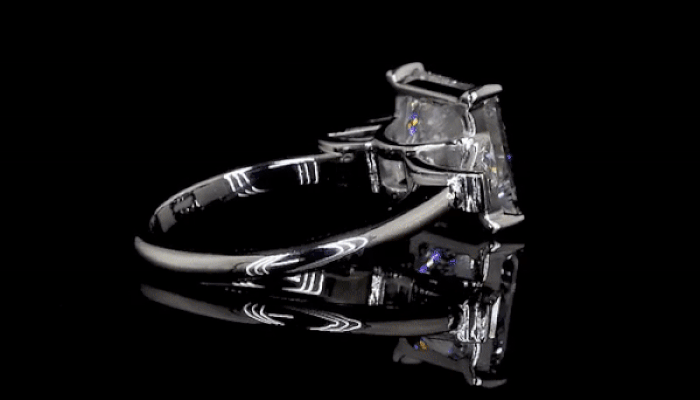 The concept of three stone rings dates back centuries and has evolved through different cultures. The opportunity for personalization, and the timeless appeal sets these rings apart from other options. In recent times, three stone engagement rings have witnessed a surge in popularity.
Moreover, three stone engagement rings offer a versatile and elegant design, making them suitable for a wide range of styles and tastes. Whether in a classic and timeless setting or a more modern and unique design, these rings cater to various preferences. Furthermore, three diamond engagement rings provide an excellent opportunity for customization.
How to Buy Three Stone Engagement Rings?
There are various factors to take into account while choosing the best three stone engagement ring. We have put together a list of crucial suggestions and factors to assist you in finding the best three stone ring that accurately depicts your love story.
Tips for Choosing the Perfect Three Stone Engagement Ring
Consider the 4 Cs of Diamonds: First, the center stone should be chosen with care, considering the 4 Cs – cut, color, clarity, and carat weight. The side stones should complement the center stone while adding to its brilliance. The four characteristics of a diamond are its carat weight, cut, colour, and clarity, which each have an impact on the stone's brilliance and shine.
Choose Metal: White gold, yellow gold, rose gold, and platinum are a few of the metals available for lab created three stone engagement rings. Choose a metal that blends well with your partner's skin tone and fashion sense. White gold and platinum have a timeless, beautiful appearance, while rose gold has a more cosy, romantic appearance.
Personalise with diamonds: While diamonds are a common material for three stone engagement rings, you can think about including colored diamonds. The ring can be made more distinctive by using favorite color diamonds with special meanings.
Choose a Suitable Setting: The ring's setting is important to both the security of the diamonds and the ring's overall beauty. Bezel and channel settings offer a modern and stylish appearance while providing additional protection, whereas prong settings give the diamonds more light entry, enhancing their brilliance.
Budget: By having a spending limit, you can focus on engagement rings that are within your budget. The lab created three stone engagement ring can be purchased using a variety of payment methods, including credit/debit cards, klarna, split payments, afterpay, cryptocurrencies, and direct bank transfer.
By using a promo code, which can be obtained by talking to with the knowledgeable gemologists at Loose Grown Diamond, you can take advantage of a special discount while purchasing the lab created diamond ring.
Famous Celebrities with Three Stone Engagement Rings
Although three stone engagement rings have a lengthy history that dates back to ancient times, the Victorian and Edwardian eras saw a major increase in their popularity. As well-known people like Princess Diana and Kate Middleton received exquisite three stone engagement rings, the royal connection increased their popularity.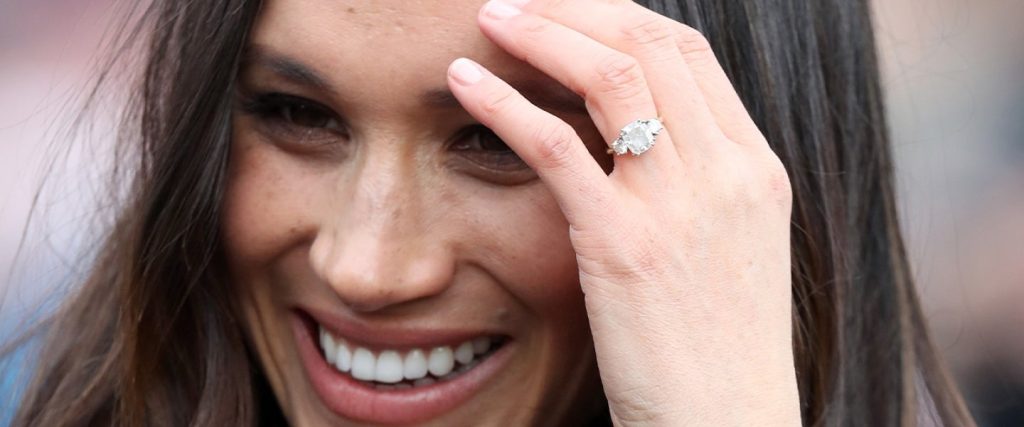 The duchess of sussex, Meghan Markle, received a breathtaking three stone engagement ring from Prince Harry. The ring features a stunning lab created cushion cut diamond at the center, flanked by two round brilliant diamonds on either side. Reality TV star Kim Kardashian received not one but heart three stone engagement rings from her former spouse, Kris Humphries, and her now-husband, Kanye West. When music icon Beyoncé got engaged to rapper Jay-Z, she was presented with a magnificent 3 diamond engagement ring.
Balancing these factors according to your preferences and budget will help you find the perfect combination of lab created three stone engagement rings.
Conclusion
Couples are increasingly choosing it because of its profound relevance and the ability for customisation. By understanding the meanings behind the three stones, setting a budget, and paying attention to the four Cs of diamonds, you can make an informed decision that complements your love story and your partner's unique style.
It's crucial that you choose a setting that protects the diamonds while making them show beautifully. Whether white gold, yellow gold, rose gold, or platinum is chosen, it should match well with the wearer's skin tone and sense of style. In the end, three stone engagement ring is not only a representation of the couple's own love story but also a symbol of love.
FAQs
What is a past present and future ring?
A past present future ring is an engagement ring with three stones, symbolizing the past, present, and future of a couple's relationship. The center stone represents the present, while the two side stones represent the past and future together.
Can I customize the three stone engagement ring?
LGD offers customization options, allowing you to choose the type and size of diamonds for your lab created three stone ring. You can also select different diamonds, such as asscher, marquise, princess or emerald, to add a personal touch and unique flair.
How do I determine the right ring size for the three stone ring?
Accurately measuring the ring size is crucial to ensure a perfect fit. Ring size charts are also available for guidance.
How much three diamond engagement ring cost?
A three stone engagement ring will cost between $850 to $5000 depending.
Are three stone engagement rings more expensive than other engagement rings?
Three stone engagement rings make a great choice when you are designing a ring on a budget, because you can keep the center stone smaller and embellish it with additional diamonds.
Can I customize the diamond in a three stone ring?
Yes, you can personalize the diamond based on your preference and meaning. Some couples opt for birthstones, favorite colors, or meaningful diamonds.