Difference between Lab Grown Diamonds and Diamond Hybrid
Natural diamonds have many competitors such as man made diamonds, diamonds simulants, hybrid diamonds among others. These competitors have contributed to reducing the market for natural diamonds.
As all these gems and stones look somewhat similar, many buyers mistake one for another. At times, incidents have taken place where a consumer wanted to buy a man made diamond but ended with a diamond hybrid or a diamond simulant.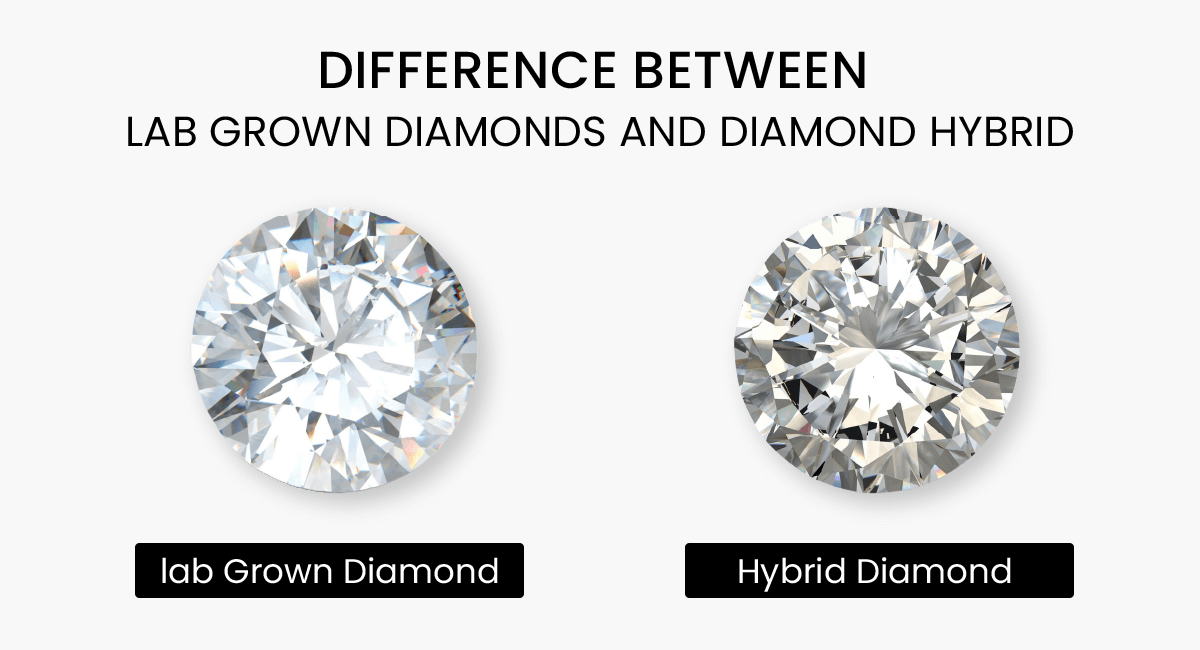 It is essential for you to know the difference between a man made diamond and a diamond hybrid, so you don't make any such mistakes Here is the difference.
What is Man made diamonds?
Man made diamonds are real diamonds that are created in labs. These lab-created diamonds are created by two methods: CVD diamond & HPHT diamond making method. In this process, a tiny diamond seed is put inside a chamber under a controlled environment. After the process starts, carbon layers cover the tiny diamond seed to produce a final man-made diamond. These man-made diamonds are also called CVD diamonds or HPHT synthetic diamonds.
Lab-grown loose diamonds have the same physical, chemical, and optical properties as natural diamonds. Lab created white diamonds, fancy diamonds, colored diamonds, and loose diamonds are about 20%-30% cheaper than mined diamonds.
What are Diamond Hybrids?
As you must have understood from the name 'hybrid' diamond hybrids are a mix of two types of substances. These diamonds are a mix of diamond stimulants and man-made diamonds. How so?
Well like in man made diamonds, we use a tiny diamond seed to make the core. A similar is done in diamond hybrids, but the only difference is, the core is made up of a diamond simulant or a crystal core. This core is then covered over by layers of enhanced man made diamonds. Doing so gives a diamond hybrid the texture and toughness of a real diamond. A diamond hybrid even looks like a real diamond, due to its lab-made diamond cover; yet it has a crystal core.
Characteristics of Diamond Hybrids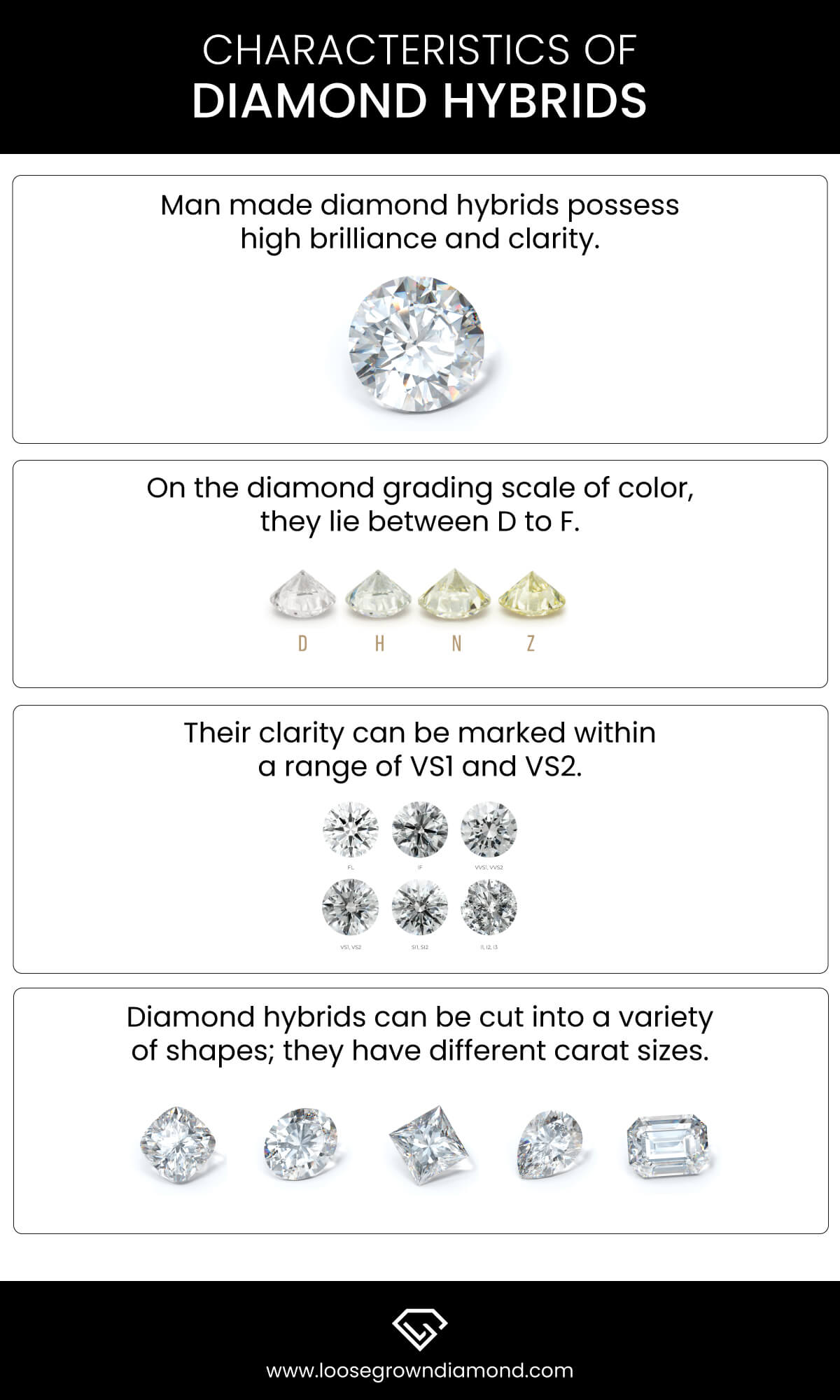 Man-made diamond hybrids possess high brilliance and clarity.
On the diamond grading scale of color, they lie between D to F.
Their clarity can be marked within a range of VS1 and VS2.
Diamond hybrid can be cut into a variety of shapes; have different carat sizes.
| | | | | | | |
| --- | --- | --- | --- | --- | --- | --- |
| Shape | Carat | Cut | Color | Clarity | Price | |
| round | 2.51 | Excellent | E | VS1 | $3382 $2875 | View |
| round | 2.60 | Ideal | G | VS1 | $1394 $1185 | View |
| oval | 2.60 | Excellent | F | VS2 | $1857 $1393 | View |
| oval | 2.50 | Excellent | G | VS2 | $1537 $1153 | View |
| round | 2.50 | Ideal | G | SI1 | $1029 $875 | View |
| round | 2.50 | Ideal | E | VS1 | $1851 $1573 | View |
| round | 2.52 | Excellent | E | VS1 | $2382 $2025 | View |
| oval | 2.50 | Ideal | G | VS1 | $3296 $2472 | View |
| oval | 2.53 | Ideal | G | VS1 | $3117 $2338 | View |
| round | 2.53 | Excellent | F | VS2 | $2106 $1790 | View |
| round | 2.55 | Ideal | F | VS2 | $1296 $1102 | View |
| emerald | 2.53 | Ideal | D | VS1 | $2383 $1787 | View |
| oval | 2.59 | Ideal | G | VS2 | $1527 $1145 | View |
| round | 2.56 | Excellent | E | VS2 | $2571 $2185 | View |
| round | 2.54 | Excellent | D | VS1 | $3738 $3177 | View |
| oval | 2.50 | Excellent | G | VS2 | $1673 $1255 | View |
| oval | 2.51 | Ideal | E | VS1 | $4333 $3250 | View |
| round | 2.50 | Ideal | G | VS2 | $1388 $1180 | View |
| oval | 2.50 | Ideal | G | VS1 | $3303 $2477 | View |
| emerald | 2.50 | Ideal | E | VS1 | $2429 $1822 | View |
How are Diamond Hybrids Made?
The process used to form diamond hybrids is somewhat similar to CVD diamond & HPHT synthetic diamond making methods. A tiny crystal core or a tiny diamond simulant is placed inside a chamber. High levels of heat and pressure are applied, along with the presence of man-made diamond crystals in the chamber.
Both the diamond simulant and man-made diamond are infused together on a molecular level. The man-made diamond crystals stack up on the core and align together. The finished product produced is a diamond hybrid, consisting of a crystal core with diamond crystals stacked up on top of it. These two won't detach or degrade ever.
Difference between man-made Diamonds and Diamond hybrids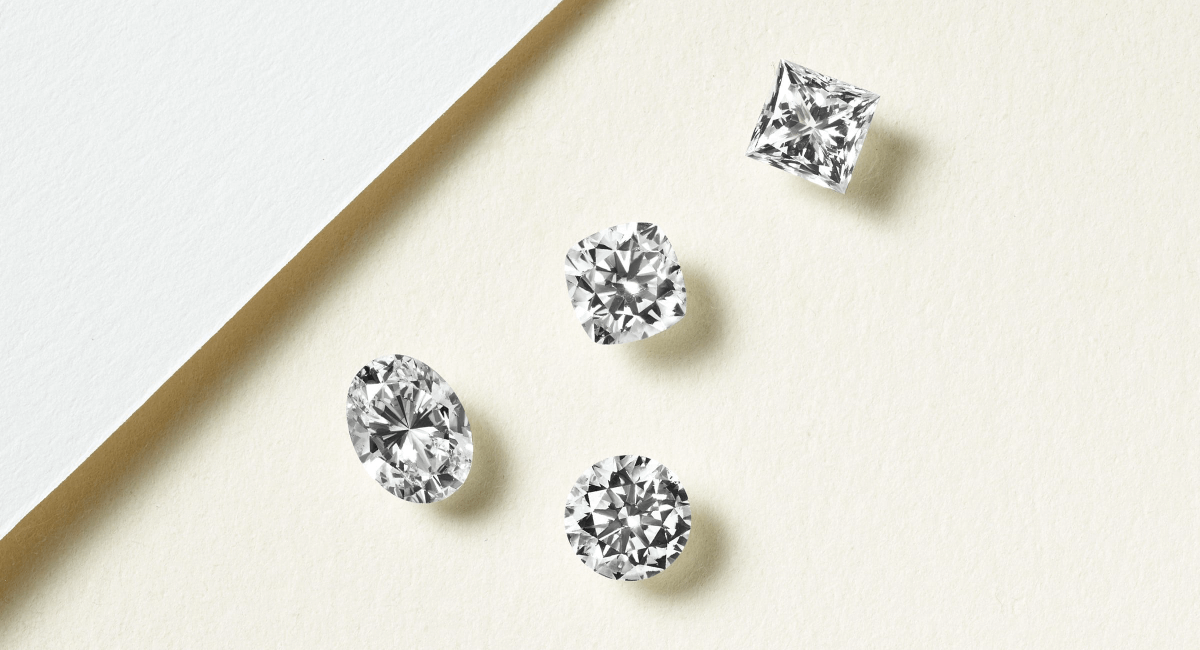 These two are quite distinct from each other, here are their difference in properties between man made diamonds (MD) and hybrid diamonds (HD)
Mohs hardness scale: MD- 10, HD- outer layer 9.6
Bonds in the diamonds: MD- 100%, HD- 85% in the outer layer
Color (according to scale): MD- D to F colorless & S to Z yellow, HD- D to F colorless
Clarity (according to scale): MD- WS to SI, HD- flawless to VS2
Price of Diamond Hybrids
Diamond hybrids are inexpensive and affordable. To give you a brief idea of the price; a diamond hybrid is worth 10% of the price of a man made diamond. And about 3% the price of a natural diamond.
Which is a  Better Choice?
That is totally up to your preference, the above information should have assisted you in making your decision. If you want to get an affordable and cheap diamond then a diamond hybrid is a good choice to go with. But, if you wish to buy a real diamond for an engagement ring or other jewelry, then we would recommend man made diamonds.
These lab-grown loose diamonds, fancy diamonds, and white diamonds have gained popularity over the years in the markets. Due to them possessing the same intrinsic properties as that of natural diamonds and being affordable.
We have other articles that may help your research, like what is a diamond simulant or what is a blood diamond. Research well and then buy a natural diamond or buy man made diamond.
Conclusion
Lab-grown diamonds have and will continue to be recognized at par with mined diamonds as they are pure carbon which is physically, chemically, and optically identical to natural diamonds. The measure for the realness of a diamond is never the origin but the composition of it. The origin is ethical, sustainable as well as less human, and environmentally damaging when it comes to lab-grown diamonds. They also cost 40% less than naturally mined diamonds. 
Diamond hybrids, on the other hand, are merely diamond simulants, meaning a hybrid of a combination of diamond simulant and lab-creation technologies. They must be differentiated from Moissanite or Cubic Zirconia (CZ), which are ephemeral and made of glass inside out, as diamond hybrids, albeit not real diamonds, have an outer layer of the lab-grown real diamond to give it more shine and durability. 
We at Loose Grown Diamonds provide the best quality lab-grown diamonds that are 100% real and made with meticulous and fastidious caution. This caution does not just stop as soon as the stone is created, but continues to the decision-making of what cut, shape, and size will best suit the diamond and the consumer.
All in all, the quality of these diamonds from the interiors, or their atomic composition, to the angle and proportions of every cut on its exterior is duly delivered and guaranteed by us.