How To Choose Outstanding Oval Shape Diamond?
There's been a lot of buzz around the oval cut, and it's quickly becoming one of the mainstream diamond shapes for engagement rings. Oval diamonds look extremely modern and tasteful in engagement rings, yet besides drop earrings and pendants. 

It's perhaps the most splendid of all the fancy diamond cuts, and whether used as complement stones or picked as a middle stone, the oval cut is an extraordinary decision. The oval diamond cut has been around for a long while. However, the cut that we realize today was made during the 1960s.
It's a cross between the round brilliant and the pear-shaped diamond, except that it has no sharp corners. Known as a converted round brilliant, the oval cut contains many facets as a round cut (58 features). It gives it a great shimmer and radiance.
History/Origin of Oval cut Diamond
It can almost seem surprising that one of the most popular choices in diamond shapes, the oval cut, was created accidentally and was not something that jewelers and crafters specifically strived to create. 
Even though their existence can be traced back to as early as the 14th century, oval-cut diamonds only began appearing in literature after the 1800s. The popularity of this shape surged after the celebrated Russian diamond cutter, Lazare Kaplan developed methods to carve flawless oval cuts out of flawed and rough gemstones which eventually led to the existence of brilliant and beautiful oval cut diamond jewelry. 
Bringing the phrase "diamond in the rough" to life, Kaplan was capable of eliminating the defects and blemishes in raw diamonds which were generally perceived as useless by other crafters. 
With the imperfections removed, the diamonds now appeared smaller yet workable and much more appealing. Hence a path was created for a future filled with an extraordinarily charming diamond shape that would be loved and wanted by many, including some known names like Katie Holmes, Princess Kate, Selma Hayek, and many more.
Definition of Oval cut Diamond
A combination of the brilliant and round cuts, the oval-shaped diamond is categorized under the umbrella of "fancy" shapes in diamonds, particularly because of its modified round shape that possesses extra ounces of fire and brilliance and is a perfect fit for customers who wish to own a gem that follows the classic trend of round cuts but also has something unique to show.
| | | | | | | |
| --- | --- | --- | --- | --- | --- | --- |
| Shape | Carat | Cut | Color | Clarity | Price | |
| oval | 2.01 | Ideal | F | VS2 | $1487 $1115 | View |
| oval | 2.07 | Ideal | G | VS2 | $1433 $1075 | View |
| oval | 2.00 | Ideal | H | SI1 | $1493 $1120 | View |
| oval | 2.07 | Ideal | G | VVS2 | $1964 $1473 | View |
| oval | 2.01 | Ideal | F | SI1 | $2193 $1645 | View |
| oval | 2.09 | Ideal | E | VS1 | $2784 $2088 | View |
| oval | 2.02 | Ideal | F | VS1 | $1973 $1480 | View |
| oval | 2.01 | Ideal | I | SI1 | $1229 $922 | View |
| oval | 2.03 | Excellent | H | VS2 | $1096 $822 | View |
| oval | 2.10 | Ideal | G | VS1 | $1189 $892 | View |
| oval | 2.00 | Ideal | G | VS1 | $1283 $962 | View |
| oval | 2.03 | Ideal | F | VVS2 | $2503 $1877 | View |
| oval | 2.01 | Ideal | E | VS2 | $2063 $1547 | View |
| oval | 2.10 | Excellent | G | VS1 | $1597 $1198 | View |
| oval | 2.04 | Ideal | G | VS1 | $1211 $908 | View |
| oval | 2.00 | Ideal | F | VS2 | $3029 $2272 | View |
| oval | 2.02 | Ideal | H | VS1 | $1233 $925 | View |
| oval | 2.04 | Ideal | G | VVS2 | $2844 $2133 | View |
| oval | 2.02 | Excellent | H | VS1 | $1117 $838 | View |
| oval | 2.10 | Ideal | G | VS1 | $1380 $1035 | View |
4C's of Oval cut Diamond
The 4 Cs of a diamond are the various aspects that are employed for the process of judging the authenticity, brilliance, and worth of the diamond. These aspects stand for and include the following: 
Diamond cut 

Diamond color 

Diamond clarity 

Diamond size/carat
Like for any other shape, these 4 Cs are extremely important for the evaluation of oval cut diamonds and every customer must keep these in mind while purchasing items of diamond jewelry. 
Diamond-Cut
A diamond's cut is the most essential aspect of its creation that requires crucial attention both while crafting the diamond and purchasing it. The reason behind this importance lies in the fact that the cut determines the amount of brilliance along with the most basic allure and appeal that would be offered by the final product.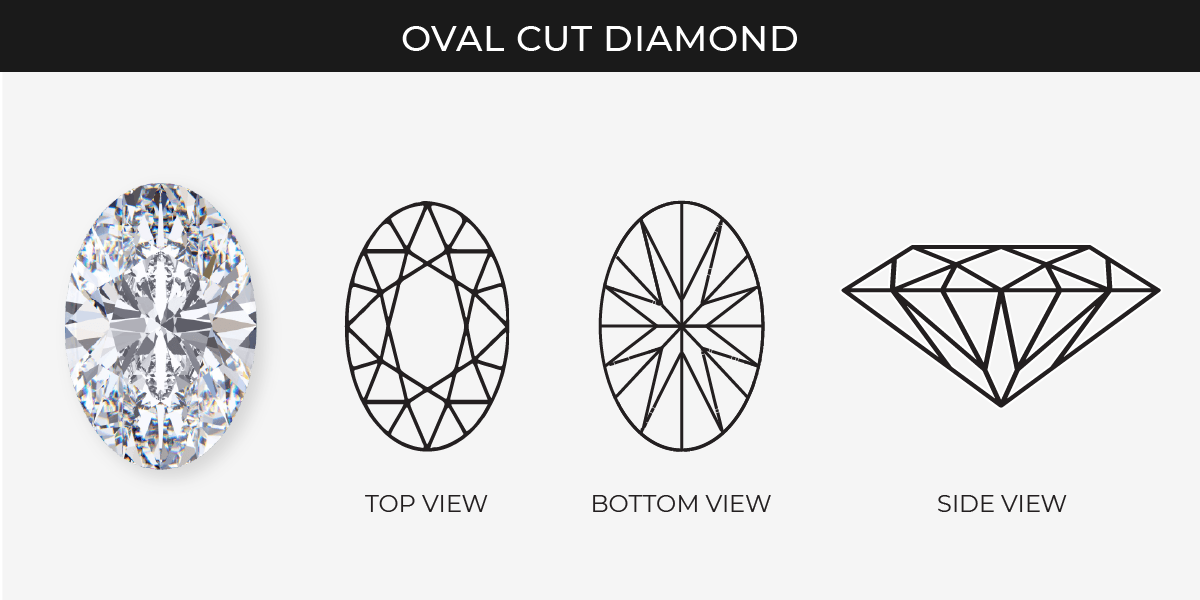 A diamond's cut is generally evaluated by awarding it with certain grades that have been standardized by the Gemological Institute of America and although this system is applicable for most cuts, it falls short of being relatable with the oval-cut diamond jewelry due to the cut's complexity and uniqueness. And so, there is no clear cut or well-defined combination of dimensions that can be used to describe the perfect oval cuts. Hence, customers must be aware of the subjectivity and generalized nature of all the cut recommendations they are offered with.
At the end of the day, it depends on the perception of the wearer with regard to the shape and appearance of the diamond. If you are out in the market looking for an oval-cut diamond, remember to thoroughly go through all your options and accept help from a diamond expert for the process. 
Diamond Color
A scale of D to Z has been designed by the GIA for the purpose of color grading diamonds, with Z being the most noticeable shade of brown or yellow a diamond can exhibit and D being the highest level of colorlessness a diamond can boast.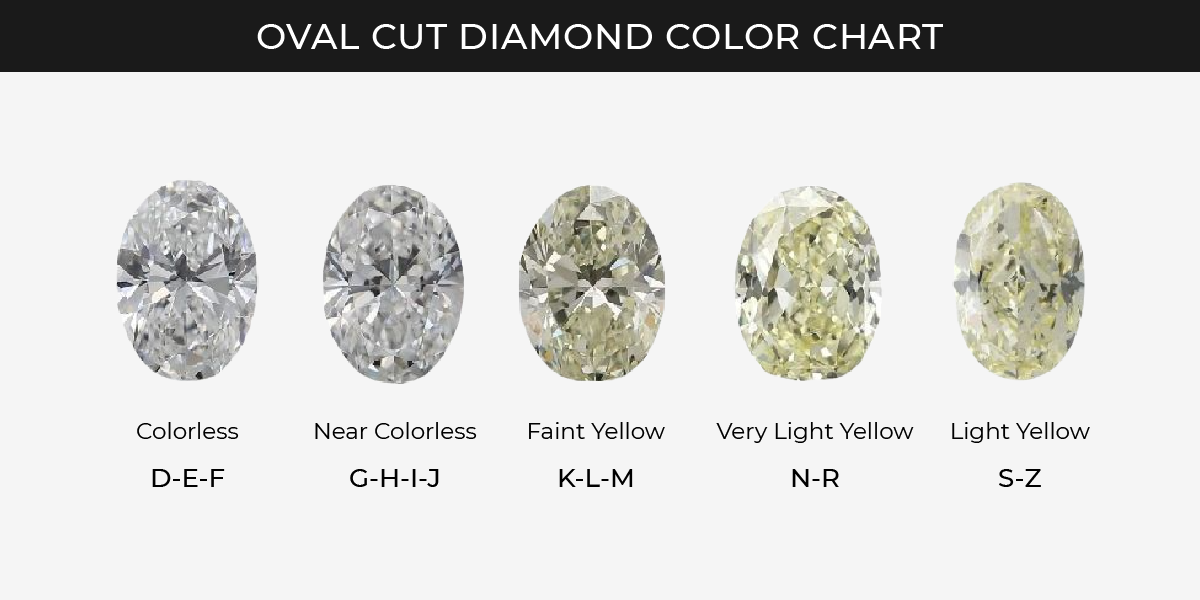 Although it is generally difficult to differentiate between two color grades under the naked eye, a significant shift in prices is created when going through various options in the color of diamonds.
As a customer, however, it is important to remember that you settle with a diamond color that appears attractive to you, fits your budget, and compliments the band or chain your diamond would be fitted in. 
It is generally recommended for customers to purchase a diamond with a color grade of H or above in the case of oval cut diamonds since colors in this range would beautifully accessorize a white gold or platinum setting and the brilliance of the overall jewelry item would be highly enhanced. 
One good example that customers can refer to is an H-graded oval-cut diamond fit into a white gold halo setting which results in making the gem appear magnificently white and elegant. 
If you have decided to opt for yellow gold or rose gold setting, then a J or K graded diamond would also go with the setting perfectly and you would have the added advantage of the diamond being priced lower, hence having the opportunity of investing in a larger carat or size. 
Diamond Clarity
A diamond's clarity depends on the number of impurities and imperfections it contains, with the best of diamonds having minimal to no inclusions and the most flawed gems being home to a large concentration of impurities. 

The GIA has designed the following grades of clarity which are assigned to diamonds based on the extent of flawlessness they offer:
Internally Flawless (IF)

Very Very Small Inclusions 1 (VVS1)

Very Very Small Inclusions 2 (VVS2)

Very Small Inclusions 1(VS1)

Very Small Inclusions 2 (VS2)

Small Inclusions 1 (SI1)

Small Inclusions 2 (SI2)

Inclusions 1 (I1) 

Inclusions 2 (I2)
Impurities and blemishes are generally not too visible in oval-shaped diamonds because of their uniquely elongated shape that does a good job at hiding the imperfections, especially the area that falls close to the rounded boundaries into which the jewelry set is placed. 
Hence, a customer can opt for an oval-cut diamond with a grade of SI1 or SI2 in order to purchase a gemstone that is not only worth its bucks but also appears excellently beautiful and appealing. 
Although, customers can still aim for higher grades which will inevitably cost more the difference would be very minute and hence, mostly unnoticeable. So it is always advised to invest your money into other more noticeable aspects of the diamond-like its cut or carat. 
Diamond Size/Carat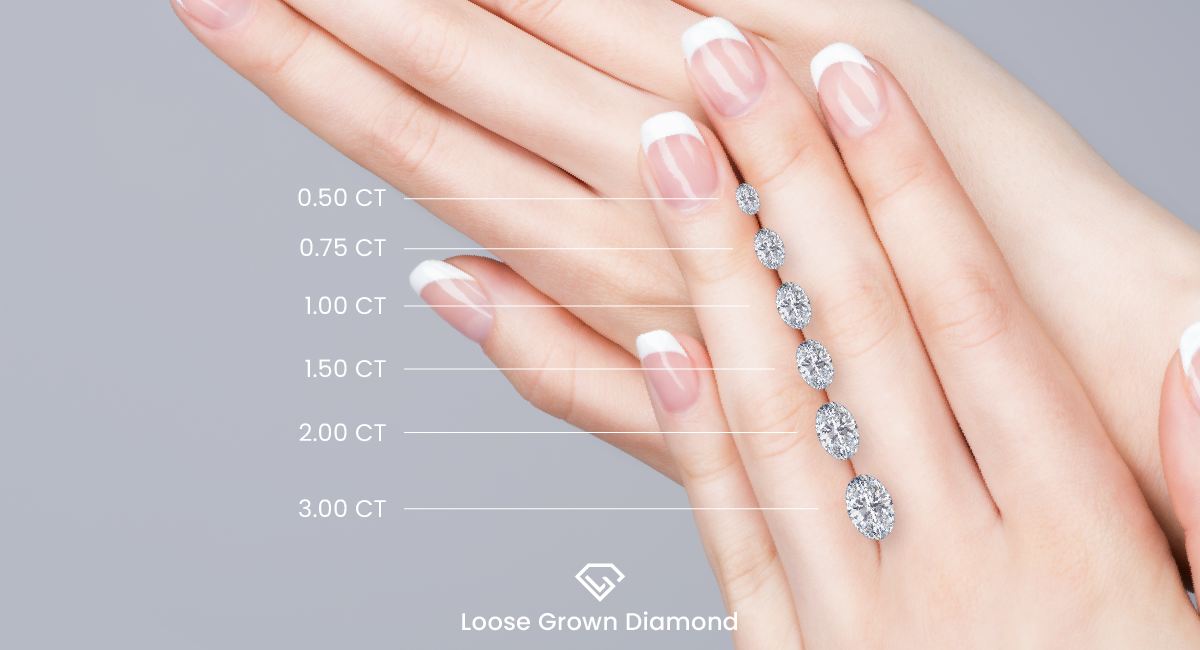 A diamond's size and carat weight are generally aspects that are desired on the basis of personal preferences and budget.
If you wish to buy a diamond that appears royally massive and brilliant then opting for the larger carats seems like a good option. 
Although larger carats could mean that the diamond jewelry would be priced higher, this is not always the case since smaller carat diamonds could be just as expensive because of the other factors of the 4C's that contribute towards the appearance of the diamond. 

The general scale of measurement used to determine the size of diamonds is its length to width ratio which differs for diamonds according to the various shapes and cuts. In order to calculate this, the length of the gem is divided by its width.
Although there is no perfect ratio in oval-shaped diamonds and this aspect too largely depends on personal preferences, an ideal value would lie between 1.30-1.50. 
Pros & Cons of Oval-cut Diamond
Like any other diamond shape, an oval cut has its own list of pros and cons that you as a customer must keep in mind while making the purchase so that you do not end up investing your money into something that you do not seem fit to your taste and convenience. 
Pros
Oval-cut diamonds can appear stylish to a large audience mainly because of their class and fanciness that is exhibited through the elongated and enlarged shape. 

Oval-cut diamonds have become a major part of the modern trends that exist in the world of diamonds and hence, are appealing to customers who prefer to stay in touch with the latest trends and styles. 

The diamond has a lengthening effect on fingers it is worn on because of the elongated shape and hence is preferred by those who wish to highlight their sleek and long fingers. 

In terms of monetary value, there are better chances of purchasing a diamond worth its bucks if you choose to settle with an oval-cut diamond. This can be because of the fact that oval-cut diamond jewelry tends to cost approximately 25% less than an average round cut stone of the same size and weight. 

Oval cuts also tend to appear larger than they are because of their sizable surface area. 

Oval-cut diamonds are also known to be one of the most brilliant and sparkliest diamonds in the market and hence can be the perfect choice for those who wish to own a diamond that stays true to its reputation. 
Cons
Even though oval-shaped diamonds are trendy at the moment, round-cut diamonds are forever the more classic and timeless choice when it comes to engagement rings. 

One of the most prominent disadvantages of purchasing an oval-shaped diamond is that the oval shape is not capable of reflecting all the light that enters through its surface, unlike round cut diamonds which reflect all the light and appear a lot more brilliant and radiant than the former. 

Bowtie effects are also a characteristic feature that exists only in fancy shapes such as oval-shaped diamonds and even though they might be subtle, they reduce the diamond's brilliance. 

 Another major disadvantage is the absence of a grading system for oval diamonds which usually exist for the other more common and simpler shapes such as a round or brilliant cut. Since gemological laboratories are unable to systematically grade an oval cut, judging the diamond's quality and worth can be a lot more difficult which in turn just makes a customer's search for the perfect choice a lot more tedious. 
Prices of Oval shaped Diamond
Oval-shaped diamonds are known for their reasonable prices which is a factor that contributes to their popularity and fame.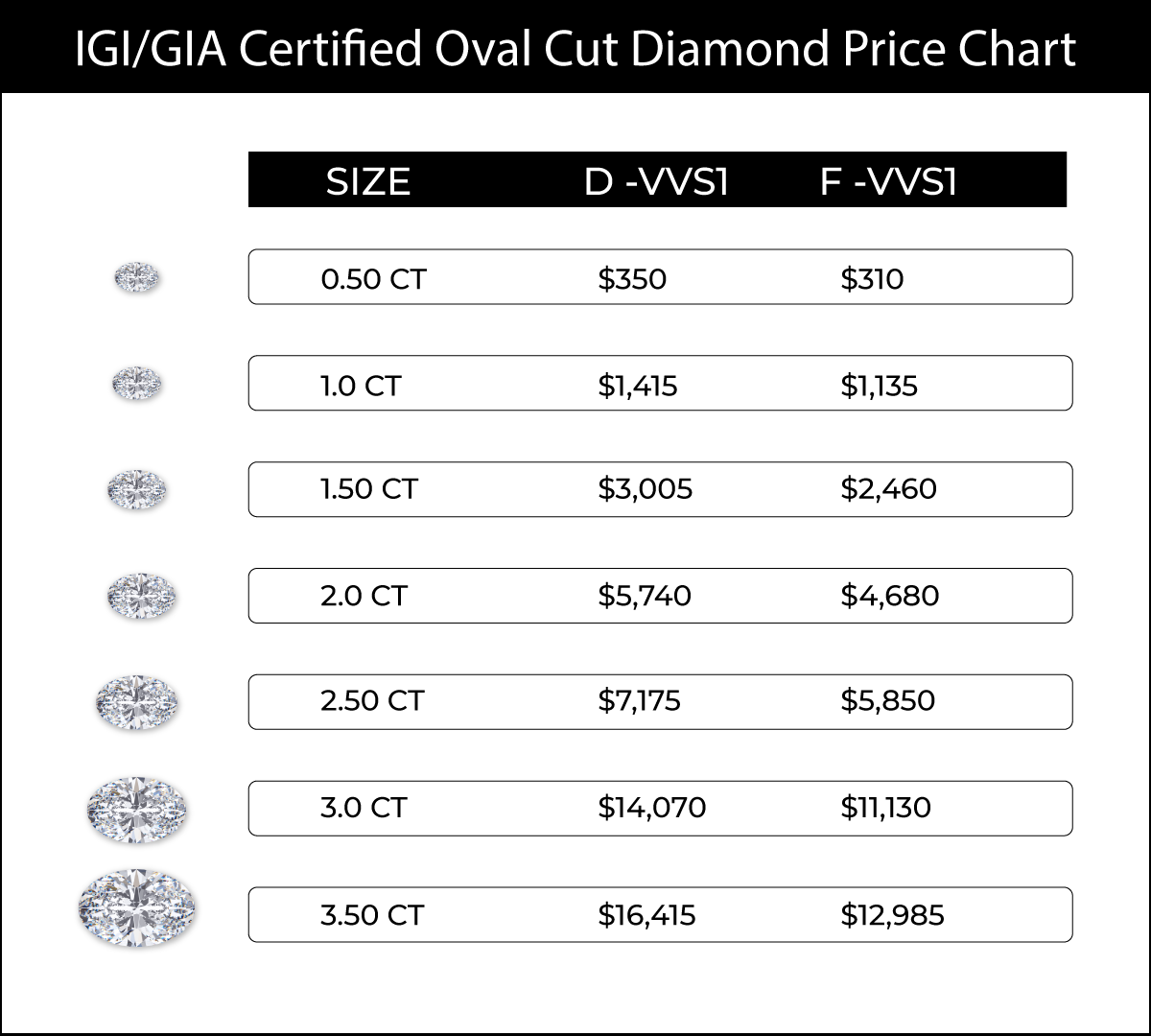 A significant difference in prices exists between oval cut and round cut diamonds of the same color, cut, clarity, and carat weight wherein the difference can reach up to 28%. 
The reason behind this discrepancy exists in the fact that oval cuts are carved out of a larger amount of rough diamonds and hence the amount that gets discarded is reduced. 
Prices are then reduced since not much of the rough diamond is scraped away in the process of cutting or polishing. A better value for your bucks is hence obtained while purchasing oval-cut diamond jewelry instead of any other shape. 
However, an exponential rise in prices is proportionate with the increase in the carat weight of oval cut diamonds. A one-carat oval cut diamond is a lot less costly than a two-carat or three-carat diamond and so customers are always advised to wisely spend when it comes to the various aspects of diamond jewelry. 
How to choose an ideal Oval cut Diamond:
Bow-tie Effect: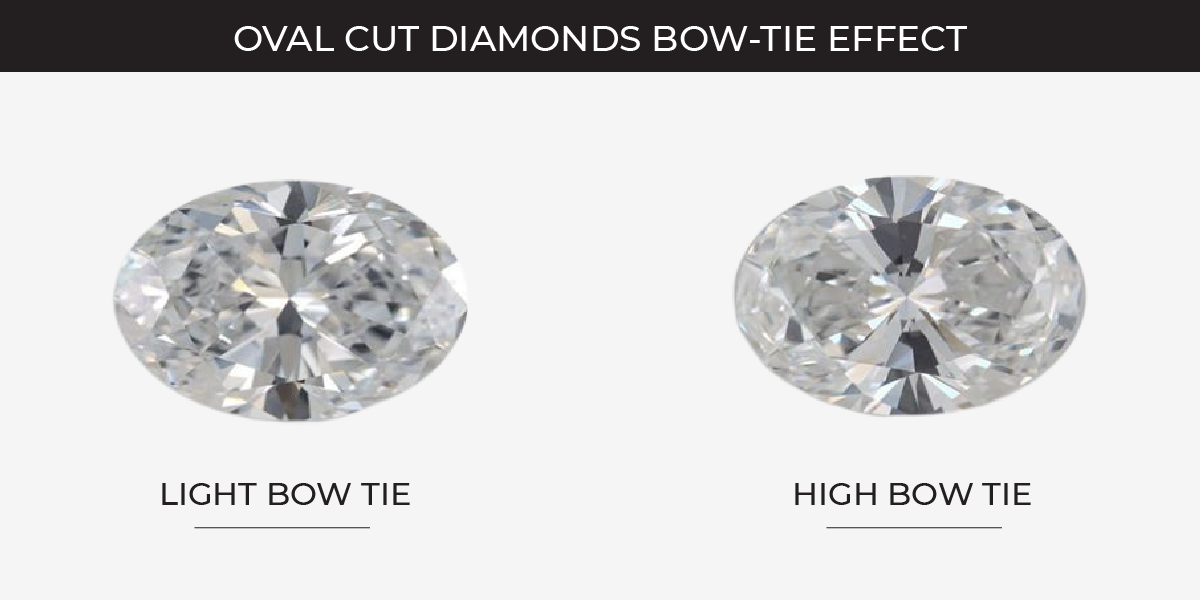 The bowtie effect is the greatest disadvantage that oval cut diamonds display and so it is also the most looked out for aspect when making a purchase of oval cut diamond jewelry.
Although bowties are usually a result of imperfect cutting and misaligned facets, it is usually impossible to avoid some degree of bowties in an oval-cut diamond. Customers should always closely inspect their options in oval cuts in order to catch a noticeable bowtie if it exists and hence, avoid purchasing such diamonds. 
This process is generally made harder because grading reports do not contain any information regarding existing bowties in diamonds and this is why it is usually important to refer to a certified diamond expert or vendor when buying oval cut diamond jewelry. 
Length to Width Ratio: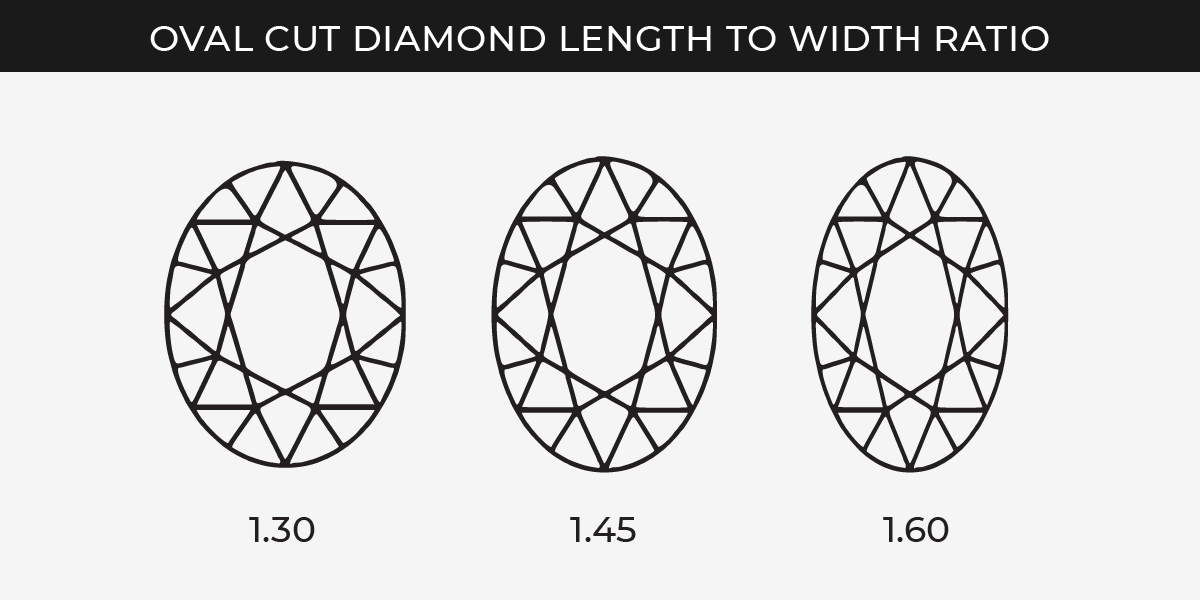 Since a standard oval shape does not exist and an oval cut diamond's appearance largely depends on its length to width ratio, it is important to keep this ratio in mind while making a purchase.
The desirable range of length to width ratio falls within 1.40 to 1.50. Diamonds that fall below this range will begin to appear wider and can even take on a squat shape that is neither round nor oval whereas ratios above the value of 1.50 will appear elongated and narrow. 
Although an ideal length to width ratio is largely dependent on personal preferences, it is generally observed that narrower cuts complement drop earrings and pendants whereas the oval cuts falling within the ideal range look good as engagement rings. However, if your ring boasts some side stones then even a wider oval cut would look stunning in the ensemble. 
Symmetry is Critical:
Symmetry in an oval cut diamond is extremely important since mis-proportions in shape are easily noticeable in cases of oval cuts. 
 
An identical structure with equal sides and gracefully rounded edges should exist in a perfectly symmetrical oval cut diamond which can only be achieved through skilled craftsmanship.
Celebrity Rings- Oval Diamonds
Oval diamonds have been a huge hit amongst the diamond-loving population, especially the ones that exist within Hollywood. 
Some of the most famous celebrities who are known to proudly don oval cut diamond jewelry are as follows:
Blake Lively

is known to have been proposed by actor husband, Ryan Reynolds with an oval cut rose gold engagement ring which also features beautiful micro pave bands. 
Salma Hayek is seen wearing a three-stone oval cut engagement ring with a center stone that is bordered on the sides with a trillion-shaped diamond. 
Whitney Port

flaunts another variant in oval cut diamonds with her engagement ring featuring a rose gold band and a beautiful center stone. 
Kate Middleton is part of the list since she too was proposed with an oval cut sapphire and diamond engagement ring by Prince William, a ring whose previous owner was none other than Princess Diana. 
Serena Williams,

the professional top tennis player, was also proposed with a three-stone oval diamond ring from beau Alexis Ohanian which is known to contain a sizable center stone.
Conclusion
Oval-cut diamonds are the perfect choice for you if you are looking for something worthwhile to spend your money on. It is not just an extremely beautiful and stunning shape in diamonds but also falls out of the box when it comes to classic cuts and hence would be highly appealing to you if you wish to possess something rare, unique, and special. The oval cut also has a long list of advantages, some of which include its reasonable pricing, lengthening effect on fingers, the appearance of larger than actual surface area, and many more. 
A perfect choice for a large number of jewelry items, ranging from engagement rings to earrings and necklaces, the oval cut diamond is the purchase of a lifetime!