Trillion Cut Diamond: Everything you need to Know
Diamonds have always held a special place in everyone's hearts since these gemstones are known to add brilliance and sparkle to everyone's life and wardrobe. With a variety of designs and quality available in diamonds, customers can often get confused with which one to fit within their jewelry. 
 
One of the most well-known and stunning varieties of these gems that customers should definitely consider is the trillion cut diamond. Not only does this cut exhibit brilliance and shimmer but it also does an excellent job of standing out from the normal crowd of diamonds. The unique selling point of these diamonds is their huge face-up size and affordable prices which tend to attract many customers. The only challenge here is the difficulty with which a trillion cut diamond with acceptable quality is accessible to diamond shoppers. Hence, to help the customers discover the best trillion cut diamonds for their jewelry.
What is Trillion Cut Diamond?
Commonly used as diamond accents, the trillion cut diamonds are shaped triangularly and generally have three sides that are equal in length along with a surface that resembles a flat table.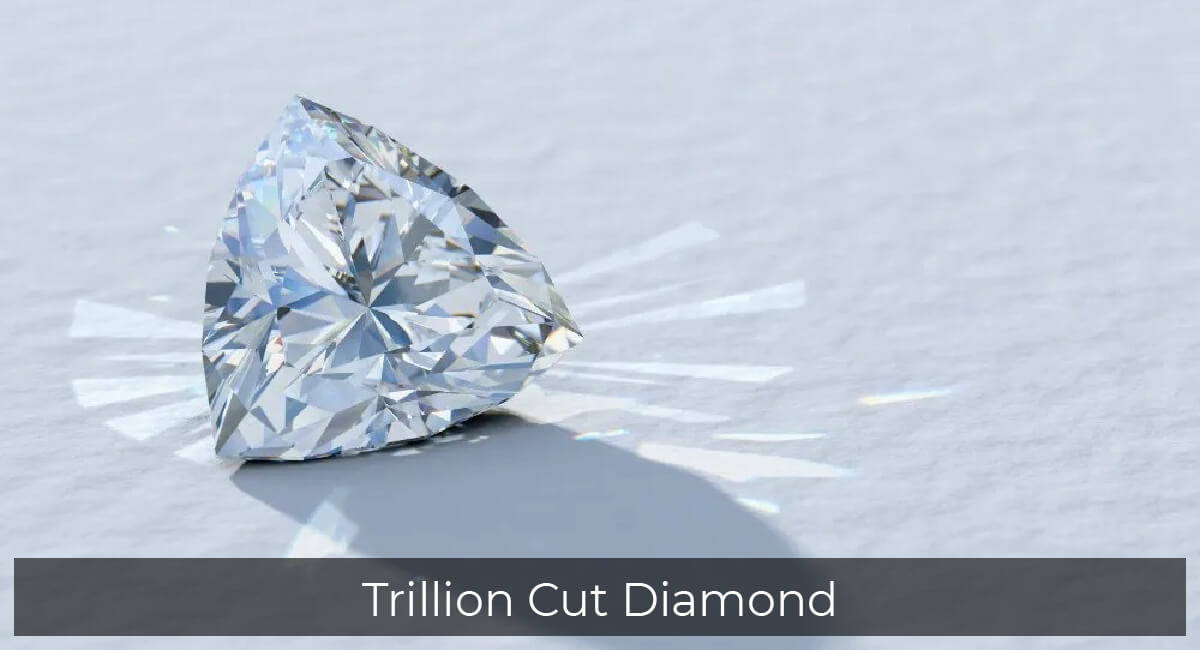 Although the trillion cut diamonds are generally used as a side stone in designs that feature other types of diamonds in the spotlight, many customers have begun preferring the diamond as the center gem in their rings since the diamond's appeal has grown exponentially since its relatively recent inception in the 1960s. The fame surrounding the diamond can be credited to its appearance exhibiting an exciting and provocative shape and hence, proves to be an extremely eye-catching and stunning choice in various forms of jewelry ranging from rings to pendants.
History of Trillion Cut Diamond
Unique cuts that are triangle in shape are termed and described as trilliant. These shapes are made up of 50 facets.
Misunderstanding between the phonologically similar phrases "Trillion" and "Trilliant," each of these words lost their copyright rights in the 1980s, and Leon Finker's business empire relaunched the Trillion cut as "Trielle".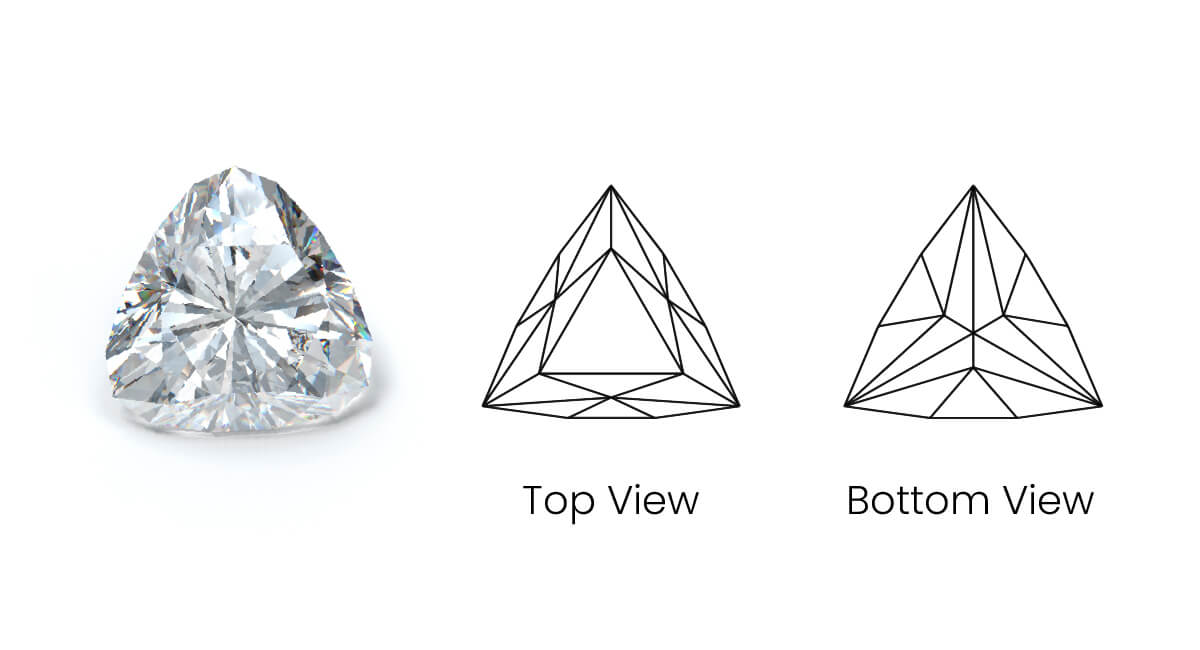 Now, brilliant-cut is used to refer to a triangular cut for the stone. Trillion cut gems are triangle-shaped gems with sharp edges 25 crowned angles and 19 wing facets. Triangle cut diamonds were invented in Amsterdam and are commonly used as accent gems to bigger solitaires in engagement rings.
It also is evident that researchers and scientists have found proof of many other brilliant stones far well before the Asscher siblings. Despite this, Amsterdam is regarded as being the birthplace of the trillion cuts in the eighteenth century. 
Irrespective of its true origins, it is undeniable that the contemporary trillion cut, as it is now known, started its voyage in NYC in 1962. These diamonds may not be well known but do stand out and amplify other diamonds when placed in a setting.
Pros and Cons of  Trillion Cut Diamond
There is a list of pros and cons that follows every diamond which is true even for the trillion cut diamond. Customers must be aware of these pros and cons to make an informed decision and rule out whether the drawbacks that are exhibited by the diamonds are less significant with regards to the personal preference and style of the customer. 
Pros
A trillion cut diamond will always appear larger than a round cut diamond of the same carat weight since the surface is 12% bigger in the former. 
Amongst all the diamond shapes except for a marquise cut, the trillion cut diamonds are home to the largest face-up area.

These diamonds are also a lot less costly than their counterparts in round cuts since the latter has a higher demand which tends to increase the price of it by a lot. 

Because of the presence of sharp points and steep angles, the trillion cut diamond offers the jewelry it is set in with a highly modern and trendy look and hence is desirable by the youth who are looking for something to complement their generation. 

Trillion-cut diamonds are generally used as diamond accents and hence, are rarely seen as center stones. They would definitely make eye-catching jewelry for customers who have eclectic taste. 
Cons
The most major cons that exist within the trillion cut diamonds are the physical weaknesses it carries due to the sharp corners. 

These corners make it easier for the diamond to be chipped and broken. 

The only way to protect the trillion cut diamonds is by placing them in an appropriate setting like the V-shaped prong or bezel and customers who are not attracted to these settings might have to settle for it as a compromise. 

The next most significant disadvantage surrounding the trillion cut diamond is their limited availability which could make it difficult for customers to find a good quality trillion cut diamond jewelry. There are also high chances of customers being fooled or falling prey to jewelers who are not honest about the quality of the diamonds they sell in the case of trillion cut diamonds. 
Trillion Cut Diamonds "Length-to-Width Ratios"
When looking for a trilliant gem, always opt for something like an equilateral triangle. In an ideal situation, all sides of the gem should have a 1:1:1 ratio. 

A diamond with an uneven or out-of-symmetry balance will stand out to the naked eye and is easily noticeable. Therefore, must be disregarded.
Trillion Cut Diamonds Quality
Brilliant cut diamonds, unlike some other cut diamonds, do not have any set requirements for a great cut grade. The cut metrics listed below can be used as a standard guide for assessing cut excellence.
32-48 percent depth

Table of contents: 50-70 percent

1.00-1.10 length-to-width proportion
The uniformity and polishing ratings indicated on the certification should be taken into consideration while selecting the ideal stone. It is strongly advised that the symmetry and polish be "excellent or very good"'. Make sure the diamond isn't too deep, since a superficial cut will detract from the rock's attractiveness.
Facts To Consider Before Buying Trillion Cut Diamonds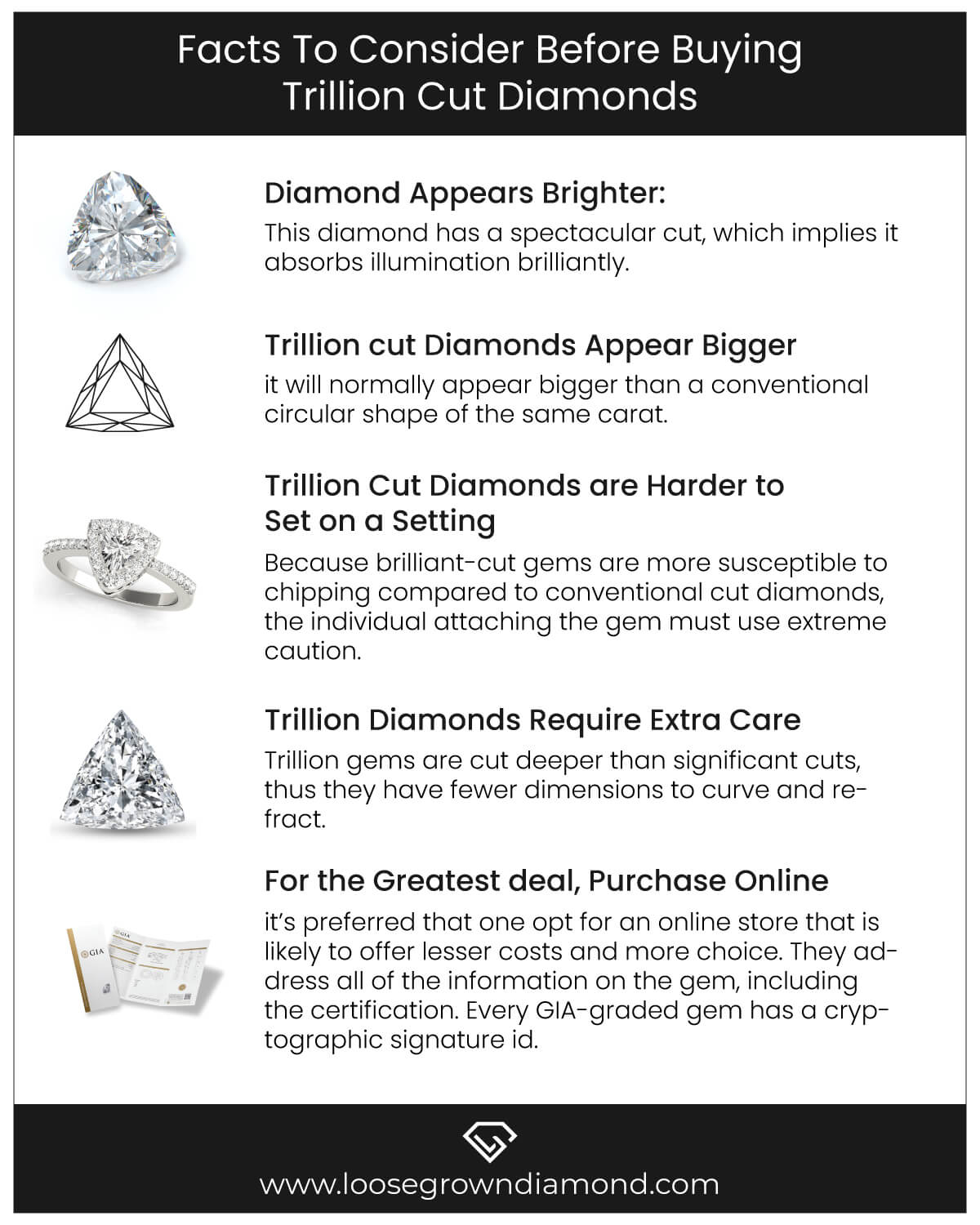 Diamond Appear Brighter.
This diamond has a spectacular cut, which implies it absorbs illumination brilliantly.
Trillion-cut Diamonds Appear Bigger.
Trillion gems have deep incisions and are broad in size. Due to this, it will normally appear bigger than a conventional circular shape of the same carat.
Trillion Cut Diamonds are Harder to Set on a Ring Setting.
>Because brilliant-cut gems are more susceptible to chipping compared to conventional cut diamonds, the individual attaching the gem must use extreme caution. Brilliant cut gems must also be placed in special kinds of setting made expressly for these due to their rough edges.
Trillion Diamonds Require extra Care.
Trillion gems are cut deeper than significant cuts, thus they have fewer dimensions to curve and refract. As a consequence, even a small amount of debris will rapidly dull their radiance. Cleaning your diamond periodically to ensure its luster and appreciate its shine.
For the Greatest deal, Purchase Online.
This technique can be difficult to acquire in your regional jewelry store, and modification for the unique setting typically comes at an additional cost. So it's preferred that one opt for an online store that is likely to offer lesser costs and more choice. They address all of the information on the gem, including the certification. Every GIA-graded gem has a cryptographic signature id, which is laser etched on the crown in many cases. Making, purchasing gems online completely risk-free.
Conclusion
To save oneself from a faulty purchase, customers who wish to buy a trillion cut diamond jewelry must read this article carefully keep themselves properly informed about the information surrounding the diamond and then make a knowledgeable decision regarding the quality and design.
Since these diamonds have many advantages along with quality, the final decision whether to buy a trillion-cut diamond or not is mostly a matter of personal preference and style. For customer who wishes to invest their bucks wisely into something unique, stunning, and gorgeous, there could not be a choice better than the trillion cut diamond.