Exploring the Cathedral Setting: Pros, Cons, Types, and Popular Cathedral Setting Rings
Now that you are finally ready to ask "the" question, are you considering purchasing an engagement ring in the cathedral setting(style)? How do you choose the best design for her when so many options are available?
Or perhaps you need a bit more information to guide your choice.
This post will give you all the details regarding the cathedral-setting engagement ring you need to know.
So let's get started.
What Is a Cathedral Setting?
Some individuals possess this charisma of standing out for all the right reasons. Then again, a cathedral setting would be a diamond engagement ring setting if they were humans.
The two sides of a cathedral ring curve upward to the diamond's peak. It has an architectural design that resembles a cathedral. Across the cathedral arches, there is a connecting bar as well. In most cases, the ring head rises off the bar. Triangle gaps formed by the arches grow to the diamond.
A cathedral-setting ring features arcing silhouettes, a center diamond surrounded by metal that rises from the shank, and other elements inspired by the elaborate cathedral ceiling. The side profile has a distinct appearance and could have diamond pave or other beautiful design features.
A cathedral ring is regarded as a high setting. Some options are lower. These ring designs have been popular for a very long time. When looking through vintage diamond engagement rings, you'll see lots of them.
Pros of A Cathedral Setting
Highlights your center stone: For someone who takes the time to choose their center diamond, high-set cathedral settings are ideal. Some claim that the diamond appears larger overall because of its elevation on the finger. However, it all depends on how you see things.
Cathedral rings have more room for band details: The band breadth of your engagement ring band acts like an additional benefit. If you favor solitaire settings, the amount of precious metal in this setting is ideal. To add embellishments, cathedral-style settings use extra ring metal. You can elevate your solitaire style without adding more diamonds.
Best for a round diamond ring: This setting type is the best choice for someone who selected a round diamond as their center stone. Despite how many jewelers may classify them, the only diamond form with official cut grades is a round diamond.
Make your engagement rings more sturdy: Wider bands aid in maintaining the ring's framework. Thin prongs can only be secured over a diamond so much by jewelers. The brilliance of your diamond may suffer if it has too many prongs.
Easily available similar wedding band for a cathedral setting ring: When purchasing an engagement ring, some individuals neglect to consider the wedding band. In any case, not everyone sports two rings. You typically wear the wedding band on the wedding day.
Cons of A Cathedral Setting Ring
Cathedral ring settings can catch fabrics if a thread is loose: The prongs on your diamond may lift off if you pull them too firmly: Your prongs could snag if you wear anything with loose threads or sequins. However, one of the primary issues with cathedral ring settings is there is no assurance that it will happen to you.
A cathedral setting isn't great for people with an active lifestyle or hands-on jobs: If you stay at home all day, it won't be a problem, but if you work as a nurse or a hair stylist, you might want to hold off on a cathedral setting.
Cathedral settings can be harder to clean: It should be easy to clean a conventional cathedral diamond ring. Cleaning is more straightforward with a split shank cathedral floating setup. Closed ones, on the other hand, can be annoying. Ones that are entirely closed can be harder.
A soft-bristled toothbrush, water, and mild soap work best to clean cathedral and non-cathedral settings. If your cathedral is closed, you should buy a small specialized brush in case your bristles can't get inside.
Types of Cathedral Ring Settings
There are numerous design options for cathedral settings, so there is something to fit every preference. Here are some of the most beloved styles by our customers to inspire your search.
Petite Styles
The small shape highlights the center diamond and is ideal for a daintier appearance. A diamond ring adds even more glitter to this open cathedral setting.
Engraved Styles
Beautiful ways to add interesting detail and texture to a cathedral setting include metal engraving and metal beading. They are an excellent technique to obtain points for individuals on a tight budget who want the center diamond to steal the show.
Detailed Styles
The elaborate options for cathedral settings and the time and effort that go into these beautiful works come under this style.
Hybrid Cathedral Setting
When browsing through high-quality images of cathedral settings online, you won't see a category for them. A cathedral setting is more of a ring style than a signature set.
You can mix the cathedral settings with non-cathedral settings. They combine the high setting of a cathedral and another ring style, like floating settings or other prong settings.
Closed Cathedral Setting
The area beneath the ring head may be open in closed cathedral settings rather than the more significant triangle gaps. They could also be shut.
They may have etched details, pave diamonds, or vintage embellishments. Because cathedral settings are standard for vintage styles, you will frequently see closed cathedrals with mil grain or filigree accents.
Price of A Cathedral Setting Ring
A cathedral-setting engagement ring could be slightly more expensive than a non-cathedral setting. Traditional cathedral settings typically don't have a significant price difference.
Standard cathedral settings for solitaire rings cost between $100 and $500 more than prong-set settings. In comparison to a prong solitaire, the design requires more metal.
Your ring's artistic merit may raise the cost. The labor involved in engravings, filigree, and mil grain details is considerable. The price increase is simply fair.
If you decide to include more diamonds, the price will increase. There are concealed diamonds visible from the profile in several cathedral settings.
Costs range from $250 to 950 for a traditional one without diamonds or other features. Prices for more intricate designs might be very high.
Cathedral Setting on Hand
This particular feature allows arching silhouettes with a center gemstone flanked by metal that emerges high from the shank, and the design mainly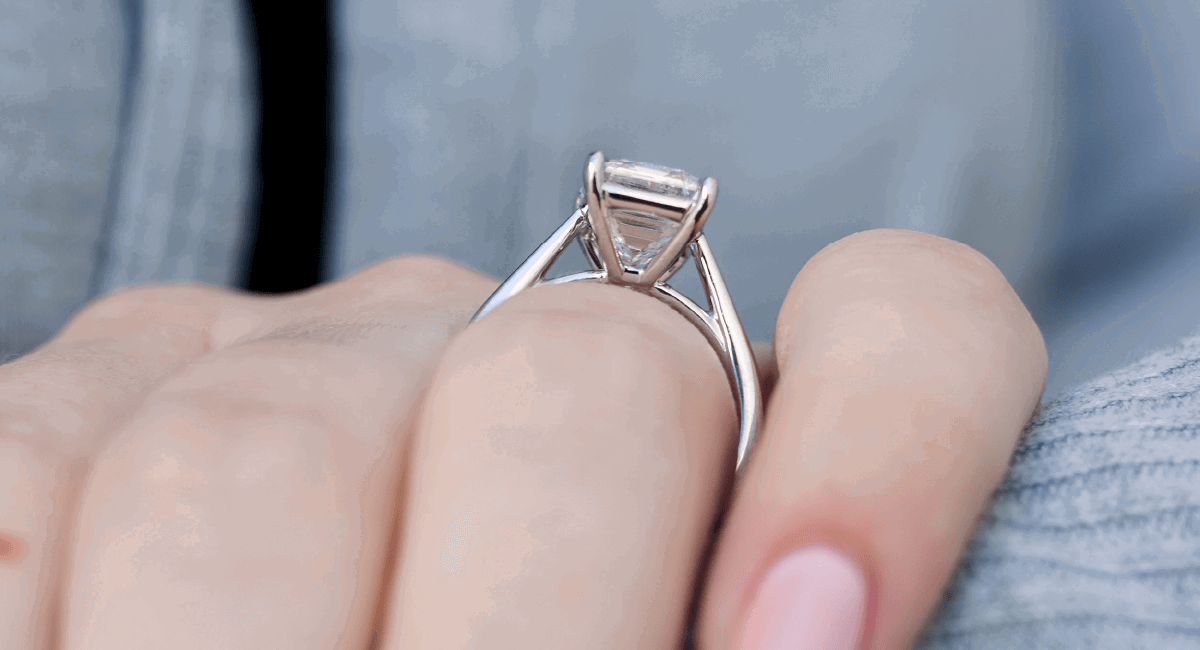 follows the pattern of an elaborate cathedral ceiling. The side aspect of this ring setting is particularly distinctive because of its type. The arches give a ring more height, emphasizing the central stone.
The cathedral setting on hand looks so amazing. It is one of the most stylish, and vintage options for an engagement ring. The diamond pops off of these settings. You also save some extra money because you don't need any additional features or diamonds this way.
Why Choose a Cathedral Engagement Ring?
Cathedral settings are elegant, classic engagement rings. The central stone appears more prominent and more conspicuous because of the arches' added height. Cathedral settings frequently save money since you have to purchase fewer diamonds or features because of their elaborate design.
Here are some tips that will help you to choose the right engagement ring:
Fall for A Timeless Favourite
The cathedral setting is timeless, even though many wrongly think it's outdated.
The cathedral setting as we know it today has been popular for more than a century. Since the early 1900s, cathedrals have been present in every era of the engagement ring design. You can see the cathedral setting's exquisite and adaptable arches in many different styles of engagement rings.
What style of engagement ring do you want? Is it either maximalist or minimalist? Is it modern or retro-inspired? Modern or conventional? These stylistic possibilities could benefit from adding a cathedral environment.
Show Off Your Centre Stone
Do you want to ensure your engagement ring showcases the ideal diamond or colored gemstone you've picked? Cathedral settings are suitable for this.
The structure's sweeping lines highlight the position in the cathedral's center. It emphasizes the stone's attractiveness and gives the impression that it is more prominent. Even your colored gemstone or diamond might appear bigger as a result!
You wear most diamond and gemstone shapes in the cathedral design. It is so because there is a lot of flexibility in how you may have placed stones in the cathedral. Any setting, including a claw, bezel, or illusion, can be incorporated into the cathedral style. It implies that you can alter the setting to best showcase the stunning diamond or gemstone you have selected, which is the focal point of your ring.
Customize with Unique Details
A cathedral setting can give a little something to your engagement ring, just like a concealed halo can! There are lots of options to add extra detail to this design.
The arches might feature scrollwork, buried stones, two-tone metal effects, and other variations. You may completely personalize your engagement ring to reflect your personality and style.
Cost-Saving Style
Engagement rings with cathedral settings typically cost less than those with simpler backgrounds, like a basket setting. The price is more due to the added metal and metalwork. Additionally, rather than spending extra money on more expensive adornments like side stones or additional diamond accents, the flourishes and distinctiveness of the cathedral setting frequently provide intrigue.
It Makes the Center Stone Pop
Cathedral settings are perfect for emphasizing and highlighting your center stone and having lovely and distinctive design components. Even though cathedral settings can be lower, they are typically recognized to have a higher profile, which raises the center stone and gives it a more fantastic, sometimes more significant, visual impact.
Works with All Styles
The cathedral's architecture can be either elaborate and exquisite or subtle and understated. The cathedral's fundamental customization ability makes it adaptable to any design aesthetic. Leave the arches and the area between them unfilled for a dramatic style.
For a minimalist look, leave them vacant. For a vintage look, add filigree and mil grain patterns. A cathedral setting can reveal any personality.
Very Durable and Secure
The center stone needs to be secured explicitly in the cathedral arrangement. You can alter this setting's functionality to create various looks and styles.
You can use prongs, a bezel, a tension setting, or any other setting to hold the gemstone. The arches' added metal strengthens the metal fixings holding the stone.
Cathedral Settings vs. Other Settings
When choosing an engagement ring, it's essential to compare different settings to see which one is best for you. Here is a comparison of cathedral rings to other types of rings.
Cathedral Setting vs. Tiffany Setting:
A Tiffany setting elevates the central diamond and secures it with four or six thin prongs. The two arches elevate the diamond, and the prongs hold them in a cathedral setting. In other words, the Tiffany setting only includes prongs, whereas the cathedral has angles and triangle gaps.
Cathedral Setting vs. Prong Setting:
Unlike a cathedral band with arches to hold the diamond in place, a solitaire prong setting has only prongs. The cathedral setting may lift the diamond higher than a prong setting, depending on the style.
Trellis vs. Cathedral Setting:
The interlocking prongs support a trellis setting that span over each other and are typically four but can occasionally be more. The two arches don't cross each other in a cathedral environment.
A trellis setting holds the center stone in place with overlapping or neighboring prongs. However, the two arches do not intersect each other in a typical cathedral arrangement.
Cathedral vs Non-Cathedral Ring Setting:
The two arches accentuating the central diamond are the cathedral setting's most distinguishing characteristic. These arches are absent from non-cathedral ring settings. They come in many different designs, such as three-stone and halo.
Popular Cathedral Setting Rings
Now that everything is set, you may officially announce the cathedral style as the design of your diamond engagement ring. Now what? To assist you in your search, we've compiled a list of some of our best cathedral engagement rings.
Poise Basket Diamond Engagement Ring
The cathedral diamond ring's central stone receives all the focus thanks to a smooth, small band. With the Poise basket diamond engagement ring, you may be sure it won't suddenly break free because of its encasement in a basket.
Weaved Cathedral Solitaire Diamond Engagement Ring
The Weaved cathedral solitaire diamond engagement ring has a broad metal band that transitions to a thin metal band at the center stone, offering just enough intricacy to keep things intriguing (without adding other distractions).
Oval Plain Shank Halo Diamond Engagement Ring
Without adding any distracting features, the stunning halo increases the carat weight of the Oval plain shank halo diamond engagement ring. Bonus: You can achieve the design without adding additional height because the cathedral form naturally generates a basket for the diamond.
Braided Cathedral Diamond Engagement Ring
The smooth prong shape and the weaved band make the Braided cathedral diamond engagement ring a stunning attraction. Bonus: The accent stones increase the ring's weight by 0.30 carats.
Double Row Cathedral Diamond Engagement Ring
Why settle for one when you can have two rows of pave diamonds? With the Double Row Cathedral Diamond Engagement Ring, you'll get just that, plus an additional 0.32 carats in weight!
Channel Set Cathedral Diamond Engagement Ring
The cathedral diamond engagement ring with a channel setting blends tradition and modernity. The modern cathedral style with smooth prongs holds the center stone firmly in place while the thick band provides enough room for the half-carat of round pave stones put into it.
Sleek Cathedral Solitaire Diamond Engagement Ring
With the Sleek cathedral solitaire engagement ring with a small band, you may keep things straightforward and put all the attention on the central diamond.
Conclusion
Always select a wedding ring that most closely matches your particular preferences. Cathedral settings are fantastic for people who want their center diamond to shine out. They feature a robust design, raise your diamond higher, and are simple to match with a wedding ring.
There are still a few negatives, though. Due to their excellent profile, they are more likely to hit objects or snag on fabrics throughout the day. Some types of engagement rings take work to clean.
In either case, you should always purchase from a reputable merchant who offers knowledgeable diamond advice and outstanding customer service.
Frequently Asked Questions (FAQs)
Is Cathedral Engagement Rings a Popular Choice?
Wedding and anniversary bands go great with cathedral rings! Due to the elevated center stone, your wedding and anniversary rings will sit snugly next to your cathedral piece and produce a striking, stacked design. Due to consumer demand, these rings are widely accessible.
Does the Cathedral Setting Make the Ring Look Bigger?
Yes, in some instances, the cathedral setting does make the ring appear larger by increasing height and highlighting the central jewel.
Are Cathedral Settings More Secure?
The cathedral setting is entirely secure. The side arches help keep the center diamond protected and protect it from normal wear and tear.
The cathedral doesn't have a designated method for securing the center stone. You can customize this setting feature to achieve different looks and styles. You can connect the gemstone with prongs, a bezel, a tension setting, or any other type of setting you desire.
Cathedral vs Non-Cathedral Ring Setting?
The two arches that help draw attention to the center diamond are the essential characteristic of a cathedral setting. These arches are absent from non-cathedral ring settings. They come in many different designs, such as three-stone and halo.