How Big Can Lab Grown Diamond Get?
Diamonds are always going to be a woman's best friend. From purchasing them for no specific reason to celebrating the most important days of one's life with the gems, diamonds are going to stay in trend and people's hearts for as long as we have occasions to celebrate. 
But are people aware of the impact that the mining of diamonds creates on our planet's internal environment and ecosystem? Most diamond shoppers tend to simply concentrate on the bling and sparkle that diamonds bring along and ignore the harm it causes to our planet since the process of mining diamonds is in reality highly detrimental for our planet.

Digging into the earth for miles to get access to a handful of diamonds creates many disadvantageous side effects to our planet's natural resources since the soil, water, and air surrounding the site from where diamonds are mined get heavily polluted. A large amount of soil and other natural resources have to be removed from mining sites which leads to a massive depletion in natural land resources.
But as mentioned before, diamonds share a special relationship with most people wherein the attachment between them is hard to maim. And hence, scientists and diamond jewelers have made an excellent effort at battling this issue wherein a new type of diamonds have been invested.
Grown in labs, the lab-grown diamonds, have minimal to no impact on the earth's environment and are the perfect choice for customers who love our planet and diamonds alike! 
How Lab-Created Diamonds are made
Lab-created diamonds are diamonds that resemble real stones based on most of the aspects such as the optical, physical, and chemical properties. The only major difference between the two is their source of origin. 
Real diamonds are created under extreme conditions inside the earth's crust and take a time period of around millions of years to form. The stimulus needed for their creation is naturally provided by our planet and we are merely discovering their existence by digging and mining 
Lab-created diamonds however are made by men through the process of replication in a controlled environment of the earth's natural growth processes. This leads to the formation of pure carbon raw diamonds that are practically identical to the earth mined diamonds.
The grading of such diamonds is also done by the same expert and reputable gemological institutes that provide their services for the grading of natural diamonds.
Methods for Growing Lab-Grown Diamonds
Two methods can be used to create lab-grown diamonds. 
Chemical Vapor Deposition (CVD)
Through this method, natural diamond particles are used to build a diamond wherein the particles are positioned in a CVD machine. The machine is then filled with carbon gas and the temperature is hiked to extreme limits for the particles to get heated. The high temperature and pressure from gas lead to the breaking down of the carbon molecules in the particle. Then the molecules vaporize and bind to the diamond seed forming various layers until a larger diamond of the desired size and carat weight is formed. 
High-Pressure High Temperature (HTPT)
This particular technique uses an HPHT machine and diamond seed to form a lab-grown diamond. The HPHT machine is filled with pure carbon and extreme heat with pressure is applied to melt the carbon. The rough diamond starts forming around the seed and eventually forms enough amount according to the desired size and carat weight. 
Through either method, the diamonds grown are rough diamonds that are cut, polished, and mounted on bands by various cutters and designers to form the different forms of jewelry. 
Do the Methods of Growing a Diamond Affect its Size?
If we talk about the most commonly used process to grow a diamond it is High-Pressure High Temperature (HPHT). It has been around for the longest. However, Chemical Vapor Deposition (CVD) is a method that has been termed to be more effective and has been in the market and demand for quite some time.
At once the most reliable method was considered to be HPHT as it could make your diamond grow exceedingly large, that is up to 10 carats. On the other hand, let us also remind you that the market for lab-grown diamonds with their technology is quite competitive and changing every day.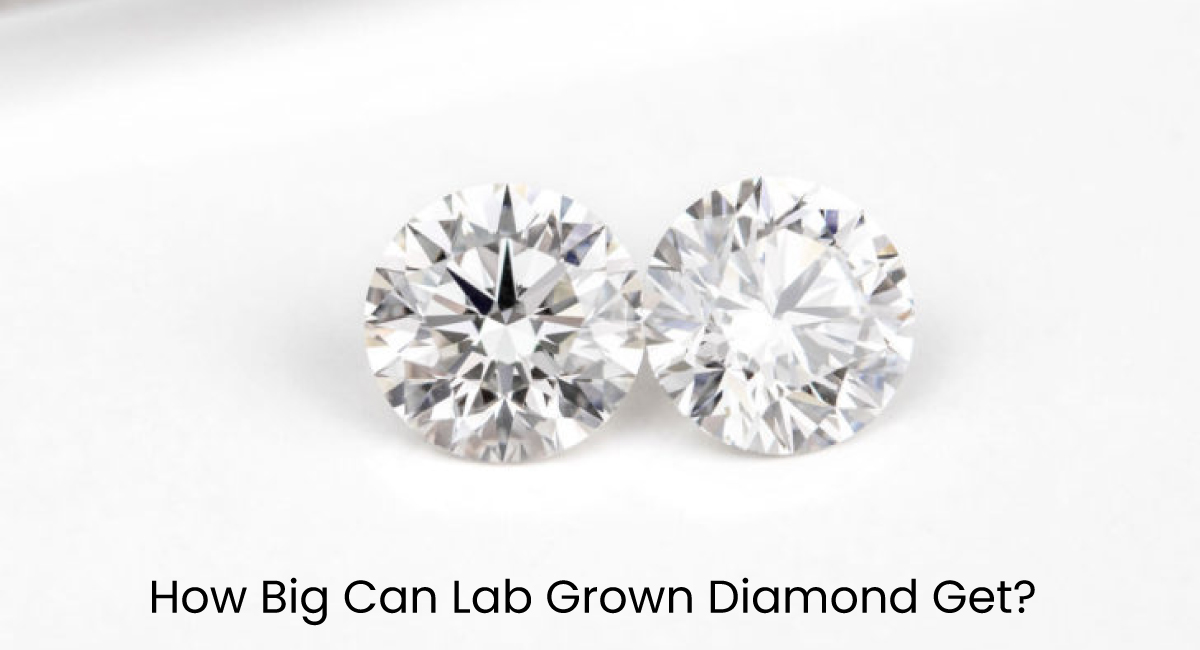 Through the recent years, CVD as a method has grown a great deal of market reputation. It has done this by also increasing its production proportion range, it went from producing 6-carat diamonds to 9-carat diamonds. Even the largest lab-grown diamond has a 155-carat disc which was done through CVD.
In some ways HPHT does have an edge over CVD, that is because of the carat size both the processes make. The size that HPHT produces is a whooping 10 carat, and in front of it, a maximum 9-carat diamond produced by the CVD process is something that makes it fall back a little.
Though if we look at any other factor, both methods are incredibly effective to make a large lab-grown diamond. Keeping in mind the size producing capabilities, let us remind you it only seems to be growing with advancing technology.
Given how technology is growing, there is no margin as to how large a lab-grown diamond can get. This also means that buyers will have a lot of sizes to pick from and that is a plus in itself. Lastly, the size of the lab-grown diamond largely depends on the time invested to grow it. 
Large Diamonds vs Small or Medium Diamonds: What takes Longer to Grow?
The time taken to grow a lab-grown diamond can be a few weeks, on the other hand, natural diamonds take millions of years. The time taken in the lab for a diamond to grow however is influenced by the technique used for its growing.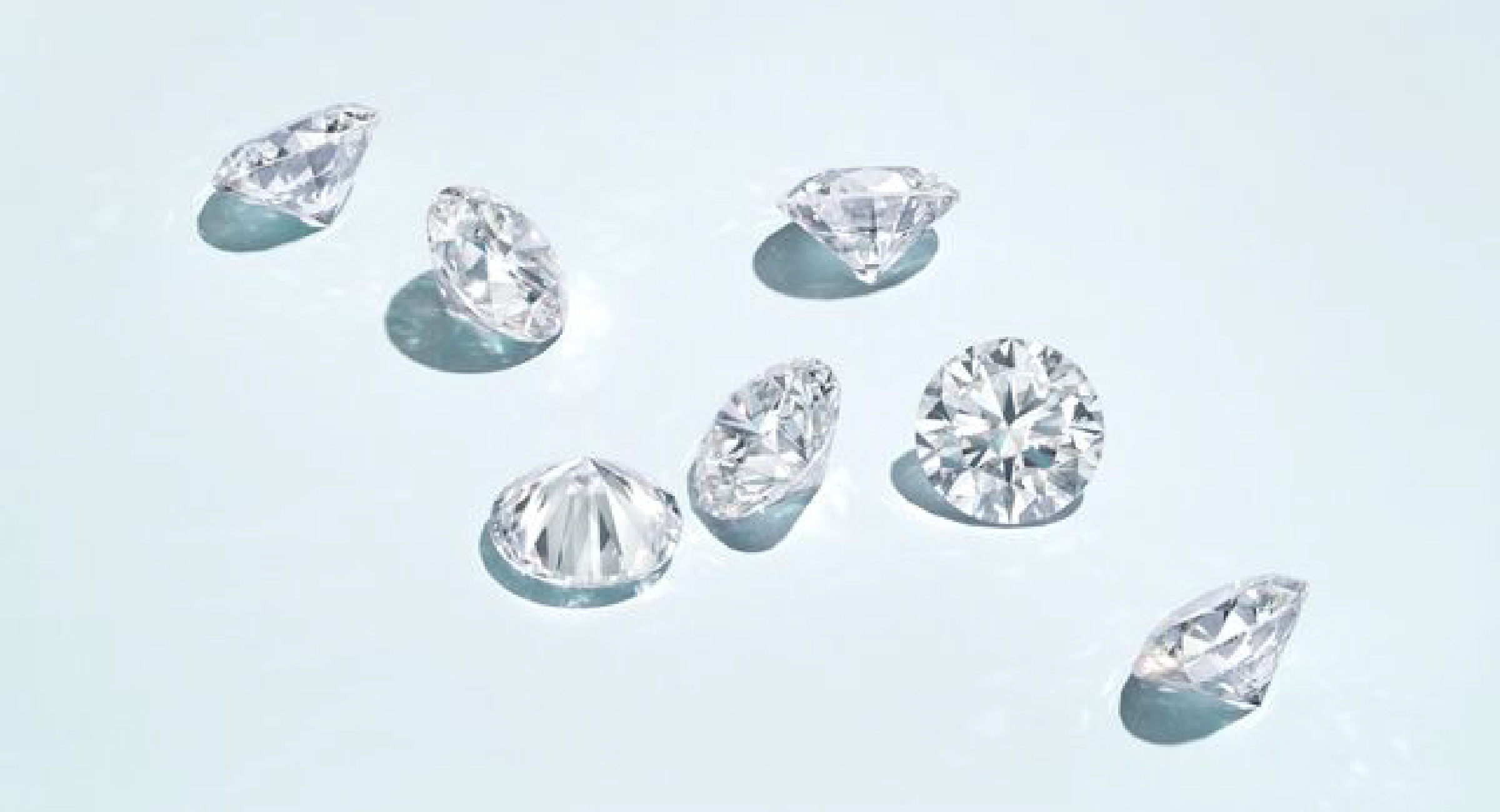 HPHT is a technique that uses an extreme amount of pressure to grow a diamond. The pressure applied shall be altered as and when the size of the diamond grows. What it looks like visually is like trying to compress a tiny pebble. However, in this process, that pebble grows into a larger and larger rock.
To grow a large diamond is a very systematic process. And the lab in this setting is the perfect environment to include the process of this growth. A medium-size diamond in the lab will relatively take only a few weeks to grow, however, a large diamond needs more time and attention (a few months). 
However, all of this makes one thing clear: there is a huge array of options in terms of size when you go to choose a lab-grown diamond. 
Also Read: why CVD diamonds pass tester and HPHT can't?
Conclusion
Hence, lab-created diamonds are the most suitable option for people who want to avoid leaving a carbon footprint on our planet but still want the effect and brilliance of a real diamond. The lab-grown diamonds offer the same amount of durability and genuineness as the real ones do and so can be chosen by customers to decorate their outfits on special occasions including something as special as an engagement or a wedding, with the bonus being the much lower prices at which the lab-grown diamond jewelry is available at.