Stunning 6 Carat Diamond Ring that Set the Fashion Ablaze
When we talk about good choices in diamonds, nothing is much more appreciated than a 6 carat diamond. Its sparkles are mesmerizing due to its size, and if the cut quality is your priority, your ring will stand out wherever you go.
One of the most popular shapes for a 6 carat diamond ring is the brilliant round cut. A 6 carat diamond, though it looks appealing, can cost you quite a fortune if not bought with proper knowledge. Diamonds weighing 1-3 carats are the most popular on the market because they are more affordable. A 6 carat diamond, on the other hand, is a luxurious choice that one should choose for their significant other.
We at Loose Grown Diamonds want to assist you in the best way we can when you make such an important purchase. Hence, we have put together this 6 carat diamond buying guide to ensure you buy the stone that best suits your needs.
6 Carat Diamond Ring Price
"How much does a 6 carat diamond ring price?" It can be around $8,000 to $200,000, this range varies due to the 4Cs of the diamonds. Which makes sure that higher quality diamonds get noticed and are valued accordingly.
"What is the range of money that one should invest in a 6 carat diamond ring?" Perhaps this question bothers you as you might not be sure how much you should spend on this 1 cm big diamond.
We've all heard the saying stating a 6 carat diamond engagement ring should cost around your 2 months' salary. There is no fact supporting this statement this saying was coined by diamond marketers decades ago. This law persuaded buyers to spend more on diamond engagement rings so they could profit.
The truth is that diamond prices shouldn't scare you. Instead, it helps if you're on a budget for a comfortable 6-carat diamond. The 4Cs, origin, and the brand you are selecting all have a big impact on the diamond's price.
We have already mentioned the price of an average 6 carat diamond adobe. But what about a diamond that is below average? A low-quality 6 carat diamond can cost only $2,000-$3,000. However, an outstanding 6-carat diamond, with immense clarity, definite cut, and clear color from a first-class luxury brand, can easily cost over $200,000.
Remember that diamond engagement rings are always expensive, regardless of your diamond budget. This depends on the assembly and whether it needs to be adjusted separately. Depending on the ring style, from $200 to thousands of dollars, diamond ring prices range. The price is also affected by the type of metal and additional gem embellishments such as side stones.
| | | | | | | |
| --- | --- | --- | --- | --- | --- | --- |
| Shape | Carat | Cut | Color | Clarity | Price | |
| princess | 6.03 | Ideal | H | VS2 | $5943 $4457 | View |
| princess | 6.02 | Ideal | G | VS2 | $6951 $5213 | View |
| round | 6.00 | Excellent | I | VS1 | $7294 $6200 | View |
| emerald | 6.04 | Excellent | F | VVS1 | $9329 $6997 | View |
| round | 6.09 | Ideal | E | VS2 | $9002 $7652 | View |
| emerald | 6.02 | Ideal | E | VS1 | $9471 $7103 | View |
| round | 6.06 | Excellent | F | VVS2 | $15879 $13497 | View |
| emerald | 6.01 | Ideal | H | VS1 | $7177 $5383 | View |
| princess | 6.02 | Ideal | F | VS1 | $9993 $7495 | View |
| emerald | 6.03 | Excellent | F | VS1 | $5427 $4070 | View |
| round | 6.09 | Ideal | G | VS2 | $6829 $5805 | View |
| emerald | 6.04 | Ideal | I | VS2 | $3607 $2705 | View |
| round | 6.04 | Excellent | E | VVS2 | $22685 $19282 | View |
| round | 6.00 | Excellent | F | SI1 | $5861 $4982 | View |
| round | 6.01 | Excellent | G | VS2 | $7482 $6360 | View |
| emerald | 6.10 | Ideal | G | VS2 | $5756 $4317 | View |
| round | 6.02 | Excellent | F | VS2 | $9315 $7918 | View |
| round | 6.07 | Ideal | G | VS1 | $8379 $7122 | View |
| emerald | 6.01 | Ideal | E | VVS2 | $8483 $6362 | View |
| emerald | 6.03 | Ideal | E | VS1 | $5651 $4238 | View |
The Size of A 6 Carat Diamond Ring
When looking at 6 carat diamonds, you need to understand that carat weight is a measure of the weight of the diamonds and not the size. Each carat weighs 0.2 grams, so a 6 carat diamond would weigh approximately 1.2 grams.
Thus, the increase in carat weight is distributed throughout the entire volume of the stone—both in width and depth. If you were to compare 3 diamonds, each weighing 4 carats, 5 carats, and 6 carats, you would see that there is a difference in size, but it is not as substantial as one might think.
Carat limits the diamond's dimensions, but the stone cut has the biggest impact on the diamond. Certain diamond shapes require fine cuts, while others require deep cuts. When looking at round brilliant cut diamonds, there are subtle size differences from stone to stone. They all have the same proportions and are optimized to reflect light from the base surface back to the eye.
6 carat Diamonds with deeper cuts, such as the Asscher cut, have most of the carat weight at the bottom of the stone, making it invisible. Smaller or longer cuts, such as ovals or emerald cuts, cover more area and tend to look larger
However, round and princess cuts have a great deal of depth. The 6 carat round brilliant has a proportional length and breadth. Stones of the same cut and weight may have different sizes.
It depends on how the cutter shapes the proportions. For example, two 1-carat round brilliant diamonds may differ in width and height, even though the two diamonds weigh the same. The deeper it is, the smaller it will appear in the ring. On the other hand, shallow diamonds look larger.
Carat is one of the crucial factors of the 4Cs when it comes to diamond pricing. Larger diamonds are rarer, so they cost more per carat. Diamond cutters, on the other hand, do not have complete freedom to determine the size of the stone.
Playing with diamond size to increase carat weight can result in an imbalanced cut. Therefore, their rating may turn out to be low.
Cut quality is also an important price factor. Therefore, the cutter aims to achieve a balance between carats and proportions. which is conducted by determining the proper size for the stone.
Additionally, if you are confused about how to determine the price of a diamond, don't worry; we're here to guide you. You can check the price with our Diamond Price Calculator.
6 Carat Diamond Ring on Finger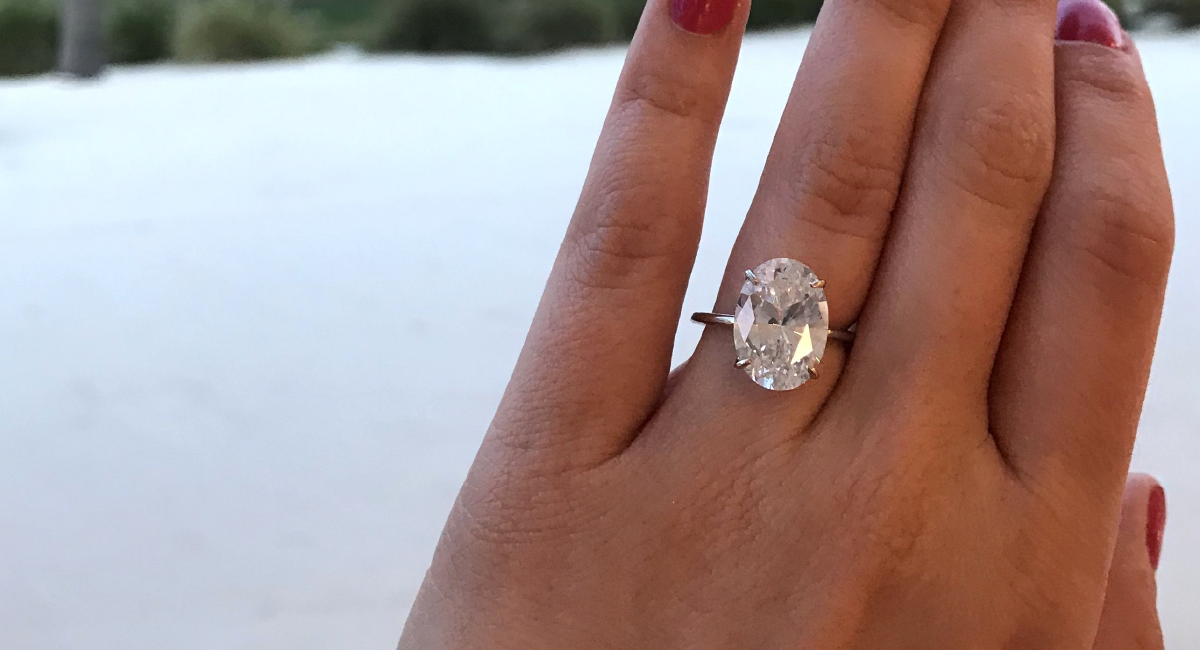 An important factor in determining whether this carat weight suits you is the size of your hand and how well it fits the shape of your finger. Extended cuts will make the finger look longer and thinner, but at higher carat weights, a stone that is too long can overpower the hand. To give you an idea of what a 6 carat diamond looks like, the most common shapes are listed below.
6 carat round diamond ring on your finger: We recommend trying on a 6 carat round diamond ring on your finger to see if it looks perfect on your significant other. A round diamond is the widest of all the common shapes. This means that this diamond may appear larger than elongated shapes.
6 carat cushion diamond ring on your finger: A cushion cut is slightly narrower than a round cut because part of the carat weight goes to the diamond's square corners. Because of this, it looks a bit small in your hand, but it is a bulky diamond.
6 carat emerald cut diamond ring on your finger: Emerald cut diamonds are considered one of the most beautiful cuts. This particular cut was first used to cut emeralds, but it slowly gained fame over time as individuals later came to appreciate the look and feel of the emerald cut for diamonds.
The clean, rectangular shape is highly valued because it is easy to set in jewelry, and the regular shape is favored by modern celebrities. The shape of an emerald can vary depending on the ratio of length to width.
6 carat oval diamond ring on your finger: oval cut diamonds can flatter your fingers at higher carat weights without overwhelming them. Since oval diamonds are basically round diamonds that have been stretched out, they are thinner and longer than round diamonds.
The Shapes of 6 Carat Diamond Rings
The shape of a diamond ring largely depends on personal preference. Or your significant other, for that matter. Either way, you'll find a gorgeous 6-carat ring for every taste. The most common shape should be a round diamond. However, you can choose a longer diamond shape or a pear shape.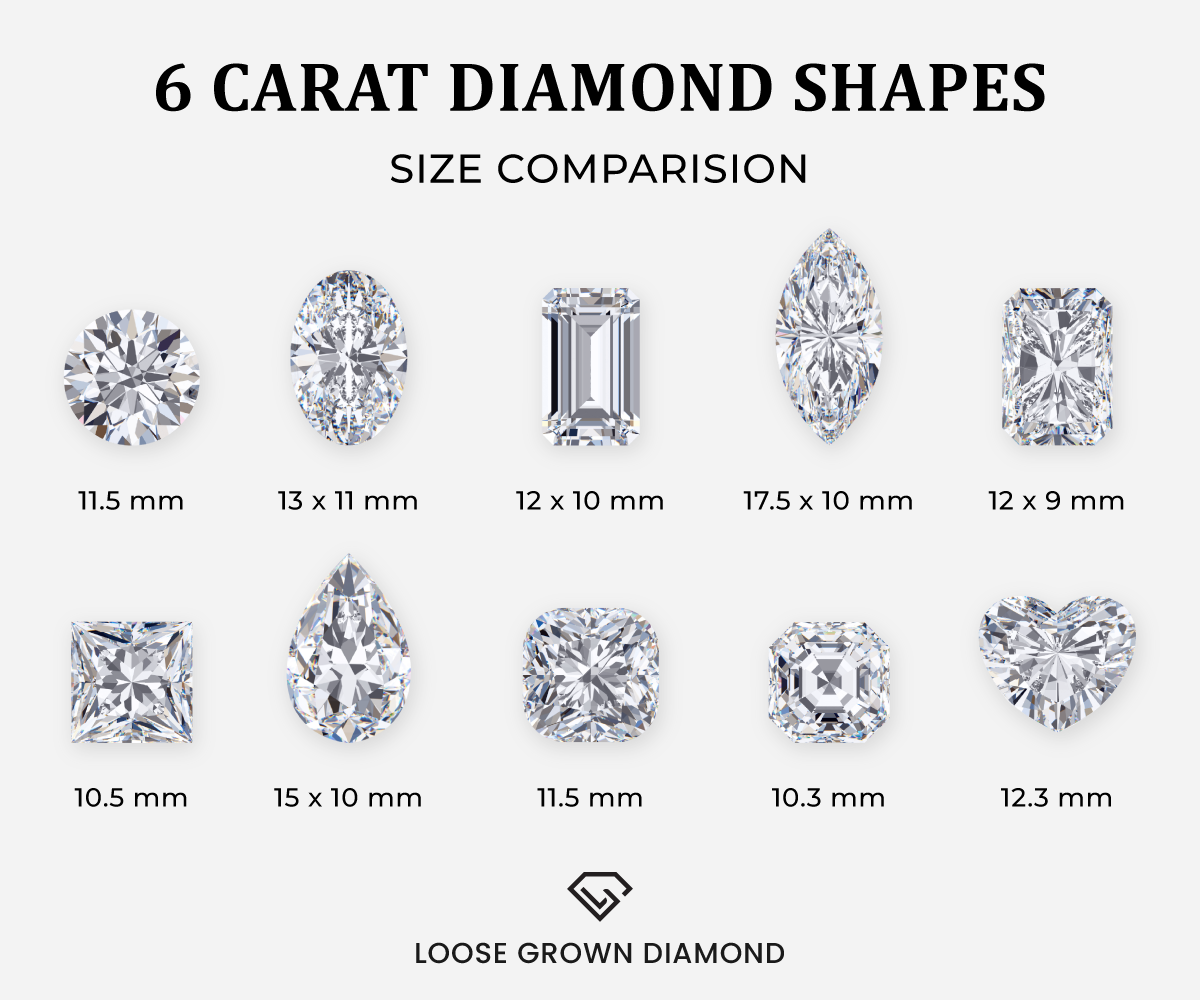 Here is an overview of the most popular diamond cuts/ shapes :
The most popular and preferred diamond on the market is the round brilliant. A diamond with 58 facets and a structure that can be mounted on top of any piece of jewelry with ease. A 6 carat round brilliant diamond will steal the show with its elegance and shine.
If you incorporate the brilliance of a round diamond and the step cut of an emerald diamond, the byproduct will be a radiant-cut diamond. This is one of the most timeless diamonds, with around 70 facets, which ensure the stone sparkles. A 6 carat radiant cut diamond will appear massive and make any outfit look good.
You can also opt for a square stone with a pyramidal base that gives off a symmetrical look. Selecting this shape for a 6-carat diamond will also tend to save you money as it is less expensive than a round-cut diamond.
Like its name, this diamond shape is also quite elegant. The shape of this diamond is similar to that of a woman's lips. A 6-carat marquise diamond will make any finger look elongated and any hand looks royal.
This diamond shape has a special captivating power once you lay your eyes on it. If you were to mix an old mine cut diamond with a modern round brilliant cut diamond, you would get a cushion cut diamond. This diamond shape makes any carat diamond look like a prized possession.
The Asscher shape can be found to have the same characteristics as that of a square emerald cut. The diamond rings of this shape have remained a favorite for girls since 1902. This shape is a step-cut diamond in a series of parallel rectangles or squares with a high crown. A 6 carat Asscher cut diamond will radiate ultimate brilliance.
When someone refers to a step-cut diamond, this is the shape they are referring to. A clean, step-cut diamond is what the emerald shape is all about. It has huge cascading faces that reflect light. A 6 carat emerald cut diamond will make any hand look beautiful.
Oval cut diamonds have grown in popularity in recent years as people look for alternatives to round cuts. The result is a uniquely shaped diamond with the same feel and sparkle as a round cut diamond. It appears larger due to its shape and can be a good choice for a 6 carat diamond.
This modified crystal diamond cut is also known as a teardrop diamond because of its shape. This diamond shape has remained popular for many years, especially in the halo, necklace, and earring designs. Pears have long been popular as accent stones in diamond engagement rings.
Heart cut diamonds work very well with big diamonds. These are less traditional shapes for diamond rings. For a 6-carat diamond, the heart shape, smooth lobes, and tapering base can easily be enjoyed by the wearer.
6 Carat Diamond Ring Color
Another important factor in choosing a beautiful 6 carat diamond ring is the color. Diamonds will look more beautiful if they have the perfect color, which makes them more brilliant. Diamonds are available in many different colors, including grey, yellow gold, rose gold, brown, bright yellow, and colorless.
The colorless range goes from D to Z according to the Gemological Institute of America (GIA) color chart. We all know that an ideal or perfect diamond is colorless. A colorless or transparent diamond means it has a grade of D. It's like if you submerged it in a glass of water, it wouldn't be visible to you.
On the other hand, if we talk about the Z grade, it is slightly toward a brown or yellow hue. If you choose a higher color grade, you have to pay more for it. We highly recommend that when choosing a 6 carat diamond color, you go for a color grade that lies between G and I. This range is eye-clean and will make any 6 carat diamond appear flawless.
| | | | | | | |
| --- | --- | --- | --- | --- | --- | --- |
| Shape | Carat | Cut | Color | Clarity | Price | |
| oval | 6.00 | Ideal | G | VS1 | $8397 $6298 | View |
| oval | 6.01 | Ideal | E | VS2 | $7311 $5483 | View |
| marquise | 6.03 | Ideal | G | VS1 | $7724 $5793 | View |
| marquise | 6.04 | Ideal | G | VS1 | $8197 $6148 | View |
| oval | 6.00 | Ideal | G | VS1 | $8397 $6298 | View |
| oval | 6.02 | Ideal | F | VS1 | $7431 $5573 | View |
| princess | 6.03 | Ideal | H | VS2 | $5943 $4457 | View |
| princess | 6.02 | Ideal | G | VS2 | $6951 $5213 | View |
| round | 6.00 | Excellent | I | VS1 | $7294 $6200 | View |
| emerald | 6.04 | Excellent | F | VVS1 | $9329 $6997 | View |
| oval | 6.01 | Ideal | G | VS2 | $8963 $6722 | View |
| round | 6.09 | Ideal | E | VS2 | $9002 $7652 | View |
| emerald | 6.02 | Ideal | E | VS1 | $9471 $7103 | View |
| oval | 6.03 | Ideal | G | VS1 | $9723 $7292 | View |
| oval | 6.03 | Ideal | F | VS2 | $11476 $8607 | View |
| round | 6.06 | Excellent | F | VVS2 | $15879 $13497 | View |
| cushion | 6.10 | Ideal | D | VVS2 | $26093 $19570 | View |
| emerald | 6.01 | Ideal | H | VS1 | $7177 $5383 | View |
| princess | 6.02 | Ideal | F | VS1 | $9993 $7495 | View |
| emerald | 6.03 | Excellent | F | VS1 | $5427 $4070 | View |
The Best Grades for 6 Carat Diamond Ring
You have probably heard about the 4Cs of a diamond. These four grades indicate a diamond's cut, color, clarity, and carat weight. You should be aware of these grades to make an informed purchase.
As we are talking about 6 carat diamonds, the diamond carat weight is fixed, but let's define the cut, color, and clarity.
1. Cut grade for 6 Carat Diamond Rings: People often confuse the cut of a diamond with the actual shape of the diamond, like round, oval, or pear-shaped diamonds. Instead, cut quality refers to the quality of a diamond, with a rating ranging from excellent to poor. The cut grade is very important because it affects the way light travels through the diamond. In a well-cut diamond, light travels efficiently through the stone, reflecting off the facets and exiting the top of the diamond, creating a perfect sparkle. Alternatively, a poorly cut diamond can allow light to leak through the sides and the bottom, causing the diamond to look dull. An excellent-cut diamond can be bigger than a poorly cut diamond of the same carat.
2. Color Grade for 6 Carat Diamond Rings:  Color grade refers to the diamond's whiteness and ranges from colorless D to slightly yellowish or brownish Z. Unlike cut grades, you don't need the highest color grade to enjoy beautiful, colorless diamonds. A diamond's color has to be checked under natural lighting, fluorescent lighting, and a variety of lighting conditions.
3. Clarity Grade for 6 Carat Diamond Rings: A diamond clarity grade is the number of inclusions present in a diamond. Inclusions can appear as dark spots, cracks, cloudy areas, or even feathers in the stone itself. Here is the clarity grading scale according to universal standards.
I3 diamonds have visible inclusions, and flawless diamonds have no inclusions. VS or VVS clarity diamonds are the best choices for 6 carat diamonds.
This is because defects can be seen only at 10x-20x magnification, but not with an unaided eye.
The Clarity Rating for 6 Carat Diamond Rings
The difference between a low-quality diamond and a diamond of exceptional beauty and brilliance lies in the evaluation of the 4C's. As mentioned about the price of 6 carat diamonds, there are large price differences between high and low grades for rarer diamonds over 6 carats.
Clarity refers to a diamond's appearance, the number of defects, and inclusions. Higher scores indicate fewer defects. Above a certain level, inclusions cannot be detected with the naked eye. VS2 diamonds are very difficult to detect flaws in unless they are inspected with special equipment.
Typically, the highest score you'll want to consider is VVS2. No inclusions can be found in this type. A grade above this entails a premium price without a noticeable increase in beauty; FL(Flawless) charity.
The dissimilarity between one clarity grade and another is barely visible to the naked eye but will cause a huge price difference. There is a big price difference. For this reason, it is important to seek professional help when purchasing a diamond ring of this size. In this way, you can assess whether the diamond's clarity is right for you and make sure you're not overpaying.
Conclusion
When shopping for a 6 carat diamond or any diamond above 2 carats, you have to be extremely careful. These big diamonds are a big investment, and hence you should look into all the details before buying.
Always purchase from a retailer that provides an authentic diamond certificate with a diamond. Loose Grown Diamond sells diamonds that are 6 carats, and GIA/AGS certification proves that they are real.